A full-page ad in Tuesday's New York Times questions the truth of a Gallup poll that showed George W. Bush in the lead by 14 points. The ad, by MoveOn.org, accused Gallup of being way off-base, compared to other polls, which averaged only a three-point Bush lead.
"This isn't the first time the prestigious Gallup survey has been out on a limb with pro-Bush findings," according to the ad. Gallup predicts that more Republicans will vote in November than Democrats. Exit polls show more Democrats will vote, says MoveOn, and George Gallup Jr., son of the poll's founder, refuses to fix his faulty methodology. "What's going on here?" asks MoveOn.
Well, you see, Gallup knows the influence its polls wield, MoveOn says. If the public perceives one candidate to be winning, more voters will side with the winning candidate. Journalists cover the polls, pundits comment on them, and the public is fooled into thinking Bush will win. It becomes a self-fulfilling prophecy. But why does Gallup want Bush to win?
MoveOn suggests it's all because Gallup Jr. "is a devout evangelical Christian." Gasp!
Gallup "has been quoted as calling his polling 'a kind of ministry.' And a few months ago, he said 'the most profound purpose of polls is to see how people are responding to God,'" the ad says. "We thought the purpose [of polling] is to faithfully and factually report public opinion."
Never mind that nearly any job a Christian performs can be considered "a kind of ministry," and never mind that Gallup is now retired and not conducting polls. Forget that Gallup heads a separate non profit, and he uses it, not political polling, to learn "how people are responding to God." MoveOn tries to discredit Gallup simply by alleging sinister ties to evangelical Christianity.
Besides, as Jim Rutenberg, of The New York Times, notes, it's all about killing the messenger when you don't like the message. "Many pollsters … said their more vociferous critics were often trying to shout down messengers delivering news that runs counter to the version of reality they want to see presented." Rutenberg says that nearly every pollster this election season has been attacked by those who don't like the message.
He also says that Gallup's comments were "in reference to his specialty and main interest—polling people on their religious beliefs." MoveOn responded by saying Gallup's "numbers can't be relied on and it's coincidentally also the case that George Gallup Jr. has said some things that could raise questions."
Catholic League president William Donohue is flabbergasted that Gallup's religious beliefs should "raise questions." "Only secularists, apparently, are capable of rendering an objective survey," he said. The ad "has impugned the integrity of all Christians."
Gallup, who is an advisory editor for Christianity Today, does have a religious mission in retirement. In a Religion News Service article (published in The Baptist Standard), Gallup said, "When I ask a question on these subjects, what I'm always trying to find out is: 'Are we doing the will of God?'" Gallup challenged students at Gordon-Conwell Theological Seminary's commencement (the same speech MoveOn pulled its quotes from), "The world knows a lot about Jesus, but do they know him? It is for the churches to seize this moment, to take the vague spirituality of the day and turn it into a faith that is solid and transformative."
Gallup also spoke about his desire to conduct religious polling. "The inner life is the new frontier of survey research in coming years," Gallup said. "We know so little about mystical experiences, yet the religious dynamic is perhaps the most powerful of all in American culture. This is a way to unite our country on a deep level and produce a more peaceful world."
More Articles:
Religion & politics:
Religion has big role in political year | Family values and moral issues take center stage for many voters (Huntington Herald Dispatch, WV)
Political leaders talk about spirituality and values | Discussing why human beings are on this Earth and whether there is a God or not is a far cry from talking about national security and tax cuts. The question of faith and what drives a person is deeply personal. (ABC Online, Australia)
Christians differ on what vote is | Robert Shearer knows a thing or two about Christianity. He is, after all, the pastor of the Anglican Christ Church in New Brunswick. In this election year, however, he often talks to friends whose values come from the same basic religious teachings but result in very different political views. Far from finding a Christian bloc vote that uniformly takes one side of each issue, Shearer said there are many political viewpoints within the religion. (New Brunswick Home News Tribune, NJ)
What role does faith play in presidential politics? | For Brian Kerby, bringing faith into politics is natural. As interim pastor for Hamilton Street Baptist Church in Kirksville, he encourages his congregation to vote according to Christian values. (KTVO, MO)
Checking out the snake-handler vote? | President Bush is an evangelical Protestant. Therefore, Bush is the candidate of snake handlers. Then again, Bush is a United Methodist. I doubt there are many evangelical United Methodist snake handlers in Ohio. (Terry Mattingly, Scripps Howard News Service)
Think again: God-phobic Jews | American Jews live in terror of religious Christians - the kind who tell their elected representatives that America will be judged by its treatment of Israel. Every litany of the evils of George W. Bush includes his religiosity. (Jerusalem Post)
America has never been as polarized as it is now | At its core are eschatological evangelicals, many of whom are waiting anxiously for the battle of Armageddon as a prelude to the Second Coming. In their eyes, their Creator-invoking president can do no wrong. For them it is almost blasphemy to delve deep into the years when Dubya sowed his wild oats or, heaven forbid, hold his early service record up to scrutiny. He's their "born-again" main man. (Arab News)
So you think you know the religious agenda? | John Green is the leading student of mores when it comes to communities of faith. With the election upon us, the University of Akron professor has released a study of Protestants, evangelicals, Catholics and Jews. It's worth examining the highlights for what they say about electoral currents five weeks before the Big Day (William McKenzie, The Dallas Morning News)
Jews & politics:
The Oklahoma Senate race and the Jewish question | Seven years ago, Coburn got himself into hot water, both with the Jewish community and nationally, when he condemned NBC for broadcasting the Holocaust movie Schindler's List, calling it an "all-time low" for network television "with full-frontal nudity, violence, and profanity." (Jerusalem Post)
Bush, Kerry, and the Jewish vote | When they go to the polls in November, which of the two major parties will American Jews support? (Jeff Jacoby, Boston Globe)
Religion & Republicans:
Reed Speaks at GOP Rally | Ex-Christian Coalition director emphasizes religious, moral values. (The Ledger, FL)
Bush — born again, or not? | The president has never clarified his conversion narrative (MSNBC)
Courting Evangelicals | GOP at meeting of Christian right (Hartford Courant, Conn.)
Christian Coalition mobilizes for election | With choruses of amens, Christian activists on Friday affirmed that they have the power, with a little prayer and a lot of legwork, to assure that President Bush stays in the White House. (Associated Press)
Beer baron hopes support doesn't go flat | In late July, Peter Coors, chairman of the family-owned brewing company, appeared at a news conference with Eric Molson, scion of an iconic Canadian brewer, Molson Inc., to unveil a merger of the two companies. Now Mr. Coors, a Colorado Republican who was the architect of the proposed merger, is locked in a tight race for the U.S. Senate. He is working hard to assure his party's Christian evangelical base that he is not soft on "traditional values." (The Globe and Mail, Canada)
Religion & Kerry:
Kerry's Catholicism | In labeling John Kerry "wrong for Catholics," the Republican National Committee is lying about the meaning of Catholic faith, insulting Kerry, and moving the political exploitation of religion to a new low (James Carroll, Boston Globe)
Kerry has dealt Bush every trump card | Another rule of politics is: Carry your own denomination. Bush will - he's the darling of Evangelical Protestants. Evangelical churches across the country are his de facto clubhouses, pastors his precinct captains. (Zev Chafets, Sun Herald, Miss.)
Jerry Falwell on religion & politics:
Falwell says evangelical Christians now in control of Republican Party | The Rev. Jerry Falwell boasted Friday that evangelical Christians, after nearly 25 years of increasing political activism, now control the Republican Party and the fate of President Bush in the November election. (Palm Beach Post)
Falwell advises ministers how to talk politics | Evangelical Christian ministers crowded into the Rev. Jerry Falwell's new law school Monday for a pep talk on how to preach conservative politics without running afoul of the law. (Associated Press)
Churches & politics:
I call it arrogance at best, harassment at worst | And what do you call it when conservative Christians decide to turn their sanctuaries into political rallies -- led this week by the Rev. Jerry Falwell at Central Christian Church -- and use their pulpits to condemn fellow believers who don't accept their biblical views on all matters moral and political? (Tom Schaefer, Wichita Eagle, Kansas)
Pastors can speak out, but not endorse | Local conservative pastors say they have a right to speak out on political and moral issues. Those monitoring them say the issue is obeying the rules for tax-exempt organizations. They're both right. (The Wichita Eagle, KS)
Wider range of churches is getting involved in this year's election | This year's drive to call out new voters from every corner of America's religious landscape is likely to keep political analysts busy as they try to determine what impact it had on the 2004 election. (Corvallis Gazette Times, Ore.)
Churches not meant for spies or politics | Members of the Mainstream Coalition/The Interfaith Alliance Wichita began monitoring worship services at conservative churches last Sunday for potential violations of federal tax laws. These monitors, who tend to support issues such as gay rights, attended one service. They sat, stood and applauded as a means of blending. They scribbled notes and listened for any infractions of a law that bans tax-exempt churches from endorsing political candidates. (The Wichita Eagle, KS)
Forum to examine role of the church on political issues | The subjects of religion and politics can be volatile enough on their own. When the two are added together, even members of the same church or the same denomination can find themselves angrily at odds with each other. (Courier-Journal, Louisville, KY)
Web sites blur line between church and state | Religious groups call for members to pray for political purposes (Lexington Herald Leader, KY)
Getting out the religious vote | Churches, other religious groups urging members to participate in this year's election (Corvallis Gazette Times, Ore.)
Ministry:
Samaritan's Purse brings gifts to needy | Holiday shopping continually seems to start earlier and earlier each year. Now would be a great opportunity to make a charitable contribution before being caught up in the holiday frenzy. Samaritan's Purse, a nondenominational evangelical Christian organization, offers just such an opportunity. (North Fulton, Georgia)
Lilly Endowment grants to aid clergy sabbaticals | A Lilly Endowment program that offers clergy members the chance to take sabbaticals to renew themselves and their ministries will spend $5 million this year on grants to 132 Christian congregations nationwide. (Indianapolis Star)
Former PTL land goes to ministry | Fort Mill developer Earl Coulston paid $4 million Tuesday for 160 acres in northeast York County, according to paperwork filed Tuesday. The property once was the heart of the Heritage USA operations of former televangelists Jim and Tammy Faye Bakker, who ran the PTL ministry. (Charlotte Observer, NC)
6K at Promise Keepers' rally to affirm faith | In 1998, women's groups protested, but yesterday the men were greeted with shouts of encouragement. (Tucson Citizen)
I want to give away £300m | Car dealer Bob Edmiston has revealed how he plans to give away an astonishing £300 million to good causes - because of his Christian faith. (Sunday Mercury, UK)
Local group seeks aid for Tanzania | Local missionaries recently returned from the African nation of Tanzania and its territorial islands of Zanzibar and Pemba with plans to build on ties they established there. (Charlotte Observer, NC)
Habitat raises 150th roof | Chapter in area marks milestone (Cincinnati Enquirer)
Hundreds gather to hear 'Truth for a new generation' | Evangelical Christianity is a no-compromise religion. You either accept Jesus Christ as your Lord and Savior, or you don't. If you do, you're saved. If you don't, you're not. (Record-Journal, Conn.)
Project offers women help after abortion | In 1984, Vicki Thorn had a calling - to help women who struggled after having an abortion. She began Project Rachel. "I honestly thought it was going to be a nice local ministry, but I became an expert in a field that didn't exist," said Thorn. (Cincinnati Enquirer)
Missions:
Christian surfers making waves | Surf is up on the deep southwest coast of France and amid the breakers the word of God is being spread by a band of board-riding Christian evangelists. (Independent Online, South Africa)
Aviation repair center marks 40 years of serving missionaries | Covenant, an offshoot of the Swedish-Lutheran Evangelical Church, was among Christian churches that agreed with one another to evangelize in specific sections of Alaska, bringing the word of God to Native people. (Peninsula Clarion, Alaska)
Pastor goes on road to promote baptism | Shortly after the Rev. Bobby Welch was elected president of the Southern Baptist Convention this summer in Indianapolis, he began praying about how he could best make a connection with his sprawling, 16.3 million-member denomination. (Indianapolis Star)
Zealots preach in Oak Grove | The Oak Grove was abuzz with passionate debate Friday as a trio of religious protestors from "the Kingdom of God" condemned any endeavor that does not serve God. (The Penn, Penn.)
Southern Baptist boss is on a mission | Rev. Bobby Welch is on a mission to win a million souls for Jesus, and he is determined to rally all 16 million members of the Southern Baptist Convention to join him. (Chicago Tribune)
40 days of purpose:
70 state churches launch 'Purpose' campaigns | More than 6,000 churches in North America, including about 70 in Wisconsin, are embarking on a spiritual path this fall blazed by mega-church pastor Rick Warren and his bestselling book, "The Purpose Driven Life." (Milwaukee Journal Sentinel)
At least 30 area churches ready to join campaign with 'purpose' | More than 30 churches in the Toledo area will join 10,000 churches nationwide in a "40 Days of Purpose" campaign based on the bestseller The Purpose-Driven Life by the Rev. Rick Warren. (Toledo Blade)
Hurricane Jeanne:
Haitians pray for 1, 500 killed by Jeanne | The United Nations rushed hundreds more peacekeepers in to stem looting in storm-ravaged Gonaives, while Haitians gathered in a cathedral ankle-deep in mud and prayed for the 1,500 killed by Tropical Storm Jeanne. (Associated Press)
Peace, be still! | Through the winds and the waters, God has spoken, churchmen believe (Jamaica Observer)
Church life:
Keeping an ancient faith alive | Coptic church seeks to buy Pentecostal neighbor (The Arizona Republic)
Syrian church head visits Delhi | The head priest of one of Kerala's influential churches reached the national capital Tuesday for a three-day visit during which he would meet the president and prime minister. (New Kerala, India)
Reaping the benefits of a simple life | Communal living, Christian values, no wages and a multi-million pound toy business - meet the Darvell Bruderhof community of Robertsbridge, East Sussex (Times, London)
Getting the good word out | Many churches today are hiring advertising agencies (Deseret Morning News)
Denomination's creed: Sow peace | Wall hanging tells history of Church of the Brethren in symbols (Akron Beacon Journal, Ohio)
Faithful find convenience of cyber-church worship | Get comfy in your computer chair, fire up the Pentium and click your way into a whole different religious experience. Listen to your pastor's latest sermon. Then visit the church's chat room to discuss your preacher's topic. (Albuquerque Journal)
Church is now at home | Blessing offered by archbishop of the International Communion Of The Charismatic Episcopal Church. (The Miami Herald)
Web site helps match ministers to churches | MinistryStaffingSearch.org is run by Preble County pastor (Palladium-Item, Richmond, Ind.)
Decline in Protestant numbers is meaningless | I have recently read in several publications that the percentage of Americans who say they are Protestants is declining and within a very few years Protestants will no longer be the majority faith in the United States. (Rev. Thomas M. Miller, Monroe Times, Wisc.)
Entering new phase in church's history | Expansion will make house of worship more accessible (Indianapolis Star)
Anglican Communion:
Bishops boycott Episcopal event over moral issues | An assistant bishop for the Episcopal Diocese of Virginia announced that he is boycotting a business meeting of the Episcopal House of Bishops this week because the "moral inconsistency" of the nation's Episcopal leaders has forced him to mount a "public and prophetic protest." (Washington Times)
The ministry of women | When the first woman priest in the Church of England, Angela Berners-Wilson, was ordained in 1994, the officiating bishop reckoned it would be 10 years before the first woman bishop was appointed. There are just a few months left for that optimistic prophecy to be fulfilled, if women are not to remain, in effect, second-class priests. (The Guardian, UK)
Archbishop faces fresh crisis over Holy Communion | A prominent Anglican diocese is poised to create a fresh crisis for the Archbishop of Canterbury, Dr Rowan Williams, by paving the way for lay people to celebrate Holy Communion. (Telegraph, UK)
Anglicans and homosexuality | In A Church at War: Anglicans and Homosexuality, Stephen Bates tears down the walls behind which the Church has been hiding, and reveals a tiny institution ravaged by internecine warfare. The row that is destroying the Anglican communion is about homosexuality, and, according to Bates, it is a row of the Church's own making. (Times, London)
Anglicans offer chocolate for church attendance:
Sweet temptation back to church | The Church of England is launching a pilot scheme to attract people back to church - by offering a bar of fair trade chocolate to every worshipper. (BBC)
Sweetener bid to tempt people back to church | The Church of England is trying to encourage people to return to the fold with goody-bags and chocolate bars. (The Scotsman, UK)
Orthodoxy:
Patriarch of Antioch arrives to consecrate "Holy Mooran" | The Patriarch of Antioch, the supreme head of Universal Syrian Orthodox Church, Ignatius Zakka, is here to consecrate the "Holy Mooran" for the fourth time. The week-long visit will give thousands of Syrian Christians a rare opportunity to interact with their spiritual leader of 25 years at several public meetings. (New Kerala, India)
Orthodox Church drawing converts from other branches of the faith | The Very Rev. John Peck calls his faith "a religion off the radar." The pastor of Holy Assumption Orthodox Church at 2027 18th St. NE for three years, Peck is overseeing a growing congregation that includes a sizable number of Christians who grew up in non-Orthodox denominations. (Canton Repository, Ohio)
Plea for church unity | President Georgi Purvanov made a plea for church unity on September 17, the Day of Sofia, even as celebrations on the day exposed the bitter animosities between Patriarch Maxim's Bulgarian Orthodox Church and the Alternative Synod that opposes it. (Sofia Echo, Bulgaria)
ELCA church sanctioned for ordaining gay minister:
Church sanctioned over gay minister | Two months after Bethany Lutheran Church ordained an openly gay man as a minister, the church is being sanctioned by the Evangelical Lutheran Church in America. (Associated Press)
Gay pastor ordination leads to sanction by ELCA | Two months after Bethany Lutheran Church ordained an openly gay man as a minister, the church is being sanctioned by the Evangelical Lutheran Church in America. (Associated Press)
Gay life in the Bible belt:
In the Bible belt, acceptance is hard-won | While the rest of the country is debating same-sex marriage, Michael's America is still dealing with the basics. There are no rainbow flags here. No openly gay teacher at the high school. There is just the wind knifing down the plains, and people praying over their lunches in the yellow booths at Subway. Michael loves this place, but can it still be home? What if the preachers and the country music songs are right? (Washington Post)
A slow journey from isolation | Peace came to Michael Shackelford last year inside a psychiatric ward. He was 16 and his mother had just discovered his relationship with another young man. (Washington Post)
Homosexuality:
The gay shall inherit the church | If you're gay and Christian, you have one of two choices. (The Revealer)
Just another day in the life of France's first official gay family | Lesbian parents Carla and Marie-Laure have just made French legal history by winning the right to raise their three young children, yet despite the flood of media attention life goes on as usual for the family. (Agence France-Presse)
Same-sex marriage:
Pastors debate gay marriage amendment to Ky. constitution | Two Elizabethtown pastors debated the pros and cons of gay marriage during a forum Tuesday night. (Elizabethtown News Enterprise, KY)
Measure 36 not a religious issue | Catholics, Mormons and other denominations or faiths have weighed in on Ballot Measure 36, but that does not make it a religious issue. Voters can decide on ballot measures for any reason they want, including their faith if any, but that does not make it a religious issue, either. The ballot measure — spelling out that marriages are between one man and one woman each — is supported by a good many people who could not care less what any church says about it. (Albany Democrat Herald, OR)
Church & state:
Group wants cross removed from Moorhead Center | A group that works for the separation of religion and government wants a Celtic cross removed from the grounds of the Heritage Hjemkomst Center. (Associated Press)
The world has bigger problems than L.A.'s cross | American soldiers and military contractors (i.e. mercenaries) and their officers and civilian leaders have made Americans look like sexual perverts before the entire world, while here in Los Angeles, some Christians are upset by the removal of a cross from the county seal. (Gerald Plessner, Pasadena Star-News)
E Pluribus Unum - Amen to that | That persistent whirring sound you hear is our founding fathers spinning in their graves. Last week, in a legislative misadventure totally antithetical to our country's Constitution, the Our Gang of theocratic zealots in the House led by the Wamps, Aderholts, Istooks and others from the Ivanwald clubhouse, somehow coerced two thirds of the "representatives" of the people to pass the "Pledge Protection Act." (Bruce Wilkey, The Chattanoogan, Tenn.)
Ala. judge tosses Ten Commandments suit | A judge dismissed a lawsuit demanding that ousted Alabama Chief Justice Roy Moore pay the $550,000 in attorneys' fees awarded to groups that sued to have his Ten Commandments monument removed from the state judicial building. (Associated Press)
Courtroom quotation spurs objection | The Anti-Defamation League says the quote from Theodore Roosevelt, "The true Christian is the true citizen," blurs the line between church and state and could make non-Christians feel marginalized in the courtroom. (Press-Enterprise, Calif.)
Church & state outside U.S.:
Big-L lions roar over political pussycats | The emergence of the Family First party as a potential national force has exposed the latent intolerance in the so-called progressive parties toward Christianity. (Piers Akerman, Daily Telegraph, Australia)
Group calls for national prayer day | Gideon Brigade of Nigeria (GBN) has called on President Olusegun Obasanjo and leaders of the National Assembly to declare October 1 a national day of prayer for the country. (Uchenna Ohakam, Lagos)
OMB not anti-Muslim, says Manzano | 'We also go after Christians, Indians, Chinese' (Philippine Daily Inquirer, Philippines)
Pray for the nation- Kufuor appeals to churches | President John Agyekum Kufuor on Sunday commended churches in Ghana for the role they continued to play in ensuring a peaceful atmosphere in Ghana and urged them to pray for the country as it prepares to go for elections in December. (GhanaWeb, Ghana)
State: Only Orthodox converts acceptable | The state will soon tell the High Court of Justice that only people who have undergone Orthodox—but not Reform and Conservative—conversions in Israel will be recognized as Jewish converts and therefore entitled to immigrate under the Law of Return, according to an Interior Ministry source. (Jerusalem Post)
Religion & politics in Britain:
No, not for God's sake, Blair | You can tell Tony Blair is in trouble. He has handed government over to a Third Party. The capital letters are intended. The sub-contractor in this case is the Big Fella, the Man Upstairs, Lord God Almighty. Blair very publicly went to church on Sunday and prayed, it was said, for Ken Bigley. (Times, London)
The messiah who might have been | Blair has near-biblical self-belief — but he has missed some heaven-sent opportunities The messiah who might have been (Anthony Seldon, Times, London)
War & terrorism:
Prayer warriors in training | With bloody conflicts in Iraq, Afghanistan and elsewhere still brewing, instructors at the Army's Chaplain Center and School say they want to train men and women who can minister to soldiers of every faith — and who understand combat. (Associated Press)
Iraq: The war at home | George W Bush has claimed he is not interested in the verdict of history, but history will certainly record at least one fact about him: his toppling of Saddam Hussein. (BBC)
City's faiths build bridges | Leaders of the city's various religious communities said yesterday that Edmontonians bucked a trend toward religious intolerance after the Sept. 11 terrorist attacks. And Sen. Doug Roche - who is recognized for his international work with the United Nations to promote peace - said the co-operation between religions in this city should serve as an international example. (Edmonton Sun)
Remembering Sgt. Ben Isenberg | Sgt. Ben Isenberg wanted to teach science when he returned from Iraq. But the devout Christian, husband and father of two died in Taji on Sept. 13. His family remembers Isenberg's accomplishments and spirituality. (Morning Edition, NPR)
When to intervene: WWJD? | Pre-emptive strike contradicts teachings espoused by Christianity (Bob Krueger, Houston Chronicle)
Chaplain trainees ready for service | Army candidates learn to reach out to combat soldiers of every faith (Associated Press)
Faith under fire | Army chaplain candidates prepare to minister to soldiers of every faith. (Associated Press)
EUtopia is over—join the real world | I was reading a news item in the Guardian the other day. Didn't get very far. This was the first sentence: "The Church of England said yesterday that police counter-terrorism operations were directed disproportionately against Muslims and risked alienating them." At that point, I fell off the chair, howling with laughter. (Telegraph, UK)
A medieval friar wields unholy fire | A mystery about Christian terrorism in 1399 with a nod to 'The Canterbury Tales' (Christian Science Monitor)
Military trials for abusers:
US soldier faces Iraq abuse trial | A woman soldier accused of abusing soldiers at Abu Ghraib prison in Iraq is to face a court martial in January, the US army has said. (BBC)
Court-martial set for Private England | A military judge yesterday set a Jan. 17 trial date for the court-martial of Pfc. Lynndie R. England, who became the face of the Abu Ghraib prison abuse scandal in photographs that were beamed around the world showing her holding a leash around the neck of a crawling and naked Iraqi detainee. (The New York Times)
Life ethics:
Morality goes mum in stem-cell fight | Proposition 71 foes realize that California is a pro-choice state. That's why they are stressing the research price tag. (Los Angeles Times)
Dolly the sheep's creator seeks licence to clone humans | The scientist who created Dolly the cloned sheep is to apply for a licence to clone human embryos. (Sunday Times)
Free to clone | This election year, the debate over cloning technology has become a circus -- and hardly anybody has noticed the gorilla hiding in the tent. Even while President Bush has endorsed throwing scientists in jail to stop ''reckless experiments'' (and has tried to muscle the U.N. into adopting a ban on all forms of cloning, even for research), it's just possible the First Amendment will protect researchers who want to perform cloning research. (The New York Times)
Dolly scientists' human clone bid | The scientists who cloned Dolly the sheep have formally applied for a licence to clone human embryos to find a cure for motor neurone disease. (BBC)
Parents wage legal fight to keep premature baby alive | A British couple won the right to a public hearing over their quest to keep alive their premature baby, who is so ill she has not left the hospital during her first 11 months. (Agence France-Presse)
Two studies bolster stem cells' use in fighting disease | The prospect of using human embryonic stem cells to treat disease appears a small step closer as the result of two new experiments with the cells, which are mired in political controversy because they are derived from human embryos. (Washington Post)
Terri's Law:
Passion invested in Terri's Law must somehow give way to reason | There they are, words that all but jump off the page. The state Supreme Court has finally said what needed to be said about Terri Schiavo. Reason must trump passion in this endlessly litigated case. (Mary Jo Melone, St. Petersburg Times, FL)
Feeding-tube posturing struck down | Gov. Jeb Bush and the Florida Legislature were justly rebuked last week when the Florida Supreme Court declared unconstitutional their ghoulish efforts to require continued nutritional support for a severely brain-damaged woman who has been in a persistent vegetative state for more than a decade. (The New York Times)
Education:
George Fox growing in stature, enrollment | In 1985, fewer than 600 students enrolled at George Fox, named for a 17th century Quaker leader and father of the contemporary Friends Church. This fall, more than five times that number are studying there. (Associated Press)
Religion in schools | Some parents say the Anchorage School District is paying too much attention to Christianity and essentially ignoring other beliefs. (KTVA, Alaska)
$112 million promised to college turns out to be all promise and no cash | Seven years ago, a first-time donor pledged the largest gift in the history of Saint Mary's College, a small liberal arts school run by Christian Brothers in Moraga, a secluded town in the San Francisco Bay area. The promised gift started at $25 million and was increased on nine occasions over the next few years to a total of $112 million, putting Saint Mary's in an elite club of colleges and universities nationwide to receive such a substantial donation. (The New York Times)
A place of their own | This year, the school — housed in a brand-new 67,000-square-foot building — has nearly 200 freshmen, sophomores, juniors and seniors. About 15 percent of students at the high school are new to the Big Valley Christian School system, Park said. (Modesto Bee, Calif.)
Creationists to present alternatives to textbooks | Eric Lyons has a bone to pick with modern science textbooks - or fossils, to be exact. Lyons believes that textbooks used in schools today skew people's perception of the world by only providing information on evolution and not creation. (Searcy Daily Citizen, AR)
Catholicism:
Karl I beatification causes uproar | Some think he's already a saint for seeking a peaceful end to World War I. Others think he's a scoundrel for commanding troops who used poison gas and for mounting two bloody comeback attempts. On Sunday, Pope John Paul II is to beatify Karl I, but the Vatican's decision to put Austria's last reigning emperor on the road to sainthood has triggered a spirited political and religious debate at home. (Associated Press)
Pope who defied liberal forces | Pope Pius IX is famous for condemning as an error the proposition that: "The Roman Pontiff may and ought to reconcile himself to, and agree with progress, liberalism and modern civilisation." (Telegraph, UK)
Pope denounces 'imbalance' of wealth | Pope John Paul II denounced the "imbalance'' between the world's rich and poor Sunday and applauded efforts to eliminate hunger, like the recent U.N. initiative to increase funds for development. (Associated Press)
Austrians leaving Catholic Church | Austrians disgusted by a summer of scandal involving child pornography at a seminary and a prominent priest accused of sexual abuse are leaving the Roman Catholic church in significant numbers, church leaders said Friday. (Washington Post)
Pastor offers insight on parish reorganization | Members of Kansas St. James knew that their parish, founded in 1889, was being targeted in the reorganization process when they had a July visit from Sr. Joyce Lehman, director of pastoral planning for the Diocese of Toledo, and Michael Wasserman, secretary for pastoral leadership. But reading the proposed changes in last weekend's newspapers and hearing Bishop Leonard Blair's letter to the parish was a blow to many. (Tiffin Advertiser Tribune, Ohio)
Catholics converge on city | This year, the assembly emphasized spirituality and the diversity within the Catholic church, said Richard Petrillo, director of the diocese office of pastoral planning. (Carlsbad Current Argus, NM)
BBC's Pope cartoon:
Blessed are the jokers | The Christians whose protests forced the BBC to drop its cartoon about the Vatican should lighten up (Giles Fraser, The Guardian, UK)
Catholics call on the BBC to scrap plans to sell controversial 'Pope' cartoon abroad | Senior Roman Catholics have urged the BBC to abandon completely plans to profit from a controversial cartoon series about the Pope that was deemed too offensive for British television. (Telegraph, UK)
Religious freedom:
Vietnam defends religious freedom record criticized from USA | The Vietnam government defended its policy of religious freedom in reaction to the U.S. State Department's recent decision to add Vietnam to its list of countries that it says violate the right to religious freedom. (AsiaNews)
Ex-employee sues JCC, claims discrimination | A former employee of the Lancaster Jewish Community Center is seeking $750,000 in damages from the nonprofit organization for wrongful termination and religious discrimination. (Intelligencer Journal, Lancaster, Penn.)
After French law on Muslim headscarves, Italian village bans the burqa | Italy's reputation for religious tolerance was in the balance last week after a ban on women wearing burqas instigated in a tiny Alpine village began spreading across the country. (Independent, UK)
Persecution:
Christian convert doctor killed by suspected militants | Suspects fall on Islamic militants. The victim was well known for his charitable work. (AsiaNews)
Jewish settlers attack American Christian volunteers near Hebron | Jewish settlers immigrants from North America on Wednesday attacked and severely beat American Christian peace volunteers near the village of Yatta south west of Hebron, Palestinian and Israeli sources said. (Palestine-info, UK)
Nigerian teacher flees Koran row | A Christian teacher has gone into hiding in the northern Nigerian city of Kano after offending her Muslim pupils. (BBC)
Mother Teresa nuns attacked in Kerala | Attacks on priests and nuns from Mother Teresa's old order in the southern state of Kerala have spotlighted the controversy surrounding Christian missionary work in India. (Belfast Telegraph, UK)
Attack on Missionaries of Charity:
Hindu extremists injure 4 sisters of Mother Teresa | Four nuns and 2 brothers of the missionaries of Mother Teresa were attacked last Saturday in a remote village of Dalit (those who, in the caste system, occupy the lowest and most destitute level), in the Kozhikode district of the state of Kerala. (AsiaNews)
Violence will not stop Christian witness, Bishop Fernandez says | As attacks against Christians continue, the central government pledges protection but local authorities cover for fundamentalists. (AsiaNews)
India nun attacks trigger arrests | Police in the southern Indian state of Kerala have detained 15 people following two attacks on nuns and priests of the Missionaries of Charity. (BBC)
Seven Christian nuns injured in attack in India | Seven nuns of Mother Teresa's Missionaries of Charity order were injured when a group of unidentified men attacked them and beat them up with sticks in southern India, police said on Sunday. (Reuters)
Christian body condemns attack on missionaries | A Christian body Sunday condemned the attack on three nuns of the Missionaries of Charity in Kerala Saturday and demanded deployment of armed forces to protect members of the minority community. (Kerala Online, New Delhi India)
Christian body seeks security for its members | Condemning the attack on Missionaries of Charity sisters allegedly "by VHP and other Sangh Parivar members" in Kerala's Calicut district, a body of Christians today asked the Government to provide security and uphold the fundamental rights of the minorities. (The Hindu, India)
Abu Sayyaf spiritual adviser captured:
Abu Sayyaf "spiritual adviser" captured in southern Philippines | Philippine troops have captured the "spiritual adviser" of the Abu Sayyaf kidnap-for-ransom group along with two other members in the southern Philippine island of Jolo, a military spokesman said Tuesday. (People's Daily Online, China)
Abu Sayyaf's 'spiritual adviser' captured | Troops in the Philippines have captured the "spiritual adviser" of the Abu Sayyaf along with two other members of the Al Qaeda-linked band, a military spokesman says. (Special Broadcasting Service, Australia)
3 Abu Sayyaf bandits killed in clash with Sulu residents | An Abu Sayyaf leader was killed when his group clashed with armed locals in Pata town in Sulu on Monday, the military reported on Wednesday. The Abu Sayyaf has been feared for its bombing and kidnapping-for-ransom attacks in the southern Philippines for over a decade. Its targets have mainly been Christians and foreigners. (Philippine Daily Inquirer, Philippines)
Sikh shrine raided in Pakistan:
Pakistan shrine raid angers Sikhs | Sikhs in the north Indian state of Punjab have expressed anger at an attack on a Sikh shrine in Pakistan. (BBC)
Sikh leaders express ire at attack on Nankana Sahib gurdwara | Sikh leaders have expressed anger and resentment at the attack on historical Nankana Sahib gurdwara in Lahore and said that the local government should take immediate action against the attackers. (Hindustan Times)
Human trafficking:
Uganda, Kenya police probe child trafficking | Police in Uganda and Kenya are probing alleged child trafficking in the region. The bursting of a racket in the Kenyan capital, Nairobi, last week has fueled the action. Police rescued several children who were due to be smuggled to Europe when they raided the home of a missionary. (The Monitor, Kampala)
Also: We're still supporting slavery | New efforts to stop U.S. troops from visiting prostitutes abroad are a good step, but let's not whitewash what's happening. (Christianity Today)
Detectives smash massive ring trafficking in women | Police have arrested 40 suspected members of a Russian-Israeli prostitute smuggling ring in the last few days. The gang is believed to have brought hundreds of women into Israel in the past decade. (Haaretz, Israel)
'They say I steal babies … but god has given me the power to create them' | Gilbert Deya is in Scotland fighting extradition charges. He stands accused of masterminding an international child-smuggling ring. Today he breaks his silence, but can we believe him? (Sunday Herald, UK)
Other human rights issues:
Pakistan law against honour killings being examined | The Pakistan Muslim League Parliamentary Party in the National Assembly headed by Rai Mansab Ali is examining the draft law against honour killings and karo kari for enactment. (Dawn, Pakistan)
Priest dismisses Rwanda genocide charges, says he's praying for the victims | A Roman Catholic priest accused of ordering the slaughter of 2,000 people who sought refuge in his church during Rwanda's genocide insisted his slain parishioners were in his prayers Monday, as his lawyer dismissed the charges against his client as "rumours." (Associated Press)
The cruellest cut of all | As the medical case for circumcision fades, angry campaigners are calling for a ban on a practice they claim violates human rights (The Independent, UK)
War boosts HIV / AIDS in northern Uganda | The rate of HIV/AIDS infection in northern Uganda is nearly double that in the rest of the country because of devastation caused by 18 years of civil war, an international aid group said Monday. (Associated Press)
A family torn by Sudan's strife | Tensions in Arab-African marriage follow flight from ethnic conflict (Washington Post)
Race again the focus of annual Hope conference | Racism has some roots in religion, theologian says (Holland Sentinel, Mich.)
Koreans seek regime change | At a two-day conference, 2,000 pastors call for an end to public executions, concentration camps and starvation under North Korea's Kim Jong Il. (Los Angeles Times)
People:
Acworth resident is a pastor and cop | Mark Camp, a former Southern Baptist pastor, is a bishop in the Communion of Evangelical Episcopal Churches and pastor of Church of the Trinity, as well as full-time police officer for the city of Acworth and bishop for a Franciscan and Benedictine order. (Atlanta Journal-Constitution)
Hearts for ministry | Pastor James A. Thyne says God influenced him by letting him see the lives of some Christians — particularly one with MS and one with cancer — though they didn't "share" the gospel with him. (Southern Pines Pilot, NC)
Priest winds down a very public career | After decades of work to save souls and save a community, the time has come to save some time and energy for himself and his family, the Rev. Louis R. Gigante says. (The New York Times)
Priest vindicated in fight over dismissal | For years, the litigation languished. The Episcopal bishop of New York had dismissed a senior aide - a female priest - at Grace Episcopal Church for what he said was misappropriation of tens of thousands of dollars in church funds. Under the settlement, signed this month and expected to become final as early as next week, the Episcopal Diocese of New York agreed to remove any documents from Ms. Kraft's personnel file that say she mishandled church funds, Ms. Kraft said. Her pension benefits are about to be restored, and she will be paid a settlement in the six figures, she said. (The New York Times)
A Pastor's Farewell | The Rev. Richard A. Ruff, senior pastor of St. Paul's Evangelical Lutheran Church, retired Sunday after 25 years of service to the church and community. (Carlisle Sentinel, Penn.)
Charles Mouton, Vatican diplomat, remembered at Lafayette funeral | Lafayette said farewell Monday to a priest who served five popes as a member of the Vatican diplomatic corps. (The Advertiser, LA
Vatican diplomat dead of cancer at 78 | Msgr. Charles Burton Mouton, who went from a parish priest in Jennings to a member of the Vatican diplomatic corps, is dead at the age of 78. (Associated Press)
Shawn Green plays on Yom Kippur:
Green keeps the faith as Dodgers play | By opting not to pray in a synagogue Friday night in observance of Yom Kippur and deciding instead to play for the Los Angeles Dodgers in a pivotal series opener against the San Francisco Giants, Green offended some Jewish rabbis. This was not the first time a star was questioned by religious leaders. In the book of John, Chapter 9, the Pharisees condemned Jesus for having the gall to heal a blind beggar on the Sabbath. (Mike Klis, Denver Post)
Deace, Jewish leader will meet off the air | On his afternoon show last week on KXNO-AM (1460), Deace suggested that if Los Angeles Dodger Shawn Green converted to Christianity and recognized Jesus Christ as his Messiah, then the player wouldn't have to fret over whether to play on Yom Kippur, one of the holiest days of the Jewish year. (Des Moines Register, Iowa)
Joel Osteen:
Nation's largest church — and growing | With charisma and technology, pastor Joel Osteen supersizes his father's legacy (Houston Chronicle)
Evangelist's Encouraging Words Are Hard To Resist | The Rev. Joel Osteen Preaches Forgiveness And Optimism, And Each Sunday, Thousands Fill His Houston Church To Hear His Message. (Star-Telegram, Fort-Worth, Texas)
Related Elsewhere:
Suggest links and stories by sending e-mail to weblog@christianitytoday.com
Check out Books & Culture's weekly weblog, Content & Context.
See our past Weblog updates:
September 28 | 27
September 24 | 23 | 22 | 21 | 20
September 17 | 16 | 15 | 13
September 10 | 9 | 8 | 7
September 3 | 2 | 1 | August 31 | 30
August 27 | 26 | 24 | 23
and more, back to November 1999
Weblog
Launched in 1999, Christianity Today's Weblog was not just one of the first religion-oriented weblogs, but one of the first published by a media organization. (Hence its rather bland title.) Mostly compiled by then-online editor Ted Olsen, Weblog rounded up religion news and opinion pieces from publications around the world. As Christianity Today's website grew, it launched other blogs. Olsen took on management responsibilities, and the Weblog feature as such was mothballed. But CT's efforts to round up important news and opinion from around the web continues, especially on our Gleanings feature.
Ted Olsen is Christianity Today's executive editor. He wrote the magazine's Weblog—a collection of news and opinion articles from mainstream news sources around the world—from 1999 to 2006. In 2004, the magazine launched Weblog in Print, which looks for unexpected connections and trends in articles appearing in the mainstream press. The column was later renamed "Tidings" and ran until 2007.
Previous Weblog Columns: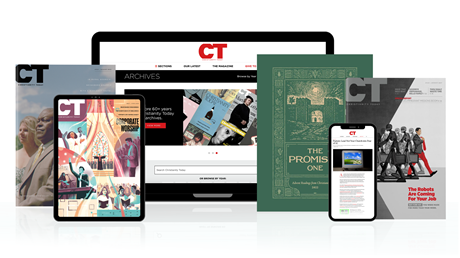 Subscribe to Christianity Today and get access to this article plus 65+ years of archives.
Home delivery of CT magazine
Complete access to articles on ChristianityToday.com
Over 120 years of magazine archives plus full access to all of CT's online archives
Subscribe Now
Does the Gallup Poll Have an Evangelical Bias?
Does the Gallup Poll Have an Evangelical Bias?