Hank Hanegraaff, radio's "Bible Answer Man," is suing a longtime critic for statements made in connection with a January fundraising letter sent out by the Christian Research Institute (CRI), Hanegraaff's apologetics ministry. The suit, filed April 1 in Superior Court in Orange County, California, seeks unspecified damages. The suit charges blogger William Alnor with falsely claiming that CRI was the subject of a federal mail-fraud investigation. CRI tells CT there is no investigation, which Alnor confirms.
Alnor, a journalism professor at Texas A&M University-Kingsville who first complained about the letter to postal officials, told CT that local postal officials told him in January there was an investigation of CRI for possibly misleading fundraising claims, but subsequently told him the case is "under review," as noted on his Christian Sentinel website.
In CRI's January fundraising letter, Hanegraaff said "newly hired U.S. post office employees" accidentally routed mail, worth "perhaps hundreds of thousands of dollars," to a local business late last year. "To make matters worse," the letter continued, "the business to whom the envelopes were sent threw many of the envelopes into the trash!"
The Los Angeles Times and ChristianityToday.com's Weblog reported allegations from Alnor that Hanegraaff and CRI may have engaged in fundraising exaggeration. However, new information provided to CT, MinistryWatch.com, and the Evangelical Council for Financial Accountability (ECFA) corroborates the letter's claims.
According to a January 23 story in the Los Angeles Times, Alan Baron, chief operating officer for On-Target Direct Marketing in Foothill Ranch, California, said the company received just one tray of misdirected CRI mail and informed the ministry that day.
On-Target told CT that employees discovered discarded mail in a dumpster and returned to CRI what it believes is all of the mail it received by mistake. However, Baron did not rule out that employees might have inadvertently thrown some mail away.
Hanegraaff told CT that its marketing partner, KMA Media, has documented that the pieces of mail CRI received in response to its direct-mail efforts last October and November were down more than 36 percent compared to the same period in 2003. CRI says the 36 percent decline is equivalent to nearly 2,500 pieces of mail.
The apologetics ministry reported revenues of $7.6 million in the fiscal year ending in 2003, so CRI's claim of a loss in the hundreds of thousands of dollars is credible. CRI says the tray of mail retrieved from On-Target contained more than $30,000 in donations.
CRI officials say they believe the problem of misdirected mail at the local Rancho Santa Margarita Post Office continues. CRI chief financial officer Bob Eaton told CT that the ministry continues to monitor problems with mail delivery. Eaton says CRI receives several pieces of mail per week intended for other organizations, even though local postal officials say they have corrected the problem.
CRI provided CT with the contact information of two Rancho Santa Margarita businessmen who said they, too, had experienced problems receiving their mail. One told CT, on condition of anonymity, that the local post office has had "great problems." He said that, after reading a press account about the CRI postal dispute, "We all passed the same article around and said, 'See, we aren't the only ones.'" A local sales representative for a steel company said, "We really noticed [a problem] when the mail just basically stopped."
In the Los Angeles Times report, Richard Maher, USPS spokesman for Southern California, dismissed CRI's claim that local postal officials "took full responsibility" for an extensive delivery mix-up. CRI told CT that it could not furnish contact information for a local postal official who would corroborate its claim.
Eaton says the Office of Inspector General for the United States Post Office "is actively conducting an investigation on this matter" of misdirected mail, at CRI's request. Mike Roberts, a special agent of the OIG, acknowledged to CT an ongoing federal investigation of misdirected mail but said he could not discuss details.
CRI's letter to donors asked those who had asked for a product or made a contribution to call a hotline if they did not hear from CRI. Eaton and Hanegraaff told CT that so far the ministry has received 40 responses from donors, representing contributions ranging from $10 to $4,000.
At CT's suggestion, CRI agreed to ask donors whose contributions had been misdirected to comment on the record for CT. However, Eaton later told CT that none were willing to be contacted for this story.
The ECFA, which sets fundraising standards for Christian nonprofits, has met with CRI officials on the matter. President Paul Nelson told CT that the ECFA reviewed correspondence and other documentation and has concluded that CRI experienced "a precipitous decline in mail volume and income" during the last three months of 2004.
Nelson told CT, "We do not believe CRI violated any ECFA standards."
Hanegraaff claims vindication, saying, "I would have written the same letter today that I wrote then."
Concerning the defamation suit, Alnor, who worked as a private contractor for CRI from 1988 to 1993, told CT he has not yet been served with any papers. He told CT he has fairly reported the story as it has developed. "I think the real issue here is that CRI is trying to punish a whistleblower," Alnor told CT.
CRI said Alnor's repeated attacks have harmed the ministry and must be challenged. In a prepared statement, CRI told CT, "CRI is not opposed to fair and truthful comments or opinions with respect to matters of public debate and certainly honor[s] the constitutional right to express them. However, fabricating malicious falsehoods and then actively circulating them not only belies any profession of Christianity but is defamatory and libelous. Unchallenged, such unjustified accusations ruin reputations, damage ministries, and cast aspersions on the cause of Christ."
On why CRI is taking a fellow believer to court, Hanegraaff told CT that Christians should never do so in an arbitrary fashion, but, "At some point, you have to say, 'Enough is enough.' Truth and justice do matter."
Hanegraaff added, "If you don't respond, people think there may be something to it."
With reporting by Mark Stricherz
Related Elsewhere:
More about the Christian Research Institute is available on their website.
Earlier coverage of Christian Research Institute and Hank Hanegraaff includes:
Christian Research Institute Accused of 'Naïve' Bookkeeping | Report by whistleblowers to Evangelical Council for Financial Accountability prompts CRI employees to reimburse funds. (July 16, 2003)
Counterfeit Critique | Hank Hanegraaff's long-awaited book relies on old data and leaves false impressions. (Sept. 1, 1997)
Pensacola Outpouring | Apology Follows Hanegraaff Attack (Aug. 11, 1997)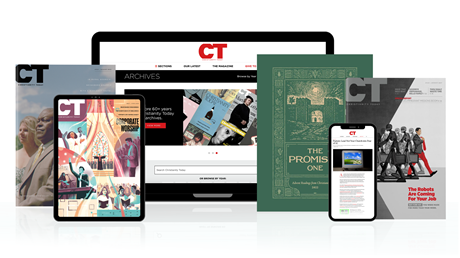 Subscribe to Christianity Today and get access to this article plus 65+ years of archives.
Home delivery of CT magazine
Complete access to articles on ChristianityToday.com
Over 120 years of magazine archives plus full access to all of CT's online archives
Subscribe Now
Christian Research Institute Sues Longtime Critic
Christian Research Institute Sues Longtime Critic