true
It was the typical behind-the-scenes stuff of awards shows—a small security detail watching everyone's every move, journalists huddling near the media area, carping about limited access and hoping for a decent seat in the press rooms. Performers arrive, a marching band passes by outside.
There are so many elegant black folks here—men dressed beyond the nines, women in full-length fur, dropping names of designers (Girl, who is that dress? And those shoes?). And such careful coiffure—braided, locked, 'froed, lyed, dyed, and fried—that a newcomer might wonder if she's at a church convention or a fashion show. The answer, on both accounts, is yes.
But it's big business too. New artists will be introduced to a loyal audience; old ones will be rediscovered. Album sales will pick up. Hands will be shaken, cards exchanged, business deals done.
These are the Stellar Awards, the biggest night in gospel music. Held each January, the Stellars are part awards show, part church convention, and part big-time networking opportunity. It's a big celebration of the business of gospel music, and especially so this year, with the 20th anniversary of the awards show. Everybody got an overview of the profound and rapid mainstreaming of gospel music over the last two decades.
An Industry Within an Industry
Once upon a time, most gospel music was sold at mom-and-pop record stores, at churches, at tables at the back of local concerts. A gospel fan heard his favorite artists on the radio, at local churches, and occasionally at concerts. A gospel artist might live on small freewill offerings split with host churches or benefit from big-money concerts in large urban cities. A few of the best-known artists—million-sellers like Mahalia Jackson and Clara Ward—made good money, but primarily through a well-developed church-and-gospel-concert circuit.
Now, this industry-within-an-industry is a multi-million-dollar business. Gospel music has its own labels, its own cable networks, and its own A-list celebrities, managed by A-list businesspeople and reached only through their A-list publicists. A savvy businessperson can make a more-than-comfortable living in the delicately negotiated intersection of business and ministry.
Gospel music and the gospel sound are everywhere—movie soundtracks, mainstream award shows, commercials for aspirin and aftershave. It's thriving in countries like Japan, Germany, England, Ghana. More than jazz or the blues, it's the form of black American music that people—religious or not—connect to.
A New, Happy Day
Contemporary gospel music as we know it is a relatively new phenomenon—younger than many baby boomers. Horace Clarence Boyer, one of the preeminent scholars of gospel music, identifies Edwin Hawkins' "Oh Happy Day"—a top-40 hit in 1969—as a major turning point for the genre in several ways.
"It moved black gospel from the black church and the black auditorium and Carnegie Hall into popular record stores and theaters and hip-hop joints," says Boyer, coauthor of How Sweet the Sound: The Golden Age of Gospel. The song's success yielded two divisions within gospel music—that designed for a church or concert setting, and that designed to appeal to popular tastes. The former tends to emphasize testimony over the musical style, while the latter reverses the two.
"Oh Happy Day" also paved the way for the aural fusion evident in much contemporary gospel. Says Boyer, "It borrowed so heavily from the popular musics of that day—rhythm and blues, jazz, and Latin music—that it began the major fusion of black gospel overtly with other popular musics."
Subgenres and Fusions
The late 1980s saw popular gospel split into several subgenres—like the Hawkins-styled pop/R&B, the jazz lines of Take 6, the European classical feel of Richard Smallwood, and, in the '90s, the house music and hip-hop influences that Kirk Franklin brought to the choral setting. These fusions set the stage for the mainstream popularity of gospel music and widespread crossover potential that CCM—Contemporary Christian music—hasn't generally achieved.
"This great fusion has placed gospel music squarely in the minds of people who buy popular music and who don't necessarily have to be Christians to like it," Boyer says.
Smallwood said he realized gospel music's reach when, about five years ago, a real estate agent invited him to perform a gospel set at a business conference for a largely Jewish audience. Smallwood said the real estate agent told him there was "something about gospel music that touches the heart and soul. So that gave me the opportunity to witness in an environment where 10-15 years ago that wouldn't have happened. There's just something about gospel music that transcends language barriers, cultural barriers, even beliefs."
In addition to broadening the audience, the musical shift also heralded a generational shift. At first, older, more traditional artists and scholars like Boyer feared that the music would be damaged as younger artists meshed hip-hop and R&B sounds with a gospel message. But many seem to have come around.
"As long as the message has a Scripture-based foundation, I can deal with it," says Timothy Wright, a traditional gospel artist known for his Sunday-morning styled music. "Those rappers are going to reach folks I'm not going to reach."
"We had thought the Lord worked best with music that was pious and old-world sound and style," Boyer says. Then, chuckling, he adds, "And they have shown us that piety can be as raucous as James Brown."
A Televised Revolution
The Internet and radio have certainly contributed to the growth of gospel music, but the biggest contributor to the explosion has been television.
In 1976, less than 10 years after Hawkins brought gospel to the mainstream, Dr. Bobby Jones started taping what is now Bobby Jones Gospel. When the then-nascent BET picked up the show for national syndication in 1980, it signaled a significant shift for gospel music.
"Thank goodness to shows like the Stellar Awards and BET's shows with gospel music," says Jones, saying TV has doubled the genre's exposure. "Most people listen to a particular type of music or radio format. Gospel used to be relegated to a small number of people, but when television came, they could surf the television and pick up the gospel show, and that began to expand it tremendously, [resulting in] this surge and the growth in this industry."
The first Stellar Awards in 1985 were significant because they were the only show to recognize and showcase gospel music on a national level with such prominence. The wide exposure played a significant role in forming and spreading the industry.
Big Business and Mainstream Money
According to the Gospel Music Association, Nielsen SoundScan statistics indicate that black gospel music made up about 20 percent of the Christian music industry's 43.4 million sales units in 2004. All told, Christian music accounts for almost $1 billion annually in U.S. sales, according to the Recording Industry Association of America, which translates to $200 million in sales for black gospel.
That kind of money talks, and mainstream record companies are in turn investing in the genre.
"One of the things that demonstrates that gospel music is healthy and growing is the increasing interest by mainstream music companies," says Billboard senior writer Deborah Evans Price, who covers Christian music for the magazine. She cites Sony-BMG's interest in providing Christian offerings, and Zomba's recent purchase of the GospoCentric label (and its partnership with Kirk Franklin on his Fo Yo Soul Entertainment label).
"When you see mainstream music players like Zomba or Sony making a commitment to gospel music, I believe it's because they see dollar signs," she says. "They see that there are sales to be had."
That mainstream involvement may also result in long-term viability for a Christian version of MTV. Similar efforts have flopped in the past, but thanks to major label investments—and their marketing energy and deep pockets—ventures like the fledgling Gospel Music Channel, a 24-hour all-music cable network, now have a shot at survival, says Charles Humbard, the network's president and CEO.
Even the Stellars are reaping the fruit, gaining more major sponsors. Alvin Williams, a longtime industry veteran and Gospel Music Channel's director of promotion and affinity marketing, says that's because advertisers got hip to the buying power of the gospel-loving demographic.
"Everybody wants to harness the faith-based marketplace, because it's a big consumer marketplace," Williams says. "You have some top Christian records like the WoW series. Michael W. Smith, Kirk Franklin, Donnie McClurkin, Yolanda Adams are selling platinum records on a regular basis. And The Passion of The Christ [over $370 million at the U.S. box office] really proved to people that the faith-based [market] is something to watch out for."
Delicate Dance
Gospel and mainstream music have danced in an often-fluid, sometimes-uneasy interaction since the 1930s, when bluesman Thomas A. Dorsey wrote some of gospel's most beloved songs ("Precious Lord," anyone?). Both "sides" borrow from each other reflexively. A Christina Aguilera might admire the riff-and-run abilities of gospel's Kim Burrell, while gospel artists like Deitrick Haddon or Toné x might incorporate the musical stylings of Michael Jackson, Stevie Wonder or Prince.
Gospel music's acceptance in the larger culture gives gospel artists the ability to easily move between the mainstream and gospel music worlds, giving them the opportunity to take the message of Christ to nonbelievers—including mainstream artists. Consequently, voices of faith are added to the mix of messages in the culture. Few people would see that as a negative thing, but some do question whether gospel music's moving in the right direction. For proof, look no further than a Gospelflava.com message board that's flooded with responses when a mainstream artist releases a gospel album—or an old-school deacon wondering why the choir doesn't sing the hymns he loves anymore.
Mixed Emotions
When Dr. Bobby Jones talks about the industry he's helped develop and promote, he speaks with a measured, thoughtful ambivalence. On the one hand, he's proud of the industry's growth. On the other, he fears that the industry gauges its success by the wrong measure.
"We didn't consider gospel music 'growing' until we were able to associate with the secular world," he says. "We don't consider the artists in gospel music 'successful' unless they are able to participate in the secular world. The only ones that we put on a high pedestal are those we see in secular venues. That [thinking] concerns me."
Jones also worries about the ways some artists present themselves. During performances before the Stellar Awards, he says, he observed sensual dancing and programmed rather than spontaneous spirituality. "I didn't want anybody from the outside to come into what we do, and that's what they walk away with," says Jones, who addresses his concerns through industry seminars.
Others also have concerns. Barbara Holmes, Professor of Ethics and African American Religious Studies at Memphis Theological Seminary and author of Joy Unspeakable: Contemplative Practices of the Black Church, says Christian musicians must walk a careful line. She fears that unreflective participation in the industry may contribute to a Christian celebrity culture that results in materialism, preachers with star status and a disempowered laity that ignores the church's mission to serve and empower the poor.
"If you're a Christian gospel singer, the mandate to be in the world but not of it still holds," she says. "You have to identify what that means for you. There's no litmus test. But what does it mean to be in this world of gospel music—where you must produce and sell records to survive—but not of it? How do you manage that? If you don't have that critical process of thinking that through, then you'll be manipulated by the business."
Boyer and Holmes also note that gospel's widespread growth opened the black religious tradition to be caricatured or exaggerated in popular culture in ways that other religious traditions are not. Each is uncomfortable with the use of the music to sell products or movies (The Fighting Temptations, anyone?) that treat the tradition lightly, and each wishes the current music expressed more of the contemplative posture present in black religion.
Boyer wants to see today's sophisticated sounds accompanied by culturally relevant messages. "Where the music concerns itself with the sounds that abound today, the texts of the songs don't cover the issues of today," he says. "The melody has developed more than the text." He'd like to see more music that addresses social issues like unwed parenthood, poverty and war: "Gospel is the only vehicle that we have that will speak to social issues just as the Negro spiritual did."
Signs of Spiritual Growth
Still, many see signs of spiritual growth throughout the gospel music industry. Although many artists are rightly concerned about the business and entertainment aspects of the industry, most of them see their work primarily as ministry, says Steve Harris, a multimedia expert who works in several facets of the industry.
"Most artists are finding out that it's not just to entertain," says Harris. "They're changing their focus. They're seeing more of it as a ministry now."
Other industry veterans say accountability keeps the industry on track. "It comes down to the individual studying the Word and finding someone to be accountable to," says Williams. "I know a lot of [label] executives who won't sign an artist unless they have a strong ministry. You can be the best musician, but if there's not a foundation of ministry, we won't sign that artist, because when we put you on a stage, you're singing for God. And after that show is over, there's gonna be lost people who want to find Christ, and you have to be able to minister to those people."
Paul "PDA" Allen, one third of the PAJAM production team, says accountability to one another helps them balance their work with mainstream artists with their gospel ministry. In some ways, their stance describes a place of balance for the entire industry.
"God gave us talents, gifts and abilities, and we use them to the best of our abilities, whether it be secular or gospel," says Allen. "However, when we do gospel, it's a ministry to us. So when we're doing our gospel, that's our ministry going forth. When we're doing any other kind of music, that's just us working within our gifts and talents and abilities. Of course, we have standards and boundaries that we won't cross, based upon our lifestyle and our life, our spiritual beliefs and our relationship with God. We usually know when we're getting close to that edge and when to pull back."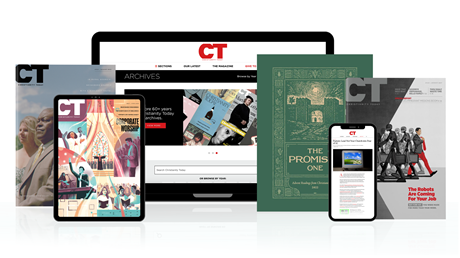 Subscribe to Christianity Today and get access to this article plus 65+ years of archives.
Home delivery of CT magazine
Complete access to articles on ChristianityToday.com
Over 120 years of magazine archives plus full access to all of CT's online archives
Subscribe Now
The Gospel Truth
The Gospel Truth