Sometimes historians talk about the "long 19th century," the period from the French Revolution to World War I. This Top Ten list for 2005 includes a book published in November 2004 (which I did not see until 2005) and a book to be published in January 2006 (because I read it in galleys and am enthusiastic about it and want you to know about it now instead of a year from now). So this is "the long 2005."
Remember, these are not the best books of the year, or the most important. They are my favorite new books of the year, the ones that come most readily to mind among those I've read in the past twelve months (and on another day the list would no doubt be slightly different). Mao: The Unknown Story, by Jung Chang and Jon Halliday (Knopf) is one of most important books I read this year, but not among my favorites. Likewise Little Boy: The Arts of Japan's Exploding Subculture, edited by Takashi Murakami (Yale Univ. Press), which illuminates all too well one face of the Zeitgeist.
I make a rule for myself that there will no be quotas. So, for instance, when I finished with this year's list and then noticed the absence of theology, philosophy, and science, I felt an impulse to jigger the results. Shouldn't I go back and judiciously substitute one or two of the estimable books I read in those fields? And history is only lightly represented. And so on. But to do that would spoil the game.
The absence of poetry is another matter. I'm setting aside poetry for a separate report, to be issued in this space sometime soon. (And probably read by hardly anyone. Maybe I should make it poetry and Something Else. Poetry and the Emergent Church? Poetry and Sex? Poetry and Absolute Truth?) If I were to include poetry in the field for the Top Ten this year, as I have in the past, I would be hard pressed to limit myself to ten or even a baker's dozen titles.
So, to the list (alphabetical by title):
1. The Bedside Book of Birds: An Avian Miscellany, by Graeme Gibson (Doubleday). This might just be my favorite book of the year. Wendy and I love birds, love "bedside books," love miscellanies. Gibson—a Canadian novelist married to the novelist Margaret Atwood—has compiled a book full of delightful surprises, including splendid images that he's discovered in the decades since (in his late thirties) he became a serious birdman. If you are looking at the last minute for a Christmas gift for a bookish person—he or she need not even be a birdwatcher—this would be a good gamble.
2. Europe Central, by William T. Vollmann (Viking). Not exactly a novel, this is a massive volume of linked stories, set out in pairs, alternating between Russia and Germany between World War I and the mid-1970s and largely focused on the World War II era. Winner of the National Book Award for fiction, Europe Central has the ambition of Gravity's Rainbow, though the texture of Vollmann's work is very different from Thomas Pynchon's. One of Vollmann's preoccupations is the struggle for conscience under the nightmarish conditions of Stalin's Soviet Union and Hitler's Germany. Many of the episodes center on the Soviet composer Dmitri Shostakovich; the artist Kathe Kollwitz and the poet Anna Akhmatova, among others, also figure in the episodic narrative. A flawed but nevertheless extraordinary book.
3. Jacob's Tears: The Priestly Work of Reconciliation, by Mary Douglas (Oxford Univ. Press). You may recall the pieces by David Livingstone and Michael Jindra on the Catholic anthropologist Mary Douglas in the May/June 2003 issue of Books & Culture. Douglas is a writer of bracing intelligence and wit whose curiosity about the world is contagious. She is always asking why. At an age when many scholars retire, she plunged into biblical studies, and this collection of essays is her third such venture, following books on Leviticus and Numbers. Her zest is apparent simply from the chapter titles: "Counting Jacob's Twelve Sons," for instance. Here is a window into the Old Testament world from an unfamiliar and richly rewarding perspective. (To get a sense of how Douglas' mind works, you might want to check out her contribution to an excellent collection of essays edited by James L. Heft and just published by Fordham University Press, Believing Scholars: Ten Catholic Intellectuals. Douglas explains how her "feeling for hierarchy," against the intellectual grain of her times, has shaped her life and work.)
4. K., by Roberto Calasso (Knopf). The "K" of the title is Kafka. Here I will quote from a review of the book which I did for The Weekly Standard: "Like Joseph Brodsky's essay on W. H. Auden's 'September 1, 1939,' Calasso's study of Kafka is one of those all too rare performances that give literary criticism a reason to exist. Beginning with a sustained immersion in The Castle and touching in its course on much of Kafka's work, K. invites the reader to pay attention, to enter into a state of hyper-awareness that becomes almost intoxicating. …
"One of the greatest benefits of Calasso's book is simply the reminder that we live among rival understandings of the world and our place in it. But do we really need reminding of this? Doesn't any day's news suffice? No, because most of the time that news just glances off us. All sensible people, we think, see things pretty much as we do. But a secularist who reads Calasso's book—and reads Kafka at his instigation—must, if he's honest, come to terms with the incredible notion that this wonderfully adept guide, who seems in so many ways a kindred spirit, is capable of talking rubbish about 'the gods,' and moreover enlists Kafka in his cause. A Christian or a Jew or a Muslim must reflect that this penetrating critic of secularism is also a polytheist, after a fashion, a neopagan (and there are many neopagans in 'secular' Europe)."
5. The Lighthouse, by P. D. James (Knopf). When James' previous Adam Dalgliesh novel, The Murder Room, appeared on this list a couple of years ago, I feared that it might be her last book. So this new novel comes gift-wrapped. Set on an island off the coast of England, it is deliciously and self-consciously stylized in the mode of the classic British mystery, where the action unfolds in a controlled setting with a strictly limited cast of characters, but it is written with a virtuosity that can't be matched in any of the Golden Age greats. Like his creator, the impossibly superior Dalgliesh inspires both admiration and a desire for parody. What's most striking about The Lighthouse is a certain lightness of spirit not so evident in the last several books in the series. There is plenty of darkness, to be sure, pain and loss and unmistakable evil, but nevertheless the balance has shifted.
6. Like a Fiery Elephant: The Story of B. S. Johnson, by Jonathan Coe (Continuum). If I tell you that B. S. Johnson was an avant-garde British novelist for whom all the usual contrivances of fiction were so much baggage to be tossed overboard, that he accordingly wrote himself into a corner before committing suicide, you would quickly form a vague mental image of the man—just before you turned the page in search of a more congenial subject. But Johnson wasn't as you might imagine, and we are fortunate indeed that the British novelist Jonathan Coe was interested enough to tell his story, so idiosyncratic and at the same time emblematic that not even a genius could have made it up. This is the finest literary biography I have read in the last several years.
7. The Men Who Stare At Goats, by Jon Ronson (Simon & Schuster). Who are the men? Members of an experimental U. S. Army unit, no longer active (we think). Why did they stare at goats? To disable or kill them by psychic force. Were they ever successful? And who on earth authorized such a program? Therein hangs a tale, the twists and turns of which Ronson follows expertly in this astonishing piece of surrealist reporting—the funniest, strangest, most surprising book of the year. Reading it is a bit like discovering a lost Charles Portis novel.
8. On Secularization, by David Martin (Ashgate). I've omitted the subtitle of this book, fearing that—like the joke of Monty Python fame—it might have a deadly effect. In fact, like everything David Martin writes, it's wonderfully lucid, drawing on his knowledge of conditions on the ground from Bucharest to Buenos Aires. The subject he addresses in this book—to which he has given considerable attention over the span of his long career—is among the most important of our time. Clearly the prophets of thoroughgoing secularization were wrong—though their latter-day representatives are still deeply entrenched in the university. Clearly religion and Christianity in particular are not withering away. But where precisely does this leave us? And what can we in the United States learn by comparing our situation, vis a vis secularization, with that which prevails elsewhere? What in particular can the church learn? To think about such questions there is no better guide than David Martin.
9. The Successor, by Ismail Kadare (Arcade). Kadare is a great writer in a language hardly anyone outside his small country knows, so his books in English (like this one) tend to be translated from a French translation. Fortunately in this case the translator is David Bellos, the superb biographer and translator of Georges Perec. Like many of Kadare's novels, The Successor has some of the qualities of a fable. It is based on the actual case of the man who had been groomed to be the successor of Albania's longtime dictator, Enver Hoxha, the most obsessively atheistic leader in the entire Communist Bloc. This "successor" died shortly before he was to assume power. Was it suicide? Murder? Was Hoxha himself behind it? From this premise Kadare spins a characteristically uncanny book. (If you do a little digging, you will encounter some controversy about the extent to which Kadare was tainted by complicity with the Hoxha regime, despite the fact that many of his books remained unpublished in his native land. You can find some of the pro and con on the web. Without trivializing the dispute, I would say the best way to proceed is to read Kadare himself.)
10. Warriors: Portraits from the Battlefield, by Max Hastings (Knopf). Military historian Max Hastings, whose book Armageddon: The Battle for Germany, 1944-1945 appeared on this list last year, returns with another first-rate book. And like that earlier book, Warriors, scheduled for publication in the first week of January 2006, while it will surely appeal to those who have a special passion for military history, deserves a much wider readership. In fifteen episodes, starting with the Napoleonic Wars and concluding with Israel's Yom Kippur War, Hastings gives us portraits of individuals whose actions in the heat of battle were exceptional but whose situation mirrors some essential features of the human condition. Hastings has a wonderful feeling not only for individual quirks but also for the distinctives of other times and places, so that as a reader one is continually reflecting on how radically different this or that person's experience was from the reader's own while at the same time sensing deep commonalities.
Next week: Various "awards," and more books. All best wishes to you and yours as you celebrate the birth of our Savior.
John Wilson is editor of Books & Culture.
Related Elsewhere:
Books & Culture Corner and Books & Culture's Book of the Week, from Christianity Today sister publication Books & Culture: A Christian Review (want a free trial issue?), appears regularly on Tuesdays at Christianity Today. Earlier editions include:
How to Survive a Bookalanche | Some more keepers from 2005. (Dec. 13, 2005)
'Tis the Season for Books (And Lists of Books) | Part one of our 2005 roundup. (Dec. 6, 2005)
Taizé in the Fall | A parable of community. (Nov. 29, 2005)
'Have Mercy on Me, O God' | A report from AAR/SBL. (Nov. 22, 2005)
The Shrine Next Door | A superb study of Chinese popular religion helps to set the context for the appeal of Christianity in China today. (Nov. 8, 2005)
Dissecting Divorce | A new book by Elizabeth Marquardt offers a child's-eye-view of divorce. (Oct. 25, 2005)
Heavenly Real Estate | A geography of art in New York at the midpoint of the 20th century. (Oct. 18, 2005)
Narnia Etc. | A chronicle of reading. (Oct. 11, 2005)
How Wide the Divide? | A proposal for compromise between "value evangelicals" and "legal secularists" on church-state issues. (Sept. 13, 2005)
Article continues below
Poet with Three Heads Talks with King Solomon | Conversation touches on Hebrew parallelism, marriage, and the making of many books. (Aug. 30, 2005)
With God on Our Side | David McCullough's account of the pivotal year 1776 has resonance for Americans in 2005. (July 19, 2005)
The Rich Are Different—and Not So Different—from Us | Think you're burned out on memoirs? Read this book. (June 28, 2005)
A Grief Observed | Exploring the valley of the shadow in two literary lives. (June 13, 2005)
For book lovers, our 2005 CT book awards are available online, along with our book awards for 2004, 2003, 2002, 2001, 2000, 1999, 1998, and 1997, as well as our Books of the Twentieth Century. For other coverage or reviews, see our Books archive and the weekly Books & Culture Corner.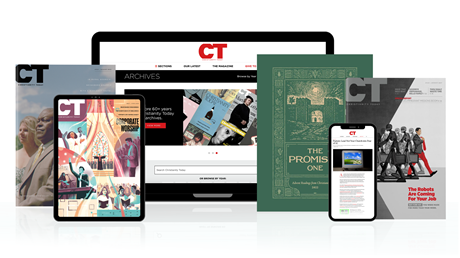 Annual & Monthly subscriptions available.
Print & Digital Issues of CT magazine
Complete access to every article on ChristianityToday.com
Unlimited access to 65+ years of CT's online archives
Member-only special issues
Subscribe
The Top Ten Books of 2005
The Top Ten Books of 2005