In a brilliant commentary for National Public Radio's All Things Considered, the Heritage Foundation's Joe Loconte has drawn attention to one of the strangest developments to hit Washington, D.C., in a long time. Despite all the disagreements that have split (generally) conservative Christians from those at the other end of the political-cultural spectrum, in one cause they have been united—and effective.
Loconte notes that Christians have not always been at the forefront of the cause of "human rights" (of course, "human rights" has sometimes been used as a euphemism for everything from abortion to same-sex marriage). But Christians have lately been front and center in a unique push that has had a major impact on administration policy—and brought them hand in hand with such unlikely allies as the Congressional Black Caucus. Loconte says,
They agreed, for example, on the need to create a U.S. commission to promote religious liberty; on measures to crack down on sexual trafficking; and on a law threatening sanctions against North Korea for its arbitrary arrests and labor camps. Evangelical groups such as the Salvation Army have actually found common cause with feminist organizations such as the National Organization for Women.
Weeks back, USA Today reported on evangelicals working together with political progressives on issues from prison reform to sex trafficking:
The Trafficking Victims Protection Act, passed in 2000, aims to dismantle the international crime syndicates that send women and children from the developing world into prostitution and sweatshops. Its supporters ranged from feminist Gloria Steinem to Chuck Colson, a former Nixon aide and founder of Prison Fellowship ministries.
Yet potentially the most significant of all these collaborations, and perhaps also the hardest, is in issues of biotechnology such as cloning.
It is hardest because these questions are all related in one way or another to abortion. But it could prove the most significant, since many of us believe that these questions will dominate the world of the 21st century—and carry the possibility of changing human nature itself.
California's cloning surprise
The state of California's vote for the infamous Proposition 71 on funding cloning in November of 2004 has provided the most tangible example of right/left, pro-life/pro-choice, collaboration. Despite the heavy emphasis on "stem cell research" and the strongly anti-Bush sentiment that helped drive the campaign for 71, pro-life and pro-choice leaders began to work side by side against a common foe. The latest example is to be found in the op-ed that I wrote this week with pro-choice feminist Tina Stevens in the San Francisco Chronicle.
We ask what Californians can learn from the Korean cloning scandal in which Dr. Hwang Woo Suk has been disgraced by covering up the fact that some of the eggs he used for his cloning experiments were purchased, and others unethically "donated" by junior researchers.
The fact that pro-life and pro-choice advocates are willing to come together in this very public way demonstrates that this is not business as usual. Something big has begun to shift. The stakes have been raised very high by biotech insiders and their public boosters who see embryos, eggs, and women alike as commodities to be exploited for their value in the marketplace.
Of course, this brings us back to Joe Loconte and the human rights agenda. It is no accident that the document approved by the global community through UNESCO a few weeks ago was the Declaration on Bioethics and Human Rights. The ultimate human rights issues are those raised by biotech manipulation of human beings. The Brave New World, many say, may be a "kinder, gentler" world than that of slavery and trafficking and the ghastly abuses of evil regimes. But at the end of the day it is every bit as deadly. And as abuses are committed in the interests of "cures" (and profit), the line between good and evil becomes harder for many to draw.
Related Elsewhere:
Previous Life Matters columns include:
Face Off—and Back On | Face transplants raise more questions than answers. (Dec. 8, 2005)
Bioethics in Narnia? | C. S. Lewis was way ahead of the curve. (Nov. 30, 2005)
Inventing Ethics | A collaborator walks out on the South Korean cloning genius, citing ethical lapses. (Nov. 18, 2005)
The Killing Fields of Holland: Next It's the Kids | From the Netherlands to California, from stem cells to nanotechnology, how we treat life matters. (Nov. 9, 2005)
Nations United on Bioethics | But is anybody in the West reading the new declaration? (Oct. 19, 2005)
Dr. Frist's Dilemma | The Majority Leader's contradictions mirror the opinions of the public at large. (Oct. 11, 2005)
Cloning Still Haunts California | Remember Prop. 71? Stem-cell research supporters hope voters don't remember the promises they made. (Oct. 5, 2005)
Leon Kass, a Bioethics Legend, Steps Down | The man who led the President's Council on Bioethics brought protests from the industry and directed groundbreaking studies. (Sept. 21, 2005)
A Manufactured Womb of One's Own | The commodification of children and an admission of stem-cell hype. (Sept. 8, 2005)
The Stem-Cell Conspiracy | The Washington Post muddles a major breakthrough in adult stem-cell research, while the U.K. marches blindly on. (Aug. 29, 2005)
Britain Leads the (Wrong) Way | Embryos to be screened for cancer risk, "danger genes." (Aug. 17, 2005)
More CT articles on bioethics are available on our Life Ethics page.
Life Matters
Nigel M. de S. Cameron is now president and CEO of the Center for Policy on Emerging Technologies. His "Life Matters" column, a commentary on bioethics issues, ran from 2005 to 2006.
Previous Life Matters Columns: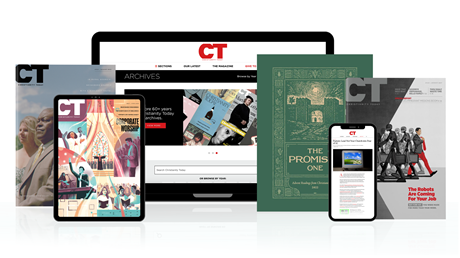 Annual & Monthly subscriptions available.
Print & Digital Issues of CT magazine
Complete access to every article on ChristianityToday.com
Unlimited access to 65+ years of CT's online archives
Member-only special issues
Subscribe
A Common Cause for Our Common Humanity
A Common Cause for Our Common Humanity