| | |
| --- | --- |
| | • |
The Ultimate Face-Lift: French doctors take transplantation one step further

French doctors have successfully transplanted a face. So far the storyline for movies such as the John Travolta/Nicolas Cage Face/Off, face transplants represent a big step forward (backward? sideways?) in transplant surgery. A skin graft here and there is one thing; a new face—someone else's—is another.
According to The Washington Post, the partial face graft was intended to help someone who had been badly injured by a dog—so much so that she had difficulty eating and speaking. Nose, lips, and chin were included. There seems to have been some disagreement among doctors as to whether this was a last resort. The ethics committee had apparently approved the procedure only as a last resort. And a leading French medical ethicist has denounced it as an "experiment" conducted with "undue haste."
The Post reports that controversy has followed:
News of the operation brought criticism from some medical ethicists, who questioned whether a high-risk transplant should be performed for cosmetic reasons on patients who do not have life-threatening injuries. There also are potential psychological ramifications for patients in swapping one of the most personal and individual features of a body, which for many people is a reflection of persona.
For many people? That does seem like an understatement!
Then an even more bizarre twist to the story—or two twists. According to the UK Guardian newspaper, not only has the surgery been condemned as unethical, both the women involved—the recipient and the dead donor—had attempted suicide:
Transplant patient Isabelle Dinoire, from Valenciennes, north of Amiens, was reported to have overdosed on pills last May following a row with one of her two daughters. As she lay unconscious, part of her nose, her mouth and chin were bitten off by her Labrador-cross dog, Tania.
The donor, whose name has not been released, was said to have been of a similar age and from the same area as Ms Dinoire. She had hanged herself. Permission for the transplant was given by her family after she was declared brain dead.
Just to add to the complexity of the story, according to The Washington Post, the physician involved has denied The Guardian's suicide report.
What do we make of this? It could be wonderful news for the woman whose face has been repaired, if she's not already suffering psychologically as an attempted suicide would suggest. It seemed at first to raise no special issues in respect of the donor. Either the person who dies or a close relative has generally to approve transplants, though if she committed suicide this may not be simple at all.
Deeper problems lie elsewhere. What are the implications of this kind of surgery for personal identity? How much is the look of our face something that is part of "us"? Of course, burn victims and others can have their faces radically changed, and they still remain the people they once were.
But where is this headed? A brain transplant? That, of course, would raise the question of who had been transplanted to whom! And it is not likely in the near future. But the idea that our bodies are basically LEGOs that can be rearranged at will is not quite convincing.
Life Is in the Blood

Wesley Smith updates us on the amazing properties of cord blood in a fine piece for The Weekly Standard. Anyone who has followed the debate knows that the blood in a baby's umbilical cord, usually thrown away, has almost magical properties.
After giving several examples from the medical journals of people who have had major cures from the stem cells in cord blood, he summarizes the situation like this:
And there is even more good news about umbilical cord blood stem cells: Unlike embryonic stem cells, UCB stem cells don't cause dangerous tumors. Moreover, they are easier to tissue-type to prevent rejection than are bone marrow stem cells. And here's another big plus: This research is utterly uncontroversial. No embryos are being cloned. No embryos are being destroyed.
The bipartisan Bone Marrow and Cord Blood Therapy and Research Act of 2005 (S. 1317) would create a national distribution system supported by about $175 million over five years. But, as Smith points out, the bill is in danger of getting bogged down in the Senate.
Pro-Science and Pro-Human: Congressman Frank Wolf holds the purse strings of science

Science magazine carries an excellent portrait of one of the most influential members of the House of Representatives, Congressman Frank Wolf. Widely respected on both sides of the aisle, Mr. Wolf has been tireless in his support of human rights around the world. Science profiles him because he just happens to chair the committee in the House that funds the National Science Foundation. And it sees him as a champion of science, committed to raising educational standards in math and science here in the U.S. as well as pressing American leadership in the advance of science and technology.
What the profile does not discuss is the fact that Mr. Wolf has also been a strong supporter of efforts to ban all human cloning and to sustain President Bush's compromise on embryonic stem-cell research.
Wolf is a good example of the fact that we can be pro-science and pro-ethics, indeed, that the two go hand in hand.
Related Elsewhere:
Previous Life Matters columns include:
Bioethics in Narnia? | C. S. Lewis was way ahead of the curve. (Nov. 30, 2005)
Inventing Ethics | A collaborator walks out on the South Korean cloning genius, citing ethical lapses. (Nov. 18, 2005)
The Killing Fields of Holland: Next It's the Kids | From the Netherlands to California, from stem cells to nanotechnology, how we treat life matters. (Nov. 9, 2005)
Nations United on Bioethics | But is anybody in the West reading the new declaration? (Oct. 19, 2005)
Dr. Frist's Dilemma | The Majority Leader's contradictions mirror the opinions of the public at large. (Oct. 11, 2005)
Cloning Still Haunts California | Remember Prop. 71? Stem-cell research supporters hope voters don't remember the promises they made. (Oct. 5, 2005)
Leon Kass, a Bioethics Legend, Steps Down | The man who led the President's Council on Bioethics brought protests from the industry and directed groundbreaking studies. (Sept. 21, 2005)
A Manufactured Womb of One's Own | The commodification of children and an admission of stem-cell hype. (Sept. 8, 2005)
The Stem-Cell Conspiracy | The Washington Post muddles a major breakthrough in adult stem-cell research, while the U.K. marches blindly on. (Aug. 29, 2005)
Britain Leads the (Wrong) Way | Embryos to be screened for cancer risk, "danger genes." (Aug. 17, 2005)
Brave New Puppy | Introducing our new life ethics weblog. (Aug. 10, 2005)
More CT articles on bioethics are available on our Life Ethics page.
Life Matters
Nigel M. de S. Cameron is now president and CEO of the Center for Policy on Emerging Technologies. His "Life Matters" column, a commentary on bioethics issues, ran from 2005 to 2006.
Previous Life Matters Columns: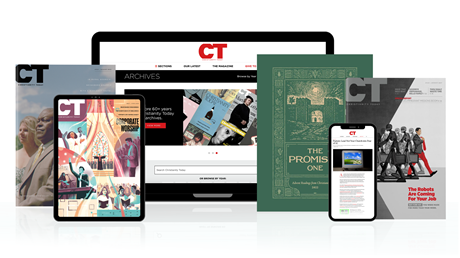 Annual & Monthly subscriptions available.
Print & Digital Issues of CT magazine
Complete access to every article on ChristianityToday.com
Unlimited access to 65+ years of CT's online archives
Member-only special issues
Subscribe
Face Off—and Back On
Face Off—and Back On