The December 26 tsunami in the Indian Ocean triggered a tidal wave of commentaries on the relationship of God to disasters. Most of them redrew in cartoonish strokes Voltaire's famous response to the Lisbon earthquake and tsunami of All Saints' Day, 1755, which claimed an estimated 100,000 lives. That natural disaster destroyed the famous philosopher's optimistic faith in a benevolent though generic Providence. With at least 140,000 souls lost to the 2004 tsunami, it is not surprising to find secularists repeating old challenges to belief in God.
But it is disconcerting to find Christian leaders offering something less than a fully Christian response to the disaster. One case in point: Archbishop of Canterbury Rowan Williams. In a commentary for The Telegraph, he wrote dismissively of "vacuous words pouring out about the nature of God's power or control, or about the consolations of belief in an afterlife or whatever." He then asserted that "every single random, accidental death … should upset a faith bound up with comfort and ready answers."
Whenever the archbishop mentioned traditional Christian teaching on natural evil, he acknowledged only its defective forms. Otherwise, he devoted himself to desultory comments on the value of human life and the persistence of religious faith in the face of disaster.
Williams wasn't alone. In The Wall Street Journal, Orthodox theologian David Hart described talk of God's inscrutable counsels as "odious" and the suggestion that such disasters serve God's good ends as "blasphemous."
When people take any traditional Christian line of comment by itself, they can paint a devilish picture of God. But each traditional line of thought has some basis in revelation and gives us an important piece of the picture.
Here's a list: God allows evil events in order to bring greater good; God allows evil in order to challenge us to spiritual growth and maturity; God may allow tragedy, but he rewards us with greater blessings in heaven; God is in control of whatever happens, and his ways are inscrutable; God punishes the wicked with disasters. Each of these has an important element of truth, but when isolated from the Bible's big picture, the statements distort our understanding of God.
A Savior, Not a Mechanic

A truly biblical and Christian response to disasters begins with the seriousness of the problem and proceeds to the radical nature of God's solution. Natural evil is a part of the problem to which God's plan of salvation is the answer. Both the contemporary followers of Voltaire and the sub-Christian reflections of some church leaders mistakenly isolate the problem of natural evil from the biblical story of sin and redemption.
Formulated outside its biblical context, the conundrum of evil casts God in the role of a mechanical engineer who is responsible for designing a system and keeping it functional. But the God of the Bible does not merely keep things in working order. If that were his primary role, the infidels and unbelievers would have a point. The dynamic God of the Bible is a savior, not a mechanic. And through the Incarnation, he is a participant in our suffering, not the distant observer posited by the deists. This is certainly one of the key differences between Christian approaches to evil and those of the world's other major religions.
Christian faith knows that both natural disaster and human sin are part of the interim between the Fall that corrupted God's very good creation and the glorious goal toward which history is moving. God is not only the Creator and Sustainer of the world, but he is the Savior, the one who has put it right and continues to put it right. His ultimate goal is the rebirth of the entire creation.
The problem was so great that the Trinity offered a radical solution: the death of the Son of God for the life of the world. The radical nature of the solution speaks loudly of the magnitude of the problem.
Natural disasters remind us that it is not just people but the whole creation that became sick unto death and is being renewed unto life. Paul writes of the whole creation "groaning as in the pains of childbirth" (Rom. 8.22, NLT). The pangs of childbirth can seem intolerable. Yet now in Christ they have their place in the larger picture of birth and renewal. "All creation is waiting eagerly for that future day when God will reveal who his children really are. … [And] all creation anticipates the day when it will join God's children in glorious freedom from death and decay" (Rom. 8:19, 21).
The discussion of God's control over people and nature today must not be separated from God's victory at the end of history. At the center of this story—at the pivotal point in the narrative—is Jesus, with his arms outstretched. We may not understand or be able to "make sense" of accidental deaths, whether singly or by the tens or hundreds of thousands. We can, however, know Jesus, and in his embrace, we can in turn embrace the suffering world and offer it a sure hope. And it is this costly embrace that Christians the world over have made in recent weeks as they have given generously and worked tirelessly to relieve the suffering in South Asia.
Related Elsewhere:
A ready-to-download Bible Study on this article is available at ChristianBibleStudies.com. These unique Bible studies use articles from current issues of Christianity Today and other magazines to prompt thought-provoking discussions in adult Sunday school classes or small groups.
Our tsunami weblog rounded up dozens of articles seeking meaning in the disaster.
Our full coverage of the Indian Ocean tsunami includes:
Indonesian Christians in NYC Gather Money, Pray for Spiritual Healing | Church thankful that few friends and family were in worst-hit areas. (Jan. 03, 2005)
Church Building and Its Members Reported Swept to Sea | Horrific and hopeful stories emerging from Sri Lankan Christians. (Jan. 03, 2005)
Sri Lanka Bible College Aiding Victims, Churches | More than 30,000 of island nation's 20 million people dead. (Jan. 03, 2005)
India's Christians Prominent in Casualties and Aid | Velankanni basilica, Christian fishermen among hardest hit. (Dec. 30, 2004)
Disaster Prompts 'Neighborly Love' | The director of Youth for Christ in Sri Lanka meets Christian survivors straining to deliver aid to victims despite their own losses. (Dec. 30, 2004)
Tsunami Survivors Desperate for Aid | Christian groups worldwide mobilize massive relief effort to South Asia. (Dec. 29, 2004)
Other tsunami weblogs include articles on theodicy:
Tsunami Weblog: Combining the Gospel with Aid | Plus: Tensions increase between Muslim militants and aid workers; Christian, Hindu groups fighting to help; Churches giving aid; more theodicy debates; and more articles from online sources around the world. (Jan. 11, 2005)
Tsunami Weblog: UNICEF Confirms the Kidnapping of Tsunami Orphans | Plus: Ake Green condemns Phelps's attacks on gay Swedes, tax deduction deadline extended for tsunami donations, Muslim radicals provide relief, and other stories from online sources around the world. (Jan. 07, 2005)
Tsunami Weblog: S. Korea Worries Christian Relief Groups May Face Terror Attacks | Plus: Where was God in the disaster? Churches giving aid, and orphaned children kidnapped. (Jan. 06, 2005)
Tsunami Weblog: The World Seeks Meaning | Is God to blame for the tragedy? Plus: the recent tsunami updates, ministry amid the wreckage, and Christians give $millions in relief. (Jan. 05, 2005)
Article continues below
Tsunami Blog: World Vision's $50 Million Goal | Plus: Commanding the wave to stop in Jesus' name, missing sponsorship kids, and other stories of faith and works in the wake of tragedy. (Jan. 05, 2005)
Other Christianity Today articles on theodicy include:
'Nebuchadnezzar My Slave' | Was the Holocaust God's will? (April 15, 2002)
Bad Things Still Happen | A concise, clear argument for how God can be both good and omnipotent. (July 13, 1998)
In Desperately Wicked | Reckoning with evil, Alan Wolfe says, "Evil is getting increased attention" and "is once again prominent on the intellectual and academic radar screen." From Books & Culture, March/April, 2003, available from the CTLibrary.
Have something to add about this? See something we missed? Share your feedback here.
Our digital archives are a work in progress. Let us know if corrections need to be made.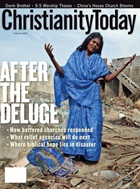 This article is from the February 2005 issue.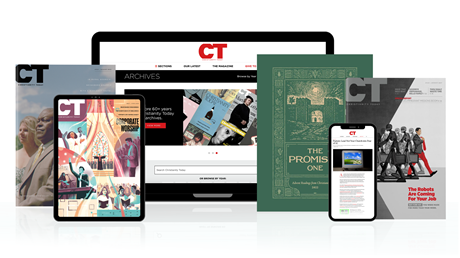 Subscribe to Christianity Today and get access to this article plus 65+ years of archives.
Home delivery of CT magazine
Complete access to articles on ChristianityToday.com
Over 120 years of magazine archives plus full access to all of CT's online archives
Subscribe Now
Tsunamis and Birth Pangs
Tsunamis and Birth Pangs