Judge George Greer gave Terri Schiavo three more weeks of nutrition and hydration while her parents fight to keep her alive. The stay was the third this week delaying the removal of a feeding tube, which has kept Schiavo alive for fifteen years. According to the Orlando Sentinel in a story picked up by the Chicago Tribune, the judge seems to be getting tired of the continual appeals by Schiavo's parents. "The court is no longer comfortable granting stays simply upon the filings of new motions," Greer wrote. "There will always be 'new' issues that can be pled."
Bob and Mary Schindler, Schiavo's parents, asked that there be enough time given to investigate a motion by the Florida Department of Children & Families an allegation of abuse of Schiavo. The Schindlers also hope other appeals will keep their daughter alive. In addition, Florida Governor Jeb Bush and the legislature may try to step in, as they did in October 2003 when they passed Terri's Law, which allow Schiavo's feeding tube to be replaced six days after it was removed.
The Vatican has voiced its opinions on the case, saying, "If Mr. Schiavo legally succeeded in provoking the death of his wife, this would not only be tragic in itself, but it would be a serious step toward legally approving euthanasia in the United States." The statement, reported by the Associated Press, was made by Cardinal Renato Martino, the head of the Pontifical Council for Justice and Peace on Vatican Radio.
Focus on the Family's new president:
Focus on the Family appoints new president | Current COO James D. Daly will replace Don Hodel (Focus on the Family)
North American Anglicans disciplined:
Episcopalians cling to unity for convention | Homosexuality issue is debated (The Courier-Journal, Louisville, Ky.)
Anglican leaders ask U.S. to leave council | Anglican leaders struggling to resolve explosive differences over homosexuality have asked the U.S. Episcopal Church and the Anglican Church of Canada to temporarily withdraw from a key council of their global communion because of the election of a gay bishop in the United States and the blessing of same-sex unions there and in Canada (Associated Press)
Anglican church heads for schism over gays | In what was widely seen as a victory for traditionalists in the 77 million-strong church, the pro-gay North American liberals were asked by their fellow primates to bow out for the time being from one of its leading bodies (Reuters)
Anglicans face temporary split in gay row | The Anglican Church edged closer to a possible schism on Friday after it called on the Canadian and U.S. churches to quit one of its key bodies until 2008 while they reconsider their support for gay bishops (Reuters)
World Anglican leaders rebuke Canadian church | The leaders of the world Anglican Communion rebuked the U.S. and Canadian Anglican churches yesterday over their acceptance of homosexuality and pushed them to withdraw from one of the global church's top policy-making bodies (The Globe and Mail, Toronto)
Diplomacy disguises beginning of the end | The bitter homosexuality debate has finally caused a formal split in the Anglican Church (The Age, Melbourne, Australia)
Anglicans ask Canada, US to leave | Conservatives score a victory as churches accepting homosexuality are told to quit a worldwide council (The Age, Melbourne, Australia)
Flocks in U.S., Canada face split | The U.S. Episcopal Church and the Anglican Church of Canada must cease ordaining homosexuals and conducting blessings of same-sex unions by 2008 or withdraw from the worldwide Anglican Communion, the denomination's archbishops ruled yesterday (The Washington Times)
U.S., Canada churches urged to leave key Anglican council | The top archbishops want North Americans to enact a moratorium on gay union blessings (Los Angeles Times)
Anglican leaders seek move to avoid schism | Church leaders in the U.S. and Canada have been asked to withdraw temporarily from a denomination governing body (The New York Times)
The pope's victory | There is a link between his dogged effort to undo the perversions of Western thinking going back four centuries and the harsh admonition of the world's Anglican primates to their North American brethren to stay away from their Consultative Council meetings until the next Lambeth Conference in 2008 (Uwe Siemon-Netto, UPI)
North American Anglicans disciplined (UK coverage):
Anglican rift grows over gay row | Anglican leaders have asked the US and Canadian Churches to withdraw from a key council temporarily because of their stance on homosexuality (BBC)
Q&A: Anglican church split | Anglican leaders want US and Canadian Churches to withdraw from the Anglican Consultative Council until 2008 because of their stance on homosexuality (BBC)
Church faces schism today | Canada and US to leave over stance on gays (The Guardian, London)
Gay row forces split with North American Anglicans | A schism in the Anglican Church was looming last night after the American and Canadian branches were asked to withdraw temporarily due to a dispute over homosexuality (The Independent, London)
Anglican schism nears reality | The threatened split between conservative and liberal Anglicans over homosexuality is now almost complete (BBC)
Anglicans give ultimatum to pro-gay liberals | In a move that will send shockwaves around the world, the primates of the 70 million-strong Church are expected to issue an ultimatum today demanding that the liberals "withdraw and consider their position" (The Telegraph, London)
Anglicans ready to split over gay bishop | The concluding statement of the week-long Primates' meeting in Armagh represents a conservative success in forcing the liberals in North America to consider whether their stance over gays is compatible with membership of the Anglican Communion (The Times, London)
Pope back in hospital:
Parkinson's disease increases risks to Pope | Parkinson's disease may have impaired the ability of Pope John Paul II to swallow and contributed to the breathing problems that led to his tracheotomy yesterday, leading American specialists say (The New York Times)
Latest Pope health scare raises new fears | One new aspect to the aged pope's heath concerns centers on speculation about the existence of a letter that could spell out how John Paul wishes to be treated if he becomes incapacitated (UPI)
Pope suffers relapse, undergoes surgery to assist his breathing | Flu complications tax the already frail John Paul II. Pneumonia is a concern, doctors say (Los Angeles Times)
The Pope undergoes emergency surgery | Tracheostomy performed after respiratory crisis (The Washington Post)
Papal resignations rare | The Rev. Thomas Reese, editor of the Jesuit magazine America and a Vatican expert, said popes worry that stepping down would set a dangerous precedent that could be misused by factions in the church to pressure a future pontiff to leave. No pope has resigned for centuries (Associated Press)
White House wishes the Pope fast recovery (Associated Press)
Pope is breathing on his own again after throat surgery | Vatican officials gave a positive assessment of John Paul's recovery today, but the surgery is a turn for the worse for the pope (The New York Times)
Pope breathing on own; no lung infection | Papal spokesman Joaquin Navarro-Valls told reporters that the operation doctors performed to cut a small breathing hole in the pope's neck "was not an emergency procedure" (Associated Press)
Pope breathing unassisted, advised not to speak | "The Holy Father spent a night of tranquil rest. This morning he ate breakfast with a good appetite," Spokesman Joaquin Navarro-Valls told reporters, adding that it consisted of milk with coffee, biscuits and yogurt (Reuters)
More on Pope John Paul II:
Pope's new book inflames passions | He's no stranger to controversy, but the Pope's latest published thoughts on abortion and gay unions are sure to spark debate inside and outside the church (The Sydney Morning Herald)
Will Africa produce the next pope? | Arinze's time may have come (SAPA/AFP)
Catholicism:
Religion in the News: New San Antonio archbishop has big robe to fill | Jose H. Gomez replaces Patrick Flores, the first Mexican-American bishop (Associated Press)
Religion Today: Sister Rose's Oscar moment | Sister Rose Thering realized that the prevailing teaching of her day had to be wrong, and worked long and hard to challenge her church on the matter — ultimately helping to reshape its worldwide policy on whether the Jews killed Jesus (Associated Press)
Diocese uses cash of closed parishes | With giving off, funds used for operations (The Boston Globe)
Search warrant records withheld | A Lucas County Common Pleas Court judge today denied the release — at least temporarily — of documents supporting a police search last year of the Toledo Catholic Diocese during an investigation into the 1980 murder of an elderly nun (The Toledo Blade, Oh.)
Abuse:
Catholic monitor lauds anti-abuse efforts | The first child protection monitor for the U.S. Roman Catholic Church said in an interview the day before she steps down that the unrelenting focus on bishops' failures to rein in sexually abusive priests has obscured the efforts of countless diocesan workers and volunteers who have dedicated themselves to helping victims on a daily basis (Associated Press)
Priests discussing sex abuse levy | Priests in Londonderry are holding an emergency meeting to discuss levies imposed on parishes to pay into a fund for victims of clerical sex abuse (BBC)
Priest abuse reports persist | Archdiocese reveals 8 new claims, some decades old (The DenverPost)
Church life:
Sex and drugs and the Orthodox Church | For the first time in decades, Greece's famously partisan media have put aside their political predilections to get to the bottom of a story that looks set to run and run (The Guardian, London)
$17 million verdict has many concerned | Worries arise about impact on churches fearful of liability (Milwaukee Journal-Sentinel)
Education:
Latino, black parishes hit hardest by school closings | Demographic shifts in Chicago's working-class neighborhoods are forcing Cardinal Francis George to close 23 Catholic elementary schools, mostly in African-American and Latino communities (Chicago Tribune)
The gospel of UVC | Umpqua Valley Christian's boys preach team unity through their faith (The News-Review, Roseburg, Ore.)
Evolution & creation:
Evolution revolution | Scientists and educators fear conservative muscle could force religious ideology into public schools (Deidre Pike, Las Vegas City Life)
When you evolve, can we talk intelligently? | Contrary to what Charles Darwin's disciples would have you believe, all the critics of his theory of evolution aren't Christians (Don Wade, The Commercial Appeal, Memphis, Tenn.)
Religion & politics:
Church in plea over NI process | The British and Irish governments must restore the "moral integrity" to the political process, the Presbyterian Church has said (BBC)
Group raises its progressive Christian voice | Faith Voices for the Common Good wants a higher profile for tolerance and economic justice (The Oregonian)
Caught on tape | Did the gay leadership miss opportunities to sway the president as he developed his ideology on gay rights? (Mubarak Dahir, New York Blade, gay newspaper)
More than just buildings crumbling | Still peeved about three county supervisors caving in to a lawsuit threat from the ACLU and striking a tiny cross from the Los Angeles County seal? Here's a chance to channel that energy into a new mission to shield the cultural symbols that happen to include religion from insane lawsuits. (Bridget Johnson, Los Angeles Daily News)
Christian right mum on Gannon Affair | Why have the 'traditional family values' folks erected a wall of silence around the Gannon scandal? (Bill Berkowitz, WorkingForChange)
MP slates Christian 'thugs' over charity | A Christian pressure group was accused in the House of Commons yesterday of using strong-arm tactics to pressure a Scottish cancer charity into refusing a £3000 donation from the controversial Jerry Springer—The Opera. (The Herald, Glasgow, Scotland)
The Bush tapes: Hitting the erase button | Doug Wead, for once, is speechless. But his career speaks volumes (The Village Voice)
Church electioneering ban re-examined | The half-century-old tax laws that forbid churches from directly engaging in partisan political activities are fraying. Some say they should be discarded. Others think that would be a sin (Newhouse News Service)
Human rights & religious freedom:
Unwelcome mat | It is important not only to look at this issue from the standpoint of the group of asylum-seekers but rather the potential impact on one asylum-seeker at a time (Lin Piwowarczyk, The Boston Globe)
The reality of l'affaire du foulard | The French hijab ban, now in place for almost a year, has both veiled the country's social problems and unveiled its racism (Naima Bouteldja, The Guardian, London)
Former church-squatter allowed to immigrate | A Serbian woman who holed up in a Halifax church for more than a year to avoid deportation will soon be coming back to the Nova Scotia capital—permanently (The Globe and Mail, Toronto)
Men of cloth shout out from ringside | Zimbabwe's political setting since the highly disputed 2000 general election has witnessed conflicting rejoinders by the clergy to the manifest deficit in civic rights and human rights abuses that can be likened to the biblical crucifixion where on both sides of the cross hung two distinct characters (Ray Matikinye, Zimbabwe Independent)
No need for anti-conversion law: Cardinal Topo | Jharkhand's Cardinal Telesphore P. Toppo Friday said there was no need for an anti-conversion law in India. (IANS, India)
Life ethics:
Moving stem cells front and center | Hans S. Keirstead might be the Pied Piper of stem cells - and not just because he makes rats walk. He also helped lure Californians to the polls last fall to approve spending $3 billion of the state's money on embryonic stem cell research over the next decade. But he has critics who worry that he may be leading their new field too far, too soon into uncharted territory (The New York Times)
Risks to women in embryo cloning | Thousands of women will need to undergo egg extraction procedures for such embryo cloning (Judy Norsigian, The Boston Globe)
Crime:
Law lords reject return of corporal punishment | An attempt to bring back corporal punishment in independent schools was rejected by the law lords yesterday (The Telegraph, London)
'The Mennonite Mob' | Mexican Mennonite widow talks about alleged drug trade (KNBC, Los Angeles)
Gays in the military:
Don't bother | The US military has always been sabotaging itself with its flawed ''Don't Ask, Don't Tell" policy on gay service personnel -- and now a government study shows exactly how much (Editorial, The Boston Globe)
Gay warriors | America should learn from its allies and let gays serve openly (Editorial, The Economist, U.K.)
Same-sex marriage:
Procreation center of gay marriage debate | Opponents of same-sex marriage, such as the Arizona-based Christian legal group Alliance Defense Fund, argue that the need to ensure the survival of the state and species is the historical and institutional foundation upon which marriage exists (Associated Press)
Conn. legislative panel backs civil unions | Connecticut's legislature moved closer to legalizing civil unions for same-sex couples, as a key panel approved a measure that could make it the first state in the country to recognize gay unions through legislative action rather than court order (Associated Press)
Conn. nears OK of gay civil unions | Final votes on bill expected by June (The Boston Globe)
Sexual ethics:
Opponents of adult firms organize | Community activists, joined by Mayor Carlos Mayans, hear an Abilene man's recipe for fighting obscenity (The Wichita Eagle, Kan.)
Child porn amnesty call from church group | A child protection group has called for a permanent amnesty to allow users of child pornography to give themselves up and escape prosecution (The Times, London)
Homosexuality:
Hate slime | The Orwellian new law that wasn't (Dahlia Lithwick, Slate)
Aborting ideology as we know it | Maine State Rep. Brian Duprey has introduced a bill designed to protect gay fetuses (Jonah Goldberg, National Review Online)
Kansas AG want abortion records:
Kline: Records could ID child sexual abusers | Kansas Attorney General Phill Kline on Thursday defended his secret inquiry into the records of late-term abortion patients, saying it is necessary to prosecute suspected child abusers (The Wichita Eagle, Kan.)
Kline wants files in 90 abortions | He says records needed for investigation (The Kansas City Star)
Kansas prosecutor demands files on late-term abortion patients | Attorney General Phill Kline, a Republican, said that he needs the information to prosecute criminal cases (The New York Times)
Kan. AG seeks late-term abortion records | Attorney General Phill Kline insisted Thursday he needs the records because he has "the duty to investigate and prosecute child rape and other crimes in order to protect Kansas children" (Associated Press)
Kansas prosecutor wants abortion patients' files | The Kansas attorney general, as part of a criminal investigation into child rape and late-term abortions, is demanding that two health centers hand over the medical records of about 90 female patients, including minors (Los Angeles Times)
Kline going too far on abortion records | It seems premature for Mr. Kline to launch investigations based on a legal opinion that has not yet been upheld by the courts (Editorial, The Wichita Eagle, Kan.)
Related: District attorney asked to intervene | Kline's secret talks with A.G., conservatives at issue (The Capital-Journal, Topeka, Kan.)
Marriage & family:
One in three wants civil wedding in Finland | The popularity of church weddings has gone down in Finland over the past decade (Helsingin Sanomat, Helsinki, Finland)
In today's church pulpits, divorce doesn't rate as sin | In the mid-'70s, on any given Sunday, the evils of divorce were regular sermon fodder. Along with the evils of gambling and working on the Sabbath (Cathleen Falsani, Chicago Sun-Times)
Missions & ministry:
Seminary students take faith to streets | Hundreds of students from Southwestern Baptist Theological Seminary hit the streets Thursday to share their faith after a ringing challenge from the president of the Southern Baptist Convention (Ft. Worth Star-Telegram, Tex.)
Putting the 'van' in evangelism | Corvallis man uses his auto to spread the word (Corvallis Gazette-Times, Ore.)
Keeping faith will put a roof over a family | Oh ye of little faith. That's me. As usual, I underestimated the power (Lauren Ritchie, The Orlando Sentinel)
Evangelist brings flash, fervor | Toyota Center crowd joins Hinn in song and prayer at healing crusade (Houston Chronicle)
Christian group aims at disparities | Christians for a United Community, a diverse, faith-based group, formed 22 months ago with a stated mission of working to dismantle the root causes of racism and disparity (Asheville Citizen-Times, N.C.)
How to hurt evangelism | In-your-face protests may distort, not amplify, the message (Marvin Olasky, World)
Exorcism:
Outrage at TV exorcism | Channel 4 has provoked outrage by showing the first exorcism ritual on British TV. (Evening Standard, London)
Call for action on child exorcism | Black church and community leaders are calling for action to protect children from the effects of exorcisms (BBC)
Churches investigated for 'beating devil' out of child worshippers | Children accused of being possessed by evil spirits have been assaulted or forced to submit to terrifying exorcism ceremonies (The Times, London)
People:
Hugh Nibley, outspoken Mormon scholar, dies at 94 | Hugh W. Nibley, a professor emeritus of ancient scripture at Brigham Young University, used his training as a historian to support Mormon beliefs (The New York Times)
US nun read Bible just before her murder in Brazil | Sister Dorothy Stang read from the Bible seconds before she was shot to death deep inside Brazil's Amazon jungle, according to a police re-enactment of the crime on Thursday (Reuters)
Falwell may get out of hospital on weekend | Doctors confirmed Wednesday he had pneumonia (Associated Press)
Film:
High Court allows 'Sins' to hit theatres | The film, whose storyline has ruffled the feathers of several Catholic organisations, will hit theatres across the nation on Friday (The Times of India)
As 'Passion' nears new release, film's first run still stirs pathos | A year after touching and shocking audiences, The Passion of the Christ still generates emotional reactions. (The Tennessean, Nashville)
Books:
Something to argue about | The Talmud in a new English translation (Mark Miller, The Wall Street Journal)
Letters in trunk shed new light on poet Shelley | In the letters, Shelley, pretending to be a clergyman, elaborates his theories of atheism which was to be a key tenet of his career as a rebel poet. He condemns religion in one of the manuscripts, attacking the very basis of Christianity (ic Croydon, U.K.)
Happy stance | Your Best Life Now: dubious advice from an evangelical preacher (Sacha Zimmerman, The New Republic)
God on the Quad | An excerpt (Naomi Riley, The American Enterprise)
'Faith Under Fire':
Belief it or not | Lee Strobel's "Faith Under Fire" is actually the only new talk show in years to add anything different to the talk show format (The Star-Ledger, Newark, N.J.)
Putting faith in the hot seat | When it comes to religion, this show spews 21st century fire and brimstone (Newsday)
Music:
Brian 'Head' Welch explains why he left Korn | Guitarist had become sick of 'chasing the almighty buck' (MTV)
A God-centered alternative to `Idol' | In a Christian version of a popular TV show, singers focus on faith in a bid to become the `Inspiration Sensation' (Chicago Tribune)
More articles of interest:
Churches okay Jamestown remains DNA testing | A historical society hoping to prove that an unearthed skeleton is that of a Jamestown founder has won permission from two English churches to dig up graves believed to belong to the pioneer's relatives (Associated Press)
Turbulent priest | He says he's an ardent royalist but Father Paul Williamson is on a distinctly disloyal mission - to stop Charles and Camilla getting married. And he's willing to stand up at the ceremony and shout his objections (The Guardian, London)
Churches' faith down to Earth | Several churches in the northwest suburbs are at the forefront of a grass-roots religious movement to use energy and environmental resources more efficiently (Chicago Tribune)
Related Elsewhere:
Suggest links and stories by sending e-mail to weblog@christianitytoday.com
Check out Books & Culture's weekly weblog, Content & Context, and the Christianity Today Movies weekly weblog, Reel News.
See our past Weblog updates:
February 24 | 23 | 22
February 18 | 17 | 16 | 15
February 11 | 10 | 9b | 9a
February 4 | 3 | January 31
January 28 | 27 | 26 | 25
January 19 | 18 | 17
Weblog
Launched in 1999, Christianity Today's Weblog was not just one of the first religion-oriented weblogs, but one of the first published by a media organization. (Hence its rather bland title.) Mostly compiled by then-online editor Ted Olsen, Weblog rounded up religion news and opinion pieces from publications around the world. As Christianity Today's website grew, it launched other blogs. Olsen took on management responsibilities, and the Weblog feature as such was mothballed. But CT's efforts to round up important news and opinion from around the web continues, especially on our Gleanings feature.
Ted Olsen is Christianity Today's executive editor. He wrote the magazine's Weblog—a collection of news and opinion articles from mainstream news sources around the world—from 1999 to 2006. In 2004, the magazine launched Weblog in Print, which looks for unexpected connections and trends in articles appearing in the mainstream press. The column was later renamed "Tidings" and ran until 2007.
Previous Weblog Columns: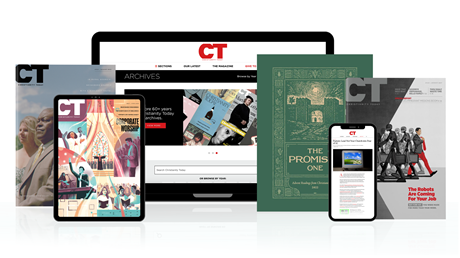 Annual & Monthly subscriptions available.
Print & Digital Issues of CT magazine
Complete access to every article on ChristianityToday.com
Unlimited access to 65+ years of CT's online archives
Member-only special issues
Subscribe
Terri Schiavo Given Three More Weeks
Terri Schiavo Given Three More Weeks