In this season of political overreaction, paranoid secularist radicals compare evangelicals to the Taliban and Osama bin Laden. At the other extreme, triumphalist Christians seem giddy with power they may not truly possess.
In short, there are now abundant opportunities to point fingers at the ignorance and faults of others. But the eyes of the world are on us. Our neighbors across the street and across the ocean are asking, "Who are these evangelical Christians? What do they want? What are their priorities?" If we fault-find and do not answer the hard questions, we're making a big mistake.
Judgment begins at the house of God, according to the apostle Peter. So who are we and what are our priorities?
The answers have little to do with Inauguration Day for President Bush. The invisible, present kingdom of God is no more fully here now than it was before the election. God and his people have no more power today than on November 1. All power is God's.
Some Christians conclude, then, that political engagement is unimportant. But the same God who reminds us that he is ultimately in control also commands us to be active in all spheres of life, including politics. But we must always place our allegiance to justice, righteousness, and holiness above any political affiliation.
And for that reason, calls by some conservative Christians for political "payback" are misplaced.
"We're not a special interest group," Charles Colson explains. "We vote our conscience and what we believe is in the best general interest: That's called common grace."
Concerned Women for America's Wendy Wright puts it a different way: "We do not seek our own advancement or political power; we want to see virtue respected so the people may rejoice. Our newly exercised muscle must be used wisely, only in God's service."
But what does God want? He has told us what is good, and what he requires of us: to do justice, to love mercy, and to walk humbly with him.
Doing justice

"As Christian citizens," says the recent National Association of Evangelicals document on civic responsibility, "we believe it is our calling to help government live up to its divine mandate to render justice."
That document and recent Christianity Todayeditorials have highlighted areas in which Christians must press their elected officials. We will not repeat all of them here, and even the concerns mentioned cannot be a full list of priorities for the next four years. But we will highlight one:
We do not doubt that America's most odious offense to justice is the unmitigated slaughter of its unborn innocents. We must not be cowed by those who would paint justice as misogyny and injustice as freedom. We must work on many fronts to protect these lives, in legislation both big and small.
Loving mercy

"At home, the job of a President is to help cultures change. The culture needs to be changed," President Bush told Christianity Today and other publications in May. "We can promote a culture of life … . Every child welcomed to life and protected by law. That is the goal of this administration."
Bush admitted that Presidents cannot change culture alone, but he's right in saying that he shapes national conversation. The NAE document puts it this way: "While individuals transformed by the gospel change surrounding society, social institutions also shape individuals… . Lasting social change requires both personal conversion and institutional renewal and reform."
Christians should encourage the resurgence of Bush's "compassionate conservative" agenda. In more than 70 speeches and proclamations in his first term, Bush urged Americans to "love your neighbor," and Bush confidant Don Evans, who just stepped down as commerce secretary, told CT in 2003 that the Golden Rule formed the basis of the President's foreign policy.
Bush's second-term talk, in both his convention address and acceptance speech, however, has focused less on culture changing and neighbor-love and more on "caretaking" items like tax reform and strengthening Social Security. These steps may be good but should not distract us from our priorities: the unborn, the poor, the sick and disabled, the persecuted, the refugee, and the voiceless.
Walk humbly

Doing right in the public sphere is worthless without doing right in the private sphere. Public policy is only part of our cultural mandate, and cultural change is only part of the gospel. Our discipleship is not dependent upon congressional victories.
A few Christian leaders have told Republican politicians that they have a two- or four-year window to make significant advances on moral issues or risk losing "values voters." As analysis, it's probably on target: Advocacy groups and individuals have limited energy and resources. They won't keep mobilizing for broken promises.
But if these words are uttered as a threat—Pay up or you're gone—we risk arrogance and worse. It suggests that we'll be placated or satisfied when any administration throws us a few table scraps. If we play that game, we'll become tempted to silence our criticism of errant politicians who nevertheless vote "our way" on occasion.We shouldn't be satisfied with any party or any candidate until the King comes in all his glory, and to suggest otherwise undermines the gospel. We damage our witness and risk trading our birthright for a bowl of policy.
Humility does not mean that we seek fewer reforms. It means that we seek them consistently, no matter what party has control. It means that the credit for whatever advances are made belongs to God alone. Whatever the polls and politicians say, we're neither insiders here nor the new powerhouse; in fact, ultimately we are citizens of another kingdom. But while we're here, we're here to help in whatever way we can.
Related Elsewhere:
Other recent Christianity Today editorials on political issues include:
For Whom Would Jesus Vote? | Single-issue politics is neither necessary nor wise. (Oct. 27, 2004)
The Values-Driven Voter | The values bandwagon is being pulled apart. Which way is more scriptural? (August 27, 2004)
A Question of Faith | Top Democrats have much work ahead to convince voters of their religious sincerity. (March 03, 2004)
The Politics of Communion | Church leaders who admonish politicians on moral issues are doing their jobs. (May 26, 2004)
More Christianity TodayElection and Political coverage includes:
Full Court Pressure | The battle for marriage shifts from voters to lawyers and lobbyists. (Dec. 30, 2004)
Dobson on the Gay Marriage Battle | The Nov. 2 election was the first step in a long fight for traditional marriage. (Dec. 30, 2004)
'Moral Values' Tops Voters' Concerns—But What Does It Mean? | Sexual morality probably trumped social justice concerns, say observers. (Nov. 04, 2004)
Evangelicals' Political Power: From Question Mark to Exclamation Mark | Activists say same-sex marriage ban, abortion limits, and judicial appointments top agenda. (Nov. 04, 2004)
Religious Leaders Frustrated that Poverty Goes Unnoticed in Election | "The least of these" are the least discussed this campaign season. (Nov. 01, 2004)
The Values-Driven Voter | The values bandwagon is being pulled apart. Which way is more scriptural?—A Christianity Today editorial (August 27, 2004)
A Question of Faith | Top Democrats have much work ahead to convince voters of their religious sincerity.—A Christianity Today editorial (March 03, 2004)
The Politics of Communion | Church leaders who admonish politicians on moral issues are doing their jobs. —A Christianity Today editorial (May 26, 2004)
Article continues below
Bush Calls for 'Culture Change' | In interview, President says new era of responsibility should replace 'feel-good.' (May 28, 2004)
Weblog: John Kerry—Bush and I Have the 'Same Position' on Gay Marriage | Kerry characterized the difference between him and the President as a matter of energizing religious voters. (Oct. 08, 2004)
Wooing the Faithful | President Bush needs evangelicals more than ever, but it's unclear how badly they want him for another four years. (Sept. 28, 2004)
John Kerry's Open Mind | The candidate has roots in liberal Catholicism, establishment Protestantism, and secular idealism. (Sept. 27, 2004)
Not Far from the Brahmin Tree | Kerry's morals have been shaped by an old Protestant establishment. (Sept. 27, 2004)
Have something to add about this? See something we missed? Share your feedback here.
Our digital archives are a work in progress. Let us know if corrections need to be made.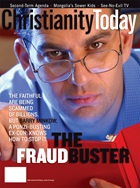 This article is from the January 2005 issue.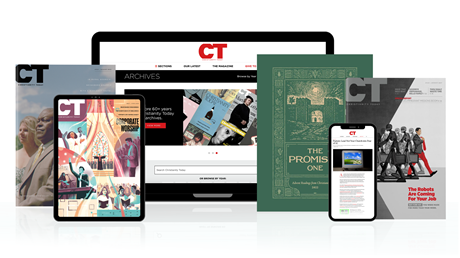 Annual & Monthly subscriptions available.
Print & Digital Issues of CT magazine
Complete access to every article on ChristianityToday.com
Unlimited access to 65+ years of CT's online archives
Member-only special issues
Subscribe
Same Song, Second Term
Same Song, Second Term