Indonesian official calls World Help plan "a serious violation"
The front page of today's Washington Post has a story that's sure to get much follow-up attention over the next few days, and is already reprinted in at least a dozen other papers around the world (and IslamOnline.net) today. World Help, a large missions agency based in Forest, Virginia, has taken 300 Muslim "tsunami orphans" under age 12 from Banda Aceh to Jakarta, where they'll be raised in a Christian children's home (which has yet to be built).
"These children are homeless, destitute, traumatized, orphaned, with nowhere to go, nowhere to sleep and nothing to eat," an appeal on the World Help website said yesterday. "If we can place them in a Christian children's home, their faith in Christ could become the foothold to reach the Aceh people."
World Help president Vernon Brewer said he received permission from the Indonesian government, but Indonesia Foreign Ministry spokesman Marty Natalegawa denied it.
"If confirmed, this would constitute a serious violation of the standing ban by the Indonesian government on the adoption of Acehnese children affected by the tsunami disaster, and appropriate steps would be taken accordingly," he said.
That's where the he said/he said part of the story ends for now. The Post story doesn't have any further details from Brewer on where the permission came from, and whether it was written down.
But that's because the heart of the Post's story isn't on what to do with tsunami orphans; it's on the nefarious plot to convert Muslims.
"Most of the religious charities [involved in tsunami relief work] do not attach any conditions to their aid, and many of the larger ones — such as WorldVision, Catholic Relief Services and Church World Service — have policies against proselytizing. But a few of the smaller groups have been raising money among evangelical Christians by presenting the tsunami emergency effort as a rare opportunity to make converts in hard-to-reach areas." In addition to World Help, the Post names Advancing Native Missions and Operation Mobilization USA as "proselytizing" groups.
Wait a second, says Brewer. We're helping people, not oppressing them. "These are children who are unclaimed or unwanted," he explains. "We are not trying to rip them apart from any existing family members and change their culture and change their customs. These children are going to be raised in a Christian environment. That's no guarantee they will choose to be Christians … First and foremost, our intention is not to evangelize but to show the love of Jesus Christ through our acts of compassion. We are not using this open window of disaster to move in and set up a beachhead for evangelism. That's not the spirit of what we're trying to accomplish."
The Post suggests that this may be at odds with the organization's online marketing. "Normally, Banda Aceh is closed to foreigners and closed to the gospel," said World Help's site. "But, because of this catastrophe, our partners there are earning the right to be heard and providing entrance for the gospel."
Lutheran task force: Keep status quo on gays
Your denomination is being torn apart on the issues of whether to bless same-sex unions and ordain actively gay clergy. At least 14 of your congregations have hired homosexual pastors involved in same-sex relationships. One of them had its membership stripped merely a month ago, and another received a letter of censure. The debate is getting hotter, and you've been charged with coming up with recommendations to settle the disputes. What do you do?
If you're the Task Force for Evangelical Lutheran Church in America Studies on Sexuality, you cry "Havoc" and let slip the dogs of war with one hand—while signaling for peace with another. You neglect your duty as referee and send the matter off to Thunderdome.
"We do not have general agreement or what we call consensus," the task force says in its eagerly awaited report today. "Consequently, the task force believes that this church must first decide, before all else, if it is committed to living and working together with our differences for the sake of our common mission and our God-given unity in Christ."
Consequently, the panel said, it is "not proposing any changes. Rather it is suggesting that this church allow for pastoral response in all these matters as a way of respecting each other's consciences while seeking to remain engaged in mission together as the ELCA."
In short, the task force recommends keeping the prohibitions against same-sex ceremonies and non-celibate homosexual clergy (celibate clergy attracted to members of the same sex are allowed)—and keeping the debate alive. But while the rules should stay on the books, the task force recommends that they should stay in the books—and not be taken out for use in church discipline, conforming church members to the image of Christ, or other such matters. "This church may choose to refrain from disciplining those who in good conscience, and for the sake of outreach, ministry, and the commitment to continuing dialogue, call or approve partnered gay or lesbian candidates whom they believe to be otherwise in compliance with Vision and Expectations and to refrain from disciplining those rostered people so approved and called."
It's worth noting that a recommendation on the flip side —that churches may choose to discipline (albeit "with all humility in the knowledge that we see through the glass darkly") — appears only in the "dissenting opinions," section of the document, suggesting that churches should only choose not to discipline.
In fact, one of the only boldfaced sections in the document highlights this sentence: "We are and remain a welcoming church in which all are invited to participate fully in the life of our congregations." That seems to suggest that discipline against any individual member, whether for unrepentant sin, denying core doctrines of the faith, or other matters, is off limits.
There actually is much to praise in this document. Even better than its affirming "the biblical teaching of God's gift of marriage as 'a lifelong covenant of faithfulness between a man and a woman'" is its affirmation of Scripture as authoritative. "Though there are differences among task force members regarding the interpretation of the Bible for the present circumstances, all accept the Bible as the inspired Word of God and the authoritative source and norm of its proclamation, faith, and life." You don't see that language in most mainline statements these days.
But the overall note sounded by the statement is that church is first and foremost a place where we get together for "dialogue," not a body being made—sometimes painfully so—into the image of Christ. "Here I stand" has become "let's sit and talk."
(Media coverage so far: Associated Press, Minneapolis Star-Tribune, St. Paul Pioneer Press, ELCA News Service. First conservative response is from Word Alone, a Lutheran renewal group.)
More articles
Tsunami:
Mosques stand alone amid tsunami damage | It's a feat of survival replicated across the region that local Muslims call extraordinary and divinely inspired, though the scientifically inclined would note that — unlike the more sturdily built mosques — the rickety, timber-and-tin buildings many people lived in didn't stand a chance against the massive waves (Associated Press)
Engulfed by disaster, we reach beyond ourselves | Suspending theological debate can't be done in times of disaster. It is then that God is most constantly thought about and his mysterious ways questioned (Frank Devine, The Australian)
Rigali asks relief in tsunami deporting | The cardinal asks that Indonesians facing a forced return home be allowed to stay (The Philadelphia Inquirer)
Get right with God | Both the deeply religious and secular environmentalists overreach with their tsunami theories (Jeffry Gardner, The Albuquerque Tribune, N.M.)
Giving & ministry:
Indonesian Muslims welcome Christian tsunami aid | Indonesia will welcome help from all foreigners -- including Christians -- as long as it is tailored to Muslim sensitivities, a senior Muslim leader said on Thursday (Reuters)
Local mission returns from Sri Lanka effort | 'I've never been impacted more by one week in my life' (The Cincinnati Enquirer)
Politics and 'acts of God' | You don't have to be religious to be charitable to the victims of "acts of God," but it's the religious impulse that has guided American idealism and benevolence through our finest hours (Suzanne Fields, The Washington Times)
Child trafficking:
The tsunamis and child trafficking | Thanks to the efforts of governments determined to prevent further tragedy, human traffickers have been largely stymied in the aftermath of the tsunamis (Editorial, The New York Times)
Sri Lanka probes alleged child trafficking | Police have arrested a 63-year-old Sri Lankan man on charges of trying to sell his two young granddaughters after their home was destroyed and their mother killed by the Asian tsunami — a case that highlights the vulnerability of children in the wake of the disaster (Associated Press)
Crime and violence:
1 killed as Christian groups clash over church | Police sources revealed that there was some hostility between the Upper party and Lower party, two groups of Christians, over a Baptist church in Jhalarsingh village under Sherang police station in Gajapati district (Sify, India)
Minister indicted in theft at church | Pastor gambled, prosecutors say (Chicago Tribune)
Charges in church theft | The former pastor of a Libertyville church was charged Wednesday with stealing $44,000 from his congregation to pay online gambling debts (Daily Herald, Chicago suburbs)
Michael Ross dead? | A Catholic can in good conscience approve capital punishment for the guilty, but never capital punishment for the innocent (William F. Buckley)
Woman wants to use Bible in trial | Mother accused of child abuse for using prayer instead of medicine to heal dying daughter (Knoxville News-Sentinel, Tn.)
Police asked priest hard questions in Hudson's murders | Not long before he killed himself, the Rev. Ryan Erickson told close friends that police investigators had questioned him aggressively about the double homicide at a Hudson funeral home in 2002 (Minneapolis Star-Tribune)
Greater Ministries fraud upheld:
Justices rule action isn't necessary to prove conspiracy | Greater Ministries International Church conviction upheld (Associated Press)
Court upholds money laundering convictions | The Supreme Court made it easier Tuesday for prosecutors to win money laundering convictions, ruling unanimously in a large religious scam case that the government does not have to prove "overt acts" by defendants (Associated Press)
Fraud:
Preying through the pulpit | Scam artists are increasingly targeting African American churches, hoping to first hook pastors, authorities say (Los Angeles Times)
Divorce records: Pastor's lavish lifestyle funded by church | Channel 9 has uncovered the financial records of a nasty divorce involving the head of one of Central Florida's largest churches. The records detail how Pastor Clint Brown, and his wife Angie, spent hundreds of thousands of dollars from FaithWorld's large congregation (WFTV, Orlando, Fla.)
Blasphemy in Britain:
Blasphemy: hard to pin down | In our secular times, the law is more concerned with preserving the fabric of society than upholding the deity or protecting the tenets of the Church of England (Editorial, The Telegraph, London)
In praise of blasphemy | A multicultural society needs not more taboos but more tolerance for taboo-breaking (Timothy Garton Ash, The Guardian, London)
Modernize blasphemy laws, says race relations chief | Britain's race relations chief is today calling for the abolition of ancient blasphemy laws which make attacks on Christianity an offence punishable by life imprisonment — but offer no protection for other faiths (The Times, London)
'They see Christians as fair game' | Angry street protests and thousands of written complaints greeted the BBC's screening of Jerry Springer: the Opera last weekend. Lobby groups who are determined to revive Christian militancy in Britain—and say the fight is just beginning (The Telegraph, London)
Homosexuality & religion:
Why the outrage over Outfest arrests? | At fault here is whoever interfered with another group's right to be heard. I wasn't there, but I strongly suspect that was Repent America. What I know for sure is that those who are portraying this as another case of PC run amok just don't know the players (Michael Smerconish, Philadelphia Daily News)
Leader of conservative protest group cites 'spiritual battle' | In 1999, then-Temple University student Michael Marcavage complained about a school play featuring a gay Christlike character and ended up being sent to a hospital for a psychiatric evaluation (Associated Press)
Praying for the elimination of inflexibility | None of the critics of the complaining parents have dealt with the root issue here: the inflexible position of the Catholic Church in regarding homosexuality as a sin (Joseph N. Bell, Daily Pilot, Newport Beach, Ca.)
Marshall Ala. Sheriff calls homosexuality 'abomination':
Marshall sheriff's official Web site airs anti-gay stance | Anniston native Don Hunter couldn't believe what he was reading on Marshall County Sheriff Mac Holcomb's Web site (The Birmingham News, Ala.)
Ala. sheriff's anti-gay views draw protest | Marshall County Sheriff Mac Holcomb, reflecting on growing up in the 1940s and 1950s, says on a Web site: "Men were men and women were women and there was no mistaking which was which … Homosexuality was very queer and a despicable act … an abomination" (Associated Press)
Religion & politics:
28 religious leaders appeal to Bush for special envoy to push for Mideast peace | Besides Roman Catholics, they include Muslim and Jewish organizational heads, the top leaders of the Greek Orthodox, Methodist, Presbyterian, Episcopal and Lutheran Churches, the United Church of Christ and several evangelical Christian organizations (The New York Times)
Southern Baptists vote their values | In Fort Worth, faith plays a central role in life (NBC Nightly News)
Commandments, constitution, and Cicilline | Providence City Council members and anyone else upset by a decision to remove the Ten Commandments monument from Roger Williams Park should think again (M. Charles Baskt, The Providence Journal, R.I.)
Leap of faith | Why Democrats can win over Mormons (Amy Sullivan, The New Republic Online)
A cover-up is a cover-up | Like other powerful institutions confronted by scandal, CBS News is still fighting real reform. And still refusing to admit they have a problem (Hugh Hewitt, The Weekly Standard)
Words matter: Caught | Among other prediction for the New Year, here's a big one -- Roe v. Wade, the 1973 decision that had the effect of legalizing abortion in the United States, will be overturned (Merrie Spaeth, UPI)
President Bush & God:
Bush and the Lord | You don't use the "other hand" construction for two concepts that complement each other. And his suggestion that someone is not qualified to be president unless they are religious is sure to spark some further discussion (Dan Froomkin, The Washington Post)
A president needs God, says Bush | President George W Bush yesterday placed religion at the very centre of American politics by insisting that all US presidents needed a relationship with God to do their job (The Telegraph, London)
Bush puts stress on his Christian faith | George Bush could not run the United States without "a relationship with the Lord", he said in an interview stressing the role of Christian faith in his presidency (The Guardian, London)
Life ethics:
Conn. may get in on stem cell research | As other states line up to invest billions of dollars in stem cell research, state lawmakers vowed Tuesday to act quickly on legislation that would enable Connecticut to join them (Associated Press)
IVF couples may face criminal check | The Human Fertilisation and Embryology Authority (HFEA) is reviewing the factors clinics have to take into account to assess the welfare of any child born as a result of fertility treatments (PA, U.K.)
The Amish:
Amish to be let out of jury duty | Under Ohio Senate Bill 71, which awaits the governor's approval, judges have to exempt Amish from serving on the jury if they request (The News-Herald, Willoughby, Oh.)
Amish teen electrocuted in Ohio | Power line got tangled in his horse-drawn buggy's wheels (Associated Press)
Church life:
Charity effort on Biblical scale | A New Town congregation has clearly taken "Love thy neighbor" to heart by raising £608,000 in only six weeks to help build a new church in one of the Capital's most deprived areas (Evening News, Edinburgh, Scotland)
Orthodox in the city | On the occasion of my first second Christmas (Shawn Macomber, The American Spectator)
Catholicism:
Surprise greets reprieve for parish | Sacred Heart to go on at least till after Easter (The Boston Globe)
Pope speaks for majority | "He is the world leader of orthodox Christians of every tradition," said Robert Benne, a Lutheran theologian teaching at Roanoke College in Salem, Va. (Uwe Siemon-Netto, UPI)
Arizona churches to be first to display religious relics on tour | Scheduled items will include a sliver of wood from the cross on Calvary, a piece of wood from the table of the Last Supper in the Upper Room, a fragment of a thorn from the "crown of thorns" put on Christ's head as he hung on the cross, a nail containing steel shavings from an original nail that held Christ on the cross and a fragment of the exterior wrapping of the famed Shroud of Turin in which Christ's body was wrapped (Associated Press)
Catholic church faces legal battle | A legal battle appears to be in the offing as the Roman Catholic Church diocese attempts to oust the parish priest of the St Mary's Help of Christians church in Khomasdal, Father Gert Petrus (The Namibian)
Pope to visit Germany:
Vatican confirms papal trip to Germany | The ailing 84-year-old pontiff has cut back on foreign travel, but aides have long insisted he would make the trip to Cologne, Germany, in mid-August for an event that draws hundreds of thousands of young Catholics from around the world (Associated Press)
Pope to visit Germany this year but not Poland | Vatican chief spokesman Joaquin Navarro-Valls said in a statement the Germany trip was the only one confirmed so far this year for the 84-year-old Pope (Reuters)
People:
Dying for a cause | In Martin Luther King's personalism, personality is the primary clue to understanding God and reality (The Birmingham News, Ala.)
Alan McGinnis, 71; minister, author of self-help books | "The Friendship Factor" author disliked advocating the "power of positive thinking" (Los Angeles Times)
Education:
Battle over man's beginnings opens in York school district | Dover Area teachers have been asked to fire a shot with evolution disclaimer (The Morning Call, Allentown, Pa.)
Teacher suspended; Quran remark alleged | Pupils at Dearborn school say he told them a group used the holy book as toilet paper (The Detroit News)
More articles of interest:
Marriage and adoption law | Why has social work, as a profession, been so uniquely deaf to the cries of children hungering for absent fathers, or to the social science evidence that generally support intact marriages as important for child well-being? (Maggie Gallagher)
Africa's Christian soldiers | As Christianity fights to keep its place in an increasingly secular European society, it is flourishing in parts of the developing world, particularly in Africa (BBC)
Bling may be your thing, but it's not heaven-sent | First, let's make this clear: Anyone who relies solely on a newly saved rapper for Biblical insight needs prayer (Wendi C. Thomas, The Commercial Appeal, Memphis)
Are you there God? It's me, Julia | Sweeney lets go of the Lord and takes hold of the world (City Beat, Los Angeles)
Can belief in God relieve pain? | Researchers to 'burn' human guinea pigs to study religion's role (MSNBC)
NBC reinstates radio devotions | Other religious programming still banned (The Namibian)
Related Elsewhere:
Suggest links and stories by sending e-mail to weblog@christianitytoday.com
Check out Books & Culture's weekly weblog, Content & Context.
Last week's tsunami blog:
January 11 | 7 | 6 | 5 | 4
See our past Weblog updates:
January 12
January 7 | 6 | 5 | 4
December 23 | 22 | 21
December 17 | 14b | 14a
December 10 | 9 | 7 | 6
December 3 | 2 | 1
November 24 | 23 | 22
November 19 | 18 | 17 | 16
November 12 | 11 | 10
Weblog
Launched in 1999, Christianity Today's Weblog was not just one of the first religion-oriented weblogs, but one of the first published by a media organization. (Hence its rather bland title.) Mostly compiled by then-online editor Ted Olsen, Weblog rounded up religion news and opinion pieces from publications around the world. As Christianity Today's website grew, it launched other blogs. Olsen took on management responsibilities, and the Weblog feature as such was mothballed. But CT's efforts to round up important news and opinion from around the web continues, especially on our Gleanings feature.
Ted Olsen is Christianity Today's executive editor. He wrote the magazine's Weblog—a collection of news and opinion articles from mainstream news sources around the world—from 1999 to 2006. In 2004, the magazine launched Weblog in Print, which looks for unexpected connections and trends in articles appearing in the mainstream press. The column was later renamed "Tidings" and ran until 2007.
Previous Weblog Columns: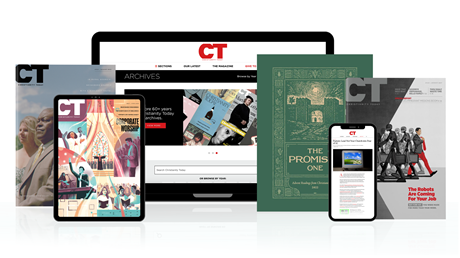 Subscribe to Christianity Today and get access to this article plus 65+ years of archives.
Home delivery of CT magazine
Complete access to articles on ChristianityToday.com
Over 120 years of magazine archives plus full access to all of CT's online archives
Subscribe Now
Mission Agency Airlifts 300 Muslim Tsunami Orphans
Mission Agency Airlifts 300 Muslim Tsunami Orphans