Royal Dutch Medical Association: Doctors should be able to kill those who aren't ill
A Zogby poll commissioned by two pro-euthanasia groups in Vermont found that 80 percent of that state's residents would support a bill allowing terminally ill patients to receive medication from their doctors to hasten their deaths. Self-described "very conservative" respondents and those who attend church once a week or more were the only groups with a majority opposing such legislation, the Associated Press reports.
The Vermont Alliance for Ethical Healthcare, which opposes euthanasia, notes that the poll's wording carefully avoids the phrase "physician-assisted suicide."
About 3,400 miles from Vermont, physician-assisted suicide is again in the news in the Netherlands, the world's euthanasia trailblazer. Physician-assisted suicide has been legal there since 2001, with thousands of deaths now deliberately caused by doctors. (One report says about half of the procedures go unreported.) In November, a Dutch hospital revealed that it had been euthanasing infants, though Dutch law says patients must repeatedly ask to be killed, and must file a written declaration before a doctor is allowed to kill the patient.
Now the Dutch medical community wants more freedom to kill. "Doctors can help patients who ask for help to die even though they may not be ill but 'suffering through living,' concludes a three year inquiry commissioned by the Royal Dutch Medical Association," the British Medical Journal reports today. (The association's report is here, but in Dutch.)
The report comes a year after physician Philip Sutorius had his criminal conviction appeal rejected by the Dutch Supreme Court. In 1998 Sutorius performed an "assisted suicide" on politician Edward Brongersma, who had no major disease other than feeling his existence was "pointless and empty." Being "tired of life" is no grounds for death, Dutch courts said, but Sutorius was not punished since he showed "concern for his patient."
The current situation, then, is murky. The Dutch Supreme Court ruled in 2002 that patients must have a "classifiable physical or mental condition" to be killed, but the country's euthanasia law only says the person must be "suffering hopelessly and unbearably."
Jos Dijkhuis, who led the Royal Dutch Medical Association inquiry, says patients merely "tired of life" shouldn't be granted physician-assisted suicide, but that doctors alone should be allowed to decide whether patients' "suffering through living" is severe enough for death.
Slippery-slope arguments are often faulty, but the Royal Dutch Medical Association seems to be going out of its way to demonstrate that such slopes really do exist.
Note
All tsunami-related stories are being covered in a separate weblog this week.
More articles
Church and state (non-U.S.):
Buddhism bill unconstitutional- Supreme Court | The clauses of the Bill were such that if enacted into law, it would effectively result in religious persecution not only of minorities, but also in certain respects, adherents of Buddhism with Constitutional sanction, which was an objective inconsistent with the very spirit of the Constitution, a secular state, norms of pluralist democracy and international obligations of Sri Lanka, stated the CPA in its objection, legal sources said (TamilNet)
Namibian Broadcasting Corporation bans religious devotions - claims a need to 're-visit guidelines' | All religious programming from television and radio immediately suspended until further notice (The Namibian)
Pakistan cabinet split on religion and passports | A heated dispute over whether new Pakistani passports should specify the bearer's religious affiliation has underlined the problems President Pervez Musharraf faces in projecting Pakistan as a moderate Islamic state (Reuters)
Consultations to reform Christian inheritance law | The Committee for Justice and Peace (CJP), a minority rights NGO, is holding consultations to amend the Succession Act of 1925 that governs how Christians in Pakistan inherit property, money and goods (Integrated Regional Information Networks)
Bishop suspends priest over Mugabe row | The Bishop of Harare has suspended a parish priest for allowing an opponent of Zimbabwe President Robert Mugabe to worship at his parish (The Church of England Newspaper)
Also: Kunonga leans on priests | The Bishop of Harare, the Rt Revd Nolbert Kunonga, has suspended one priest and asked for the resignation of another from his diocese (Church Times, U.K.)
Church and state (U.S.):
Atheist sues to thwart inauguration prayer | An atheist who sued because he did not want his young daughter exposed to the words "under God" in the Pledge of Allegiance has filed a suit to bar the saying of a prayer at President Bush's inauguration (Associated Press)
City officials differ on right to banish monument | The Ten Commandments monument now stands in front of the Fraternal Order of Eagles' post in West Warwick (The Providence Journal, R.I.)
Politics:
Rap Kid Rock inaugural pick | Conservative Christians are flabbergasted about reports that raunchy rock-rapper Kid Rock will perform at a youth concert at the presidential inauguration (New York Daily News)
Why holy silence on torture? | The religious right opposed Gonzales during discussions of his possible nomination to the Supreme Court, but it has been strangely silent about his alleged role in allowing U.S. interrogation of some terror detainees with techniques that critics say is torture (Michael Kirkland, UPI)
Town rescinds health benefits for partners | Eastchester Board voted 3 to 2 to approve new union contracts and to end a town policy of providing coverage for domestic partners (The New York Times)
Pragmatic PM proves a Christian contradiction | Is God welcome in the House of Commons? Is government about making choices between good and evil? Is there room for morality in politics? (James Kirkup, The Scotsman)
Getting to know your 'enemy' may show you share common ground | The Christian right is not anything like the group I imagined (Linda S. Wallace, Houston Chronicle)
Courts:
Courting trouble | Liberal overdependence on the courts, combined with an obsessive preoccupation with church-state symbolism, has reached its limit (Burt Neuborne, The American Prospect)
The God squad | What's the difference between a politically conservative Supreme Court and a Court dominated by religious conservatives? (Susan Jacoby, The American Prospect)
The gentle people | Impressed by their piety, courts have permitted the Amish to live outside the law. But in some places, the group's ethic of forgive and forget has produced a plague of incest—and let many perpetrators go unpunished (Nadya Labi, Legal Affairs)
Life ethics:
Parents: Keep Schiavo on feeding tube | parents of a severely brain-damaged woman at the center of a bitter right-to-die case asked a judge Thursday to allow Terri Schiavo's feeding tube to remain in place over the objections of her husband (Associated Press)
China to make sex-selective abortions a crime | China implemented the one-child policy in the early 1980s to curb its massive population -- which officially hit 1.3 billion Thursday -- but the restrictions have bolstered a traditional preference for baby boys (Reuters)
China's surplus males may shake world | China's population finally hit the 1.3 million mark Thursday, but the occasion was cause not for rejoicing as for questions about the ominous screwed demographics of the most numerous nation in human history (Martin Sieff, UPI)
Justice rape document blasted for omission | Scores of advocacy groups, including the American Civil Liberties Union and Planned Parenthood, assailed new Justice Department guidelines for treating rape victims Thursday because the detailed procedures make no mention of emergency contraception as an option that could spare some women an unwanted pregnancy (Associated Press)
Stem cell panel expects to award grants | The California Institute for Regenerative Medicine doesn't have a home, any money, or even a single employee, but the head of the new state agency expects to be awarding its first grants for stem cell research by May (Associated Press)
Climate change | Roe v. Wade turns 32 this month, but the abortion establishment it helped create is less secure than ever. With changes in schools, legislatures, and perhaps even the Democratic Party, the pro-life movement has reason for (measured) optimism (World)
Violence:
Police find homemade bombs in Indonesia | Police discovered 60 homemade bombs stashed in an abandoned house in eastern Indonesian, where Muslims and Christians have a long history of violence, officials said Friday (Associated Press)
Philippines arrests militants over plot to bomb Catholic procession | Philippines police arrested 16 Islamic militants planning to carry out suicide bombings on a Roman Catholic procession in the capital this weekend (AFP)
Christian crisis | Chaldo-Assyrian Christians may soon leave Iraq en masse (National Review Online)
Fresh attack on Crumlin church is condemned | Police in Crumlin are hunting a gang who carried out a sinister early morning attack on a Protestant church in the town (The Belfast Telegraph)
Africa's same old conflicts | Africa presents more problems than successes at the beginning of the year, the worst of them carryovers from 2004, The U.S. can help. (Editorial, The Toledo Blade, Oh.)
Local chaplain gives troops spiritual support | Graham Harbman has found solace in the Bible that war can sometimes be justified (The Express-Times, Easton, Pa.)
Satanic murders just the tip of an iceberg, claims Roman church | The Beasts of Satan, a gang of misguided youths from Milan, dance in a forest, their feet treading heavily on the makeshift grave of two friends they have just brutally murdered (The Age, Melbourne, Australia)
Grand jury indicts Killen in '64 killings | Jurors say they deadlocked 11-1 in favor of Killen's guilt when a lone holdout told them she could never convict a preacher (The Clarion-Ledger, Jackson, Miss.)
Also: First murder charge in '64 civil rights killings of 3 | A reputed Ku Klux Klansman was arrested on murder charges in the 1964 killing of three voter-registration volunteers (The New York Times)
Abuse:
Alleged victim of priest may not testify | Prosecutors told a judge Thursday that an alleged victim of defrocked priest Paul Shanley might refuse to testify if he is publicly identified during the upcoming sexual abuse trial (Associated Press)
High Court upholds conviction of deacon | Church leader lost appeal of rape charge (Concord Monitor, N.H.)
Church life:
Episcopalians plan Salt Lake session to take on same-sex furor | After nearly a year and a half of dealing with the fallout over the ordination of the faith's first openly gay bishop, the Episcopal Church's top leaders will gather in Salt Lake City next week to discuss how to respond to the outrage of millions of fellow Anglicans worldwide (Deseret Morning News, Ut.)
Poll: Americans go to church more regularly than Canadians | Americans attend church more regularly and interpret the Bible more literally than Canadians, according to a recent Gallup Poll, reinforcing earlier surveys that consistently showed higher levels of religious observance in the United States than in Canada (Religion News Service)
Religion Today: Chris Perkins's unexpected journey to the pulpit | Road went through Congress, then prison (Associated Press)
Section in Kerala Church resents change in sacrament text | A section in the Syro Malabar Catholic Church has expressed reservation against the decision to introduce a new text for administration of sacraments which allows conduct of baptism, confirmation and the first communion together, marking a departure from centuries old tradition (PTI, India)
Rev. Billy Kim retires | President of the Baptist World Alliance and FEBC-Korea, retired as Senior Pastor of Suwon Central Baptist Church on December 19 (Far East Broadcasting Co.)
Christians find fellowship in cultures | Family follows in Indian relative's footsteps, forms church (The Charlotte Observer, N.C.)
Cistercian firing:
Island monks broke silence to sack the cook | A Cistercian monk yesterday defended his monastery against claims that it unfairly dismissed its lay staff (The Telegraph, London)
Monks break silence to say why they fired couple after 23 years (The Times, London)
Monks of Caldey Island break silence over sacking of couple | One of the reasons that 60- year-old Andrew McHardy was sacked, they insisted, was that he had a drink problem. The monks said they were in an ideal position to know - two of them were former members of Alcoholics Anonymous (The Independent, London)
Christmas:
Copts celebrate Christmas amid tensions | The head of the Coptic church celebrated Christmas Friday in accordance with the Orthodox calendar, preaching a message of peace to 2,000 or so members of one of the world's oldest Christian denominations (Associated Press)
The presents are past, now comes Christmas | Many Eastern Orthodox churches celebrate birth of Jesus Christ on Jan. 7, focusing on liturgy, reverence and Old World traditions (Chicago Tribune)
Celebrating the Nativity Orthodox-style | Eastern Orthodox Christmas, celebrated on January 7th, is less about sensual pleasure than spiritual substance (John Mack, Beliefnet)
Christians and Jews:
Vatican to share holy medieval texts with Israel | The Vatican will loan the work of Moses Maimonides, one of Judaism's most celebrated rabbis and sages, to Israel this year in a gesture meant to improve relations between Catholics and Jews (Newsday)
Public art, private prejudice | Two works of Christian art predating the Holocaust raise questions about whether they intentionally contributed to anti-Semitism (The Christian Science Monitor)
Education:
One university under God? | What will succeed high theory and race, gender, and class as the center of intellectual energy in academe? Religion. (Stanley Fish, The Chronicle of Higher Education)
Boston College theology professor recycled ideas, society finds | Several book passages are cited (The Boston Globe)
Controversy over Christian band revisited in Rossford | The Rossford school board has called a special meeting tonight with its attorneys to discuss issues involving Pawn, the Christian rock band restricted from playing during school hours (The Toledo Blade, Oh.)
Christianity, schools meeting topic | Educator in Humansville commandments case to be joined by others at Branson conference (News-Leader, Springfield, Mo.)
District's lawyers see 'good sign' | But lawyers for the parents said they can still prove their case (York Daily Record, Pa.)
Evolution and religion can and do peacefully coexist | Despite growing up in a fundamentalist church which regularly ridiculed the idea of people being descended from monkeys, I learned later that Darwinism and Christian faith were easily reconcilable by anyone able to free his or her thinking from the rigid dogmas that so often hamper the rational processes of scientists and religionists alike (Don Shaw, Modesto Bee, Ca.)
Nepal Christians to renew ties with Bengal college | Christians in Nepal can reaffirm their faith by choosing to join a degree course in divinity to be introduced for the first time in this overwhelmingly Hindu nation (IANS, India)
Entertainment:
A sluggish pursuit, mostly by faith | Evander Holyfield, a religious man who says he believes that the Bible speaks to him, is convinced that his pursuit of a fifth heavyweight title is preordained. God's plan for him as a boxer is "a greater ending than my beginning," he said (The New York Times)
The rating says PG, but is that guidance enough? | How do parents decide what entertainment is appropriate for their children in the age of videocassettes, DVD's, computer games and cable television? (The New York Times)
Jerry Springer Opera, featuring 'gay Jesus', sparks record 5,500 complaints | Plans to broadcast a London musical that features a nappy-wearing Jesus who admits he is "a bit gay," have sparked a record 5,500 complaints, a television watchdog said (AFP)
Also: The art of swearing | Decades of increasing public use, not least among the young, is diluting the power of such words to shock (Editorial, The Guardian, London)
Vera's timely reminder | Mike Leigh's film about a backstreet abortionist provides a much-needed antidote to 'pro-life' propaganda (Polly Toynbee, The Guardian, London)
Reality TV finds God | Travel the Road, now in its third season on TBN, shows Christian missionaries living a travelogue life while viewers watch their aches, pains and trials trying to spread the Gospel (Australian Broadcasting Corp.)
Other stories of interest:
Religion news in brief | Copts released; Admirers push to include Thomas Merton in new U.S. Catholic catechism; Baptist World Alliance official disputes Southern Baptist report; Texas church groups sell fireworks; Montana bills address debate over evolution (Associated Press)
Hour of scour | OC Metro ignores Robert Schuller's Commie-bashing past (OC Weekly)
Embracing sloth, a self-help guide | Naomi Glauberman reviews Sloth by Wendy Wasserstein (Los Angeles Times)
Related Elsewhere:
Suggest links and stories by sending e-mail to weblog@christianitytoday.com
Check out Books & Culture's weekly weblog, Content & Context.
See our past Weblog updates:
January 6 | 5 | 4
December 23 | 22 | 21
December 17 | 14b | 14a
December 10 | 9 | 7 | 6
December 3 | 2 | 1
November 24 | 23 | 22
November 19 | 18 | 17 | 16
November 12 | 11 | 10
Weblog
Launched in 1999, Christianity Today's Weblog was not just one of the first religion-oriented weblogs, but one of the first published by a media organization. (Hence its rather bland title.) Mostly compiled by then-online editor Ted Olsen, Weblog rounded up religion news and opinion pieces from publications around the world. As Christianity Today's website grew, it launched other blogs. Olsen took on management responsibilities, and the Weblog feature as such was mothballed. But CT's efforts to round up important news and opinion from around the web continues, especially on our Gleanings feature.
Ted Olsen is Christianity Today's executive editor. He wrote the magazine's Weblog—a collection of news and opinion articles from mainstream news sources around the world—from 1999 to 2006. In 2004, the magazine launched Weblog in Print, which looks for unexpected connections and trends in articles appearing in the mainstream press. The column was later renamed "Tidings" and ran until 2007.
Previous Weblog Columns: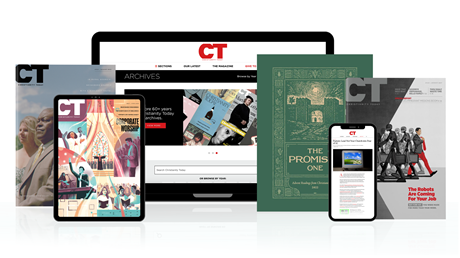 Annual & Monthly subscriptions available.
Print & Digital Issues of CT magazine
Complete access to every article on ChristianityToday.com
Unlimited access to 65+ years of CT's online archives
Member-only special issues
Subscribe
Dutch Doctors Want to Kill the Healthy
Dutch Doctors Want to Kill the Healthy