Military interrogator: 'How can I break the prisoner's reliance on God?'
The prison abuse story just took a dramatic turn, from a story about violating human dignity in general to violating religious conscience in specific. There were reports earlier that prisoners at Iraq's Abu Ghraib were "forced to renounce their religion," but details were sketchy, and it was unclear just what kind of religious intimidation was used.
But now comes an Associated Press report that details at least one case that should make religious liberty watchdogs around the world jump to attention. It's based on a written account by Former Army Sgt. Erik R. Saar, who worked as a translator at the U.S. prison camp in Guantanamo Bay from December 2002 to June 2003. The AP's Paisley Dodds writes,
Saar describes a female military interrogator questioning an uncooperative 21-year-old Saudi detainee who allegedly had taken flying lessons in Arizona before the Sept. 11 terror attacks. … The man closed his eyes and began to pray, Saar writes.
The female interrogator wanted to "break him," Saar adds, describing how she removed her uniform top to expose a tight-fitting T-shirt and began taunting the detainee, touching her breasts, rubbing them against the prisoner's back and commenting on his apparent erection.
The detainee looked up and spat in her face, the manuscript recounts.
The interrogator left the room to ask a Muslim linguist how she could break the prisoner's reliance on God. The linguist told her to tell the detainee that she was menstruating, touch him, then make sure to turn off the water in his cell so he couldn't wash.
Strict interpretation of Islamic law forbids physical contact with women other than a man's wife or family, and with any menstruating women, who are considered unclean.
"The concept was to make the detainee feel that after talking to her he was unclean and was unable to go before his God in prayer and gain strength," says [Saar].
The interrogator used ink from a red pen to fool the detainee, Saar writes.
"She then started to place her hands in her pants as she walked behind the detainee," he says. "As she circled around him he could see that she was taking her hand out of her pants. When it became visible the detainee saw what appeared to be red blood on her hand. She said, 'Who sent you to Arizona?' He then glared at her with a piercing look of hatred.
"She then wiped the red ink on his face. He shouted at the top of his lungs, spat at her and lunged forward" — so fiercely that he broke loose from one ankle shackle.
"He began to cry like a baby," the draft says, noting the interrogator left saying, "Have a fun night in your cell without any water to clean yourself."
So, for at least one military interrogator, this may not be a war against Islam, but it is a war where we break Muslims' reliance on Allah by forcing them into what they consider sin.
Weblog eagerly awaits response from religious liberty groups and organizations who decry an antireligious and antimorality efforts in this country. Yes, we all agree it's wrong. What are we going to do about it?
More articles
War, terrorism & religious freedom:
Homefront not at the forefront | If the World War II question, "Hey, buddy, don't you know there's a war on?" were asked today, the answer from American culture would be a resounding, "Um, no" (Newsday)
Rabbi reflects on role in military religious-freedom case | High court ruled against S. Simcha Goldman's effort to wear yarmulke, but case prompted Congress to act to protect servicemen's religious rights (David L. Hudson Jr., First Amendment Center)
Blasphemy acquitted threatened | A Christian man acquitted on charges he blasphemed Islam was in hiding in Pakistan to escape death threats issued by an outlawed Islamic militant group, a rights activist said yesterday. (Gulf Daily News)
Bajrang Dal protests Padma Shri for Gladys Staines | Bajrang Dal activists shouted slogans and burnt an effigy of Gladys Staines, the missionary widow who is receiving India's fourth-highest honor (IANS, India)
Iraqi Christians:
Woman facing deportation awaits judge's ruling | "They're raping women and killing them and killing Christians. It's absolutely terrifying," Iraqi Ghanima Matti said recently through an interpreter. "I want to live the rest of my life here and die in peace." (Chicago Tribune)
Iraqi Christians flourished long before Muslims | The kidnapping of a Catholic bishop in Mosul last week is a sad reminder of the once robust but rapidly diminishing Christian community in Iraq (Steve Gushee, Palm Beach Post, Fla.)
Abuse:
Putting a price on pain | It's Matt Garretson's job to divide $3 million among 132 victims of sexual abuse. But he fears there is no way to quantify their anguish (Los Angeles Times)
Church withheld evidence, insurer says | he Roman Catholic Archdiocese of Los Angeles withheld "critical evidence" that could help insurance carriers assess the validity and worth of more than 500 sexual abuse claims, the insurers allege (Associated Press)
Deaths in the family | Common thread of sexual, spiritual abuse among cult defectors who killed themselves (San Francisco Chronicle)
Stepfather abused children for 'un-Christian' behaviour | Judge keeps two children in foster care, but two others remain with parents. He voices concern for their safety (Abbotsford Times, B.C.)
Priest accused of proposition | A 55-year-old Swampscott priest was being sought yesterday for allegedly asking a 12-year-old girl and her mother to perform a sex act, authorities said (The Boston Globe)
A federal trial court dismisses a nun-priest sexual harassment claim | A dubious case for invocation of the "ministerial exception" (Marci Hamilton, Findlaw.com)
Paul Shanley trial:
Shanley's lawyer cross-examines accuser | After learning he would face a third day of questioning by the lawyer, the man later asked the judge: "Can I ask a request of you? Please don't make me" (Associated Press)
Anger, tears from Shanley accuser | Defense lawyer batters account (The Boston Globe)
Accuser's past is focus of defense for ex-priest | The man who says he was molested as a boy by a now-defrocked priest acknowledged a series of problems under cross-examination (The New York Times)
Accuser challenged in priest child rape trial | The lone accuser in the child rape trial of defrocked priest Paul Shanley pleaded with a judge to spare him more of the stinging interrogation that left him sobbing in court on Thursday (Reuters)
Catholicism:
The dictator, the saint, and the minister | After weeks of speculation, the education secretary Ruth Kelly admitted this week that she receives 'spiritual support' from the secretive Catholic sect Opus Dei. But even if reports of bizarre rituals are exaggerated, why would she be involved with the controversial group in the first place? (The Guardian, London)
Groups divided over use of condoms | The condom debate re-ignited by Kitui Catholic Bishop Boniface Lele gained momentum yesterday, with some groups rushing to his support and others strongly opposing his view (The East African Standard, Nairobi, Kenya)
Birth control:
Birth control too? | Only 40 years ago, within the memory of millions of Americans, birth control could not be legally sold in some states, even to married couples. If President Bush and his allies in Congress are successful, the future could look much like that past (Editorial, Los Angeles Times)
Bill to define contraception to be withdrawn | Amendment changes intent of proposal, Senate sponsor says (Richmond Times-Dispatch, Va.)
Abortion:
Planned Parenthood president resigns | Gloria Feldt has led organization for eight years (Associated Press)
Planned Parenthood: More abortions, fewer clinics | The Planned Parenthood Federation of America, the nation's most frequent provider of abortions, is performing more of the procedures than ever -- albeit in fewer clinics -- and relying increasingly on the revenue generated from abortions, according to its Fiscal Year 2004 annual report (CNSNews.com)
Pro-life crosses on LSU Parade Grounds vandalized | Thousands of crosses placed on the LSU Parade Grounds for the purpose of a silent protest against abortion were vandalized over the weekend (The Advocate, Baton Rouge, La.)
China announces that it will criminalize sex-selection abortions | What, if anything, should the U.S. do about the practice in this country? (Sherry F. Colb, Findlaw.com)
Life and death by the court | Monday, the same day thousands marched in Washington in opposition to the Supreme Court's 1973 Roe vs. Wade decision, which opened the floodgates to abortion on demand, that same court refused to reinstate a Florida law designed to keep alive a severely brain-damaged woman (Cal Thomas, The Washington Times)
Gambling with abortion | Why both sides think they have everything to lose (Cynthia Gorney, Harper's)
Hillary Clinton & abortion:
Sister Hillary | Can the Democrats close the God gap? (The Economist, U.K.)
Clinton is pressed to clarify her stance on abortion laws | Hillary Rodham Clinton's recent remarks on abortion have provoked concern among some advocates of abortion rights (The New York Times)
Same-sex marriage & homosexuality:
Who defines marriage | God or government?: Pettigrew, church accuse each other of interference (Edmonton Journal)
Md. rally renews push to bar gay marriage | Lawmaker pledges to seek amendment (The Washington Post)
Protesters call for marriage amendment | Lawmakers and clergy held a rally outside the state Capitol yesterday to support an amendment to the state constitution that would define marriage as being only between a man and a woman (The Washington Times)
Battle over gay law in Spain | Zapatero's critics believe that he is moving toward a more secular society and challenging the traditional influence of the Spanish church (The Washington Times)
Court refuses to weigh in on lesbians' adoption fight | The Texas Supreme Court has denied a Galveston woman's request to overturn the adoption of her 6-year-old daughter by her former lesbian partner (Houston Chronicle)
SpongeBob:
Cartoon star SpongeBob SquarePants has no gay agenda | He is asexual, says his creator (Reuters)
Spongebobism: A witch hunt for the 21st century | The self-appointed judge and jury of the designated immoral are McCarthy-like opportunists embarking on a whole new witch hunt (Marilou Johanek, The Toledo Blade, Oh.)
A cartoon controversy | To be great, the country must honestly accept its complex diversity and realize that there is nothing wrong with teaching children that human worth and human equality should not come with a list of exceptions (Editorial, The Boston Globe)
Buster the bunny:
Buster the bunny pops on his backpack, visits lesbian family and starts row | Buster is the latest fallen icon of TV Americana (The Guardian, London)
WGBH builds Buster brigade | WGBH-TV Boston has been contacted by stations in Vermont, New Jersey and California, saying that they want to run the Postcards from Buster episode PBS has declined to distribute (Broadcasting & Cable)
Media:
Dobson's crusade sends a message the media don't get | If Dobson can convince enough Americans that "tolerance" and "diversity" are simply code for "gay rights," then he's won a war on the language battlefield - the same way Rush Limbaugh helped demonize "liberal" and "feminist" (Eric Deggans, St. Petersburg Times, Fla.)
A conversion experience | Rolling Stone rejects a Bible ad--then changes its mind (Russ Smith, The Wall Street Journal)
Religion & politics:
Revenge of the righteous | Repressive, racist, homophobic, sexist, a free market economic ideologue and downright nasty - that's the cruel and jealous God that John Howard, Machiavellian wolf in relaxed and comfortable sheep's clothing, has inflicted on Australia's collective soul (Emma-Kate Symons, The Australian)
Black Baptists forge agenda | Focus on schools, jobs, health care (Chicago Tribune)
'Exempt Christian aid from tax' | A clergyman in Chingola has appealed to Government to exempt tax for Christian aid coming into the country (The Times of Zambia)
Education:
Evolution debate stirs up Ga. lawmakers | A state lawmaker Thursday introduced legislation designed to prevent the theory of evolution from being taught in Georgia's classrooms. The bill by Republican Rep. Ben Bridges requires only "scientific fact" be taught in public schools — in his mind ruling out the theory of evolution (Associated Press)
3 trustees say efforts at Iliff thwarted | The trio quit, saying their probe of the departure of former president Maldonado was undermined (The Denver Post)
Jesus at Harvard | The theologian who once said, "God is dead" chronicles years of wrestling with Jesus' teachings at the university (Dan Wakefield, Beliefnet)
Science & religion:
Charlotte appeal fails | The parents of premature baby Charlotte Wyatt failed today to persuade a High Court judge to suspend his order allowing doctors not to resuscitate the desperately-ill child if she stops breathing (Evening Standard, London)
The branding of a heretic | Are religious scientists unwelcome at the Smithsonian? (David Klinghoffer, The Wall Street Journal)
Miracle cells | Cutting-edge researchers are making unheralded breakthroughs with stem cells from umbilical cords—but have a hard time breaking through the NIH funding wall. "I think people who want embryonic stem cells just don't want [alternatives] to work" (World)
Missions & ministry:
Church or Christian nightclub? | Is it a church, a disco or just a case of gospel going too far? Charles Otieno and Caroline Nyanga find out why a Dutch clergyman is using local pop singers to help bring commercial sex workers to God (Pulse, Kenya)
Religion in the News: Right of Passage | While civil libertarians say faith-based programs may give preferential treatment to religious inmates, RESTART is to be expanded to all 27 institutions in Maryland as funding permits. State prison officials say a strong religious faith can lay a firm foundation for an inmate's successful return to society (Associated Press)
Chaplain steers firefighters' mourners through grief | In the four days since three New York firefighters died, Msgr. John Delendick has helped to transform their deaths into something bound by ritual and tradition (The New York Times)
Tsunami:
Gospel concert raises $50,000 in aid | Christian pop star Michael W. Smith and country singer Kathy Mattea hosted Wednesday's event — "An Evening for Restoration: Music City Comes Together for Tsunami Relief" — at Belmont University (Associated Press)
Tsunami-hit island had one survivor | For 25 days after the tsunami killed everyone else on his island, Michael Mangal roamed the expanse in just his underwear, waiting for death and praying for life, thinking of the spirits that terrified him and the woman who never loved him (Associated Press)
For tsunami survivors, a touch of Scientology | Amid the grief and loss in southern India, against a clamor for food and attention to the threat of disease, the Scientologists are here, offering up "locational processing," cognition and "spiritual beingness" (The Washington Post)
Fighters for God on a holy mission | It's a job few would want, but a band of religious fundamentalists see it as their duty (The Age, Melbourne, Australia)
Art:
Humanity with flaws forgiven | The flawed humanity of his saints is the heart of Rembrandt's portraits as seen at the National Gallery of Art in Washington (The New York Times)
An artist who kept his day job as a priest | The Metropolitan Museum's intricate, lively, and occasionally zany show features Renaissance artists who produced inconsequential but thought-provoking works (The New York Times)
Eternal city finds holy site for Hirst | Damien Hirst must have grown accustomed to enjoying an almost god-like status among contemporary British artists. But not even he can have expected to get a church to himself in the capital of Christendom (The Guardian, London)
More articles of interest:
Arctic Anglicans seek conservative staffers only | Synod could make "essential beliefs" a condition of employment (Nunatsiaq News, Iqaluit, NU)
Strength, courage, love | Christians who scream at their foes need some maturing (Marvin Olasky, World)
Christian videos? | Local youth play 'Xbox for Jesus,' learn life lessons (Portsmouth Herald, Mass.)
Federal contracts with columnists prompt change in policy | Columnist Michael J. McManus of Marriage Savers also took money (Los Angeles Times)
God makes a comeback | Atheism is in trouble. Religion is on the up. The 21st century will be post-atheist (George Pell, The Australian)
`Passion,' `Fahrenheit' generate Oscar buzz by their exclusion | As with almost everything to do with both of these pictures, few can agree about why they were left out. (Chicago Tribune)
Related Elsewhere:
Suggest links and stories by sending e-mail to weblog@christianitytoday.com
Check out Books & Culture's weekly weblog, Content & Context, and the Christianity Today Movies weekly weblog, Reel News.
See our past Weblog updates:
January 27 | 26 | 25
January 19 | 18 | 17
January 14 | 13 | 12
Tsunami blog: Jan. 11 | 7 | 6 | 5 | 4
January 7 | 6 | 5 | 4
December 23 | 22 | 21
Weblog
Launched in 1999, Christianity Today's Weblog was not just one of the first religion-oriented weblogs, but one of the first published by a media organization. (Hence its rather bland title.) Mostly compiled by then-online editor Ted Olsen, Weblog rounded up religion news and opinion pieces from publications around the world. As Christianity Today's website grew, it launched other blogs. Olsen took on management responsibilities, and the Weblog feature as such was mothballed. But CT's efforts to round up important news and opinion from around the web continues, especially on our Gleanings feature.
Ted Olsen is Christianity Today's executive editor. He wrote the magazine's Weblog—a collection of news and opinion articles from mainstream news sources around the world—from 1999 to 2006. In 2004, the magazine launched Weblog in Print, which looks for unexpected connections and trends in articles appearing in the mainstream press. The column was later renamed "Tidings" and ran until 2007.
Previous Weblog Columns: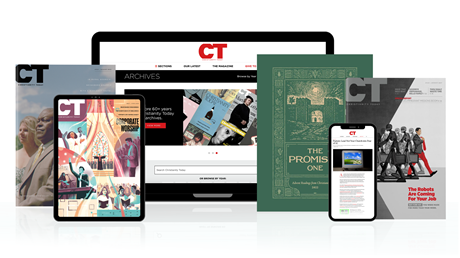 Annual & Monthly subscriptions available.
Print & Digital Issues of CT magazine
Complete access to every article on ChristianityToday.com
Unlimited access to 65+ years of CT's online archives
Member-only special issues
Subscribe
U.S. Military Interrogator Persecutes Muslim
U.S. Military Interrogator Persecutes Muslim