true
"If you slip away in darkness do you fall/And if God created love, did He make it for everyone/Is there solitude and hope, can you still dream/If the devil makes you cry, do you change/In my own shame when heaven's not far away"—from "When Heaven's Not Far Away"
A quick journey through musical history reveals countless cautionary tales of how tragedy and rock 'n' roll have gone hand in hand. And in many cases, these trials—often personal in nature—have led to some of the most honest, compelling songwriting as a result.
Florida-based rockers Cold—following in the footsteps of nü-metal acts like Puddle of Mudd, Limp Bizkit and Linkin Park—provided plenty of angst-fueled introspection with their 1998 self-titled debut, 2000's 13 Ways to Bleed On Stage, and their 2003 sophomore disc, Year of the Spider. With an expletive-heavy, virtually hopeless worldview that became the calling card of most nü rock bands, songs like "Anti-Love Song," "End of the World," and "Suffocate" didn't offer much hope for redemption. But even with this decidedly pessimistic look at life, the songs clearly connected with listeners as Cold went Gold, with both CDs selling more than 500,000 copies each.
But as many rock stars have found, fame can come with a high price: Lead singer Scooter Ward's life was spiraling out of control. Ward, who grew up in a Baptist household, admitted in his band's most recent bio that the rock 'n' roll lifestyle got the better of him. In a chain of events that just seemed to get worse with every turn, Ward split with his then-fiancée, was dropped by his record label, and went into rehab—all while his sister was battling cancer. And if that wasn't bad enough, following the band's sold-out tour opening for Evanescence, Cold's future was in flux as guitarist Terry Balsalmo jumped ship to permanently fill in for Evanescence's departed guitarist Ben Moody.
During these tough times, Ward sought refuge in the beliefs of his youth. He told HM magazine that while in rehab, he "started finding more faith in God, and I just needed something to grab on to, because I had nothing in my life at that point." And it was this newfound connection with God that not only helped him through the trials, but inspired the band's latest effort, A Different Kind of Pain.
In the HM magazine interview, Ward said he had a choice about how to deal with his pain: "What do you do? You just sit there and wallow in it, or do you want to find faith in something and help it pull you through? And I chose to find faith in God, and I think he pulled me through. I know he pulled me through."
In a move that also probably surprised Cold's fanbase, Ward's new lease on life is also reflected in the music itself. With less screaming and more of a melodic approach—with piano and strings woven throughout the full-on guitar assault—the songs venture beyond the usual modern rock territory with the kind of accessibility that made Evanescence a multi-format favorite.
But the most striking change on Pain is the lyrical shift. In "The Calm That Killed the Storm," Ward finds hope in the midst of his season of tragedy: "It's like a tidal wave that rose to take the stars/A hurricane that wrapped around my heart/If I could find a way I'd make a brand new start/I can't believe it was the calm that killed the storm."
In "God's Song," Ward offers, "When the world won't take you back/You know everyone's the same/We're all a part in God's song/Can't live with this pain forever."
Other glimpses of faith are found in uplifting tracks including "Feel It In Your Heart," "Happens All the Time," "When Angels Fly Away," and "Ocean." While the music itself is worlds apart, the project could be compared to Creed's definitive project My Own Prison. While the spirituality is subtle, there's no doubt it's there—a different kind of response to pain, indeed.
But Ward skips the subtleties when talking about how God stepped in to save him from drowning: "The tides that came in and changed our life recently gave us faith," he told HM. "And now we go all the time and try to serve the Lord. This is new to me, but still it feels good and I love it."
Unless specified clearly, we are not implying whether this artist is or is not a Christian. The views expressed are simply the author's. For a more complete description of our Glimpses of God articles, click here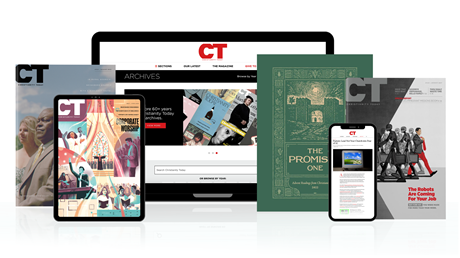 Subscribe to Christianity Today and get access to this article plus 65+ years of archives.
Home delivery of CT magazine
Complete access to articles on ChristianityToday.com
Over 120 years of magazine archives plus full access to all of CT's online archives
Subscribe Now
A Different Kind of Pain
A Different Kind of Pain