In Gaza City, the largest community in the Gaza Strip, the Teacher's Bookshop is becoming a Borders-style third place. Palestinians (Muslims and Christians) may gather there, away from work and home, to find friendship amid books and music under the umbrella of the Palestinian Bible Society.
Journalist Deann Alford was motivated to visit this bookshop in a terror zone after reading about it in Light Force, Brother Andrew's account of his involvement in the Middle East peace process.
In his book, Andrew writes of the shop's unusual clientele: "One young man kept returning each day. 'I cannot take any of these books home. My family would destroy them.'" The young man would read books at the store, ask questions, go home to study more on the internet, and then return the next day with more questions. Everyone needs a place to hang out, even refugees in Gaza.
In 1990, Florida sociologist Ray Oldenburg coined the term "third place" to describe the neighborhood café, diner, general store, beauty parlor, or hangout. Each one is an inexpensive and easily accessible place where people can gain safe harbor from the demands of their homes (first place) and work (second place). Oldenburg's research revealed that healthy communities have lots of vibrant third places, where "everybody knows your name."
But for Alford, the big worry in visiting the Teacher's Bookshop was getting there at all. Her passages in and out of Gaza were daunting introductions to the Middle East's security checkpoints. In Gaza, nearly everyone has an unforgettable border-crossing story. One Palestinian-American Christian shared with Alford that he was crossing the northern border at Erez with a guitar and a suitcase. Israeli guards called in a bomb robot. The robot hauled his stuff to a field, where guards raked it over with fire from their automatic weapons.
"I have a sweater my mother gave me that says 'Peace in the Holy Land 2000,'" he told her. "It has 20 bullet holes in it."
Alford's reporting follows on Christianity Today's decades-long commitment to Middle East coverage. In 1956, our first year of publication, Donn C. Odell was our correspondent in Jerusalem. He reported on the ongoing violence between Palestinians and Jewish immigrants in the still-young nation of Israel. Sadly, Odell's work was cut short after the Israeli government refused to renew his visa.
In the years after that, CT published articles on Israel's use of the Ottoman-era millet system allowing self-governance for autonomous Christian communities, Christian Zionism, Old Testament promises about Canaan, end-times prophecy, the future of Jerusalem, and interfaith reconciliation.
The Middle East kaleidoscope of issues may confuse even the most skilled reporter. After Gaza, Alford traveled north to Nazareth Village. At this living-history presentation of first-century life, Alford rediscovered the focal point for her trip. Not far from an ancient winepress, she saw a life-size replica of the Cross.
"The Cross wasn't this telephone-pole-sized deal you see in movies," she told me, "but short enough to where people could spit in the faces of the dying crucifieds. You saw them eye to eye." She realized anew that Jesus died for her and each of us on our level—a message vital for lasting peace in the Middle East.
Related Elsewhere:
Love in the Land of Enmity | The local joke is that Gaza is hell. But that doesn't seem to deter ministry there.
SIDEBAR
Christian Zionists Split over Gaza Pullout | Some remain politically neutral.
CT interviewed Brother Andrew about his work in Israel and Palestine.
Deann's previous coverage from the Holy Land includes:
Burning Out the Faithful | Druze attack Christians in 'pogrom.' (April 21, 2005)
How Free Are We? | One year later, Christian leaders examine the International Religious Freedom Act. (March 6, 2000)
Our past coverage of Israel and Palestine includes:
Evangelical Collective | New association seeks more rights in Israel. (May 16, 2005)
Burning Out the Faithful | Druze attack Christians in 'pogrom.' (April 21, 2005)
The Risks of Regime Change | Middle Eastern Christians might end up more repressed under democracy than under dictators. (March 18, 2005)
Gatecrashing for Jesus | Brother Andrew discusses ministry in the Middle East. (Jan. 31, 2005)
Spitting on God's Image | Christians complain of assaults in Old City. (Nov. 03, 2004)
O Jailed Town of Bethlehem | How eerily still we see thee lie. (May 11, 2004)
Uneasy Unity | Christians take different paths as "road map" hits impasse. (Sept. 11, 2003)
West, Meet East | Who Are the Christians in the Middle East? examines millions of forgotten believers. (Sept. 11, 2003)
Have something to add about this? See something we missed? Share your feedback here.
Our digital archives are a work in progress. Let us know if corrections need to be made.
This article is from the July 2005 issue.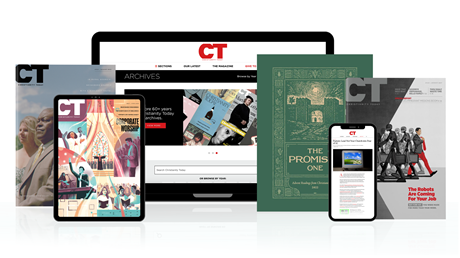 Subscribe to Christianity Today and get access to this article plus 65+ years of archives.
Home delivery of CT magazine
Complete access to articles on ChristianityToday.com
Over 120 years of magazine archives plus full access to all of CT's online archives
Subscribe Now
Reporting Eye to Eye
Reporting Eye to Eye