Surely the cause of May's riots in Afghanistan, Pakistan, Indonesia, and India is more complex than a brief phrase in Newsweek. Allegations of Qur'an desecration by U.S. military officials and interrogators have often been reported since 9/11 (though almost all remain unconfirmed), but without the violent reaction that left at least 15 people dead.
Still, Newsweek's now-retracted report that Guantanamo Bay "interrogators, in an attempt to rattle suspects, flushed a Qur'an down a toilet" left the Muslim world enraged. The riots, in turn, left Americans perplexed and disdainful. Even for those of us who love our own sacred book, it is beyond comprehension. We winced when we heard that Palestinians holed up in Bethlehem's Church of the Nativity in 2002 had used Bibles as toilet paper. But we didn't riot.
As writer Dale Hanson Bourke noted, "I toss my Bible into the car pretty much like I toss other books. I set it on the floor during Bible studies and drop it occasionally off my lap without much guilt." And that's from an evangelical whose Bible isn't simply sitting on the shelf.
Too often we think that the greatest threat to Scripture is an outright ban. Thus we are quick to rally to the woman fighting for a JOHN316 personalized license plate and the parent or child fighting to read a Bible passage in class. When a Canadian hospital removed Bibles from its rooms, citing infection control, some pastors decried the move as censorship.
We squirm when Scripture is ridiculed: Some of the most frequently quoted Scriptures in newspaper letters-to-the-editor pages are Levitical laws calling for capital punishment against rebellious sons and those who work on the Sabbath. (These letters are frequently drawn from a widely circulated e-mail message with such farcical questions as, "I know from Lev 11:6-8 that touching the skin of a dead pig makes me unclean, but may I still play football if I wear gloves?")
To the Christian, it's clear that such ridicule is ignorant of the whole counsel of Scripture. But therein lies the plank in our own eyes. If Leviticus or 2 Chronicles or Jude suddenly disappeared from our Bibles, how long would it take us to notice?
This magazine has frequently lamented the loss of biblical literacy, so results of a recent Gallup survey should come as little surprise: only one in three American teens know who asked, "Am I my brother's keeper?" More than a quarter (28 percent) don't know who Moses was, but almost 10 percent thought he was one of Jesus' disciples. Less than half know what happened at the wedding in Cana. Born-again students only scored better than others (44 percent vs. 37 percent) when asked to identify a passage from the Sermon on the Mount ("Blessed are the poor in spirit, for theirs is the kingdom of God") from a choice of four quotations.
But biblical literacy is more than being able to name all 12 apostles or put the Ten Commandments in order. When the early church fathers spoke and wrote, they breathed the language of Scripture. They could not greet each other without quoting Jesus and Paul. They used Scripture not just to refer to God, but to describe their interpersonal relationships, their daily tasks, their entire world. To ask them to speak without reference to Scripture would be like asking us to speak without using words with the letter e—or without such pop culture references as "D'oh!" and "the full monty."
When the Sadducees came to trick Jesus with their own version of the football glove question, Jesus' reply began cuttingly. "Your problem," he said, "is that you do not know the Scriptures, and you do not know the power of God."
It's a reply for almost any problem we bring to him. And ultimately, Scriptures and the power of God bring us back to him. Perhaps more than anything else, this is what separates Christians from Muslims. They treat their scripture as divine—a "recitation" (that's what Qur'an means) of God's words, unfiltered through human speech. As Newsweek religion reporter Kenneth Woodward wrote for The Wall Street Journal, "What Christ is for Christians, the Qur'an (in Arabic) is for Muslims: the living Word of God made present in this world."
But theirs is a word that must be ever kept safe from the world's muck and filth. Our Word came to live in it, to one day save us from it. The Word we worship is incorruptible. And knowable. Pity we don't choose to learn more about him.
Related Elsewhere:
This column appeared in the magazine's July 2005 print issue as the seventh entry of "Weblog in Print," CT's effort to duplicate on paper our popular online Weblog feature. Earlier entries include:
Who's Driving This Thing? | Everyone is asking who leads the evangelical movement. (Feb. 21, 2005)
Bad Believers, Non-Believers | Do religious labels really mean anything? (Oct. 19, 2004)
Pro-Abortion Madness | The abortion lobby has abandoned its rationales amid pro-life gains. (Aug. 17, 2004)
Grave Images | The photos from Abu Ghraib have reopened debate on the power of pictures.
Misfires in the Tolerance Wars | Separating church and state now means separating belief and action (Feb. 24, 2004)
A Theoblogical Revolution | Billy Graham's vision goes from print to online, then back again. (Jan. 16, 2004; Weblog update: "New Kids on the Blog," Feb. 13, 2004)
To find out about writing with only four non-consonants, Georges Perec's fictional La Disparition, in Anglo as A Void, contains no "e." Amazon.com has it on hand., and a long quotation is on Haig Utidjian's virtual world.
Have something to add about this? See something we missed? Share your feedback here.
Our digital archives are a work in progress. Let us know if corrections need to be made.
This article is from the July 2005 issue.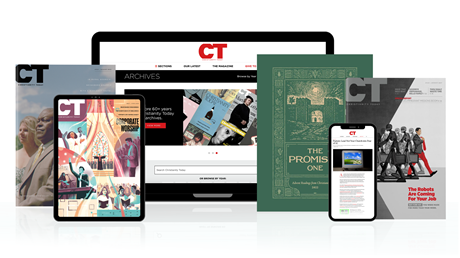 Subscribe to Christianity Today and get access to this article plus 65+ years of archives.
Home delivery of CT magazine
Complete access to articles on ChristianityToday.com
Over 120 years of magazine archives plus full access to all of CT's online archives
Subscribe Now
Dirty Qur'ans, Dusty Bibles
Dirty Qur'ans, Dusty Bibles