Hurrying through an alley in Gaza's infamously violent Jabaliya refugee camp, Hanna Massad, pastor of Gaza Baptist Church and the only evangelical Gazan with a doctoral degree, lugs groceries to a needy Muslim family on a chilly weekday morning.
Twenty feet away, a 20-year-old Palestinian carefully wraps his semiautomatic weapon in a prayer rug, puts it into his bicycle's milk-crate basket, and rides off. But Massad doesn't flinch. Concealed weapons in the Gaza Strip are not rare. Love of neighbor is.
The 9,600 Christians represent less than 1 percent of Gaza's 1.3 million residents. But Massad, who returned to the Gaza Strip from Fuller in 1999, sees his mission as not only to feed Gaza's hungry, but also to empower its embattled Christians to spread a table of God's grace in a land of enmity.
Leaky Roofs and Skin Welts

People have lived in this area, twice the size of Washington, D.C., for 34 centuries. The Gaza Strip in 2005 remains desperate and disputed ground between Israelis and Palestinians. It is without an acre of lasting peace. Terrorism, corruption, military rule, hunger, sickness, and mental illness all stew in the same pot. Earlier this year, Masaad invited Christianity Today to visit Gaza. Most Palestinians in Gaza, including its Christian minority, are descendants of refugees from the 1948 Arab-Israeli war.
This summer, Israel expects to relocate 9,000 Israeli settlers from Gaza in a historic pullback, which many Zionists hotly resist.
Arriving at his destination, Massad steps over the wastewater flowing past his feet and knocks on the door. A smiling and bushy-bearded Abu Geni Abdullah welcomes the pastor, most likely his only Christian friend. Abu Geni rolls out mats on the floor. We sit as his veiled wife serves hot, sweet tea, and Abu Geni and Massad banter in Arabic. During this encounter, Massad finds that providing a listening ear is as important as delivering food.
For a more in-depth visit, Massad heads for the home of Abu Mohammed, where three generations live under one leaky roof in a two-room hovel. Each night, three adults and seven children sleep on the floor. It's mid-February, 60 degrees, and the children's feet are bare.
Massad immediately notices that nearly everyone in the family has an outbreak of painful skin welts that look like ringworm. With a jobless rate in excess of 50 percent, basic medical care and education are out of reach for most Palestinian families in Gaza. Abu Mohammed and 60,000 others lost their jobs in 2000 after Israel all but closed its borders to Palestinian workers due to terrorist attacks.
As family members chronicle for Massad their woes, 18-month-old daughter Eman whimpers and licks her infected wrist, speckled with pink welts. "May I pray?" Massad asks. Abu Mohammed's wife agrees, and the family gathers around as he asks God to bless them. Massad leaves and gets into the car, but he suddenly realizes he forgot something. He grabs the box of groceries and returns to the family, also arranging medical care and payment for skin ointment.
Massad was raised Greek Orthodox, the family's church home for generations. As a teen, his faith was energized at Gaza Baptist Church, where he made a personal commitment to Christ, and he soon sensed a calling to become a pastor—Gaza's first native evangelical pastor. He left to further his studies at Fuller Seminary in Pasadena, California, where he watched from afar as Gaza Baptist dwindled.
Later on, I ask Massad why he came back to Gaza from Southern California. At a youthful 45, he could have been enjoying a comfortable pastorate. In conversation with him and other Palestinian Christians, I learned that God speaks Arabic—that is, Arabs have been at the heart of Christian history. Arabs were present at Pentecost (Acts 2:11) and were included in the earliest Christian communities. Today, Christians in Gaza may be Orthodox, Catholic, Anglican, Baptist, or Pentecostal. Each one believes God will do something special in Gaza, and they want to be there.
Daunting Context

The context in which Christians inside Gaza do ministry is daunting. Gaza is 98 percent Sunni Muslim. Since the September 2000 start of the Al Aksa intifada, some 3,300 Palestinians and 1,000 Israelis have died in political violence. Hamas, which is behind many suicide bombings, is based here and has an extensive social-service network, including Gaza's only free kindergarten. Most Gazans live on less than $2 a day in one of the world's most densely populated hotspots.
To deter terrorism and the weapons trade, Israel has destroyed the runway at Yasser Arafat International Airport, blocked construction of a seaport, and in recent months has kept borders under stringent control. Nonetheless, Palestinian terrorists routinely launch lethal rockets from Gaza into southern Israel or at Israeli settlements inside Gaza.
No one in Gaza is far from the conflict. Gaza Baptist's roof has been damaged four times by Israeli mortars. In modern Hebrew, the curse "go to hell" (lekh léazazel) is nearly identical to "go to Gaza" (lekh léaza). The play on words is not lost on anyone.
Despite these conditions, Massad's return six years ago ushered in growth with a core group of lay volunteers at Gaza Baptist, including Magdy Anwar and his wife, Rima, from the Bible Society. One church member told me, "Something special began happening. God invited Gaza to know him."
One of the most vibrant lay leaders is Rana Khoury. In January 2000, the church threw a "singing party" one Sunday evening with a praise team from Egypt at Gaza's Anglican church. Baptists, Orthodox, and Catholics also took part. Pastor Massad and Magdy Anwar shared their testimonies. Khoury, then a university freshman, was present, and that evening changed her life. From a nominally Christian family, she never before had heard that God loved her personally and had a plan for her life. She soon turned her life over to Christ.
A few months later, Khoury and other Gazan evangelicals traveled to Spain to learn how to disciple new believers. Within a year and a half, Khoury led to faith her mother, three siblings, and a sister-in-law. They in turn are doing outreach, too. Khoury's mother, for example, leads a Purpose-Driven Life Bible study.
As Gaza Baptist grows, its vision grows. The church's new six-story building houses the Culture and Light Library, the only place Gazans can check out Christian books. Another floor will soon house a breast-cancer-screening clinic.
New ministry models are taking shape, many with the help of World Relief, Youth with a Mission, the Assemblies of God, and the Southern Baptist International Mission Board. Not far from Gaza Baptist, at a former Baptist center for training nurses, Assemblies of God missionaries will soon open the Lighthouse School for children unable to pay school fees. Massad himself has taken up a new task of teaching leadership skills to workers for the Palestinian Authority. He uses Bible-based materials from leadership guru John Maxwell. At the end of the course, workers receive certificates and Bibles.
Though evangelicals are enjoying ministry success, traditional churches still treat them with suspicion. Orthodox and Catholic church leaders resent losing members to evangelical groups. Evangelicals report that school leaders have threatened some evangelical parents with loss of their children's scholarships. Evangelicals in Gaza have difficulty finding a place to bury their dead, since Orthodox and Catholic cemeteries are restricted.
"All the church is persecuted," one evangelical Palestinian told me. "The Orthodox put us as a wolf."
'We Have to Speak About Jesus'

At the north end of Gaza, Gaza City serves as a commercial and retail center. That's where the Teacher's Bookshop, opened in 1999, has become a godsend to spiritual seekers. The opening of the downtown bookstore is a story in itself. Brother Andrew, in his 2004 book Light Force, details how Palestinian Authority chairman Yasser Arafat personally approved the Bible Society's permit to run the bookshop. For the first time in Gaza, people could freely buy Bibles and Christian books.
At least a dozen per day—curious university students, older people seeking answers, even Palestinian Authority police officers—drop by to ask about the Holy Injil, or New Testament, and the Christian faith they know little about. Visitors come to ask about dreams, visions, signs, or wonders they've experienced.
It is dangerous for any Christian or church to become known for sharing the gospel with Muslims. Plainclothes police make surprise visits to the bookshop to see if there is activity that attacks or disparages Islam. Bible Society worker Wa'el El-Ashwah says officers are welcome. "We don't make people change religion but explain the love of God through Jesus Christ."
El-Ashwah cites as one recent example two young male visitors who said, "We are seeking the truth." He gave them the Jesus film and Josh McDowell's book More than a Carpenter.
The population of Gaza is among the youngest in the world, with a median age of 15. To evangelicals, that means an opportunity to reach out to students. "They make up the biggest percentage of society," El-Ashwah says. "In the future they'll be leaders in society."
As El-Ashwah talks, Khoury walks by with her Arabic Bible with gold lettering on the cover. She enters a second-floor classroom. It's discipleship time for three university students. Khoury describes her ministry as a series of spiritual encounters in everyday places—the university, the YMCA, any place where youth gather.
Khoury brushes away a wisp of black hair that falls naturally across her right eye. She speaks rapidly, passionately, and there's little discussion. She shows the students The Crossing, a video about a Christian teen who returns from death to share God's plan of salvation with a friend.
She urges the students on: "We have to speak about Jesus' love to all the people—our parents, our neighbors, our relatives. We have a great responsibility to speak to all the people that Jesus only is the way." The four young women join hands, praying for those they want to reach with the gospel.
God's Future for Gaza

In Arabic, Khoury means "priest." Rana's grandmother says that 36 family ancestors were priests. "We want there to be 36 pastors," Khoury says. The first one may be her brother Khader, a 21-year-old student at the Islamic University of Gaza. He leads children's ministry at Gaza Baptist and oversees Sparkies, part of the church's growing Awana program.
Rana and Khader work as a ministry team on Saturday evenings at Gaza Baptist. Rana preached the last two Saturdays. Tonight, she leads 13 young adults in soulful a cappella worship, eyes closed, hands raised, singing popular Arabic praises that an Egyptian chorus has developed.
Khader sits next to me to translate the Arabic chorus:
"You are my beloved. In one moment you transformed me and filled me with unspeakable joy."
Later, Bible Society worker Fadi Hilam stands up and says, "God is alive. It's impossible for us not to have a testimony." A college student says God answered years of prayer for her neighbor's salvation. A man requests prayer that he might talk to a friend about Christ. Several pray for jobs for others and themselves. One woman tells of visiting a mother living in a house the Israeli military had destroyed. The woman's son, a pharmacist, has been unemployed nine years.
Hilam ends by reciting the Great Commission, printed in black on a large yellow sign at the back of the room. "God gives us the responsibility to preach, love, and obey, and take the message to all the nations. We must bring salt and light to the world."
Afterward, the Khourys walk home on a dusty sidewalk bustling with women in long dresses and headscarves. Khader told me that he accepts God calling him to the ministry of sharing Christ's love, despite the risk.
"I have this desire to be for the Lord all my life," Khader said. "If I die for him for persecution, the Bible says the blood of those who die for the Lord will grow many things. I don't fear death. I can preach to anyone."
Khader cites Isaiah 58:12: "God told me through this verse that I am to stand in the gap. So I started praying for people in Gaza. I know Gaza is full of evil. The Word of God promises that the evil cities will be cities of revival.
"God will bless Gaza. God will use us as the tools."
A short distance from Gaza Baptist lie the ruins of a Byzantine church, buried under sand dunes for 1,400 years. Discovered in 1999 at Tel a-Shakef, this church has a mosaic floor inscribed in Greek, "Blessed will you be when you come in, and blessed will you be when you go out" (Deut. 28:6). Christians here could hardly find more fitting words to embody their mission to bless Gaza.
Gaza pastor Hanna Massad may be reached by email at: hanna3@palnet.com.
Deann Alford is a journalist based in Austin, Texas.
Related Elsewhere:
SIDEBAR
Christian Zionists Split over Gaza Pullout | Some remain politically neutral.
INSIDE CT
Reporting Eye to Eye | The Holy Land has always been treacherous.
CT interviewed Brother Andrew about his work in Israel and Palestine.
Deann's previous coverage from the Holy Land includes:
Burning Out the Faithful | Druze attack Christians in 'pogrom.' (April 21, 2005)
How Free Are We? | One year later, Christian leaders examine the International Religious Freedom Act. (March 6, 2000)
Our past coverage of Israel and Palestine includes:
Evangelical Collective | New association seeks more rights in Israel. (May 16, 2005)
Burning Out the Faithful | Druze attack Christians in 'pogrom.' (April 21, 2005)
The Risks of Regime Change | Middle Eastern Christians might end up more repressed under democracy than under dictators. (March 18, 2005)
Gatecrashing for Jesus | Brother Andrew discusses ministry in the Middle East. (Jan. 31, 2005)
Spitting on God's Image | Christians complain of assaults in Old City. (Nov. 03, 2004)
O Jailed Town of Bethlehem | How eerily still we see thee lie. (May 11, 2004)
Uneasy Unity | Christians take different paths as "road map" hits impasse. (Sept. 11, 2003)
West, Meet East | Who Are the Christians in the Middle East? examines millions of forgotten believers. (Sept. 11, 2003)
Have something to add about this? See something we missed? Share your feedback here.
Our digital archives are a work in progress. Let us know if corrections need to be made.
This article is from the July 2005 issue.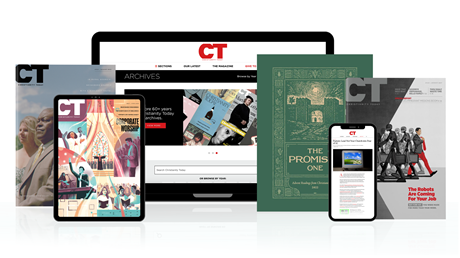 Subscribe to Christianity Today and get access to this article plus 65+ years of archives.
Home delivery of CT magazine
Complete access to articles on ChristianityToday.com
Over 120 years of magazine archives plus full access to all of CT's online archives
Subscribe Now
Love in the Land of Enmity
Love in the Land of Enmity