Questions on John Roberts's abortion stance, but none regarding his wife
The country remains atwitter about where John Roberts stands on abortion. Democratic Senators are promising to grill him until he says how he'd vote on overturning Roe v. Wade. Religious activists are still assiduously avoiding the a-word, but are telling their supporters not to worry.
Some seem confused. The Los Angeles Times writes today, "Judge Roberts' public positions on abortion and Roe v. Wade appear to be inconsistent."
But as Christianity Today's Collin Hansen wrote yesterday, Roberts's comments on Roe v. Wade may be unclear, but it's not inconsistent to say that Roe v. Wade was wrongly decided, should be overruled, and is the settled law of the land. Here's the clue: His previous nomination hearings were for an appellate court position. Shortly after Roberts's now-famous declaration, "Roe v. Wade is the settled law of the land," he explained, "As the Constitution uses the term 'inferior court judge,' I'll be bound to follow the Supreme Court precedent regardless of what type of constructionist I, personally, might be." That is no longer quite so relevant when you're talking about a Supreme Court position. Then again, as Focus on the Family's James Dobson said, "To my knowledge Judge Roberts has never talked about abortion and he certainly has no rulings about it, so we don't know what his private views are."
But we sure know about his wife's views. The front page of today's Los Angeles Times declares, "Wife of Nominee Holds Strong Antiabortion Views." The piece mainly focuses on Jane Sullivan Roberts's longtime involvement with Feminists for Life of America, including serving as executive vice president from 1995 to 1999 and currently providing legal counsel on a pro bono basis.
She's also, says a "close friend" who apparently didn't want to be named, an "extremely, extremely devout Catholic."
What's missing from the Times story, however, is any actual quote from Jane Sullivan Roberts. The paper says she has written for the group's newsletter, but doesn't quote the articles (one article was on adoption; the Robertses have adopted two children).
And while the Times notes that "Jane Roberts graduated magna cum laude from the College of the Holy Cross in Worcester, Massachusetts, in 1976," the paper misses some interesting connections (including, The New York Times reports, Jane Roberts's role as trustee there, and the "frequent attendance" of both Robertses at school events). Holy Cross is also Clarence Thomas's alma mater (he graduated ninth in his class in '71), and that of increasingly prominent Catholic priest Paul Scalia ('92), son of Antonin. The other Roman Catholic Supreme Court justice, Anthony Kennedy, apparently has no ties to Holy Cross. Not bad for a Jesuit school with about 2,800 students (especially if you note its other famous alumni).
New York Times columnist David Brooks picks up the Catholic angle:
Confirmation battles have come to seem of late like occasions for bitterly divided Catholics to turn political battles into holy war Armageddons. Most of the main Democrats on the Judiciary Committee are Catholics who are liberal or moderate (Kennedy, Biden, Durbin, Leahy), and many of the most controversial judges or nominees are Catholics who are conservative (Scalia, Thomas, Pryor). When they face off, you get this brutal and elemental conflict over the role morality should play in public life.
Roberts is indeed a Catholic (if he's confirmed, there will be four on the court, three Protestants and two Jews), but he's not the sort to spark the sort of debate that leads to bitter Catholic vs. Catholic meshugas.
Is part of that because, the Times reports, Roberts "declines … to wear his faith on his sleeve"? The Times has two quotes to back that up. The first is from Shannen W. Coffin: "John's faith is his faith, and his approach to the law is a separate issue. If it has any effect, it is in the sense of restraint, that he is not and the role of the judge is not to be the center of the universe. It stems from the sort of humility of a faithful person." Given that Coffin, identified as "a friend of Judge Roberts and a former Justice Department lawyer," has regularly supported religious influences in law in articles for National Review Online, that's an interesting statement. More, please.
Holy Cross president Michael C. McFarland sounds a similar note. "They are devout Catholics," he told the Times. "They are not the kind of people who would be in your face. [Their religion] would affect their personal lives, but they are very professional in their work." (An interesting but, there. One would have expected Holy Cross to have the attitude that Catholic values would make one a better worker.)
ESV plays with Google Maps
Ever since Google launched Google Maps and Google Earth, it has been fun and frequently amazing to see people how people have used it. There's the Google Sightseeing meme, of course, but you can use Google Maps "mashups" to track Bob Dylan tours, see injuries at Pamplona's running with bulls, find cheap gas, and other things you won't believe. Reason for why it's in Weblog today? The folks behind the English Standard Version Bible have launched a simple Bible mapping overlay for Google Maps. It's more fun to play with than the maps in the back of your Bible. The ESV blog says it did it more "as a proof of concept," but that it is "impractical to implement on the ESV website." The ESV folks are encouraging others to take the concept much further. We hope someone will heed the call.
More articles
More on John Roberts:
Meet John Roberts | A first-class lawyer with a sense of humor. Too bad he's a threat to women's rights -- and the Constitution (Adele M. Stan, The American Prospect)
High court nominee well-versed in First Amendment | U.S. Supreme Court nominee John G. Roberts Jr. has not established a recognizable First Amendment jurisprudence record since being confirmed for the D.C. Circuit Court of Appeals in May 2003. But Roberts has handled many First Amendment cases in both the private and public sectors (David L. Hudson Jr., First Amendment Center)
'90 brief stirs early debate | Document says Roe v. Wade was wrongly decided in 1973 (The Washington Post)
Campaign is on for Roberts | Liberals are wary as conservatives gear up (The Washington Post)
The confirmation clash | Special interest groups plot varying strategies in getting their message out, for or against judicial pick (Newsday)
At risk: Roe, rights and religion | To the extent his views match his former boss', Roberts could provide the fifth vote to return prayer to schools, allow a significant expansion of government-sponsored religious displays and funnel more money to faith-based service providers (Richard Schragger, Los Angeles Times)
Religious groups in Florida wary about Roberts | Christian conservatives want more time to react; liberal interests unsure (The Times-Union, Jacksonville)
Roberts' conservatism may get quick test | Abortion, gay rights and assisted suicide are among the first issues the court will consider in the fall (Associated Press)
Roberts on religious liberty:
Will Roberts defend religious liberty? | Let's pray that a Justice John Roberts will ensure equal, rather than hostile, treatment of religious expression in America (Nathan Diament, Beliefnet)
A coup for business, but what about religion? | Roberts may be the GOP's dream candidate for the Supreme Court, if they honestly believe judicial activism is a bad thing (Marci A. Hamilton, Beliefnet)
A shift to the right, but not a seismic shift | Four controversial constitutional questions a Justice Roberts will confront and clues to how he will handle them (Samuel Estreicher, Beliefnet)
Religion & politics:
Are we ready for a Mormon president? | No one is going to trash Romney's religion unless they have to, meaning unless his candidacy shows signs of success. But I've already been pitched on a quirky column item about the funny garments Mormons wear while worshiping (Alex Beam, The Boston Globe)
Search for 'original intent' leads to constitutional confusion | History simply doesn't answer the most difficult issues of constitutional interpretation (Tim Baker and Emily Baker, The Baltimore Sun)
The politics of faith | Democrats kick off a multifront campaign to connect with religious voters (U.S. News & World Report)
With God on our side? | The next big debate for Democrats concerns the r-word: Do they need to get -- or at least start talking about -- religion? A progressive evangelist and an aggressive secularist have at it (Jim Wallis and Susan Jacoby, The American Prospect)
Activists start working on liberal spirituality | Conference seeks to morph energy into political clout (San Francisco Chronicle)
Spiritual symposium | An estimated 1,300 people went to UC Berkeley on Wednesday for the start of a four-day progressive spiritual activism conference (Contra Costa Times, Ca.)
War & terrorism:
Pope: terrorism is work of 'fanatics' | "Terrorism is not a clash of civilization, but the action of groups of fanatics," said Benedict, responding to a question about the July 7 London bombings. He added that "dialogue between the three monotheistic religions is very important" (Associated Press)
Pope to meet with Jews, Muslims in Germany | He'll also meet with other Christian groups (Associated Press)
Carson GI convicted of dodging duty | Spc. Dale Bartell, assigned to the 3rd Armored Cavalry Regiment, recently joined a Mennonite church (Colorado Springs Gazette)
Human rights & religious freedom:
Rwandan bishop testifies in court | The head of the Roman Catholic Church in Rwanda is expected to testify before a local court trying those suspected of participating in the 1994 genocide (BBC)
Anti-gay signs over Beltline were protected, court rules | Monroe pastor and anti-gay crusader Ralph Ovadal had a constitutional right to display banners over the Beltline in 2003, despite the reactions of drivers who caused traffic problems, a federal appeals court ruled Tuesday (Wisconsin State Journal)
Catholic priests accused in Kenya bishop's murder:
Two priests arrested over bishop's murder | One of the priests, who was serving in Tumaini Parish, was forced to resign mid last year after he was accused of misappropriating funds. The other one served in Merti parish, which runs Macci Boys and Macci Girls secondary schools (The East African Standard, Kenya)
We'll get Bishop Luigi's killers, pledges Kibaki | Catholic bishop Luigi Locati was buried in Isiolo yesterday (The Nation, Kenya)
Priests help probe into bishop's shooting | Two priests were among nine people helping police with investigations into the killing of Isiolo Catholic bishop Luigi Locati (The Nation, Kenya)
Police: Succession battles may have led to bishop's death | Succession wrangles, involving some priests, may have led to the killing of Catholic Bishop Luigi Locati (The East African Standard, Kenya)
Crime:
Vietnamese group sues Wichita Diocese | The Catholic Diocese of Wichita illegally transferred more than $400,000 from a Vietnamese Catholic group's fund into a church account, a lawsuit alleges (The Wichita Eagle, Kan.)
Witnesses say imprisoned killer Travaglia has changed his ways | Defense says he's "a truly born-again phenomenon" (Pittsburgh Post-Gazette)
Abuse:
Ex-day care director faces new sex charges | Clay police say charges involve 8 other Kid's Palace children (The Florida Times-Union)
Church-run day care director charged with molestation | Joshua Palin, the 25-year-old son of the church's pastor, has been charged with molesting 10 children, some of them during what investigators say was a twisted game of "Truth or Dare" (Associated Press)
Homosexuality:
From the pulpit | The minister of a prominent D.C. Baptist church is under fire from homosexuals because of remarks he made about lesbianism and feminism in a sermon (Editorial, The Washington Times)
Getting straight with God | The Rev. J. Grace Harley used to be a lesbian who posed as a man to marry a woman. Now she has overcome cocaine and "little hot-to-trot women" and is speaking out to save homosexual sinners (Mark Benjamin, Salon.com)
True confessions | Men who have been through "ex-gay" Christian ministries share their stories. While some insist they have overcome homosexuality, others say they were driven to attempt suicide (Mark Benjamin, Salon.com)
Sexuality:
Minister who was addicted to porn says case not rare | When the Rev. Darrell Brazell, an evangelical minister, first heard that police had found thousands of pornographic images on former Christian-school leader Martin K. Miller's home computer, he wasn't surprised (Lawrence Journal-World, Kan.)
Are sex shops obscene? | Local group wants grand jury to make ruling (The Wichita Eagle, Kan.)
First lady pitches to wrong audience | Like many other vicissitudes Europe has visited on Africa, the Virgin Cure myth has taken hold in some African societies and accounts for high rates of HIV/AIDS among young girls (Bonnie Erbe, Scripps Howard News Service)
Ugandan lawmaker wants to pay for virgins to attend college:
Lawmaker wants to send virgins to college | A Ugandan lawmaker is offering to pay university fees for girls who are virgins when they graduate from high school, in part to help fight AIDS (Associated Press)
Chastity buys education in new Ugandan scheme | A Ugandan MP has offered to pay the university fees of girls who are still virgins when they graduate from high school in a bid to fight Aids and encourage more girls to stay on in education, it emerged today (The Guardian, London)
A good reason to be a virgin | Deal only is for women (Reuters)
Money & business:
Allstate sued for religious discrimination | J. Matt Barber says he was fired for writing an Internet-published essay that slams same-sex marriage and homosexual lifestyles (Northbrook Star, Ill.)
Conservative Christian groups apply economic pressure on gay-friendly firms | As more companies adopt gay-friendly business policies, they risk the wrath of conservative Christian groups prepared to take action with their collective buying power (Religion News Service)
KOCE & Daystar:
Christian network to sue trustees over KOCE sale | Broadcaster says it was denied ownership of the O.C. station because of religious discrimination (Los Angeles Times)
Religious broadcaster to sue KOCE | Daystar says it was discriminated against when KOCE rejected its purchase bid (The Orange County Register, Ca.)
Missions & ministry:
Building on faith | Pr. William churches address housing pinch (The Washington Post)
Adoption group reverses Catholic policy | A Christian adoption agency said Wednesday that its Mississippi affiliate has reversed a policy that had barred the placement of children with Roman Catholic couples (Associated Press)
Mission in question | Short-term mercy work may lack effectiveness (The Washington Examiner, D.C.)
Holy Land founder resigns | The Rev. Marvin Rosenthal cites 'a difference of opinion' with the board (The Orlando Sentinel)
Graham crusade comes up short | The Billy Graham Evangelistic Association has raised just 61 percent -- $4.1 million -- so far of the projected $6.8 million budget for its June 24-26 crusade (The Washington Times)
Creation summer camp | Live from the 2005 Creation Mega-Conference (Reason)
Church life:
CBF to reconsider purpose statement revision | Some are upset about dropping the name of Jesus Christ (Biblical Recorder)
Pastor's Racing League takes congregations to the races | Currently, there are 24 pastors associated with the PRL, each racing once a month (Associated Press)
Scourges of the Vatican | The Catholic church forbids female priests, but that hasn't stopped some women from being ordained (The Guardian, London)
Scopes trial:
Smithsonian finds Scopes trial photos | Eighty years after the Scopes Monkey Trial, a trove of about 60 unpublished photos from the landmark case has been found in Smithsonian Institution archives, including a shot of Clarence Darrow's courtroom sparring with William Jennings Bryan (Associated Press)
Can't escape Scopes' shadow | The same sort of religious fundamentalism that captured the nation's attention 80 years ago is still around today (Editorial, The Waco Tribune-Herald, Tex.)
Church & state:
Pushing civil religion in a most uncivil manner| The motivation of uncivil religion is not to recognize God in our national life, but, rather, to represent him (Charles Foster Johnson, Ft. Worth Star-Telegram)
Commandments group should pay ACLU suit costs | Ten Commandments-Georgia Inc. could do worse things than write a check to the ACLU (Editorial, Athens Banner-Herald, Ga.)
Senator targeting church-state divide | Parley Hellewell wants to get religion back into public venues (Deseret Morning News, Ut.)
'Agnostic' seeks removal of commandments plaque | A Freemansburg man has asked Northampton County's president judge to remove a Ten Commandments plaque from a courtroom wall (The Express-Times, Easton, Pa.)
ACLU Jamboree | The American Civil Liberties Union has found a sympathetic ear for its latest assault against the Boy Scouts (Editorial, The Wall Street Journal)
Federal judge to narrow latest Pledge suit | Judge Lawrence Karlton says he plans to limit Michael Newdow's case to focus strictly on whether reciting oath in public schools is unconstitutional endorsement of religion (Associated Press)
Raise your right hand and swear to tell the truth … on the Koran? | Citing state law, a judge bars use of the Muslim holy book, but some say the move violates the Constitution (The Christian Science Monitor)
Jewish catacomb predates Christian ones:
Jewish catacomb predates Christian ones | A Jewish catacomb in Rome predates its Christian counterparts by at least 100 years, indicating burial in the city's sprawling underground cemeteries may not have begun as a Christian practice, according to a study published Wednesday (Associated Press)
Catacomb find boosts early Christian-Jewish ties, study says (National Geographic News)
Study: Radiocarbon dating: Jewish inspiration of Christian catacombs | A Jewish cemetery in ancient Rome harbours a secret that bears on the history of early Christianity (Nature, sub. req'd.)
History:
Exhibition throws light on early Christian history | The sixth-century gospels thought to have been brought from Rome by St Augustine to convert Britain to Christianity are to go on display for the first time in the biggest exhibition of illuminated manuscripts for a century (The Independent, London)
Film chronicles Jesus in Egypt | Indialantic archaeologist helps retrace journey (Florida Today)
More articles of interest:
The myth of marriage | A radical new book debunks the concept of marriage as a time-honored institution, and argues that we need to loosen up about it (Alternet)
Tammy Faye says lung cancer has returned | Former televangelist Tammy Faye Messner said Wednesday that cancer has returned to her lungs, marking her third battle with the illness (Associated Press)
Academic falls foul of Mormons | A molecular biologist with the CSIRO is facing possible ex-communication from the Mormon Church after writing a book challenging its central teachings (The Sydney Morning Herald)
Jesus story 'gets it 97% right' | It is 97 per cent certain that God raised Jesus Christ from the dead - based on sheer logic and mathematics, not faith - according to Oxford professor Richard Swinburne (The Age, Melbourne, Australia)
Call to cut back on city faith schools | Birmingham's head of education has called for the number of faith schools in the city to be reduced (Birmingham Post, England)
Related Elsewhere:
Suggest links and stories by sending e-mail to weblog@christianitytoday.com
See our past Weblog updates:
July 20 | 19 | 18
July 15 | 14 | 13 | 12 |
July 8 | 7
July 1 | June 30 | 27
June 24 | 23 | 20
Weblog
Launched in 1999, Christianity Today's Weblog was not just one of the first religion-oriented weblogs, but one of the first published by a media organization. (Hence its rather bland title.) Mostly compiled by then-online editor Ted Olsen, Weblog rounded up religion news and opinion pieces from publications around the world. As Christianity Today's website grew, it launched other blogs. Olsen took on management responsibilities, and the Weblog feature as such was mothballed. But CT's efforts to round up important news and opinion from around the web continues, especially on our Gleanings feature.
Ted Olsen is Christianity Today's executive editor. He wrote the magazine's Weblog—a collection of news and opinion articles from mainstream news sources around the world—from 1999 to 2006. In 2004, the magazine launched Weblog in Print, which looks for unexpected connections and trends in articles appearing in the mainstream press. The column was later renamed "Tidings" and ran until 2007.
Previous Weblog Columns: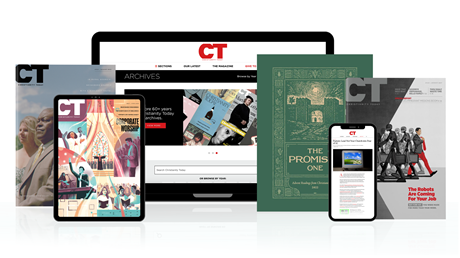 Annual & Monthly subscriptions available.
Print & Digital Issues of CT magazine
Complete access to every article on ChristianityToday.com
Unlimited access to 65+ years of CT's online archives
Member-only special issues
Subscribe
Jane Roberts for Supreme Court Justice!
Jane Roberts for Supreme Court Justice!