Yesterday, July 6, Londoners were euphoric: we heard that we had won the competition for the 2012 Olympics. People in my East End borough of Newham were particularly elated; the main site for the Olympics will be in our borough. My wife—a naturalized Briton—let out a massive cheer when we heard the news. Our children were looking forward to its impact on their lives. I was also thrilled at it happening on what will be the Diamond Jubilee of our beloved Queen. As well as that, this weekend will see the official celebrations of V-E and V-J Days. The East End suffered more than any other part of Britain from the bombs of the Luftwaffe, so these celebrations were going to be particularly poignant here. This was set to be one of the greatest weekends for London in years.
Today that euphoria has been replaced by shock, horror, and sadness. Police say four bombings took place—three in what Britons call the Tube or Underground (the subway) and the other on a bus. Television pictures of the bus are especially shocking as the roof was blown off. Reports are still sketchy, and we don't know if these terrible events are the result of what Al Qaeda view as 'martyrdom operations' (suicide bombings), or whether they are Madrid-type cell-phone operated attacks. As I write, there are 33 confirmed fatalities, and the number will probably climb.
The response of our security and emergency services has been tremendous, and we have every reason to be proud of the British police in this respect. They were on the scene within minutes, and when there were not ambulances available for the injured, three of London's famous double-decker buses ferried casualties to hospitals. After 30 years of IRA terrorism, Britain in general and London in particular is arguably the best-equipped city in the world to deal with terrorist outrages. The efficiency of our reaction is a testament to that.
One survivor told of the initial reaction of many in his train: "People started praying to God." Such a response is significant coming from secular Britons. It will be interesting to see if churches see increased attendance this Sunday.
Churches and Christian groups have already mobilized, in prayers if not in direct service. The Evangelical Alliance released a statement which called on its members "to pray for the families of those killed and injured by the multiple explosions in London and for a spirit of peace and mercy, not panic or revenge." EA general director Joel Edwards, said: "We pray earnestly for those who have suffered loss or injury today and call on God to bind up the broken hearted. I have found Psalm 46 a great comfort at this time."
Bishop of London Richard Chartres, who has been in contact with Edwards, was similarly comber and hopeful "This is a grave day for London," he said. "Our thoughts and prayers are with the injured and the bereaved and also with the Emergency Services who have responded so rapidly. London's clergy have been working alongside the Emergency Services since early this morning and churches close to affected areas have been opened for shelter, aid and prayer."
Reaction from Britain's Muslim community has also been swift. The Muslim Council of Britain issued a statement declaring it "utterly condemns today's indiscriminate acts of terror in London. These evil deeds make victims of us all. It is our humanity that must bring us shoulder to shoulder to condemn, to oppose and to overcome those who would spread fear, hatred and death. Our sympathies and our prayers are with the victims, their families, and friends."
A leading British Arab Muslim, Anas Altikriti, told me that he noted that two stations where bombs exploded were Edgeware Road, towards the west of the city, and Aldgate East, in the East End. The former is home to London's Arab community, the latter to the mainly Bangladeshi Muslim community. Al Qaeda often regards Western Muslims as apostates, and Bin Laden stated after 9/11 that Shari'ah forbids permanent residence in the land of the Infidel. These bombs seem to have been as much directed at British Arabs and Muslims as the rest of us. If Al Qaeda thinks this will divide us from our Arab and Muslim fellow Britons, they have grossly misread our national character.
Even though we had all been expecting an attack, Prime Minister Blair looked shaken when he responded to the bombings. The question many Britons will be asking is why we were attacked, and the Iraq war will probably be the conventional wisdom's answer. The war is incredibly unpopular here, and Blair was punished on this issue in our recent election. Indeded, a purported Al Qaeda statement taking credit for the attacks said they were "vengeance against the Zionist crusader government of Britain in response to the massacres Britain committed in Iraq and Afghanistan."
But two other factors were probably in play. Al Qaeda undoubtedly borrowed its strategy from the Madrid train bombing. There was another symmetry. Just as President Bush was absent from the U.S. capital during 9/11, so Blair was absent from the U.K. capital during (what may now be called) 7/7. Moreover, happening at the same time as the G8 summit, with Bush, Blair, and Putin present, it humiliated world leaders. The message being that they were trying to solve the world's problems, and they can't even solve this one. Moreover, Blair's argument for invading and staying in Iraq—to give us security from terrorists—will look very hollow as the dust settles.
Britons are traditionally stoical and defiant when it comes to bombings. When the Luftwaffe devastated much of the East End in 1940 and 1941, the people exclaimed, "We can take it." King George VI—arguably our greatest king—refused all suggestions that the Royal Family be evacuated to Canada, and His Majesty refused to leave London.
That same defiance has been in evidence today. A young woman who emerged from one of the tube trains with blackened face and scarred legs said, "This is nothing." People, as far as possible, are determined to go about their normal business. As one of our patriotic songs Rule Britannia declares, "Britons never, never, never shall be slaves," and "Thee haughty tyrants ne'er shall tame: All their attempts to bend thee down … Will but arouse thy … generous flame." Al Qaeda needs to learn what we taught Hitler—Britons don't do cowardice.
Dr. Anthony McRoyis Lecturer in Islamics at the Evangelical Theological College of Wales, a regular contributor to Muslim periodicals such as Q-News and Muslim Weekly, and a frequent guest on Iranian TV. He is presently writing a book about Islamic radicalism in the UK, and is an expert on jihad and martyrdom, recently lecturing at a university on 'The Jihad of Al-Qaida'.
Related Elsewhere:
The BBC has video, pictures, and in-depth reporting. Other British news sources include The Guardian, The Telegraph, The Times of London, and The Independent.
BBC Radio has live coverage.
Yahoo's full coverage has wire reports, photos, and news from all over Europe.
The Metropolitan Police Service, or Scotland Yard, has updates, as does Transport for London, the Tube authority.
The Queen has released a statement.
CNN has videos available of Tony Blair and Scotland Yard.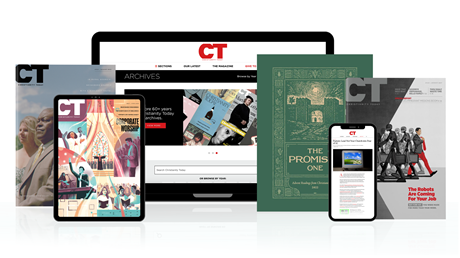 Subscribe to Christianity Today and get access to this article plus 65+ years of archives.
Home delivery of CT magazine
Complete access to articles on ChristianityToday.com
Over 120 years of magazine archives plus full access to all of CT's online archives
Subscribe Now
Britain's 9/11?
Britain's 9/11?