Little surprise in new Duke prayer study
It's another slow news day, so here's another story that probably wouldn't otherwise make many headlines, if only because it sounds so familiar.
Duke University researchers are touting a new study as "the first time rigorous scientific protocols have been applied on a large scale to some of the world's most ancient healing traditions," including prayer. "The trends they observed may yield important clues to understanding the role of the human spirit in modern, technology-laden cardiovascular healthcare," says a press release.
The Washington Post has a different take on the study. Its story begins, "Praying for sick strangers does not improve their prospects of recovering, according to a large, carefully designed study that casts doubt on the widely held belief that being prayed for can help a person heal."
The study of 748 patients with coronary artery disease investigated the effects of distant intercessory prayer and of a therapy called MIT (bedside music, imagery, and touch). These were divided up roughly into quarters: One group got prayer and MIT therapy; one only got prayer; another only got MIT therapy; and a fourth got neither. Those getting prayer didn't know what group they were in, since the people praying were off-site strangers. Given the nature of MIT therapy, those receiving it knew it.
The headline-grabbing finding is that heart patients in the prayer group prayer were just as likely to have complications from their heart treatments, end up back in the hospital, or die within six months.
The details, however, are important.
"The prayer groups for the study were located throughout the world and included Buddhist, Muslim, Jewish, and multiple Christianity-based denominations," says the press release. "The researchers noted 89 percent of the patients in this study also knew of someone praying for them outside of the study protocol altogether."
That latter part is a problem, the study itself notes, but hardly a surmountable one for now: "Many would have considered a request to patients or families not to pray for loved ones with heart disease unethical."
Indeed. But that means it's hardly a study of whether prayer keeps heart patients from problems, but rather a study of whether remote interfaith prayer has any additional effect than the prayer of loved ones.
Telling patients they are being prayed for has problems, too. "If the sick person believes the prayer will help, it may, just as a sugar pill may help if a doctor tells a patient it contains powerful medicine," as the Straight Dope explained in a 2000 column.
An editorial in The Lancet, where the study appears this week, notes that the matter is far from settled:
Could a more restricted denominational approach have influenced the outcome? Does the number of those praying matter? Or the timing and duration of prayer? Would it have been more fruitful to have used a battery of subtler qualitative endpoints? These questions—and the secondary endpoint of six-month mortality benefit in those assigned music, imagery, and touch [translation: those who got MIT therapy were less likely to die]—provide a basis for further inquiry.
Studies will almost certainly continue, as will the debates over whether prayer "works." For Christians, though, this study doesn't change anything.
First, as theologian N.T. (Tom) Wright told the BBC in 2003, when Duke University's earlier study on the subject similarly found prayer ineffective, "Prayer is not a penny in the slot machine. You can't just put in a coin and get out a chocolate bar."
In fact, such tests seem to violate the biblical prohibitions in both Old and New Testaments not to "put God to the test." Paul's admonition to "test all things" and God's command in Malachi to test his response to tithing, so often quoted by Word-Faith folks, can be the subject of a separate Weblog, but as Wright notes, these prayer studies are "like setting an exam for God to see if God will pass it or not." In other words, these kinds of studies may themselves be sinful.
But there's another biblical issue with these studies, too. Praying for strangers from a distance is hardly unbiblical, but James gives pretty specific instructions for how to pray for the sick:
Is anyone among you sick? Let him call for the elders of the church, and let them pray over him, anointing him with oil in the name of the Lord. And the prayer of faith will save the one who is sick, and the Lord will raise him up. And if he has committed sins, he will be forgiven.
That's a radically different methodology than Duke University's.
More articles
Supreme Court:
Christian conservatives will take aim at Supreme Court in new telecast | Stepping up efforts to rally churchgoers for a Supreme Court confirmation battle, Christian conservatives are organizing a telecast to churches and religious broadcasters denouncing the Supreme Court as hostile to religion and families (The New York Times)
Justice Gonzales? Conservatives see recusal problem | Activists object anew to a possible nomination, saying he wouldn't be able to hear key cases (Los Angeles Times)
Falwell says he will not recommend any nominee to Supreme Court | While pro-choice and gay rights groups protest the Bush administration soliciting the Rev. Jerry Falwell's opinion on the pending Supreme Court nomination, Falwell said it just didn't happen (The News & Advance, Lynchburg, Va.)
The wages of choosing an intolerant justice | Conservative Christians, who suffered as a religious minority themselves, should remember why we need an independent judiciary (Marci A. Hamilton, Beliefnet)
Split decision | Justice O'Connor, guardian of private religious practice, leaves a disappointing record on religion in the public sphere (Roger T. Severino, Beliefnet)
What's at stake with Justice O'Connor's replacement? | People of faith favor a new justice who honors the founders' original intent above personal ideas of right and wrong (Richard Land, Beliefnet)
Abortion:
Abortions reach 30-year low | The number of abortions in Minnesota dropped to a 30-year low in the first full year after the state passed a 24-hour waiting period for women seeking abortions. (Associated Press)
Social selection | Support for Roe v. Wade does not a moderate justice make (Jonathan Chait, The New Republic)
Should Roe go? | If Roe goes, injustice will reappear, relabeled as local democracy (Katha Pollitt, The Nation)
Life ethics:
Caution: Student cloner | In training on the frontier of reproductive science (Liza Mundy, Slate)
You're having my baby | The forced marriage of stem-cell opponents (William Saletan, Slate)
The dark side of stem cell politics | Lawmakers will soon have the chance to stand against a stem cell research policy that has already put the federal government behind several enterprising states (Editorial, The New York Times)
Ethicists offer advice for testing human brain cells in primates | Putting human brain stem cells into monkeys or apes could raise awkward ethical dilemmas, like the possibility of generating a humanlike mind in a chimpanzee's body (The New York Times)
Romney backs capital punishment bill | The Rev. Diane C. Kessler, executive director of the Massachusetts Council of Churches, said that church leaders in the state are ''unified in opposing the death penalty as unnecessary, unjust, and intolerable" (The Boston Globe)
Church & state:
Ownership of Soledad cross at issue | Judge gives attorneys one week to file briefs (San Diego Union-Tribune)
Religious wars waged in court | Thomas More Law Center sees itself as 'Christianity's answer to the ACLU' (The Ann Arbor News, Mi.)
Zimbabwe says church group was on spy mission—paper | Zimbabwe sought on Friday to discredit South African clergymen who have criticised its demolitions of shantytowns, with state media saying their visit to assess the drive was bankrolled by British intelligence (Reuters)
Santorum's remarks on liberals, abuse in Boston:
Romney begs to differ with Santorum remark | Governor Mitt Romney said yesterday that US Senator Rick Santorum of Pennsylvania was misinformed for linking Boston's ''liberalism" with the sex abuse scandal in the Catholic Church. But he stopped well short of demanding that his fellow Republican apologize (The Boston Globe)
The ideologue who squeaked | Called out by Kennedy, Santorum would neither apologize nor defend his comments (Scot Lehigh, The Boston Globe)
Catholicism:
Church ventures into the world of cinema and glamour | Days after the Mumbai Catholic Church issued a "dress code" to churchgoers, its counterpart in the Capital has taken its first baby step into the world of glamour and make belief (The Hindu, India)
Venezuela's Chavez hits back at Catholic critics | Venezuelan President Hugo Chavez accused Roman Catholic bishops on Wednesday of opposing his left-wing rule and being "out of touch with reality" after they questioned his populist policies (Reuters)
Catholic bishop murdered in Kenya:
Bishop shot dead in Isiolo | A Catholic bishop was last night shot dead by bandits, less than 72 hours after a dawn massacre in Marsabit left at least 80 people dead (The East African Standard, Nairobi)
Catholics condemn bishop's killing | Nairobi Archbishop Ndingi Mwana Nzeki termed the killing inhuman (The East African Standard, Nairobi)
Catholic bishop killed as violence rages in north | Bishop Luigi Locati, a 75-year-old missionary, was shot dead when three armed bandits ambushed him as he walked to his house from the church compound, some 70 metres away (The Nation, Nairobi)
Roman Catholic bishop killed in Kenya | Motives of the killing were unclear and thought not be linked to recent clashes in northeastern Kenya that have left some 75 killed (Associated Press)
Catholic bishop killed in Kenya (BBC)
Crime:
Man drinks holy water at Athens church | 39-year-old has history of disruptions (The Atlanta Journal-Constitution)
Man drinks church's holy water | The man had been arrested in October after he assaulted the church's pastor, broke a processional crucifix and broke the window of a police cruiser, Rocks said (Athens Banner-Herald, Ga.)
Priest charged with sex crimes | Ex-White Oak pastor denies claims (Cincinnati Enquirer)
Education:
Firing of chaplain stirs outcry | Several graduates of Rocky Mountain College and churches that have traditionally supported the college are dismayed over the elimination of its office of chaplain (Billings Gazette, Mt.)
Religious schools in bid for charters | City may be willing, but ACLU is wary (Chicago Tribune)
Missions & ministry:
Harvest Crusade, Promise Keepers on center stage | Anaheim events are two of three Christian gatherings slated for the Southland this weekend (Los Angeles Times)
The crusade continues | Popular preachers appeal to a populace much changed since glory days of Billy Graham (The Orange County Register)
One church, one orphanage | Many church budgets include funds for missionaries, and many individual Christians donate to large international relief agencies—but one church decided to do more (World)
Church life:
Plagiarism, shmagiarism | The why and when of giving credit (Craig Brian Larson, PreachingToday.com)
All for one? | The idea of unity divides Catholics and Orthodox Christians (Frederica Mathewes-Green, The Wall Street Journal)
Cologne cathedral may lose UN status in skyscraper row | One of the Europe's most spectacular cathedrals faces being stripped of its world heritage title unless city planners withdraw plans to build skyscrapers nearby (The Guardian, London)
Religion Today: Osteen takes his church to court | An arena that basketball fans once packed to see the NBA's Houston Rockets is about to take on a new role — home to the largest congregation in the nation (Associated Press)
Reclaiming a splintered faith | At an interfaith event a few years ago, I was introduced as a Unitarian. That prompted a tablemate to inquire, "But what kind of Unitarian are you?" (Mary Bergin, The Capital Times, Madison, Wi.)
Homosexuality:
Church to restrict baptism of gay couples' children | 'We can't accept two fathers or two mothers as parents,' cardinal tells senators (The Ottawa Citizen)
A church fight | UCC dissenters would be wise to accept the decision to support gay marriage — or find a new denomination or start their own (Editorial, Winston-Salem Journal, N.C.)
Secretive religious sect behind anti-gay ads | MPs targeted by mail and ads funded by Exclusive Brethren (Vancouver Sun)
Religion in the News: Singapore's gay church | In a country where homosexual sex is punishable by prison time and the government bans gay-themed parties, the Free Community Church stands out. It is the only place of Christian worship willing to accept gays and lesbians in Singapore (Associated Press)
Television:
A&E ponders 'God or the Girl' conundrum | Cable channel reality show will examine the personal struggles of young men deciding whether to join the priesthood. (Reuters)
Why does Daystar hate Jesus? | The religious broadcaster fighting for KOCE is already under federal investigation for abuse of the airwaves (LA Weekly)
Harry Potter:
Rector's censure vetoes Potter party | A primary school celebration of JK Rowling's blockbusting boy wizard, Harry Potter, has been cancelled after a rector claimed its organizers were "seeking to lead children into areas of evil" (The Guardian, London)
Finding Christianity -- in Harry Potter | Author John Granger sees religion amid the witchcraft (The Express-Times, Easton, Pa.)
Today on CT Online: Harry Beasts | An excerpt from Granger's Looking for God in Harry Potter (Christianity Today)
Money & business:
The Messenger | Christian speakers are the fastest-growing segment of a billion-dollar business. Ken Davis is the granddaddy of the field (Forbes)
Convention highlights evangelical retail | The main buzz at the annual International Christian Retail Show was the "Wal-Mart effect" and other marketing challenges for independent stores in the multibillion-dollar business of selling Christian products (USA Today)
The greatest story never played | Why don't religion and video games mix? The industry's top developers ponder the question (CNN/Money)
More articles of interest:
Crisis averted | Form of religious violence in India is changing, but not content (World)
Creationists pin hopes on 'intelligent design' | "Intelligent design" is a camel's nose in the tent of creationism. It's a tricky way of violating the constitutional prohibition against teaching a specific religious belief in public institutions. Nevertheless, it seems to be working (Steve Gushee, Palm Beach Post)
God Stewart | Singer's seen the light says his pregnant lover Penny (The Mirror, U.K.)
Religion news in brief | Australia's new Anglican leader avoids stand on gay dispute; Christian arrested in Pakistan for allegedly desecrating Islam's holy book; Cooperative Baptist Fellowship deletes mention of Jesus Christ in constitution; and other stories (Associated Press)
Related Elsewhere:
Suggest links and stories by sending e-mail to weblog@christianitytoday.com
See our past Weblog updates:
July 14 | 13 | 12 |
July 8 | 7
July 1 | June 30 | 27
June 24 | 23 | 20
June 17 | 16 | 15 | 14
Weblog
Launched in 1999, Christianity Today's Weblog was not just one of the first religion-oriented weblogs, but one of the first published by a media organization. (Hence its rather bland title.) Mostly compiled by then-online editor Ted Olsen, Weblog rounded up religion news and opinion pieces from publications around the world. As Christianity Today's website grew, it launched other blogs. Olsen took on management responsibilities, and the Weblog feature as such was mothballed. But CT's efforts to round up important news and opinion from around the web continues, especially on our Gleanings feature.
Ted Olsen is Christianity Today's executive editor. He wrote the magazine's Weblog—a collection of news and opinion articles from mainstream news sources around the world—from 1999 to 2006. In 2004, the magazine launched Weblog in Print, which looks for unexpected connections and trends in articles appearing in the mainstream press. The column was later renamed "Tidings" and ran until 2007.
Previous Weblog Columns: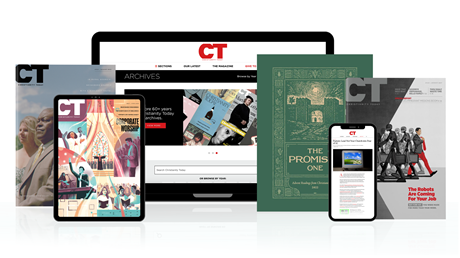 Subscribe to Christianity Today and get access to this article plus 65+ years of archives.
Home delivery of CT magazine
Complete access to articles on ChristianityToday.com
Over 120 years of magazine archives plus full access to all of CT's online archives
Subscribe Now
Study Says the Prayers of Multifaith Strangers Won't Keep You from Dying
Study Says the Prayers of Multifaith Strangers ...