Last weekend, the General Synod of the Reformed Church in America disciplined Norman J. Kansfield, the former president of New Brunswick Theological Seminary, for officiating at his daughter's same-sex wedding. According to a statement by the RCA, pastors and elders brought charges against Kansfield saying "his action was contrary to RCA beliefs, contradicted his ordination vows, and violated his promises made when installed into the office of professor of theology."
The New York Times says, "The delegates also voted to suspend Dr. Kansfield, 65, from the ministry until he changes his views to fall in line with church doctrine, and to strip him of his standing as a professor of theology in the church.
"By a roughly three-to-one majority, the jurors in the rare ecclesiastical trial … voted that by officiating at the wedding, Dr. Kansfield had violated his vows as a minister and ignored the teachings of his church," writes The Times.
Kansfield was ousted from his position at the seminary in early February after word spread that he had officiated at his daughter's wedding at Jonathan Edwards's former church in Northampton, weeks after Massachusetts legalized same-sex marriage. The board of trustees then decided not to renew his contract. At the time, board member and spokesman Larry Williams told The New Jersey Star-Ledger, "We decided that the president had put the seminary in an awkward position by performing that ceremony without giving us the benefit of offering sufficient counsel," he said. "It could have hurt the school if it divided people in our student body, if it divided our faculty, if it divided other people who support us."
Despite its decisive action last weekend, the RCA is not likely finished dealing with the issue of homosexuality. The group Friends of Norm is fighting for Kansfield's reinstatement, and his daughter, Ann Kansfield, was recently called to pastor Greenpoint Reformed Church, an RCA member. She graduated from New Brunswick last May and is reportedly seeking ordination.
Also, David Myers, professor of sociology at RCA related Hope College in Holland, Michigan, recently published What God Has Joined Together? A Christian Case for Gay Marriage. Myers says the book does not represent the position of Hope, and though he said he was told to prepare for some hate mail, Myers will be staying at Hope. The college is in an agree-to-disagree relationship with Myers, says The Grand Rapids Press.
Sleuths of the obvious
"Evangelicals can be maddeningly difficult to categorize," says The Philadelphia Inquirer. For example, National Association of Evangelicals president Ted Haggard has a bumper sticker that says, "Vote for Pedro." Who knew Haggard was a fan of the movie Napoleon Dynamite? Even more shocking: Who knew evangelicals comprise "an amalgam of unpredictable, sometimes contradictory, strains of Christianity across a broad spectrum of the nation"?
Evangelists, er, evangelicals are not uniformly political conservatives who believe in an exclusively literal interpretation of the Bible and read Left Behind to discover how the world will end? "They are Methodists, Presbyterians, Episcopalians, and other mainline Protestants, as well as Southern Baptists and members of nondenominational mega-churches. Without a uniform theology, they vary widely in interpretations of the Bible and its application to their lives and nation."
But just when you thought the mainstream media was starting to get it, the same Inquirer writer says Haggard "parts ways from [evangelicals] with his concern about global climate change and other environmental issues, support for the Supreme Court decision protecting gays' sexual privacy, and support for social justice." Right, Haggard is way out on his own on social justice.
More Articles
Same-sex marriage:
What's their real problem with gay marriage? (It's the gay part) | This Family Research Council shrine to marriage as a heterosexual, Judeo-Christian institution is a totem of conservative Christianity's mighty political wing and a flag marking its territorial gains in what its leaders see as a decisive battle in the culture war. (The New York TimesMagazine)
In Spain: Spaniards protest bill on gay marriage | Hundreds of thousands of people marched through downtown Madrid on Saturday evening to protest the recent approval by Parliament of a bill to legalize gay marriage, a measure that critics and supporters say would make Spanish laws on same-sex unions the most liberal in Europe. (The New York Times)
Church leads protest in Spain | The Catholic hierarchy takes on the Socialists in power as priests and nuns march with at least 200,000 against a bill to legalize gay marriage. (Los Angeles Times)
In New Zealand: Pope's words will influence voters—church | The Catholic Church says Pope Benedict XVI's criticism of New Zealand's civil unions legislation will be heeded by Christians at election time. (Stuff, New Zealand)
Pope criticizes NZ's civil union legislation | The Pope should praise the Government's pro-family policies instead of criticising the civil union legislation, Cabinet minister David Benson-Pope said yesterday. (New Zealand Herald)
Religion & homosexuality:
Lutherans split on gay pastors | Area Lutheran clergy are on opposite sides of a controversial proposal that would allow gays and lesbians in committed relationships to become pastors in the Evangelical Lutheran Church of America. (Scranton Times, Pa.)
US church leaders justify ordination of gay bishop | Anglican leaders will hear for the first time tomorrow a theological justification by the heads of the Canadian and American churches for their actions over homosexuals, which have brought the Anglican community to the brink of schism. (Times, London)
Marriage & family:
Humanist couple marries in Britain | A couple was wed Saturday in Britain's first legally recognized humanist ceremony. (Associated Press)
One couple, two weddings | East marries West in a weekend of harmony and happiness (Danbury News Times, Conn.)
Love after heartache | When my marriage ended 22 years ago divorce wasn't as common as it is now, and I'm not sure if my church knew what to do to help me. So everyone there just put their arms around me and prayed for me. But, inadvertently, it was my involvement with the church that years later was to put me in touch with Gordon. (Belfast Telegraph, UK)
Father's Day:
Our Father is no 'It' or gal God | Father's Day provides a fine opportunity to talk about our Father in Heaven. Why do Judeo-Christian religions insist on God being a father and not a mother? Is it still important to use masculine images and vocabulary to describe God? Or is that all a vestige of sexist religion? (Dennis Prager, Los Angeles Times)
Fables and Faith : Fathers teach their children best when they don't rely on words | Father's Day is always a great time for us to reflect on just how important we (as parents) are to the welfare and enhancement of the lives of our children. In my case, I had some tough times because, as a teacher, I assumed that my children and I were speaking the same language. That was a bad mistake. (Bob Haynes, Benton County Daily Record, Ark.)
The doofus dad | One evening, after watching Homer Simpson wreck the family car at a monster-truck rally and plunge on a skateboard into Springfield Gorge, my 6-year-old son asked me, "Why are dads on TV so dumb?" (John Tierney, The New York Times)
Divorced fathers push for a greater role | Now, legal experts say, the application of the law is more neutral, and the standard for custody arrangements is the best interest of the child. Even in communities where traditional family roles retain a strong hold, like the picket-fence towns of Long Island, many more fathers are saying that what's best for the children is a greater role for dad. (The New York Times)
Church life:
Living simply in a complicated world | Being a Quaker in today's society is tough. Believing in simplicity, equality and nonviolence, those in the Society of Friends work hard to practice these principles in a complicated world. (Hickory Daily Record, N.C.)
More churches can't put faith in collection plates | More and more churches are finding their budgets squeezed as collection-plate revenues and other sources of funding decline. (Pittsburgh Tribune-Review)
Recipe for happy church-goer: Eating with the congregation | Eat with your congregation and be satisfied. That is apparently how it works in the spiritual realm. (Melanie B. Smith, The Decatur Daily, Ala.)
Parish seeks zoning approval | They say the third time is the charm. It is a holy number for Christians. Maybe that will help Our Lady of Guadalupe parish in a third attempt to build itself a church, rectory, offices and education center at the intersection of Cold Spring Creamery Road and Route 413. (The Intelligencer, Philadelphia)
Archbishop threatens to reopen rift on women bishops | The Archbishop of Canterbury today said he could see no "theological objections" to a woman leading the Anglican Church and admitted many Christians were bigoted towards homosexuals. (PA, UK)
A new look at Natick church | After eight years, the congregation of the Christ Evangelical Lutheran Church celebrated the completion of its $1 million expansion and renovation project with a dedication service yesterday. (MetroWest Daily News, Mass.)
Church-goers to see light at religious movie festival | A former cinema now used as a church is to stage the Capital's first religious film festival this summer. (Edinburgh Evening News, UK)
Bishop visits area's Maronites | During his first official visit to the city, Bishop Gregory Mansour helped the Maronite Catholic community celebrate 95 years of sacrifice and solidarity at St. Louis Gonzaga Church on Rutger Street. (Observer-Dispatch, Utica, N.Y.)
Flock replaces rockers, Rockets at megachurch | What was once a major sports and entertainment complex will soon become the nation's largest house of worship, trading raucous crowds for prayerful multitudes: Come July 16, Houston's 18,000-seat Compaq Center becomes the new home for Lakewood Church. (Washington Times)
Christianity all but vanquished - why the cardinal was right to say so | In September 2001, the Archbishop of Westminster, Cardinal Cormac Murphy-O'Connor, caused dismay in ecclesiastical circles when he said Christianity in Britain had been all but vanquished. (Irish Examiner, Ireland)
Many faces of evangelicalism | Explaination of Fundamentalists, Traditionalists, Centrists and modernists, Black evangelicals, Hispanic evangelicals, and Catholic evangelicals. (Philadelphia Inquirer)
Pastors:
Praising the Lord | Pastor Dennis Baril is an evangelical, but don't assume he has the same mindset as the well-televised pastors named Jerry Falwell and Pat Robertson. Don't form an impression of him and his church, the Community Covenant in Rehoboth, based on televangelists who make him squirm inside with their methods of preaching. (Attleboro Sun Chronicle, Mass.)
Wiele gives final sermon at Escalon Covenant | He wanted to be a pastor for the entire community. (Escalon Times, Calif.)
Pastor begins 4-month journey of spiritual renewal, family fun | In four months, the sermons at Mount Pleasant Presbyterian Church could have some fresh perspective -- the kind that comes with a long rest, a spiritual journey and Alaska's isolation. (Pittsburgh Post Gazette)
Southern Baptists:
Five-year slump in baptisms worries Baptists | Evangelism top priority as SBC gathers here (The Tennessean)
Southern Baptists hope to reverse decline in baptisms | Convention leader to urge member churches to baptize a million people by next June (Jackson Clarion Ledger, Miss.)
Southern Baptists' growth stalls as clout rises | When Southern Baptists gather in Nashville this week for their annual convention, they will be asking whether their baptismal pools are figuratively half full or half empty. (The Dallas Morning News, via Northeast Mississippi Daily Journal, Miss.)
Southern Baptists mix gospel with rodeo | It may seem unorthodox, but the church is among hundreds of so-called ''affinity churches'' the Southern Baptist Convention has set up around the country using niche-marketing tactics to attract the ''unchurched'' -- people who often don't make it to the pews -- and nontraditional churchgoers. (Associated Press)
Baptists send up praises throughout the Midstate | Congregation lauds Hispanics involved in 'church planting' (The Tennessean)
Missions & ministry:
Program brings Brazil, Fairfield together | A three-week international exchange program in July has united the Rolling Hills Baptist Church and Fairfield YMCA in a project to host several professional adults for a cultural and spiritual experience. (Hamilton Journal News, Ohio)
Combating biblical illiteracy | In this age of biblical illiteracy, the good news is that some public schools are offering classes in the Bible - much like monks in the Dark Ages laboriously copying the works of Plato and Aristotle in the sure faith that one day there would be a Renaissance of classical learning. (Joplin Globe, Mo.)
That's Life | Young Life brings Christian values to teens (Challenger, Northern Kentucky)
Daddy, what did you do in the men's movement? | Robert Bly may have retreated to his sweat lodge, but the reconsideration of masculinity and fatherhood he helped initiate hasn't ended. (Boston Globe)
Christian bikers offer safe activities | While Bike Week has become famous for some of its more carnal pleasures — drinking, loud music and scantily clad women — one group has made it a mission to provide bikers with an alternative. (Foster's Daily Democrat, N.H.)
Bikers spread the good news | Christian Motorcyclist Association rallies in Ogden this week (Standard-Examiner, Utah)
Working for peace in Colombia | Iowa City woman among 9 team volunteers (Iowa City Press Citizen, Iowa)
Region in the running for $10 million family center | Bellefonte-State College area among about 20 considered for Kroc grant (Centre Daily Times, Pa.)
Graham NYC crusade:
One more trip to the pulpit | Making a journey to NY next weekend, the evangelical powerhouse reflects on a career walking with God and beside presidents (Newsday, N.Y.)
Billy Graham all but certain upcoming New York revival meeting will be his last | Now 86 and in frail health, the Rev. Billy Graham is all but certain that his revival meeting in New York City next week will be the last he ever leads in the United States, and probably the last that the famed evangelist does anywhere. (Associated Press)
Billy Graham makes faith attractive by way he lives | A fellow who met Billy Graham more than 30 years ago remarked that the evangelist was the most serene person he'd ever encountered. "Serene" is still a good word to describe Mr. Graham as he appears in television and newspaper interviews preceding this weekend's crusade in New York City — which he says may be the last one that he will personally hold. (Editorial, The Decatur Daily, Ala.)
1,200 voices with faith in a formula for success | With the Rev. Billy Graham's 417th and possibly final crusade set to begin in Queens in a few days, most of the 1,200-voice Billy Graham Crusade Choir assembled yesterday for one last rehearsal before opening night. (The New York Times)
Pope Benedict XVI:
Pope stresses interfaith ties | Following what they termed a warm and friendly Vatican audience with Pope Benedict XVI, Jewish leaders are expressing conviction that Jewish-Catholic relations will broaden and deepen under his pontificate. (Jewish Times)
Inside look at the Pope | Two books provide insight into the history and thinking of Pope Benedict XVI (Associated Press)
Pope calls for welcoming, understanding of refugees | Pope Benedict XVI called on Sunday for a spirit of welcoming and understanding toward refugees as he marked today's UN World Refugee Day, saying Christians were sympathetic to all those who feel compelled to flee their homes. (Associated Press)
Vatican suspends beatification of French priest | In a highly unusual move, Pope Benedict XVI has suspended the planned beatification of a French priest while the Vatican investigates allegations of anti-Semitism in his writings. (Associated Press)
Pope's style emerges as being efficient | He has a new name and a new job. Two months into his reign, the papal persona of Benedict XVI, the former Cardinal Joseph Ratzinger, is beginning to take shape, and it's taking many by surprise. (Associated Press)
Catholicism:
Quarter of NI Catholics back British status | Nearly a quarter of Catholics in Northern Ireland would rather keep the link with Britain than live in a united Ireland, according to new research. (Times, London)
Catholics are richer but less fruitful | Australian Catholics are having fewer children than the rest of the population. More of them have jobs than non-Catholics, they earn more, and far more are buying their own homes. (Sydney Morning Herald, Australia)
Cardinal Jozef Glemp beatifies three Poles | About 25,000 people attended a Sunday beatification Mass for three Polish priests, celebrated for the first time by Poland's primate on behalf of Pope Benedict XVI. (Associated Press)
New life for a Catholic parish | For her 92nd birthday today, Mary Giorgio did not dare hope that Boston church officials would reverse their decision to close her beloved Roman Catholic parish. But that is what happened, ending 13 months of anguishing limbo at St. Susanna Parish. (Los Angeles Times)
Abuse:
Church adopts sex abuse reporting changes | The Presbyterian Church (U.S.A.) has formally adopted constitutional changes aimed at preventing and punishing sexual abuse by clergy. (Associated Press)
Bishops continue bars on abusive priests in ministry | The nation's Roman Catholic bishops voted overwhelmingly on Friday to continue barring abusive priests from public ministry, part of a set of policies written three years ago as the church was engulfed in its abuse scandal. (The New York Times)
Bishops extend policy of 1 strike for sex offenders | U.S. Roman Catholic bishops today affirmed their policy of zero tolerance for sex offenders, voting by a substantial majority to extend the one-strike approach for five years despite complaints from some priests and bishops that the policy is too inflexible. (Washington Post)
U.S. bishops renew rules to prevent sex abuse | Besides overwhelmingly voting for the policy of zero tolerance, the conference commits $1 million toward a study of such crimes. (Los Angeles Times)
Religion & politics:
Comics, MPs and writers unite to fend off religious hatred Bill | Figures from the world of culture and entertainment will launch a last-ditch campaign this week against a law which they fear will encourage religious bigots to go to court every time their sensibilities have been offended. (Independent, UK)
Advocacy groups shouldn't keep support secret | The biblical virtues of compassion and fairness are not always the primary concern of the lobbyists in the State House. If we hope to sustain the best features of democratic representation, citizens must get involved and speak their minds. Our faith and values must not be limited to Sunday morning. (Kimble Forrister, Montgomery Advertiser, Ala.)
Christians gradually nearing a new unity | Singular voice aim of coalition (Reuters)
Faith community should stay out of partisan political fights | Many of us in the faith community find it quite disturbing that these groups claim to be led by the spirit of Christ and seek to find common ground to improve the moral climate in our country. For them to be so embroiled in such a clearly partisan fight has severe repercussions within the household of faith, but also among Americans who may not share our beliefs or understand the tenets of the Christian faith. (Randy Brinson, The Mobile Register, Ala.)
Effect on 'values' movement uncertain | Tuesday's congressional primary in a conservative district provides few clues to the direction "values voters" are taking, political watchers who study them say. But backers of the values movement say they'll be active in elections hereafter. (Associated Press)
Not on faith alone | There is a way to get beyond the religious morass created by President Bush's position on embryonic stem cells. (Mario M. Cuomo, The New York Times)
Church leaders write to Bush | Prominent UK Christians, including James Jones, Nicky Gumbel, David Coffey, Steve Chalke and Joel Edwards, have sent a letter to US president George W Bush urging him, as a brother in Christ, to do more to alleviate world poverty. (The Good News, UK)
Christian beliefs extend beyond conservative evangelicals | Reduction of poverty, hunger and malnutrition are Christian values, too. The gap between the wealthy and the poor is widening, and the percent of families in the United States experiencing hunger has increased. Even Federal Reserve Chairman Alan Greenspan has warned that the gap between the rich and the rest is growing too fast. (Ron Eachus, Salem Statesman Journal, Ore.)
Destiny NZ wants 'evil' Government ended | Destiny New Zealand is calling for Catholics, Anglicans, Presbyterians and even non-Christians to catapult it into Parliament to overhaul the present "evil" Government. (New Zealand Herald)
One-liners | Does anyone else see the irony in the ACLU demanding the detainees at Guantánamo get a Koran yet asking that all references to Christianity be removed from American life? (Mercury News, Calif.)
Religion and art in the toilet | The Qur'an controversy takes me back to 1989 and a particular skirmish in our ongoing culture wars that itself seems to have been flushed down the memory hole. Here's a recap of the commotion that erupted when the taxpayer-funded National Endowment for the Arts gave money to avant-garde artist Andres Serrano for a piece in which a crucifix was submerged in urine. Taxpayer money at the same time flowed to performance artist John Fleck, whose masterpiece was made up of an "altar" toilet with a picture of Jesus on its lid. (Christopher Cole, Los Angeles Times)
Citadel selects Air Force Academy superintendent as new president:
Rosa leaving AFA to lead Citadel | Air Force Academy Superintendent Lt. Gen. John Rosa Jr. will leave his post in coming months to become president of The Citadel, his alma mater. (Colorado Springs Gazette, Col.)
Citadel selects Air Force Academy superintendent as new president | Air Force Academy Superintendent Lt. Gen. John Rosa, who took over the school following a sex assault scandal and acknowledged problems of religious intolerance, is leaving to become president of his alma mater, The Citadel. (Associated Press)
Ralph Reed:
Reed makes first run for office in Ga. | For two decades, Ralph Reed made his mark as a squeaky-clean political operator and a driving force behind the Christian right. Now he's trying to get himself into elected office amid allegations he raked in money from the same gambling interests he once called "a cancer on the American body politic." (Associated Press)
Biography box of Ralph Reed | Some facts about Ralph Reed, former executive director of the Christian Coalition and now a Republican candidate for lieutenant governor of Georgia. (Associated Press)
Golf trip raises doubts | Reed's fellow players had link to casino (Atlanta Journal-Constitution)
Golf trip raises doubts about Ralph Reed's part in the alleged swindling of Indian tribe | The Senate Indian Affairs Committee is scheduled to resume hearings Wednesday into allegations that Abramoff and public relations consultant Michael Scanlon swindled the Tigua Indians. They are accused of secretly working through Reed to close the tribe's casino in El Paso, and then collecting millions from the Tiguas to lobby Congress in a failed attempt to reopen the gambling hall. (The Day, Conn.)
Terri Schiavo:
An autopsy won't end it | In the first round of public opinion--the polls--the GOP took a beating. But in the long run, the American people tend to rally behind civil rights, and the party that fights to uphold them is likely to prevail. (John Leo, U.S. News & World Report)
Schiavo case leaves GOP stumped | Even 2 1/2 months after her death, Terri Schiavo the brain-damaged woman at the center of a right-to-die national debate, inspires more questions than answers—especially for politicians who sought to capitalize on her suffering for their gain. (Cynthia Hall Clements, The Lufkin Daily News, Texas)
The sultans of certainty | Who failed Terri Schiavo? (Steve Chapman, Chicago Tribune)
Views that facts can't shake | The medical examiners delivered their autopsy report in the most matter-of-fact tone. Terri Schiavo's brain had atrophied to half the normal size for a woman her age. Her eyes, the focus of that famous videotape, saw nothing. She was blind. Did the facts of a case that had so divided the country, so politicized the fate of one woman, actually make a difference? (Ellen Goodman, Washington Post)
At Schiavo's hospice, a return to routine | Scars of 'the siege' linger for staff at Florida facility. (Washington Post)
Gov. Bush seeks another inquiry in Schiavo case | Gov. Jeb Bush asked a state prosecutor on Friday to investigate the circumstances of Terri Schiavo's collapse, saying a new autopsy report revealed a possible gap between when Ms. Schiavo fell unconscious and when her husband called paramedics. (The New York Times)
Life ethics:
"Embryo adoptions" a mix of science, religion, emotion | The way Randy and Julie McClure saw it, Asa was being held captive in a tank of liquid nitrogen as surely as if he'd been a plantation slave or a prisoner in a concentration camp. (Seattle Times)
`Morning-after pill' not abortion, scientists say | Amid a heated national debate over emergency contraception, some scientists are marshaling evidence to challenge the belief that the "morning-after pill" is equivalent to abortion. (Chicago Tribune)
Human rights & religious freedom:
Freedom's fighters | Ramy Lakah deserves American support. (Nina Shea, National Review Online)
Catholics lash out at parade in Belfast | Molotov cocktails, bottles and bricks are hurled at Protestant marchers and police. About 30 are hurt, including 18 officers. (Associated Press)
Rights workers honored as trial in their killings proceeds | Every year for 41 years, Mount Zion United Methodist Church has held a memorial service for its martyrs: the three young men who were killed when they came to investigate the burning of the church by the Ku Klux Klan. (The New York Times)
Out of overwhelming evil, goodness | Stanlee Stahl has learned about the power of evil in the world. That is all the more reason she finds it so important to seek out goodness. The 59-year-old Ms. Stahl, a native of Passaic who lives in South Orange, is executive vice president of the Jewish Foundation for the Righteous -- the righteous being gentiles, mostly Christians, who risked their lives to save Jews during the Holocaust, when many other people looked away. (The New York Times)
Driving home a message on Tibet | Va. cultural event boosts proposed specialty license plate. (Washington Post)
A prayer for Ethiopia | Bringing a spiritual perspective to daily life. (The Christian Science Monitor)
Church leaders condemn Zimbabwe's Mugabe clampdown:
Church slams Mugabe's crackdown | Action 'cries out for vengeance' (Cape Times, South Africa)
Church leaders lash out at Mugabe | Heads of the Roman Catholic church in Zimbabwe issued a pastoral letter on Sunday, saying President Robert Mugabe's crackdown on street traders and shack dwellers "cries out for vengeance to God". (Independent Online, South Africa)
Church leaders condemn Mugabe clampdown | Leaders of the Roman Catholic church in Zimbabwe have condemned Robert Mugabe's "cruel" clampdown on street traders and shanty town dwellers, saying it "cries out for vengeance to God" as churches in the UK also voiced their concern. (Ekklesia, UK)
Bishops denounce Zimbabwe "clean-up" | Heads of the Roman Catholic Church in Zimbabwe issued a pastoral letter yesterday, saying that President Robert Mugabe's clampdown on street traders and shack dwellers "cries out for vengeance to God". (Catholic News, Australia)
Vietnam prime minister tours U.S.:
Vietnam prime minister launches U.S. tour | The first visit to America by a prime minister from Vietnam in 30 years was greeted by demonstrators shouting ''Down with communists!'' and calling for an end to political and religious persecution in Vietnam. (Associated Press)
Protests decry Vietnam leader's U.S. trip | Phan Van Khai, the first Vietnamese prime minister to visit the United States since the end of the war 30 years ago, called on Vietnamese emigres to help strengthen ties between the two countries as he began a weeklong tour aimed at improving relations with Washington. (Associated Press)
A test for President Bush on democracy, human rights | In President Bush's second inaugural address, he pledged, "All who live in tyranny and hopelessness can know: The United States will not ignore your oppression, or excuse your oppressors." President Bush has been stalwart in keeping that pledge. Let's hope and demand he continues to keep that pledge, to oppressed Vietnamese. (Bruce Kesler, The Augusta Free Press, Va.)
Hanoi officials not off-limits for Bush | Assemblyman Van Tran, R-Westminster, was outraged when Assembly Speaker Fabian Nuñez, D-Los Angeles, welcomed the head of Vietnam's Parliament in April, assailing Nuñez for honoring "a regime that enslaved and murdered countless thousands of my former countrymen." (John Gittelsohn, OCRegister)
Green Berets fight on for Viet allies | Three retired Green Beret members of Save The Montagnard People Inc. (STMP) crossed the border into Cambodia again in March 2005 in a rescue mission for Montagnard allies who fought beside them in the Vietnam War. (Washington Times)
Sudan:
Sudan reconciliation deal signed | Government, opposition seek to end 16-year conflict (Associated Press)
Sudan, opposition sign reconciliation accord | Sudan signed a reconciliation deal with one of the country's largest opposition groupings, seeking to end a 16-year conflict with an agreement officials hope will also help resolve the bloody fighting in Darfur. (Taiwan News)
Middle East:
Three Afghan teens try life in America | "I thought Christians here would be mostly against Muslim people," said Barak, 16, who attended Coral Glades High School in Coral Springs. "But they have too much respect for Muslim people." (Knight Ridder)
Ensuring we all see the same number of squares | Although my family and I never felt threatened while living and working as Christians amidst Muslims in the Middle East, I did on occasion run into zealots who did promote division and prejudice against others. (Michael S. Ladah, Arab News)
Other religions:
Muslim in America | Suspicions about Islam after Sept. 11 have given rise to resentment, fear and violence in Europe. But in the U.S., which has welcomed Muslims with its freedoms and opportunities, a more tolerant, open Islam is emerging—and setting an example for the rest of the world, says writer Reihan Salam. (The Dallas Morning News)
Tustin Hindu center helps spread the light | The sanctuary and study, built in a converted warehouse, reflect the Chinmaya Mission's growth in Southern California. (Los Angeles Times)
Mormon youth connect with heritage | Between 1846 and when the transcontinental railroad was finished more than 20 years later, 70,000 of this group's Mormon forbears walked and rode the trail to follow the prophet, escaping persecution in the east and poverty in Europe. Modern groups of trail walkers have come for about eight years now for many reasons: a religious pilgrimage, a history appreciation lesson, a good time with friends in the sun. (The Casper Star Tribune, Wy.)
Religion & spirituality:
Spiritual paths confusing you? Blame king of the wild frontier | Who can we blame for the confusing array of spiritual choices surrounding us in this new millennium? Well, we can start with Davy Crockett. (David Crumm, Detroit Free Press)
Area clergy agree Americans are more religious | It doesn't come as a surprise to some local clergy members that Americans are more religious than their counterparts in nine other countries across the world. (Oneonta Daily Star, N.Y.)
Catapulting the propaganda | I recently received one of those chain e-mails which implored me to pass on a set of heart-breaking photos of soldiers in Iraq. The e-mail also contained a plea to participate in a prayer wheel. "Of all the gifts you could give a US Soldier, Sailor, Coastguardsman, Marine or Airman, prayer is the very best one." Though I understand the sentiment, I think prayer falls quite bit short of being the best gift. (Judith Krieger, York Daily Record, Pa.)
History:
Monks use hi-tech camera to read ancient texts | The world's oldest monastery plans to use hi-tech cameras to shed new light on ancient Christian texts preserved for centuries within its fortress walls in the Sinai Desert. (Reuters)
Dance clue to Book of Kells | A folk-dance tutor claims he has solved the mystery of illustrations in the Book of Kells that has puzzled historians for generations. Alan Nowell claims the interwoven patterns depict monks performing ancient mystical dances. (Times, London)
Books:
A sampler of Eastern religions | Look no further than bookstores for signs of a religious revival. Eastern Religions is the latest example: lucid, informative, even beautiful. (Sun-Sentinel, Fla.)
Christian booksellers see growing sales - and growing competition | Sellers of religious books say more and more books are being sold, but not necessarily just by the merchants who would have sold them in the past. (Muncie Star Press, Ind.)
Creation & evolution:
Intelligent design is good topic for religion, not biology, class | As expected, the "intelligent design" controversy has come to Utah, with proponents arguing that the hypothesis should be taught side-by-side with biological evolution in public school. (David R. Keller, Salt Lake Tribune)
Eighty years after Scopes, a professor reflects on unabated opposition to evolutionists | Why won't this conflict just go away? Why must the American Civil Liberties Union, which recruited Scopes so long ago to challenge Tennessee's anti-evolution statute, still be at it? How can it be that almost half the population rejects the idea that humans have evolved, and almost two-thirds want some form of creationism taught in public school science classes? (The New York Times)
Experts won't back Dover | School district lawyer claims conflict with intelligent-design advocates (York Daily Record, Pa.)
Integrating lessons of evolution, creationism | Many religious schools have been teaching intelligent-design theories, though some stress just one: God was the designer. (Philadelphia Inquirer)
Christianity uses different criteria | Science, the discipline that has benefited humanity in so many ways, is thoroughly flawed, or at least this is what many people in the conservative religious community claim.
Education:
God and country | A college that trains young Christians to be politicians. (The New Yorker)
St. Leo offers degree in pastoral studies | Saint Leo University has launched a part-time graduate program to better prepare lay Catholics and other Christians for paid or volunteer work as youth ministers, church deacons, religious educators, hospital chaplains and counselors. (Tampa Tribune, Fla.)
Literature class opens the Bible | Public school offers nonreligious course (Union-Tribune, San Diego)
Seminary leaders abide — until now | Presidents of Luther, United mark retirements this month (Pioneer Press, St. Paul, Minn.)
People:
Resurrection of Megadeth | Three years ago, Dave Mustaine was looking at a future without a guitar. The founder and creative spark of American metal band Megadeth had suffered nerve damage to his left arm and hand from a compressed radial nerve, and the prognosis was not good. So for 16 months, Mustaine didn't pick up a guitar - devoting himself to physical therapy (a training regimen that he described as "gruesome"), spending time with his wife and two children and embracing a new commitment to Christianity. (Jerusalem Post, Israel)
Grandson of former Greek king christened | The youngest grandson of Greece's former king, Constantine, was christened in Athens, surrounded by European royalty. Odysseas Kimon, the 9-month-old fourth child of Constantine's son, Pavlos, was baptized Saturday at the Church of the Convent of St. John the Baptist. The service was attended by Queen Sophia of Spain, Crown Princess Mette-Marit of Norway and Denmark's Princess Alexandra Sayn Wittgenstein. (Associated Press)
Paul Abrecht, 87, church ethicist, dies | The Rev. Paul Abrecht, an ethicist who, under the auspices of the World Council of Churches, took a leading role in formulating mainstream Christianity's response to modern ethical challenges for more than three decades, died on May 21 at his home in Geneva. He was 87. (The New York Times)
He's now singing the gospel in heaven | Artist Ronald Winans will be remembered as a sweet, gentle man who could 'rip up a stage' (Detroit News)
'She's prepared us well' | 'Rev. Roberta' completes her service at Sterling UU (Washington Post)
After Idi Amin, the Church of England isn't so frightening | It's a curious boast, but the black cleric appointed last week to the second-highest office in the Church of England takes pride in having sent innocent people to jail as a young magistrate under Idi Amin, the Ugandan tyrant. It was a ploy by John Sentamu, Downing Street's choice as Archbishop of York, to save the accused from summary execution. (Times, London)
More articles of interest:
Divine inspiration | Carol Schuller Milner blends science and faith in her production about life's origin. (OCRegister)
Some S. Florida companies use religious themes to sell products and services | Whether it's catchy Bible verses, Christian fish on business cards or a company posting a Web site page in Hebrew, companies are using religious themes and associations to sell products and services that have no connection to religion at all. (Fort Lauderdale Sun Sentinel, Fla.)
Related Elsewhere:
Suggest links and stories by sending e-mail to weblog@christianitytoday.com
See our past Weblog updates:
June 17 | 16 | 15 | 14
June 10 | 9 | 3 | 2 | May 31
May 27 | 26 | 24 | 23
May 20 | 17 | 16
May 13 | 11 | 9 | 6
Weblog
Launched in 1999, Christianity Today's Weblog was not just one of the first religion-oriented weblogs, but one of the first published by a media organization. (Hence its rather bland title.) Mostly compiled by then-online editor Ted Olsen, Weblog rounded up religion news and opinion pieces from publications around the world. As Christianity Today's website grew, it launched other blogs. Olsen took on management responsibilities, and the Weblog feature as such was mothballed. But CT's efforts to round up important news and opinion from around the web continues, especially on our Gleanings feature.
Ted Olsen is Christianity Today's executive editor. He wrote the magazine's Weblog—a collection of news and opinion articles from mainstream news sources around the world—from 1999 to 2006. In 2004, the magazine launched Weblog in Print, which looks for unexpected connections and trends in articles appearing in the mainstream press. The column was later renamed "Tidings" and ran until 2007.
Previous Weblog Columns: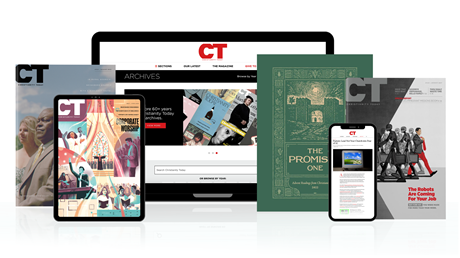 Annual & Monthly subscriptions available.
Print & Digital Issues of CT magazine
Complete access to every article on ChristianityToday.com
Unlimited access to 65+ years of CT's online archives
Member-only special issues
Subscribe
Former RCA Seminary President Suspended from Ministry
Former RCA Seminary President Suspended from Ministry