An amendment to the bankruptcy bill before the Senate would have prevented pro-life demonstrators from declaring bankruptcy to protect their assets from court fines or judgments. But Republicans defeated the amendment by Senator Chuck Schumer, of New York, in what is being called the first abortion showdown of the new Senate.
The vote to remove the amendment from the bill passed 53-46, and now the bankruptcy bill, which would make it more difficult for consumers to declare bankruptcy, has passed its final hurdle before the Senate will vote on the entire bill.
Schumer said the amendment "goes right to the heart of what America is all about. It says those who use violence to achieve their political goals cannot get a benefit, in this case bankruptcy."
Pro-life groups saw the bill as a specific attack on abortion protestors, not just violent ones. The amendment "unjustly targets peaceful pro-life demonstrators and treats them as violent criminals. This is blatant bigotry against free speech and pro-life activism," said Tony Perkins of the Family Research Council.
Some may wonder why peaceful pro-life demonstrators need to worry about court fines or judgments, but it happened to Randy Alcorn for blocking the doors to an abortion clinic. But there seems to be some confusion about what violence Schumer is talking about. Surely, there are laws prohibiting anyone from bombing, or otherwise committing violence against, any kind of building.
"This vote was a loss for abortion rights advocates, in the first test of their strength in the new Senate, which has four more Republican members than the last one," reports Reuters. "For supporters of abortion rights, 'it'll be uphill sledding, that's for sure' in this Congress, said California Democratic Sen. Dianne Feinstein after the vote."
U.N. backs U.S. plea for total ban on human cloning
The U.N. General Assembly, made up of all member nations, voted 84 to 34, with 37 abstentions "to ban all human cloning, including the cloning of human embryos for stem-cell research," according to Reuters. But the declaration only encourages nations to ban cloning. It isn't a treaty that requires it.
It seems that most disagreement was over "therapeutic" cloning, or cloning embryos in order to harvest stem cells. The U.S. voted for the ban, but an effort to pass a binding treating banning all forms of human cloning failed.
"The British delegate, who voted against [the declaration], said the Assembly had missed an opportunity to adopt a convention prohibiting reproductive cloning because of the intransigence of those who failed to recognize that other sovereign States might want to permit strictly controlled applications of therapeutic cloning," according to a U.N. report.
Most countries that are already working on "therapeutic" cloning voted against the declaration, saying they support a ban on reproductive cloning. "From the beginning, the debate hinged on whether to outlaw all cloning or permit cloning for research," writes the Associated Press. "Nations that sought a total ban always had more votes, but never enough to achieve broad consensus or a binding worldwide treaty."
More Articles
Life ethics:
Senate leader targeted for supporting stem cell bill | Catholic group protests outside E. Boston house (The Boston Globe)
Conservatives draft a 'bioethics agenda' for president | Frustrated by Congress's failure to ban human cloning or place even modest limits on human embryo research, a group of influential conservatives have drafted a broad "bioethics agenda" for President Bush's second term and have begun the delicate task of building a political coalition to support it (The Washington Post)
Mass. firm sees better way to create embryonic stem cells | Method reduces use of animal cells (The Boston Globe)
Life-and-death stem cell issue hits Texas | Four bills put issue squarely in Legislature's hands (Houston Chronicle)
Paralyzed cops split over bill on stem cells | They're both hero cops paralyzed by gunfire in the line of duty. And they're both members of the Catholic Church, which believes it's morally wrong to use embryonic stem cells in medical research. But NYPD Detective Steven McDonald and retired state police Sgt. Paul Richter are at polar ends of the intensifying debate over whether New York should join New Jersey and California in authorizing studies that advocates say could help find cures for paralysis, Alzheimer's disease, and diabetes (New York Daily News)
Hospitals can end life support | Decision hinges on patient's ability to pay, prognosis (Houston Chronicle)
Lawmakers push for 'conscience clauses' | They'd let pharmacists refuse to offer service against their beliefs (Milwaukee Journal-Sentinel)
Abortion:
Ga. lawmakers okay abortion waiting period | The state Senate on Friday approved abortion legislation that requires a 24-hour wait and tightens parental notification rules for minors. Gov. Sonny Perdue is expected to sign the bill. (Associated Press)
Women MPs join to defend abortion | More comprehensive sex education was needed in schools because preventing unplanned pregnancies was the best way to reduce the abortion rate, a cross-party group of federal women politicians said yesterday (The Sydney Morning Herald)
If terminations are really murder, there should be no abortion debate | Anti-abortion campaigners do not follow the logic of their frequent references to child killing (Emily Maguire, The Sydney Morning Herald)
Hillary Rodham Clinton criticizes Bush abortion stance | The Bush administration's policy of withholding aid from overseas groups that perform abortions is hurting women and forcing clinics to close, Sen. Hillary Rodham Clinton said Sunday (Newsday)
'Holly's Law' makes a return to Capitol Hill | The controversial RU-486 abortion pill, which 18-year-old Holly Patterson of Livermore took a week before dying of a massive infection in September 2003, would be at least temporarily pulled from U.S. markets under federal legislation reintroduced last week (Contra Costa Times, Ca.)
Bankruptcy bill is arena for abortion fight | A bankruptcy bill pending before the Senate is about to provide a forum for the first abortion battle of the new Congress (The New York Times)
GOP senators seek victory on abortion vote | "It's an uphill fight, but it isn't over," said Sen. Chuck Schumer, D-N.Y., author of a proposal to prevent protesters at abortion clinics and elsewhere from using bankruptcy to avoid payment of court judgments (Associated Press)
Sexuality:
Still unequal | Abstinence is not a realistic option in the countries that are most affected by HIV-AIDS (Editorial, The Boston Globe)
Hispanic teen sex study puzzling | Increased use of new language seems to lead to a much higher level of activity (Houston Chronicle)
Same-sex marriage:
Sides to rally for gay marriage hearing | The largest rally of this year's legislative session will take place today in response to a Washington Supreme Court case contesting the 1998 Defense of Marriage Act, with thousands expected to assemble on the Capitol Campus to voice their opinion (The Olympian, Wa.)
Same-sex union debate heats up in Fox Valley | Differing views given on proposed amendment (The Post-Crescent, Appleton, Wi.)
Women's rights:
It will take all our energy to stand still | Bush's America is waging a global battle against women's rights (Mary-Ann Stephenson, The Guardian, London)
Pell put muzzle on scholar, say feminists | The Catholic Archbishop of Sydney, Cardinal George Pell, has been accused of clamping down on debate by blocking the appearance of a feminist religious scholar at a Catholic college (The Sydney Morning Herald)
Human rights:
Darfur genocide spurs calls for intervention | Nearly 200 people spent two hours participating in a poignant program aimed to "see, hear and take action" to save thousands clear across the globe (The Washington Times)
Two American missionaries home after detention in UAE | 72-year old Vivian Gilmer of Myrtle Beach, S.C., and 55-year old Marie Bush of Waxahachie, Texas, were detained Saturday, Feb. 19, for giving out Christian literature (Mission Network News)
Religion & politics:
Religion and choice | Choice hangs in the balance: the right to choose a dress code or to bear a child. What oceans do to separate Iranian from American women, the looming threat to choice erases (Roya Hakaian, The Boston Globe)
Faith and liberal fervor | State Rep. Terrance Carroll plays by the rules while pushing to change them for the downtrodden (The Denver Post)
Religion sways votes, panel agrees | Clerics differ on influence of abortion, stem cell research, gay marriage (The Beacon Journal, Akron, Oh.)
Ten Commandments:
Supreme zealotry | The standard lie about the display of the Ten Commandments is that they are not really religious (Richard Cohen, The Washington Post)
Supreme Court hustle | In taking up two cases involving government-sponsored displays of the Ten Commandments, the U. S. Supreme Court has undertaken the daunting task of unscrambling the egg that the court itself scrambled in the first place (Tom Teepen, The Day, Hartford, Ct.)
Just how many commandments are there anyway? | I could not find anyone able to name all 10 of the Ten Commandments. And that's the problem with the arguments about displaying them in public (Gersh Kuntzman, Newsweek)
Supreme Court must look beyond religion | Just because some monuments may have their origins in religious tradition shouldn't disqualify them from being protected as part of the country's mutual history (Editorial, Delco Times, Pa.)
Church & state:
Made-in-America Wahhabism | The Christian right is our own brand of extremism (William Thatcher Dowell, Los Angeles Times)
The dark side of secularism | Drawing a bright line between morality and the rest of life has become the American way (James Carroll, The Boston Globe)
Board will pray despite ruling | St. Bernard official at odds with ACLU (The Times-Picayune, New Orleans)
Separation of religion and state relaxed in Constitution revision draft | A tentative draft for amendment to Japan's Constitution suggests relaxing the current policy of separating religion and state, thereby allowing the government and local bodies to participate in religious activities if they are within the bounds of social etiquette or folk events (Mainichi Daily News, Japan)
Education:
A value-added education | BC's business school dean aims to build its program around ethics (The Boston Globe)
Christian teachers to redeem wages | A group of teachers who quit a fundamentalist Christian school in North Parramatta en masse late last year is claiming $6 million in wages the teachers say are unpaid because they had received only small stipends for years of religious work (The Sydney Morning Herald)
Church life:
The politics of parking on Sundays | Public officials like to make more space and convenience for drivers. (The New York Times)
Synods fight over borders | Church of Central African Presbyterian (CCAP) synods of Nkhoma and Livingstonia are engaged in a battle over boundaries with accusations that Nkhoma Synod is encroaching in the other synod's territory by building its prayer houses (The Nation, Malawi)
Church excommunicates former teacher | A "clear majority" voted to excommunicate Seward resident Arlen Meyer from an overall church membership of about 2,100. He has never been criminally charged, but he was the subject of a 2002 investigation by the Nebraska State Patrol into acts of alleged sexual misconduct against students (Lawrence Journal-Star, Neb.)
Mayor's pastor job under review | Methodist bishop will look at appointment in light of U.S. probe (Richmond Times-Dispatch, Va.)
Religion & homosexuality:
Openly gay lawmakers often fight alone | As the debate over same-sex marriage reaches legislatures across the nation, gay lawmakers are confronting legislation that personally affects their lives — including adoption by gay couples and other issues (Associated Press)
Court backs gay asylum | A gay Lebanese man suffering from AIDS has enough reason to fear persecution in his homeland that he shouldn't be deported while seeking asylum in the United States, a federal appeals court ruled Monday (Associated Press)
Group talks of love, demons, truth and tolerance | Some who attended a meeting Monday about escaping homosexuality thought it productive. Others found it eye-opening. But at least one person went home disturbed that someone could think her homosexual children were possessed by demons (The Durango Herald, Co.)
Missions & ministry:
Ministry draws an animated protest | Two adults dressed as SpongeBob SquarePants respond to Focus on the Family's statehouse appearance (The Denver Post)
Africa's Christian soldiers | As Christianity fights to keep its place in an increasingly secular European society, it is flourishing in parts of the developing world, particularly in Africa (BBC)
A changing continent converts the missionary | The Church of Scotland no longer has missionaries, it has mission partners (The Scotsman)
An alternative probation | Church outreach offers new ways to help those in trouble get on track (Houston Chronicle)
Pope John Paul II:
Sick Pope delegates nearly all Easter duties to aides | He's only scheduled to deliver his traditional blessing on Easter Sunday (Reuters)
Pope plans to give Easter Sunday blessing | But it's unclear whether he will actually appear in St. Peter's Square (Associated Press)
Improving Pope may leave hospital before Holy Week | Pope John Paul II continues to recover well and could be discharged from the hospital before the week of church events leading to Easter (The New York Times)
Catholicism:
The Vatican: Peeking into the past | Newly-discovered documents reveal a jealous cleric's attempts to sell out the pope (Newsweek)
MP attacks Catholic ban on monarch | Edward Leigh, the MP for Gainsborough who is Catholic, is introducing a 10-minute rule bill to repeal the 300-year-old legislation passed at the time of the Glorious Revolution, which prevents heirs to the throne marrying "Papists" (The Guardian, London)
Carlson moves to center on abortion | Bishop says he does not believe it's a sin for Catholics opposed to abortion to vote for politicians who favor abortion rights if, for example, Catholic voters feel strongly about a candidate's position as a peace advocate (David Kranz, Argus Leader, Sioux Falls, S.D.)
Earlier: Diocese gets another outspoken bishop | New leader known for abortion stance, bringing in priests (Detroit Free Press, Mi.)
Vatican official seeks mediator in St. Stanislaus dispute | A Polish archbishop at the Vatican is intervening to try and resolve a dispute between a Polish parish and the St. Louis archdiocese, parish members said Monday (Associated Press)
Abuse:
Diocese, insurance company to settle | Firm will cover part of $85m abuse cost (The Boston Globe)
Boston archdiocese, insurer settle claims | The Archdiocese of Boston has settled with one of its former insurance carriers over claims related to lawsuits from alleged clergy abuse victims (Associated Press)
Boston archdiocese, insurer settle on abuse (The Washington Post)
Hollingworth 'fobbed off' cries for help | A woman has accused former governor-general Peter Hollingworth of "basically" telling her to get lost when she went to him with a sexual abuse claim against a priest (The Age, Melbourne, Australia)
NJ Copt murders:
Muslims, Christians begin healing process | With two drug dealers behind bars and religious animosity ruled out as a motive in the killing of a Christian Egyptian family, Muslims and Christians set about the difficult task of trying to repair relations that were severely strained by speculation that Muslim fanatics were responsible for the deaths (Asbury Park Press, N.J.)
It's time to bury rumors | What does Jersey City's Egyptian community say now about the rumors and finger-pointing? How about an apology? (Mike Kelly, NorthJersey.com)
Muslims, Christians try to repair relations after N.J. family's murder (Associated Press)
Twist of fate | 20-year veteran crossing guard and mother of suspect is suffering, colleague says (The Jersey Journal, Jersey City, N.J.)
Cold-blooded killer or 'dependable' guy? | Cops say McDonald murdered, then went on with life upstairs good worker, boss says (Newhouse News Service)
How ATM card led to suspects | A timeline (Newhouse News Service)
Both Copts and Muslims express relief, look for healing | As word spread that the two men allegedly responsible for the January slaying of a Coptic Christian family in Jersey City had been taken into custody and arraigned, reactions in the Coptic community ranged from shock to relief (Jersey Journal)
'God heard our prayers' for arrests, family says | Relatives of the Jersey City family slain in January said yesterday that while they are relieved at the arrests arrests in the case, they also remain deeply unsettled by the brutal crimes (Jersey Journal)
Too close for comfort: New neighbors shocked | Residents were shocked yesterday when they learned that a man living in their building, on Charles Street off Central Avenue in Jersey City, was one of two men charged in the brutal murder of a family of four in their home nearby in January (Jersey Journal)
Suspect: Lot of time out of halfway house | At barbershop most days for 9 hours, and back home by 11; 'no killer,' co-worker says (Newhouse News Service)
Retired cop: Financial records should've been priority | Ten days after police made the gruesome discovery of a slain family of four in the Jersey City Heights on Jan. 14, investigators were still unaware that the father had an ATM card - or that it had been used to withdraw thousands of dollars from his bank account (Jersey Journal)
Alleged killer of family lived one floor above | One of the two alleged killers of a Jersey City, N.J. family spent nearly a week living in the same two-story building with the bodies of the family he is alleged to have slain, prosecutors said yesterday (New York Sun)
Islam:
Anti-Islam conference lists Abbott | Federal Health Minister Tony Abbott has been listed to appear as the main speaker at an anti-Islamic Christian conference in May (The Daily Telegraph, Australia)
Insult of Helen Thomas sparks protests | Congress, Arab group say comments racist (Detroit Free Press, Mi.)
Music:
Rangers fans' hijack of hymn strikes the wrong note with Kirk | Protests are mounting over the hijacking by Rangers fans of a hymn adopted as an anthem for the Boys' Brigade movement, ironically a youth organisation that once included the team manager (The Herald, Glasgow)
The Hanson flock | An Orlando impresario is making believers in the music business, shepherding the careers of 'artists who are Christians' (The Orlando Sentinel)
Sports:
Sox credit faith for inner strength | Religion is not trivial to many of Red Sox players (Portland Press Herald, Me.)
… and now for some good news | Even in the context of a year of negative headlines, it's been a bad week for footballers (BBC)
People:
Minister of mirth | Mooresville woman routinely visits Israel, handing out gifts, smiles (The Charlotte Observer, N.C.)
Claiming 'God told me,' Brian 'Head' Welch is baptized in Israel | 'God told me … he didn't say, 'Hey Brian!,' I just got a feeling in my heart,' ex-Korn guitarist says; former bandmate slams Welch's 'false crusade.' (MTV.com)
The healing prophet comes to town | The much vaunted Prophet Joshua visits Botswana this week (Mmegi, Botswana)
Television:
BBC head defends screening of Springer musical | Mark Thompson told the FT New Media and Broadcasting Conference that the BBC had a duty to stand up for the "widest range of ideas" (The Guardian, London)
Why I stand by my decision to broadcast Jerry Springer - the Opera | The play is a satire aimed not at Christianity but at what the authors take to be the valueless amorality of The Jerry Springer Show. The second act explores the interior of the fictional Springer's mind — it was not a critique or attack on the Christian holy figures themselves. (Mark Thompson, The Times, London)
More articles of interest:
Woman claims she was fired unfairly over Scientology | Ex-employee sues dentistry, says she was dismissed for not following religious practices (The Baltimore Sun)
My Bugaboo | Does buying an $800 baby stroller knock me off the moral high ground? (David Kuo, Beliefnet)
The matter of matter | What does Christianity have to say about the fate of the universe? Alice Wignall talks to an academic who is equally absorbed by science and theology (The Guardian, London)
After 700 years farmer unearths monks' underground labyrinth | Archeologists hail the discovery of a mile-long perfectly preserved tunnel under Scottish farmland (The Times, London)
Related Elsewhere:
Suggest links and stories by sending e-mail to weblog@christianitytoday.com
Check out Books & Culture's weekly weblog, Content & Context, and the Christianity Today Movies weekly weblog, Reel News.
See our past Weblog updates:
March 8a 7 | 2
February 25 | 24 | 23 | 22
February 18 | 17 | 16 | 15
February 11 | 10 | 9b | 9a
February 4 | 3 | January 31
January 28 | 27 | 26 | 25
January 19 | 18 | 17
Weblog
Launched in 1999, Christianity Today's Weblog was not just one of the first religion-oriented weblogs, but one of the first published by a media organization. (Hence its rather bland title.) Mostly compiled by then-online editor Ted Olsen, Weblog rounded up religion news and opinion pieces from publications around the world. As Christianity Today's website grew, it launched other blogs. Olsen took on management responsibilities, and the Weblog feature as such was mothballed. But CT's efforts to round up important news and opinion from around the web continues, especially on our Gleanings feature.
Ted Olsen is Christianity Today's executive editor. He wrote the magazine's Weblog—a collection of news and opinion articles from mainstream news sources around the world—from 1999 to 2006. In 2004, the magazine launched Weblog in Print, which looks for unexpected connections and trends in articles appearing in the mainstream press. The column was later renamed "Tidings" and ran until 2007.
Previous Weblog Columns: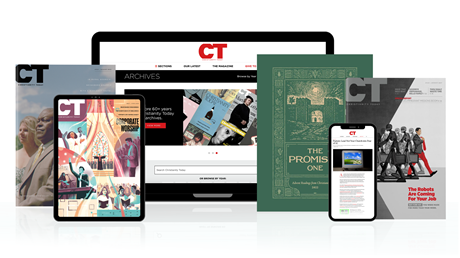 Annual & Monthly subscriptions available.
Print & Digital Issues of CT magazine
Complete access to every article on ChristianityToday.com
Unlimited access to 65+ years of CT's online archives
Member-only special issues
Subscribe
Republicans Defeat Amendment Aimed at Abortion Protesters
Republicans Defeat Amendment Aimed at Abortion Protesters