When Terri Schiavo's feeding tube was removed at 1:45 p.m. EST on March 18, I was one of the most surprised people on the planet.
I had been visiting Terri throughout the morning with her family and her priest. As part of the legal team working throughout the previous days and nights to save Terri from a horrific fate, I was very hopeful. Although the state judicial system had obviously failed Terri by not protecting her life, I knew other forces were still at work.
I fully expected the federal courts would step in to reverse this injustice, just as they might for a prisoner unjustly set for execution—although by much more humane means than Terri would be executed. Barring that, I was certain that sometime around noon, the Florida Department of Children and Family Services would come to the Woodside Hospice facility in Pinellas Park, Fla., and take Terri into protective custody. Or that federal marshals would arrive from Washington D.C, where the Congress was working furiously to try to save Terri, and would stand guard at her door to prevent any medical personnel from entering her room to remove the tube that was providing her nutrition and hydration.
Finally, I was sure if nothing else was working, that at 12:59, just before the hour scheduled for Terri's gruesome execution to begin, Florida Gov. Jeb Bush would at least issue a 60-day reprieve for the legislative bodies to complete the work they were attempting to do to save Terri's life and to make sure that no other vulnerable adults could be sentenced to starve to death. I had done the legal research weeks before and was fully convinced that Gov. Bush had the power, under our co-equal branches of government, to issue a reprieve in the face of a judicial death sentence intended to lead to the starvation and dehydration of an innocent woman when scores of doctors and neurologists were saying she could be helped.
All morning long, as I was in the room with Terri and her family, we were telling her that help was on the way. Terri was in good spirits that morning. The mood in her room was jovial, particularly around noontime, as we knew Congressional attorneys were on the scene and many were working hard to save Terri's life. For most of that time, I was visiting and talking with Terri along with Terri's sister Suzanne Vitadamo, Suzanne's husband, and Terri's aunt, who was visiting from New York to help provide support for the family. A female Pinellas Park police officer was stationed at the door outside Terri's room.
Terri was sitting up in her lounge chair, dressed and looking alert and well. Her feeding tube had been plugged in around 11 a.m. and we all felt good that she was still being fed. Suzanne and I were talking, joking, and laughing with Terri, telling her she was going to go to Washington D.C. to testify before Congress, which meant that finally Terri's husband Michael would be required to fix her wheelchair. After that Suzanne could take Terri to the mall shopping and could wheel her outdoors every day to feel the wind and sunshine on her face, something she has not been able to do for more than five years.
At one point, I noticed Terri's window blinds were pulled down. I went to the window to raise them so Terri could look at the beautiful garden outside her window and see the sun after several days of rain. As sunlight came into the room, Terri's eyes widened and she was obviously very pleased. At another point, Suzanne and I told Terri she needed to suck in all the food she could because she might not be getting anything for a few days. During that time, Mary Schindler, Terri's mother, joined us for a bit, and we noticed there were bubbles in Terri's feeding tube. We joked that we didn't want her to begin burping, and called the nurses to fix the feeding tube, which they did. Terri's mother did not come back into the room. This was a very difficult day for Bob and Mary Schindler. I suspect they were less hopeful all along than I was, having lived through Terri's last two feeding tube removals.
Suzanne and I continued to talk and joke with Terri for probably an hour or more. At one point Suzanne called Terri the bionic woman and I heard Terri laugh out loud heartily for the first time since I have been visiting with her. She laughed so hard that for the first time I noticed the dimples in her cheeks.
The most dramatic event of this visit happened at one point when I was sitting on Terri's bed next to Suzanne. Terri was sitting in her lounge chair and her aunt was standing at the foot of the chair. I stood up and learned over Terri. I took her arms in both of my hands. I said to her, "Terri if you could only say 'I want to live' this whole thing could be over today." I begged her to try very hard to say, "I want to live." To my enormous shock and surprise, Terri's eyes opened wide, she looked me square in the face, and with a look of great concentration, she said, "Ahhhhhhh." Then, seeming to summon up all the strength she had, she virtually screamed, "Waaaaaaaa." She yelled so loudly that Michael Vitadamo, Suzanne's husband, and the female police officer who were then standing together outside Terri's door, clearly heard her. At that point, Terri had a look of anguish on her face that I had never seen before and she seemed to be struggling hard, but was unable to complete the sentence. She became very frustrated and began to cry. I was horrified that I was obviously causing Terri so much anguish. Suzanne and I began to stroke Terri's face and hair to comfort her. I told Terri I was very sorry. It had not been my intention to upset her so much. Suzanne and I assured Terri that her efforts were much appreciated and that she did not need to try to say anything more. I promised Terri I would tell the world that she had tried to say, "I want to live."
Suzanne and I continued to visit and talk with Terri, along with other family members who came and went in the room, until about 2:00 p.m. when we were all told to leave after Judge Greer denied yet another motion for stay and ordered the removal of the feeding tube to proceed. As we left the room, the female police officer outside the door was valiantly attempting to keep from crying.
Just as Terri's husband Michael has told the world he must keep an alleged promise to kill Terri, a promise remembered a million dollars and nearly a decade after the fact; I must keep my promise to Terri immediately. Time is running out for her. I went out to the banks of cameras outside the hospice facility and told the story immediately. Now I must also tell the story in writing for the world to hear. It may be the last effective thing I can do to try to keep Terri alive so she can get the testing, therapy, and rehabilitative help she so desperately needs before it is too late.
About four in the afternoon, several hours after the feeding tube was removed, I returned to Terri's room. By that time she was alone except for a male police officer now standing inside the door. When I entered the room and began to speak to her, Terri started to cry and tried to speak to me immediately. It was one of the most helpless feelings I have ever had. Terri was looking very melancholy at that point and I had the sense she was very upset that we had told her things were going to get better, but instead, they were obviously getting worse. I had previously had the same feeling when my own daughter was a baby who was hospitalized and was crying and looking to me to rescue her from her hospital crib, something I could not do.
While I was in the room with Terri for the next half hour or so, several other friends came to visit and I did a few press interviews sitting right next to Terri. I again raised her window shade, which had again been pulled down, so Terri could at least see the garden and the sunshine from her lounge chair. I also turned the radio on in her room before I left so that when she was alone, she would at least have some music for comfort.
Just before I left the room, I leaned over Terri and spoke right into her ear. I told her I was very sorry I had not been able to stop the feeding tube from being taken out and I was very sorry I had to leave her alone. But I reminded her that Jesus would stay right by her side even when no one else was there with her. When I mentioned Jesus' name, Terri again laughed out loud. She became very agitated and began loudly trying to speak to me again. As Terri continued to laugh and try to speak, I quietly prayed in her ear, kissed her, placed her in Jesus' care, and left the room.
Terri is alone now. As I write this last visit narrative, it is 5 in the morning of March 19. Terri has been without food and water for nearly 17 hours. I'm sure she is beginning at least to become thirsty, if not hungry. And I am left to wonder how many other people care.
Barbara Weller is an attorney who represents Terri Schiavo's parents, Bob and Mary Schindler.
Copyright (c) 2005 Baptist Press
Related Elsewhere:
For the latest AP coverage, see Yahoo.
More news and opinion on this and other end of life issues is available on out Terri Schiavo page.
Earlier CT coverage of Terri Schiavo include:
Stay of Execution | Judge allows Terri Schiavo to live a few days longer. (Feb. 24, 2005)
Reprieve for Brain-Damaged Woman | But Christian activists say the fight to protect the disabled is far from over. (Nov. 25, 2003)
Christian History Corner
Not a Mercy but a Sin | The modern push for euthanasia is a push against a two-millennia-old Christian tradition (Oct. 31, 2003)
Speaking Out
Why I Believe in Divorce | A disabled Florida woman's only hope to stay on life support is to divorce her husband who wants to pull the plug. (Oct. 16, 2003)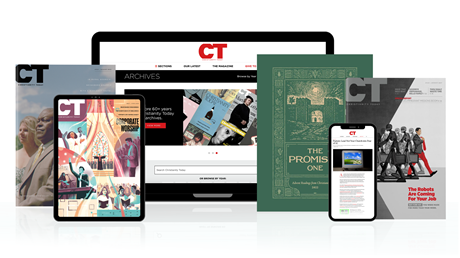 Annual & Monthly subscriptions available.
Print & Digital Issues of CT magazine
Complete access to every article on ChristianityToday.com
Unlimited access to 65+ years of CT's online archives
Member-only special issues
Subscribe
My Last Visit with Terri Schiavo
My Last Visit with Terri Schiavo