If the U.S. Supreme Court prohibits public displays of the Ten Commandments nationwide, all heck may break loose.
Religious conservatives predict the resulting furor would be greater than the reaction when a California court ruled "under God" did not belong in the Pledge of Allegiance.
The high court heard oral arguments yesterday on two Ten Commandments cases, and a decision isn't expected for months. But some are already anticipating defiance if the court rules that Ten Commandments displays must come down nationwide.
Rep. John Hostettler, R-Ind., has sent President Bush a letter urging him to defy the court by not sending U.S. marshals to remove a Ten Commandments display in his home district.
"As you know, the federal judiciary has no constitutional or statutory means by which to enforce its own opinion," the congressman's letter said.
Robert Boston, spokesman for the Washington-based Americans United for Separation of Church and State, called the letter "astounding."
"It reminds me of the segregationist movement in the 1960s. And you see how that turned out. It's not a good idea to encourage people to do these things," Boston said.
The United States is in the middle of a "culture war," said Kelly Shackelford, chief counsel of the Liberty Legal Institute, and coach for the lawyers arguing on behalf of the monuments in the Texas and Kentucky cases.
"It comes to a deeper problem. This country was founded by religious people and there's a lot of religious culture and there's monuments everywhere in the country that reflect that," Shackelford said. If the displays are struck down, "it would start a process of religious cleansing around the country of our monuments and I think it's going to open a Pandora's box."
Nobody is sure how many religious displays appear on public land nationwide, but the number is in the thousands, Shackelford said. The image of those displays being bulldozed would shock Americans, he said.
But Boston says public outcry over the removal won't be as immense as some predict. "There will be some grumbling. Jerry Falwell will mail out fund-raising letters. People will go on Fox News and huff and puff," Boston said. "But the country will survive."
Boston said talk of bulldozers is "intentionally lurid to frighten people."
"There are ways to deal with this that don't involve the physical destruction of the monument," he said. "They don't have to bulldoze anything. Taking a sledgehammer to the monument was never really on the table."
The bigger danger to society would be if the monuments were allowed on public land, putting a huge crack in the wall between church and state, say opposition groups. "Our concern is that they would start increasing and the religious right would start marking places," said Christopher Arntzen, chair of the Gay and Lesbian Atheists and Humanists. "There's a danger to civil liberties. A lot of the religious right is directed against non-believers."
Arntzen and church-state separation groups rallied next to Christians who prayed and sang hymns outside the Supreme Court building Wednesday. While the lawyers hashed out the legal nuances inside the warmth of the courtroom, passionate citizens from all over the country braved freezing temperatures to hold their own debates.
A woman holding a Bible calmly challenged a man holding a sign for atheism. Some wore hats that read, "In reason we trust" and carried signs with slogans such as "America. It's not just for fundamentalists anymore." Others carried signs with the Ten Commandments written on them.
When a crowd began singing "Amazing Grace," David Condo, a self-described "citizen exercising First Amendment rights," read a Bible verse in which Jesus tells those who pray to do so in private.
"Thank you, hypocrites, for illustrating Scripture," he chided the singers. They sang louder.
Over the next three months, the Supreme Court justices will wrestle with the question of whether religious displays on public property are constitutional.
Meanwhile, politicians on the left and right are loving it because the issue is "safe," according to Boston. "When 'under God' came down, immediately every House member rushed down onto the steps of the Capitol to say the pledge," Boston said.
Some conservatives say a ruling against the displays would throw the country more to the right, as the public responds to what Shackelford calls "judicial activism."
The conservative Traditional Values Coalition has vowed to "move immediately" if the Ten Commandments are banned from the public square.
"I think the first thing we would do is create a legitimate and fair protest before the court," said the Rev. Louis Sheldon, the coalition's founder. "I think the president would speak loud and clear against them the way the president spoke loud and clear against [Russian President Vladimir] Putin. That's what we have to tell the court. America has religious roots."
Sheldon said the decision could affect Supreme Court justice nominees. "It would be a front and center question both to the president's discussion privately with the nominee, and it definitely would be brought out in the Senate Judiciary Committee hearings," Sheldon said.
Liberty Legal Institute's Shackelford agreed, saying, "It could just create a more contentious and ugly judicial confirmation process."
Related Elsewhere:
Supreme Court Hears Arguments on Government Displays of Ten Commandments | Arguments inside and prayers outside courtroom aim to define government's relationship to religion.
Other Christianity Today coverage of the Ten Commandments debate includes:
Decalogue Debacle | What we can learn from a monument now locked in an Alabama closet. (April 12, 2004)
The Tourist Attraction That Isn't There | Alabama's Ten Commandments monument still drawing visitors despite its absence from the state Supreme Court building. (Jan. 12, 2004)
God Reigns-Even in Alabama | Let's not make the Commandments into a graven image. (Oct. 2003)
How to Really Keep the Commandments in Alabama—and Elsewhere | Since when did the public display of the Ten Commandments become the eleventh commandment? (Sept. 03, 2003)
The Ten Commandments, How Deep Our Debt | The words of the Decalogue run like a river through not only the church but also English and American history. (Aug. 22, 2003)
Ten Commandments Judge Praised and Panned | Roy Moore fulfills a campaign promise with a 5,280-pound granite monument. (Nov. 29, 2001)
Why Rules Rule | Debates on the Ten Commandments expose our culture's ultimate rift. (Sept. 6, 2001)
Ten Commandments Case Turned Down | Denial means Indiana town's Decalogue display is unconstitutional. (June 13, 2001)
Ten-Commandments Judge Aims for High Post | After taking on the ACLU, Moore is now a nominee for the Alabama Supreme Court. (Aug. 1, 2000)
Hang Ten? | Thou shalt avoid Ten Commandments tokenism. (March 6, 2000)
Ten Commandments Judge Cleared | Roy Moore's integrity confirmed regarding legal fund. (Oct. 25, 1999)
House Upholds Display of Ten Commandments | Spurred by recent fatal shootings in public schools, the House of Representatives voted to permit the display of the Ten Commandments. (April 9, 1999)
Ten Commandments Judge Looking for Federal Fight | Does Judge Roy Moore's courtroom display defy separation of church and state? (Dec. 12, 1997)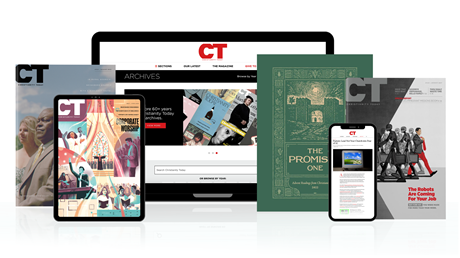 Annual & Monthly subscriptions available.
Print & Digital Issues of CT magazine
Complete access to every article on ChristianityToday.com
Unlimited access to 65+ years of CT's online archives
Member-only special issues
Subscribe
Uproar Predicted If Justices Remove Public Ten Commandments Displays
Uproar Predicted If Justices Remove Public Ten ...