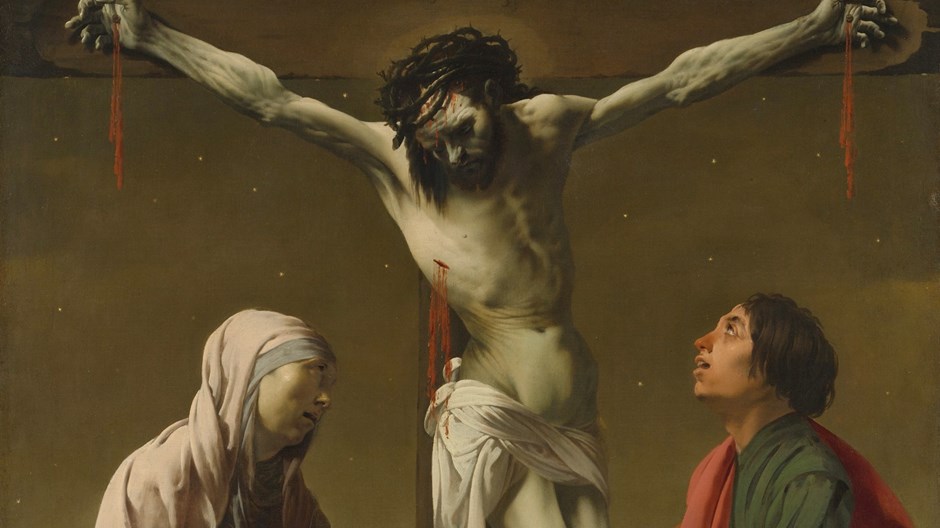 Image: Met Museum / Public Domain
But standing by the cross of Jesus were his mother and his mother's sister, Mary the wife of Clopas, and Mary Magdalene. When Jesus saw his mother and the disciple whom he loved standing nearby, he said to his mother, "Woman, behold, your son!" Then he said to the disciple, "Behold, your mother!" And from that hour the disciple took her to his own home. John 19:25-27
As I travel around the country on my preaching rounds, I learn a lot about the church. Once, during Holy Week, I stayed with a husband and wife who, like me, were in their late middle age. A young woman named Luba was living with them. While I was there, I learned her story. She was a young Pentecostal Christian from the Ukraine who had been brought to America as a child in the 1980s to escape Communist oppression. The grandfather of the family had been imprisoned for his Christian faith; the parents and their children had lived in mortal dread that their Bibles would be taken away from them. They arrived in America with one suitcase apiece and no English at all except one phrase: "Thank you very much." They settled in Pittsburgh with freedom to worship openly in the Slavic Pentecostal Church there.
Later, Luba traveled to another American city to be a baby-sitter for a few weeks, and during that time my hosts observed not only her quiet intelligence and skill with the neighbors' children but also her developing Christian faith. They invited her to come and live with them and go to college, an opportunity she might otherwise never have had. By the time I met her, she had become like their adopted daughter.
Here is another story. In the 1990s I was invited to preach in a Roman Catholic Church in Greenwich Village. I stayed four days and nights in the spacious, comfortable rectory. Every day I ate a sumptuous meal, with wine, at the rectory table. This repast was prepared and served by cheerful, energetic women who would have been named Bridget and Eileen a generation ago, but today are named Carmela and Pilar. I don't know when I have ever enjoyed anything more than those lunches with the priests and nuns in that rectory. There was a continual stream of bishops and teachers and clergy coming in to spend a few days or weeks—from Ireland, from Italy, from the Philippines. The conversation ranged back and forth between high theological matters and joyous story-telling. I felt that I was part of them and they were part of me. It was really amazing. Here I was, an ordained Protestant woman, yet made to feel perfectly at ease. It felt like the Kingdom of heaven to me. I will carry that memory around with me to the end of my days. My heart aches for the pain of the Catholic Church today. The Protestant churches are not free from these same sins. May God deliver the whole Church of Christ from the bonds of sin, both the sins of commission and the sins of overlooking and excusing those commissions.
But now what do these stories about Luba and the lunches in the Catholic rectory have to do with the third saying from the Cross? Saint John tells us that Jesus, looking down from the Cross, said to his mother, "Woman, behold thy son!" And to the Beloved Disciple standing with her he said, "Behold thy mother!" And, from that moment, "he took her to himself."
Virtually everyone who is reading these words has probably heard this saying from the Cross interpreted in the following way:
Jesus cared deeply for his mother.
Jesus was worried about his mother's future.
The saying therefore illustrates Jesus' love for his mother and his dying concern for her welfare.
We are thereby instructed to take care of our own mothers.
Indeed, this interpretation goes as far back as Saint Augustine in the fourth century!
However, this way of understanding the saying has long been considered insufficient by many other interpreters. It does not seem to fit the theology of John's Gospel at all, nor does it seem to suit the concerns of John's Passion narrative. In all of John's Gospel, the mother of Jesus is mentioned only twice, and her name, Mary, is never mentioned. Because of Luke's Gospel, we think of Mary, the mother of Jesus, as a very particular human being with a distinct personality, but that is not the way the Fourth Gospel portrays her. In John's Gospel, she plays a symbolic role. In both her Johannine appearances, here and at the marriage at Cana in Galilee, Jesus calls her "Woman." In English, this sounds very rude, but in Jesus' culture it was perfectly correct for a man to address a woman that way. For instance, Jesus addresses the Samaritan woman at the well in this fashion in the fourth chapter (). It is not, however, the way a man would address his mother. So there is something more at stake here. Good Friday is not the first Mother's Day.
In the Greek, we are told that the Beloved Disciple, traditionally called John, took the mother of Jesus to himself that very hour, or that he—in a literal translation—took her "to his own that very hour." Various Bible translations say that he took her "to his own home," but that isn't in the original text. If you have been to Ephesus, in Asia Minor, you can see a house where John is supposed to have brought Mary to live with him after the Resurrection, even though there is not the slightest evidence of it. This interpretation is now generally agreed to have little or no foundation in the text of the Gospel of John. What is actually happening in this word from the Cross is much more significant for us on this very day than we might have realized. The saying is not about being nice to your mother. It is about the new community that comes into being through the power of Jesus.
We very often hear people say that they can be religious without coming to church. We hear people say that their "community" is their support group, or their social group, or even their political action group. Soldiers have their platoons; firemen have their firehouses. We hear people railing against "the institutional church," and God knows that the church has stained her own robes so badly that we can only repent in dust and ashes. But the Christian community has a quality that the critiques do not take into consideration. When the Christian community is working the way it is supposed to, people are brought together who have absolutely nothing in common, who may have diametrically different views on things, who may even actively dislike each other. The Christian community, when it is not grieving the Holy Spirit, comes into being without regard to differences. Personal likes and dislikes have nothing to do with the body of Christ. "There is neither Jew nor Greek, there is neither slave nor free, there is neither male nor female; for you are all one in Christ Jesus" ().
By rewriting the covenant in his own blood, Jesus has done something completely new. In giving his mother to the disciple, he is causing a new relationship to come into existence that did not exist before. The disciple and the woman are not individual people here. They are symbolic: they represent the way that family ties are transcended in the church by the ties of the Spirit. That is why Jesus calls his mother "woman" in the Gospel of John. He is setting aside the blood relationship in order to create a much wider family. A story in Mark's Gospel makes the same point in a different way: "A crowd was sitting about [Jesus]; and they said to him, 'Your mother and your brothers are outside, asking for you.' And he replied, 'Who are my mother and my brothers?' And looking around on those who sat about him, he said, 'Here are my mother and my brothers!"' (). So again, we see that Jesus is calling people into a new relationship with him and with one another. It is not that he has no room for his own family. We are not recommending that anyone be like the missionary who is so frenzied in his evangelistic endeavors that he ignores his wife and children. What we do see happening here, however, is that mothers and fathers and cousins and sisters are newly created by the Spirit of Christ where there is no blood relationship whatever, and sometimes no obvious similarity or even affection. It is the new covenant written in the blood of Jesus.
There will always be sin in the church until Christ comes again. But there are signs that we can identify, signs that new families in Christ are being created all the time. May his blessed Holy Spirit come afresh upon all the branches of his church here in this great country of America, where God has been pleased to bring members of all the peoples of the earth. May we who belong to Christ be newly committed to our calling, so that blood and race and class and theological differences may be truly transcended in his Name, for our good and for his glory.
* * *
The Church's one foundation is Jesus Christ her Lord;
She is his new creation by water and the Word:
From heaven he came and sought her to be his holy Bride;
With his own blood he bought her, and for her life
he died.
Copyright © 2005 Christianity Today. Click for reprint information.
Related Elsewhere:
The Seven Last Words from the Cross is available from Christianbook.com and other book retailers.
'It Is Finished' But It Is Not Over | God's work of redemption continues in the redeemed, an excerpt from Cross-Shattered Christ.
When the Giver of Eternal Life Thirsts | Meditations on Franz Joseph Haydn's The Seven Last Words of Christ.
And Jesus Stood | An excerpt from Holy Week Sonnets, by Philip Rosenbaum.
The Last Words of Jesus | A new book renews a classic musical meditation.
Other Holy Week articles include:
Maundy Thursday | Part one of "The Great Reversal," a CT Classic article, by Walter Wangerin, Jr. (April 20, 2000)
Good Friday | Part two of "The Great Reversal," a CT Classic article, by Virginia Stem Owens (April 20, 2000)
Holy Saturday | Part three of "The Great Reversal," a CT Classic article, by Eugene H. Peterson (April 20, 2000)
Easter Sunday | Part four of "The Great Reversal." by Philip Yancey (April 20, 2000)
The Goodness of Good Friday | An unhappy celebration—isn't that an oxymoron? (April 17, 2003)
The Other Holy Day | In the rush toward Good Friday and Easter, don't forget Maundy Thursday. (March 22, 2002)
More Easter articles include:
Who Killed Jesus? | After centuries of censure, Jews have been relieved of general responsibility for the death of Jesus. Now who gets the blame? (Aug. 24, 2000)
The Scars of Easter | He knows the wounds of humanity. His hands prove it. By Paul Brand with Philip Yancey (April 18, 2000)
Grave Matters | Take away the Resurrection and the center of Christianity collapses. By N. T. Wright (April 6, 1998)
Jesus v. Sanhedrin | Why Jesus "lost" his trial. by Darrell L. Bock (April 6, 1998)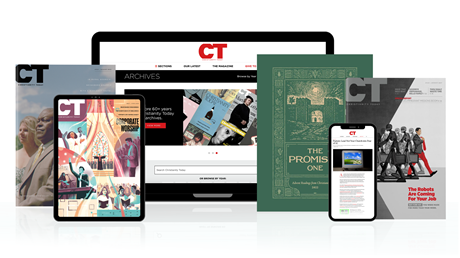 Subscribe to Christianity Today and get access to this article plus 65+ years of archives.
Home delivery of CT magazine
Complete access to articles on ChristianityToday.com
Over 120 years of magazine archives plus full access to all of CT's online archives
Subscribe Now
God's New Family
God's New Family