| | |
| --- | --- |
| | • |
Mircette and I became one shortly before my wedding day. In a way, my union with the wallet-sized green box of 28 pills was more complete than the bond I had with my husband. We devoured each other: I swallowed the little tablet daily, and its hormones penetrated the cells of my body.
There were unspoken vows in our seemingly side-effect-free union. Come sickness or health, I promised to be faithful to Mircette and take it regularly at the same time every day. In turn, the pill pledged to suppress my ovulations.
I could have sex whenever I wanted, without fearing that a pregnancy would impose on my incipient career. We spoke each other's love languages: Mircette met my needs for adventure and protection—simultaneously; I served as its interactive billboard among my friends. And the wonder drug's makers got my $20 co-pay each month. Everyone was satisfied!
That's when a more captivating lover began to turn my eye.
A Hospitable Womb

It was an emotional affair, the first time I cheated on the pill and everything it stood for. One thing led to another; I didn't really go out looking for a new ideology.
Early in my job as an editor at CT, I worked on a piece by a just-married couple, Sam and Bethany Torode, which they later developed into a provocative little book titled Open Embrace: A Protestant Couple Rethinks Contraception (Eerdmans, 2002). It was a personal narrative about how they—somewhat irresponsibly, I thought—had had unprotected sex since their wedding. They were so cute, so Bible times!
I had to wonder, though: Did no one tell them that newlyweds are supposed to secure some essentials before risking the intrusion of a baby? Didn't they want to make love without visualizing cribs? Didn't they need to get used to one another as husband and wife before succumbing to the asexual roles of sleep-deprived young parents? How would they find time to travel, to secure academic degrees, well-paying jobs, and a mortgage? And would they be able to afford Starbucks?
Still, I found the Torodes' idealism endearing, and I congratulated myself on my ability to edit even articles with which I disagreed. But gradually, my reservations gave way to fascination with the authors' reckless surrender.
The pill and I had just celebrated our first anniversary. Though I flirted with the idea of abandoning birth control and the ideas it encapsulated, I remained faithful to it as I edited the defiant article. I didn't mind the Torodes' questioning "the contraceptive mentality" of our society. But I scoffed when they accused the pill of causing really tiny, chemical abortions. They may as well have called me an embryo killer.
Science, I thought, was on my side. The way birth control works is by preventing ovulation. No eggs get released; no eggs get fertilized; no babies get made. End of story, no?
The thing is, ovulations do sometimes break through. Just ask the regular pill users who are bewildered—almost as much as was the mother of Jesus—at the news of pregnancy. These getaway ova are, of course, hard to track down. In the rare event that pill users do ovulate, they usually don't notice it. So only a handful of partial studies exist. They find that ovulations happen in between 1 and 5 percent of cycles in which no pills were missed.
"It's possible that an egg might be released and be fertilized in the fallopian tube only to have the embryo arrive at the uterus to find an unfavorable endometrium," the Christian Medical Association's William Cutrer and Sandra Glahn recently wrote in The Contraception Guidebook (Zondervan, 2005). "The hostile uterine environment could potentially be incompatible with human life, and the embryo would die." Yikes! This means that, if I interfere with the embryo's effort to make its home in the uterus, I have on my hands, as these authors say, "a morally unacceptable situation."
Roman Catholics have always opposed the pill, though most American Catholics do so only in theory. But as this teeny probability of abortion-by-accident gained more attention in the 1990s, some evangelicals joined Catholics in advising couples to ditch the pill.
In 1997, Randy Alcorn, founder of Eternal Perspective Ministries, joined the dissenters with his richly documented Does the Birth Control Pill Cause Abortions? Among those disturbed by the pill was also obstetrician Dr. Walter Larimore, whose influential advice can be heard on Focus on the Family radio programs.
But for every God-fearing, pro-life physician who opposes the pill, there seem to be at least three who embrace it. They point out that there isn't enough research and that we're merely talking about a potential tiny little abortion—and an involuntary one at that. Besides, they say, the very hormones that make the endometrium thin and "hostile" to implantation should also be enough to prevent ovulation in the first place.
It's a red herring, I remember telling the Torodes after doing some reading. Let's not go there. So their article didn't.
But I did. As I continued to take the little pill daily for another three years, it became harder and harder to swallow. I grew uneasy with the minuscule chance—be it one in a million of millions—that my womb might turn away a cluster of 128 or 256 cells knitted together in the image of God.
This sense of discomfort never evolved into an absolute dogma: I still wouldn't say that taking contraceptives is a sin. But I questioned the assumptions I found underneath my pill popping.
What did my daily habit say about my faith in the One who reduced himself first to a cell, then two, then 128, then 256 and more, then to a defenseless baby—and whose door is always open for helpless intruders like me? Could the little pill have stood for more than just a chance to get a fiscally responsible life before opening it up to stinky diapers? Could Mircette have changed not just the hormonal makeup of my cells, but also what cannot be seen under a microscope? Could it have served as one more safety lock on the door not just to my womb, but also to my figure, my marriage, my home, my career, my gym routine?
God is in these details.
What finally led me to dump the pill four years into our relationship was Duke Divinity School's spunky moral theologian Amy Laura Hall. Not coincidentally, the first time I met her, she was wiping her adopted toddler's gook off her blouse.
After taking care of that divine mess, she gave a lecture on the eugenics-rooted assumptions that have led Western Christians like me to view children—and even the possibility of their arrival—as an inconvenient interruption. Why, she asked, do we feel the need to perfectly time and fit children into our busy schedules? Is this a Christian instinct?
"Only in a small number of cultures do we have the idea that adults should do their work, worship, and entertainment without the presence of children," she says. In her case, the messenger is the message: She can often be seen scurrying from an airport to a conference to a classroom to a business lunch with a child holding her hand or wrapped around her neck, sometimes with her husband, also a professor, in tow.
When I later told Hall that my husband and I had removed the safety lock from the door to my womb in case the Great Lover of Strangers wanted to send any visitors our way, she said that she had a closet full of baby clothes just in case.
Ah, baby clothes. Living in the space where human and divine freedoms overlap doesn't come easy, so my first reaction to her offer was weak-throated: gulp.
It's one thing to get off the pill and another to be actively trying to conceive. Leaving my door unlocked doesn't necessarily mean that I must stand in the street, asking passersby to come in, right? I believe in free will. And in a Christian's right to use condoms and/or natural family planning (NFP). For a time that my husband and I will determine, we feel free not to solicit visitors.
Even the pope gets that.
Since his church members have got this NFP thing together, my husband and I took the Catholic Couple-to-Couple League's training course. NFP is no longer our grandmothers' calendar roulette. It can be tricky to master, but when properly applied, it can be 99 percent effective. Let me define "effective." In addition to bringing husbands and wives closer, NFP is great for planning pregnancy (no, I don't say this facetiously) as well as for delaying it.
But you never know.
And in this not knowing, we remain open. Consistent life ethicist that she is, Hall taught me that being pro-life isn't only about opposing surgical abortion. It's about opening ourselves to the risk and mess and uncertainty that accompany any God-sent guest we allow into our lives. The least we can do is leave our doors unlocked. Like Rahab did for the spies. Like Mary did for Jesus.
For Hall, this openness to divine interruption extends beyond defending embryos to adopting a child, lobbying workplaces to offer generous maternity policies, making sure to work as a professor no more than 40 hours a week, and sharing baby clothes.
I want my faith to be as imaginative.
When Jesus appears on my doorstep—disguised as a cluster of 128 cells or a single mother who could use some free baby-sitting —he'd better find an open door.
Agnieszka Tennant is senior associate editor of Christianity Today.
Related Elsewhere:
Amy Laura Hall's interview with Agnieszka Tennant is available on our website.
Sam and Bethany Torode write about their choice for natural family planning.
Jenell Williams Paris, author of Birth Control for Christians, blogs her disagreement with Tennant's conclusions. Paris is also author of Community and Conscience | Catholics and contraception for Books & Culture.
Other CT articles on reproduction and birth control include:
Has Natural Birth Control Been Proved Impossible? | Don't believe the media reports, cautions the author of Birth Control for Christians. (July 15, 2003)
Article continues below
Make Love and Babies | The contraceptive mentality says children are something to be avoided. We're not buying it. (Nov. 9, 2001)
'Be Fruitful and Multiply' | Is this a command, or a blessing? By Raymond C. Van Leeuwen (Nov. 9, 2001)
Souls on Ice | The costs of in vitro fertilization are moral and spiritual—not just financial (June 24, 2003)
400K and Counting | Christians recoil at explosive growth of frozen human embryos (June 24, 2003)
Charity Defies California Law on Contraception | Court to decide if state can require Catholic ministries to pay for birth control (June 25, 2002)
Hannah's Sisters | At a Washington Assembly of God, prayers for fertility are answered (Mar. 21, 2002)
Books & Culture Corner: More Sex, Fewer Children | Mixed messages on condoms, contraception, and fertility. By John Wilson (Sept. 10, 2001)
No Room in the Womb? | Couples with high-risk pregnancies face the 'selective reduction' dilemma (dec. 10, 1999)
How to Make a Person | New reproductive technologies raise difficult moral issues. (Jan. 6, 1997)
Mourning the Morning-After Pill | A Christianity Today Editorial (Apr. 7, 1997)
Have something to add about this? See something we missed? Share your feedback here.
Our digital archives are a work in progress. Let us know if corrections need to be made.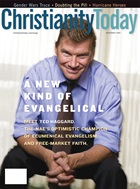 This article is from the November 2005 issue.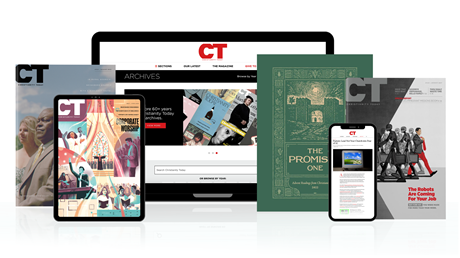 Annual & Monthly subscriptions available.
Print & Digital Issues of CT magazine
Complete access to every article on ChristianityToday.com
Unlimited access to 65+ years of CT's online archives
Member-only special issues
Subscribe
Read These Next
Trending

American Christians Should Stand with Israel under Attack

While we pray for peace, we need moral clarity about this war.

From the Magazine

I Studied Christianity with the Hope of Debunking It

A decade later, I became a Christian.

Editor's Pick

Don't Miss These African Christmas Hits

Jam out this season to highlife, Afrobeats, jazz, a cappella, R & B, rap, dance, and hip-hop artists from Nigeria, South Africa, and more.
A Hard Pill to Swallow
A Hard Pill to Swallow