The IRS is responding to complaints? How outrageous!
It'd be so easy to get outraged over the news that the IRS is persecuting All Saints Episcopal Church in Pasadena, California, for an antiwar sermon. So, so easy.
The fact is, however, there's no real story here. Nobody is really being persecuted. Nobody is being harmed. No actual speech is being limited.
But many, many people are going to be able to cash in on this big time.
For those who missed it, here's the lede in Monday's Los Angeles Times:
The Internal Revenue Service has warned one of Southern California's largest and most liberal churches that it is at risk of losing its tax-exempt status because of an antiwar sermon two days before the 2004 presidential election.
The Pasadena Star-News picked the story up Tuesday, and the Los Angeles Timesfollowed up.
George Regas's sermon (PDF) was pretty standard liberal church stuff, preferring to make up things for Jesus to say rather than preaching about what Jesus and the rest of Scripture really do say. And Regas was critical of both Bush and Kerry: Bush for being a warmongering killer who hates the poor and frightens children, and Kerry for, um, I guess for not standing up to Bush enough.
It's clear that Regas is supporting Kerry over Bush. But he does so with the silly phrases one has to use since Lyndon B. Johnson changed the tax code in 1954: "I believe Jesus would say to Bush and Kerry: 'War is itself the most extreme form of terrorism. President Bush, you have not made dramatically clear what have been the human consequences of the war in Iraq.'" (Regas's Jesus repeatedly singles Bush out for criticism but has nothing to say to Kerry directly at any time in the sermon. Poor Kerry: Even Liberal Jesus doesn't pay much attention to him.)
So in other words, the sermon was partisan, but not politically problematic. (Note the word politically. It's not the IRS's concern whether the sermon was sound theologically, homiletically, or even statistically—one section is devoted to Glen Stassen's abortion figures that even he now rejects as flawed.)
Still, there were complaints, probably less from those who attended the service than from those who read a write-up in the Los Angeles Times the next day:
At All Saints Church in Pasadena, a liberal Episcopal congregation of 3,500 members, Rector Emeritus George Regas began by telling congregants: "I don't intend to tell you how to vote. We can just agree to disagree. You go your way, and I'll go God's way," he said, provoking laughter from the crowd.
Then Regas delivered a searing indictment of the Bush administration's policies in Iraq. He criticized the drive to develop more nuclear weapons, and described tax cuts, which he said benefited the rich, as inimical to the values of Jesus.
In a sermon titled "If Jesus Debated Sen. Kerry and President Bush," Regas imagined Jesus would call war "the most extreme form of terrorism," and would equally mourn the U.S. soldiers and Iraqis who have died since the U.S. invasion.
Two commenters at the excellent orthodox Anglican blog titusonenine suggested that complaints be filed with the IRS over the sermon. One imagines that many others had a similar idea.
But remember that tattletaling to Uncle Sam was a bit of a popular meme back in November. You had Americans United for Separation of Church and State trumpeting its complaints to the IRS over Ronnie Floyd's First Baptist Church of Springdale, Arkansas, the Roman Catholic Diocese of Colorado Springs, and others. The Mainstream Coalition was making headlines for sending spies into conservative suburban Kansas City churches, and groups like Rat Out a Church sprung up either to parody the efforts or to counter them with IRS complaints from the Right.
In other words, the IRS got slammed with untold scores of complaints about inappropriate endorsements from pulpits.
The Los Angeles Times reports that less than two dozen of these complaints actually made it to active investigations:
Using such news reports and tips from the public and interested groups, the IRS identified more than 100 nonprofits that had allegedly intervened politically in the 2004 presidential election. The agency reviewed the cases and selected more than 60 for fuller examination. About a third of those organizations were churches, officials said. The IRS is barred by law from identifying those nonprofits, and the agency would not comment on the specifics of the All Saints case or others.
(According to Newhouse News Service, "Pamela J. Gardiner, Treasury Department deputy inspector general for audit, said in a report issued Feb. 17 that 34 such inquiries were undertaken in connection with last year's election.")
But the IRS did send a letter letting All Saints know that it was being looked at, saying "a reasonable belief exists that you may not be tax-exempt as a church."
But here's the thing. That letter was dated June 9. Rector Ed Bacon waited until nearly five months to inform his congregation.
Now, Weblog is going to put on his hat of skepticism. But a few questions bear asking here.
Why this Sunday? Could it have been because this Sunday was the week when 1984 Nobel Peace Prize winner Archbishop Desmond Tutu was preaching? Could it have been because Bacon knew Tutu's attendance would attract local media?
Bacon says no. Here's the Times again:
After the initial inquiry, the church provided the IRS with a copy of all literature given out before the election and copies of its policies, Bacon said.
But the IRS recently informed the church that it was not satisfied by those materials, and would proceed with a formal examination. Soon after that, church officials decided to inform the congregation about the dispute.
Okay, maybe. The skepticism cap still thinks Tutu and the media had something to do with the timing. But regardless of that, one thing is clear: There is no chance—zero—that All Saints is going to lose its tax-exempt status over this sermon. What we have here is a nice charade where everybody wins.
All Saints gets to act like a martyr while trumpeting how it "stood up" to Bush.
The IRS gets to show that it's doing something about all those complaints it received, and that it doesn't only target conservative churches. And it doesn't actually have to take any real action.
The National Association of Evangelicals gets to look magnanimous by racing to All Saints' defense while winning public support for The Houses of Worship Free Speech Restoration Act.
The NCC and NAE both get to look good to their constituencies for making common cause on an issue both constituencies actually care about.
Liberals like the NCC's Bob Edgar get to complain about "a political witch hunt on … progressive ideology."
Conservatives get to complain about government intrusion in churches.
The papers get to splash this on their pages and sell copies to outraged readers on the Left and the Right.
The Christianity Today Weblog gets nice traffic from you as you read this.
Thanks for that last one, by the way.
More articles
Discovered—earliest church in Holy Land:
Israeli prisoners dig their way to early Christianity | Inmates at Megiddo Prison discovered a religious site that authorities said could be the earliest Christian church unearthed in the Holy Land (The New York Times)
Site may be 3rd-century place of Christian worship | Discovery made at Israeli prison (The Washington Post)
Photo gallery: Discovery made at Israeli prison (The Washington Post)
Archaeologists unveil ancient church site | Israeli prisoner Ramil Razilo was removing rubble from the planned site of a new prison ward when his shovel uncovered the edge of an elaborate mosaic, unveiling what Israeli archaeologists said Sunday may be the Holy Land's oldest church (Associated Press)
Early Christian church unearthed near Armageddon | In a maximum-security jail just down the road from Armageddon, Israeli archaeologists have unearthed what they believe is the oldest church discovered in the land where Jesus was born (Reuters)
Prisoners find 'oldest church' | have discovered what they believe to be the oldest Christian church in the Holy Land, dating back to the 3rd or 4th century (The Times, London)
Earliest Christian church found in Israeli jail | Prisoners helped discover one of Christianity's earliest churches when they took part in an archaeological dig inside one of Israel's top security jails (The Telegraph, London)
Holy Land's 'oldest church' found at Armageddon | Prisoners help unearth remains at jail on site of final biblical showdown (The Guardian, London)
Ancient church found on jail site (BBC)
Prison dig reveals church that may be the oldest in the world | A mosaic and the remains of a building uncovered recently in excavations on the Megiddo prison grounds may belong to the earliest church in the world, according to a preliminary examination by the Israel Antiquities Authority (Haaretz, Tel Aviv)
History:
Copernicus remains believed found in Poland | Professor Jerzy Gassowski, whose team of archaeologists had been searching for the astronomer's final resting place for over a year, told a symposium on Thursday he believed the remains found beneath an altar of medieval Frombork Cathedral on Poland's Baltic coast were those of Copernicus (Reuters)
A day to think about a case of faith-based terrorism | Saturday is the 400th anniversary of Guy Fawkes Day - one of the most notable episodes of religion-based terrorism in Anglo-American history (Peter Steinfels, The New York Times)
Local monastery invites guests to see icon | Historic icon on display Wednesday during first North American tour (Pittsburgh Post-Gazette)
Narnia and Lewis:
George Sayer dies at 91 | Friend, student, and biographer of C.S. Lewis (The Telegraph, London)
The stepson, the billionaire and the Walt Disney Co. | An unlikely trio finally wrestled Narnia onto the big screen (The New York Times)
Family misses out on Narnia film millions | There are few clues to the ultimate destination of the money (The Times, London)
Will this 'Lion' roar? | It's a $180-million gamble on a spiritual children's tale, with "Shrek's" director in charge of real kids. A peek behind "Narnia's" magic door (Los Angeles Times)
The birth of Narnia | Magical Narnia is at last following The Lord of the Rings into the cinema (The Times, London)
Musicians believe in 'Narnia' | Christian pop music stars were passionate about writing songs tied to the upcoming movie of the C.S. Lewis classic (Religion News Service)
The 30-year affair with a married woman that Lewis's Christian disciples prefer to ignore | American evangelicals have managed to morph the real Jack Lewis into "St Jack of Oxford", a version of himself he would have had trouble recognizing (The Times, London)
Film and theater:
'It's all God': Interview with Dennis Quaid | The star talks about exploring other faiths--and how his core belief in Jesus helped him rebuild his life (Beliefnet)
To land his star, Ushpizin director took a leap of faith | Orthodox Jewish film being marketed to evangelical Christians, too (The Boston Globe)
'Cotton Patch Gospel' an enjoyable version of the story of Jesus | One-man show takes biblical story, sets it to bluegrass, country music (The Shreveport Times, La.)
Television:
Frontline's "The Last Abortion Clinic" is primer on the erosion of Roe v. Wade | The big picture is depressing or hopeful, depending on your views (The Seattle Times)
Also: The Last Abortion Clinic | Pro-life advocates have waged a successful campaign to reduce abortions in many places throughout the country. By using state laws to regulate and limit abortion and by creating their own clinics to offer alternatives to women, they have changed the facts on the ground (PBS/WGBH)
American know-how helps vicar breathe new life into parish | In an experiment that will be watched across the Church of England, the Rev James McCaskill was given the seemingly impossible task of reversing the fortunes of the parish of St Mary Magdalene in Lundwood, a former mining community near Barnsley (The Telegraph, London)
Also: In God they now trust | The village church in Lundwood, Yorkshire used to have a congregation of just three. Then a young American vicar, a marketing company and a TV crew arrived (The Observer, London)
All fired up about the Holy Land, and a quest for riches | The History Channel's "The Crusades: Crescent & the Cross," and impressive two-part documentary, delivers six hours of truly informative and highly accessible television (The New York Times)
Music:
Party's not quite over for Smoking Popes | Josh Caterer is the prodigal son of Chicago rock, a wide-eyed searcher who broke up his band, the Smoking Popes, on the cusp of national stardom and chucked his rock records to find what he wanted in a newfound Christian faith (Chicago Sun-Times)
In quiet protest | For fans of Bruce Cockburn's typically vitriolic invective, a nonvocal set might come as a shock (San Francisco Chronicle)
Upon the cross, an iPod cleaves | The strange tale of the iBelieve iPod cross (The Atlanta Journal-Constitution)
Books:
Making books: The politics of publishing | Polemic, n. A passionate, strongly worded, often controversial argument against or in favor of something. Polemical book: A hot bestseller (The Washington Post)
Thomas Nelson sets release date for Billy Graham book | Thomas Nelson is planning a march release of a book by evangelist and author Billy Graham, marking his first major trade book in nearly a decade (Nashville Business Journal)
A voice in the wilderness | A prayerful ex-president has his own views about what constitutes Christian ideals. Alan Wolfe reviews Jimmy Carter's Our Endangered Values (The Washington Post)
God and Jesus as literary characters | Yahweh was an irascible fellow till the Christians got hold of him, Bloom says (San Francisco Chronicle)
Enoch's mission | Rory MacLean reviews The Chains of Heaven by Philip Marsden (The Times, London)
'Using Terri': As she lay dying | A lawyer for Terri Schiavo's husband attacks those who politicized her case (The New York Times Book Review)
Bible:
The Bible, chapter and every other verse | New "100-Minute" and digital Bibles join a list of condensed versions, each drawing doubters who question the wisdom, if not the audacity, of editing God (The New York Times)
Racing through Scripture | A growing number of people are reading the entire Bible — some more quickly than others (York DailyRecord, Pa.)
Money & business:
For high-level career advice, some job seekers go to church | As the traditional divide blurs between religious and civic life in America, the workplace has become less secular (The New York Times)
Also: Bible offers guidance to job seekers | Jobs for Life, formerly the National Jobs Partnership, is now selling its biblically inspired kit to groups across the nation (The News & Observer, Raleigh, N.C.)
When pay seems too charitable | Experts say much of the criticism over compensation is unfounded (Michelle Singletary, The Washington Post)
The politics of playtime | A grass-roots revolt against American Girl dolls gathers steam (Newsweek)
Thou shalt invest, Bible says | The best book for motivating prospective clients to take charge of their finances may be The Good Book, one adviser believes (InvestmentNews.com)
A high-profile trial, a TV show and a son-in-law in charge | Richard Scrushy's son-in-law acquired a cable television station in the area just weeks before Mr. Scrushy appeared in federal court. And Mr. Plaia said he was open to broadcasting "Viewpoint," a religious show that Mr. Scrushy was host of in Birmingham, Ala., while on trial there (The New York Times)
Crime:
Drink-drive vicar in rehab | A vicar convicted of drink-driving is in rehab after boozing before leading prayers in church (Wales on Sunday)
Vicar hurls tea at burglar | A Baptist minister sent a raider packing by pouring a hot cup of tea over him as he ransacked the vestry (The Telegraph, London)
Appealing to higher powers | In name of slain Md. man, family calls on ritual and courts (The Washington Post)
Dennis says sorry to the churches | 'I was sequestrated financially - not morally," said Malvern businessman Mervin Dennis. Dennis, 39, the owner of Global Investments, is currently out on bail after being charged by the National Directorate of Prosecutions with fraud and contravening the Banks Act (Sunday Tribune, South Africa)
Persecution:
Indonesian army reacts to beheadings | Indonesia's army has sent hundreds more soldiers to the island of Sulawesi following the horrific beheading and mutilation of three schoolgirls (AAP, Australia)
Egypt's Copts feel neglected as election nears | Coptic Christians and Muslims clapped, cheered and beat drums at a rally for a Coptic candidate in Egypt's November parliamentary elections, but amid talk of unity some spoke in hushed voices of sectarian tensions (Reuters)
China shutters prominent lawyer's firm | Rights activist had refused to disavow letter defending religion, Falun Gong (The Washington Post)
Human rights & religious freedom:
Zimbabwe bans 'religious' Amazulu | Former Zimbabwe champions Amazulu have been thrown out of the country's Premier Soccer League (PSL) for refusing to play a match on a Saturday. The club is owned by devout Seventh-Day Adventists and has a policy of not playing on Saturdays (BBC)
Darfur 'sliding into anarchy' | Sudan's troubled western region of Darfur has deteriorated back into a state of anarchy and bloodshed, hampering humanitarian work, according to senior United Nations officials (The Scotsman)
Revolutionary spirit | More than a decade after the fall of the Soviet Union, Russians are building a belief in God. But not every religion is on the official list (St. Petersburg Times, Fla.)
War & terrorism:
Thou shalt kill: church backs shooting bombers | The Church of England has endorsed the shoot-to-kill policy being operated by the Metropolitan police against suspected suicide bombers (The Times, London)
Young chaplain struggles with own grief (The Atlanta Journal-Constitution)
Pastor: Church's statement true | A local pastor says a recent statement from the United Methodist Church calling for an end to the U.S. military presence in Iraq is in keeping with Methodist theology and indicative of a nation tired of the war (The Mountain Press, Sevierville, Tenn.)
A war of values, not religion | We do Muslims no favors by excusing attitudes or practices that ought always to be deemed inexcusable (Jeff Jacoby, The Boston Globe)
Life ethics:
The right to be a father (or not) | In cases involving frozen embryos, judges have given equal weight to the father's point of view (The New York Times)
Dr. Pill to the rescue | As the FDA stalls making Plan B emergency contraception available to women, a New Mexico doctor has stepped in to help—now (Lynn Harris, Salon.com)
Abortion and the law | What would a world without Roe look like? (Editorial, The Wall Street Journal)
Bedroom v. courtroom | Instead of fostering an atmosphere in which government was agnostic on abortion, Roe v. Wade fomented one in which it became activist (Anna Quindlen, Newsweek)
Ca. parental notification proposition:
Abortion proposition finds its forum in the churches | In pulpits and fliers, the little-publicized ballot measure's profile is raised among faithful (Los Angeles Times)
Conservatives eye Calif. churches in vote | With support from religious groups and megachurches, backers of the abortion initiative on Tuesday's ballot plan a substantial push this weekend to motivate millions of Christian voters to the polls (Associated Press)
Prop. 73 is bringing politics into churches | The DVD — titled "Protect Me Please" — features five girls in a dramatization of the consequences of abortion (John Ellis, The Fresno Bee, Ca.)
Abortion in the U.K.:
Mother in challenge to 'secret' abortions | Court case could make doctors inform teenagers' parents (The Observer, London)
Mother to fight rules on teen abortion | A mother of two teenage girls will this week go to the High Court to stop doctors carrying out abortions on children without their parents knowing (The Times, London)
Samuel Alito & abortion:
State abortion foes withhold support of Alito nomination | Groups believe several rulings 'are not pro-life' (The Star-Ledger, Newark, N.J.)
Roe v. Wade hinges on high court makeup | If Roberts and Alito were to join veteran justices Antonin Scalia and Clarence Thomas in opposing Roe, one more vote still would be needed to reverse the decision (Associated Press)
State battles likely if Roe overturned | Reversal remains only a hypothesis for now, yet both sides in the abortion debate are discussing the demise of Roe as an increasingly serious possibility (Associated Press)
Judge Alito on abortion | Judge Alito's record on abortion is more complicated than the caricatures would suggest (Editorial, The Washington Post)
Pro-wife extremism | Judge Alito was right on spousal notification (James Taranto, The Wall Street Journal)
Courting hysteria | Democrats' hysterical predictions notwithstanding, the Supreme Court -- even one dominated by anti-Roe justices—cannot outlaw abortion (Linda Chavez, The Washington Times)
Myths about Alito and his judicial opinion on abortion | Alito's record implies that whatever his view of abortion as a matter of morality or policy, it won't affect his view of it as a matter of constitutional law (Steve Chapman, Chicago Tribune)
More on Alito:
Is he going on faith? | Judicial nominee Alito favors individual rights in religion-based claims vs. other cases, say observers (Newsday)
Liberty Counsel set for fight over Alito nomination | A conservative command post in the battle for swift approval of Samuel Alito Jr. to the U.S. Supreme Court is tucked away in a suite of unimposing offices at Liberty University (The News & Advance, Lynchburg, Va.)
Supreme Court nominee Alito active in creche debates | His opinions regarding the separation of church and state elicit comments from Republican Senate primary foes Sen. Lincoln D. Chafee and Mayor Stephen P. Laffey (The Providence Journal, R.I.)
Poll: Early public support for Alito weak | Almost two-thirds of evangelicals supported Roberts' confirmation with half strongly backing him. For Alito, about half of evangelicals support his confirmation, one-third strongly (Associated Press, details)
Court choice is conservative by nature, not ideology | An examination of several chapters in Judge Samuel A. Alito Jr.'s life suggests he is conservative by temperament, upbringing and experience (The New York Times)
Alito respectful of precedent, associates say | Alito's associates and independent legal analysts who know his record say a Justice Alito would be reluctant to overturn earlier decisions, even in such areas as abortion, in which the court's past rulings are most controversial (The Washington Post)
Senators praise nominee's candor | Alito shows willingness to discuss controversial issues facing Supreme Court (The Washington Post)
Position statements | Alito as reactionary (John B. Judis, The New Republic)
Alito's jurisprudence | Just because Alito voted to uphold this law doesn't necessarily mean he agreed with it, only that he concluded it was constitutional (Cathy Young, The Boston Globe)
Alito's world and his miscalculations | If we care, we'd better stop the charade of pressing the nominee to tell us where he or she ''really" stands on buzzwords like privacy or states' rights and start probing for clues to the nominee's basic ways of understanding society and law's place within it (Laurence H. Tribe, The Boston Globe)
Catholics on the court:
Court could tip to Catholic majority | Some say slant is dangerous; others see historic victory (The Washington Post)
A Catholic-majority court would be a moot issue | How might a Catholic-majority court approach abortion and same-sex marriage cases, given Vatican stands? Probably no differently than other courts that have a mix of conservative, moderate and liberal justices, law professors said (The Star-Ledger, Newark, N.J.)
Politics:
When cleaner air is a biblical obligation | With increasing vigor, evangelical groups are campaigning for laws that would reduce carbon dioxide emissions (The New York Times)
From pews to parks, candidates blanket Va. | As thousands of worshipers streamed out of Vienna's McLean Bible Church yesterday morning, Republican gubernatorial candidate Jerry W. Kilgore stood waiting to greet them, palm outstretched (The Washington Post)
God's politics | A new progressive spiritual alliance wants to give the religious fundamentalists a good spanking (Brian Fanelli, WireTap/Alternet)
Bleeding hearts of the world, unite! | If only left and right can hold their noses and work together, we can confront some of the scourges of our time (Nicholas D. Kristof, The New York Times)
Ralph Reed:
Reed's fees all paid by casino | Ralph Reed's anti-gambling work in Texas and Louisiana was funded by an Indian tribe that derives all of its income from a single casino, according to U.S. Senate testimony Wednesday (The Atlanta Journal-Constitution)
Advise Reed not to keep hope alive | When Ralph Reed looks into the mirror each morning, I wonder if he sees Jesse Jackson staring back at him (Jay Bookman, The Atlanta Journal-Constitution)
Church & state:
Supreme Court and Brazilian religious rituals | At issue is whether a small church should be able to import a hallucinogenic tea it uses for worship, or whether the government should be able to prevent that as a danger to public health (Religion and Ethics Newsweekly, PBS)
Also: High tea | When law and religious practice conflict (Thomas Berg, The Christian Century)
ADL's Foxman warns of efforts to 'Christianize America' | Institutionalized Christianity in the U.S. has grown so extremist that it poses a tangible danger to the principle of separation of church and state and threatens to undermine the religious tolerance that characterizes the country, the national director of the Anti-Defamation League, Abraham Foxman, warned in his address to the League's national commission, meeting in New York City over the weekend (Haaretz, Tel Aviv)
Should government reimburse churches for hurricane relief? | Readers respond (The Washington Post)
No church-state barrier behind prison walls? | Inmates at Iowa's Newton Correctional Facility who embrace — or pretend to embrace — fundamentalist Christianity have been rewarded with private bathrooms, access to computers and electronic musical instruments, extra visits with their family members, even keys to their cells (George McEvoy, Palm Beach Post, Fla.)
The Constitution, governments and prayer | Councilmen pray confidently in the name of Jesus while the ACLU demands an all-out ban on Christ's name. So who's correct? (Oran P. Smith, The State, Columbia, S.C.)
House okay of faith-based hiring poses threat to Head Start | Government-sanctioned discrimination in federally funded programs like Head Start will only undermine the equality and religious freedom of all Americans and turn back the clock on our nation's hard-won civil rights advances (Lonnie Nasatir and Daniel Elbaum, Chicago Sun-Times)
Sundays:
Senoia pastor sermonizes against Sunday liquor sales | With Senoia's largest congregation as his audience, pastor Ted Padgett lectures against demon alcohol at First Baptist Church. Padgett's father was an alcoholic, and his mother was killed by a drunk driver (The Atlanta Journal-Constitution)
Extension of Sunday shop hours 'will rob children of parents' | Unions and religious groups criticized the Government yesterday over plans to extend shop opening hours on a Sunday (The Telegraph, London)
Stores set to be allowed longer Sunday opening hours | Supermarkets and other large shops are set to be allowed to open for extra hours on Sundays (The Times, London)
December dilemma:
Schools urged to rethink calendar | Hillsborough's superintendent says the elimination of religious holidays has become a distraction (St. Petersburg Times, Fla.)
Christmas lights 'too Christian for a grant' | More than a dozen towns and villages could lose funding for their Christmas lights because a council deems them offensive to non-Christians (The Telegraph, London)
Royal Mail partially withdraws anti-Hindu stamp | Royal Mail says the stocks of the stamp will run out early next week and it will not be replenished. The stamp will be henceforth only available on request (IANS, India)
Hillsborough holiday fuss is a lesson in disrespect | Confronted with an ever more diverse society, the Hillsborough School Board adopted a policy that showed equal respect to all religions (Howard Troxler, St. Petersburg Times, Fla.)
Christmas? Bah humbug | I'm not crazy about Christmas, but it's not like I asked the council to ban it (Aasmah Mir, Sunday Herald, Glasgow)
Hate, blasphemy, etc.:
Art or desecration? | Museum says sculpture with holy books, bullets and a fake bomb is too explosive for its show (The Salt Lake Tribune)
Church labeled a 'hate group' | A Wednesday night prayer meeting at the Fellowship of God's Covenant People in Burlington, Ky., appears to be like those of many other small, Protestant churches (The Cincinnati Post)
Churches lose Last Supper row | Two churches have been denied leave to appeal against a ruling by the press ombudsman that a poster they found blasphemous was not offensive to the public (SAPA, South Africa)
The right to revile religion | Blasphemy laws, though now a dead letter, are part of the American as well as the British legal tradition. And they aren't the only examples of laws criminalizing the mockery of other people's religious beliefs (Michael McGough, Los Angeles Times)
Preaching Bible in church a crime? It may happen | Religious speech is facing a threat from foreign lands and our philosophy on hate crimes (Marc Anderson, The News-Press, Ft. Meyers, Fla.)
And look what happened to him | Christ would have little chance against the new sedition laws (David Marr, The Sydney Morning Herald)
Same-sex marriage ban in Texas:
Faith groups are split on gay marriage | Most denominations, like most states, oppose sanctioning of same-sex unions (The Dallas Morning News)
Also: Christians divided on same sex marriage ban | Some North Texas pastors have launched a new campaign voicing support for a same sex marriage ban (WFAA, Dallas)
To Perry flock, Prop 2 is key | Aides optimistic that gay marriage ban will draw evangelical voters (The Dallas Morning News)
Intensity picking up over gay-marriage initiative | The shouts are getting louder, the rallying cries more intense (San Antonio Express-News, Tex.)
Religion & homosexuality:
Primate Akinola charges Christian leaders on homosexuality | Head of the Anglican Communion, Primate Peter Akinola has decried the failure of Christian leaders in the country to publicly condemn the phenomenon of same sex marriage within the priesthood as well as among the members of the church, saying that such a position is capable of sending wrong signals to church followership (This Day, Nigeria)
Gay churchman says God called him to be a bishop | Gene Robinson, the first openly homosexual bishop in the Anglican church, claimed yesterday that he had been "called by God" to become a gay bishop (The Telegraph, London)
Also: Gay cleric from N.H. challenges Anglicans | Pushes ordination in London address (Associated Press)
Also: Gay bishop attacks Catholic stand | The Bishop of New Hampshire said the Vatican's ban on ordaining gay men was "vile," in a speech in London (BBC)
Episcopalians duck same-sex blessings vote | Representatives of Episcopal congregations in Massachusetts sidestepped a vote on whether to endorse a report that condemns appointments of gay bishops and calls on the Episcopal Church and the Anglican Church of Canada to enact a moratorium on same-sex blessings (Associated Press)
Methodist bishops protest ruling in exclusion of a gay congregant | A recent decision by the highest court of the United Methodist Church to reinstate a pastor suspended for barring a gay man from his congregation has touched off widespread alarm (The New York Times)
Also: Out of the closet, out of the pulpit | A former Methodist pastor, defrocked for being a lesbian, wonders how to heal her life and her church (Beth Stroud, Los Angeles Times)
Gay priest receives the sacrament of acceptance | New York cleric, now out, is still in (The Boston Globe)
Gay-rights question gathers the religious | With the election three days away, religious groups on both sides of the gay-rights ballot question Saturday put forth arguments and prayed for victory (Portland Press Herald, Me.)
What Bible says about homosexuality depends on how you read it | As Texans debate a proposed constitutional amendment that would ban gay marriage, the Bible has played as important a role as any campaign group (Austin American-Statesman, Tex.)
Marriage & family:
Faith and family in America, part two: Religion and parenting | Parents and children of four religious traditions in three very different families (Religion and Ethics Newsweekly, PBS)
Did a co-op insist on marriage? | When marital status becomes a trigger for rejection, have co-op boards crossed the line from discriminating taste to pure discrimination? (The New York Times)
Just whom is this divorce 'good' for? | Many people incorrectly assume that most marriages end only when parents are at each other's throats. But the reasons can often be far less urgent, like boredom or the midlife blahs (Elizabeth Marquardt, The Washington Post)
Sex ed.:
Saying "no" goes to college | The birds and the bees are off-limits, but a new CU abstinence group adds a sexy twist: The focus is on "relationship education," and you just might find a date there (The Denver Post)
A new message for teenagers: don't have sex | If the lesson was being held in certain states in America, where hard-liners believe any talk of contraception dilutes the abstinence message, this is where it would end (The Telegraph, London)
Education:
Praying for college success | Religious and spiritual undergrads tend to be more engaged, survey finds (Inside Higher Ed)
UC Riverside aims at home-schoolers | It is the first University of California campus to attempt to attract such students (The Press-Enterprise, Riverside, Ca.)
College Bible study ban:
UW-Eau Claire decides to review Bible study ban | The University of Wisconsin-Eau Claire is reviewing the legalities of its policy banning resident assistants from leading Bible studies in their dorms, a spokesman said (Associated Press)
RA Bible study ban draws FIRE's ire | Resident assistant's objection to housing policy brings (The Spectator, University of Wisconsin-Eau Claire)
Trumping Moses and Matthew | What do the Bible and the "The Vagina Monologues" have in common? Not much. But surely we can all agree that both are covered by the First Amendment, guaranteeing freedom of religion and freedom of expression (Suzanne Fields, The Washington Times)
Intelligent Design & evolution:
Evolution in the bible, says Vatican | The Vatican has issued a stout defence of Charles Darwin, voicing strong criticism of Christian fundamentalists who reject his theory of evolution and interpret the biblical account of creation literally (The Australian)
Also: A pope for our times | Why Darwin is back on the agenda at the Vatican (William Rees-Mogg, The Times, London)
Kansas evolution debate heading for vote | The state Board of Education plans to vote Tuesday on academic standards that will direct the development of student tests used to measure how well Kansas' public schools teach the sciences (Associated Press)
The case of Behe vs. Darwin | An unassuming biochemist who became the lead witness for intelligent design is unfazed by criticism but glad he has tenure (Los Angeles Times)
Riled by Intelligent Design | An astronomy professor at Iowa State University has become a lightning rod for the national debate on intelligent design (The New York Times)
An evolutionist's evolution | It may seem that the American Museum of Natural History is cruising for controversy in presenting a comprehensive exhibition on Darwin's life and theories (The New York Times)
Charles Darwin's difficult legacy | Edward O. Wilson, the prominent entomologist, considers why the theory of evolution remains so controversial (The New York Times)
What was God thinking? Science can't tell | A call to action. And inaction (Eric Cornell, Time)
Dover ID trial:
In the judge's hands | A ruling in the school district's intelligent-design case could come by the end of the year (York Daily Record, Pa.)
Closing arguments made in trial on Intelligent Design | Two separate but interconnected entities are on trial: the Dover, Pa., school board and the intelligent design movement (The New York Times)
Judge weighs evolution arguments in Pa. | A federal judge is contemplating whether the mandatory teaching of "intelligent design" improperly promotes religion in schools, after the historic evolution trial drew to a close (Associated Press)
'Intelligent design' friends and foes make final pitch | Judge wants to have decision in evolution case by year's end (The Morning Call, Allentown, Pa.)
'Intelligent Design' trial arguments end | In final arguments, both sides said they had waged the six-week legal battle to defend children's right to learn and think critically about science in public schools (Los Angeles Times)
Court battle over teaching of evolution | Intelligent design theory at center of Pennsylvania trial (San Francisco Chronicle)
What's made Dover unique? | Nation, world seek reasons this community became flashpoint for intelligent-design debate (York Daily Record, Pa.)
End of long trial leaves a void | Others involved, however, said they're glad the hard work is over (York Daily Record, Pa.)
In court Friday | A summary of the final day (York Daily Record, Pa.)
Missions & ministry:
End of the food line | Imperial Beach woman ordered to stop feeding homeless (San Diego Union-Tribune, Ca.)
Have we forgotten our hero of Africa? | One hundred and fifty years ago this month, Dr David Livingstone made his most spectacular discovery, when on the Zambezi he saw a 1,600m-wide waterfall crashing on to rocks 100 metres below. But while dozens of events are taking place in Zambia to commemorate the occasion on November 16, the date will pass largely unnoticed in Scotland (Scotland on Sunday)
Graham previews festival | Franklin Graham's voice is surprising (The Shreveport Times, La.)
Katrina:
Neighbors make good-faith effort | Cultures that don't usually mix come together as Catholic churches are restored, one by one, by New Orleans volunteers (Los Angeles Times)
In New Orleans, doors start to open at Catholic schools | For a little while, it was possible to forget about those cursed levees and the crumpled houses (The New York Times)
Katrina-related tax breaks, and one that isn't | If you're considering making a big cash contribution to a charity and deducting it this year, Congress may have given you an unusual opportunity (Albert B. Crenshaw, The Washington Post)
Health:
A doctor for the future | How a pediatrician working with the Amish is changing what it means to diagnose and treat disease (The New York Times)
Divine protection? | The popularity and number of 'church plans' is rising along with the cost of health insurance (Journal Times, Racine, Wi.)
Spirituality:
Many faiths join hands for festival | Event lauded as model for nation to open today (The Courier-Journal, Louisville, Ky.)
Where faith, magic meet | Just about everyone wants help from supernatural sources. Religion and magic ask in different ways (The Salt LakeTribune)
Exploring the science of miracles | Channeling Galileo, an Italian chemist conjures reason to debunk myth (The Washington Post)
True believers | Traditionalists, like quacks and conspiracy theorists, are acting out the relativism they refute (Thomas de Zengotita, The Chronicle of Higher Education, sub. req'd.)
Church life:
Rift in church over push to allow women bishop | The welfare arm of the powerful Sydney diocese has broken ties with its national body, exposing an escalating rift in the Anglican Church over women bishops (The Sydney Morning Herald)
Statement: Anglicare Sydney elects not to renew its membership of Anglicare Australia | There were many instances over the years however when the Executive or Council of Anglicare Australia made pronouncements on social action and other matters without prior consultation with member agencies and with which Anglicare Sydney did not agree (Anglicare Sydney)
Area clergymen found selves in harm's way | Counseling troubled souls can be a dangerous or even deadly vocation, as the stories of a handful of Southland priests demonstrate (Los Angeles Times)
Church closing stuns parishioners | Worshipers 'floored' by armed escort from building (Connecticut Post)
Churches supersize the experience | Church construction spending jumped from $3.8 billion in 1994 to $8 billion last year (Beaver County Times, Beaver, Pa.)
At some houses of worship, time for a time-share | Money collected from smaller congregations that rent space helps pay for the upkeep of bulky properties. The buzz of activity also provides a different kind of rebirth inside hallways (The Boston Globe)
Prince Charles, Camilla attend church | Prince Charles and his wife, Camilla, attended Sunday services in a tiny rural church near San Francisco before an evening of theater in the city as they continued the eclectic Californian half of their U.S. tour (Associated Press)
Montgomery megachurch curb advances | Planning board backs utility limits and size constraints in agricultural reserve (The Washington Post)
Freedom in death | An African-American church deserves to get its cemetery back (Lisa Keller, The New York Times)
Catholicism:
Vatican, China inch closer to reconciliation | Cardinal Mahony is 'very optimistic' after celebrating Mass in Shanghai and meeting Chinese Catholics (Los Angeles Times)
Report: Israel to hand control of Jerusalem holy site to Vatican | According to the reports, Israel will give the Holy See possession of the Coenaculum, or the Room of the Last Supper (also known as the Upper Room or the Cenacle), on Mount Zion (Haaretz, Tel Aviv)
Vatican sees sainthood for mother of 11 | An Italian mother who raised 11 children moved ahead on the road to possible sainthood Sunday amid a Vatican campaign in favor of large families (Associated Press)
Pope put on the road to sainthood | Leaders of the Roman Catholic church in Poland have met in Krakow considering evidence for the beatification of the late Pope John Paul II (BBC)
Diocese property deals net $90m | Unused real estate being liquidated (The Boston Globe)
High court says newspapers can intervene in abuse settlement | The state Supreme Court ruled Friday that newspapers can ask for documents related to the Bridgeport Diocese's settlement of priest abuse cases but left it up to a lower court to decide whether to release them (Associated Press)
Opening the church's books | For too many years, the Catholic Church has had its way with Massachusetts politicians. Finally, some politicians are showing spine. They are standing up for churchgoers instead of the church, via a legislative proposal that calls for unprecedented financial transparency from churches and other religious organizations (Joan Vennochi, The Boston Globe)
Archbishop turns focus to improving struggling school system | He stepped into the middle of the clergy sex abuse crisis at the pope's request, then was forced by the Boston Archdiocese's dire finances to do the wrenching work of closing dozens of parishes. Now, Archbishop Sean O'Malley is confronting another persistent woe -- decades of decline in Catholic school enrollment (Associated Press)
Sports:
Tom Brady's father to share his faith | Tom Brady Sr. is so devoted to his Catholic faith that it almost cost the world a star athlete (The Boston Globe)
Footballer gets papal blessing | An Italian footballer has become a hero on and off the pitch for asking his team to pay him only the minimum wage (The Guardian, London)
Does proselytizing cross the line in pro sports? | Imagine working in an office where volunteer Christian chaplains maintained a steady presence, meeting one-on-one with your co-workers, organizing Bible studies and chapel services on the premises, reaching out — sometimes subtly, sometimes not — to the unconverted with the imperative to accept Jesus (Tom Krattenmaker, USA Today)
More articles of interest:
Au-courant but covered | Some try to solve the modesty fashion puzzle by adopting strategies that turn skimpy clothes into acceptable outfits (The Washington Times)
Are you a Christian in the Middle East? | Those who are talk on a BBC News message board (BBC)
Related Elsewhere:
Suggest links and stories by sending e-mail to weblog@christianitytoday.com
See our past Weblog updates:
November 4b | 4a | 3
October 31 | 27 | 24 |
October 19 | 12 | 11
October 6 | September 30 | 29 | 28
September 22 | 21 | 20 | 19
September 16 | 15 | 14
Weblog
Launched in 1999, Christianity Today's Weblog was not just one of the first religion-oriented weblogs, but one of the first published by a media organization. (Hence its rather bland title.) Mostly compiled by then-online editor Ted Olsen, Weblog rounded up religion news and opinion pieces from publications around the world. As Christianity Today's website grew, it launched other blogs. Olsen took on management responsibilities, and the Weblog feature as such was mothballed. But CT's efforts to round up important news and opinion from around the web continues, especially on our Gleanings feature.
Ted Olsen is Christianity Today's executive editor. He wrote the magazine's Weblog—a collection of news and opinion articles from mainstream news sources around the world—from 1999 to 2006. In 2004, the magazine launched Weblog in Print, which looks for unexpected connections and trends in articles appearing in the mainstream press. The column was later renamed "Tidings" and ran until 2007.
Previous Weblog Columns: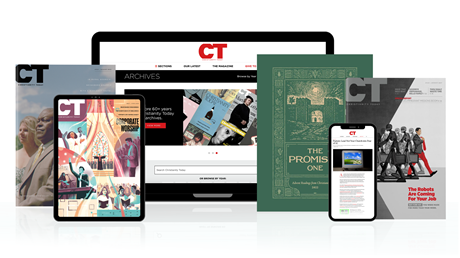 Annual & Monthly subscriptions available.
Print & Digital Issues of CT magazine
Complete access to every article on ChristianityToday.com
Unlimited access to 65+ years of CT's online archives
Member-only special issues
Subscribe
The IRS Persecution Charade
The IRS Persecution Charade