| | |
| --- | --- |
| | • |
Life Ethics:
Deaths after abortion pill to be studied by officials | Federal drug regulators have discovered that all four women in this country who died after taking an abortion pill suffered from a rare and highly lethal bacterial infection, a finding that is leading to new scrutiny of the drug's safety. (The New York Times)
Earlier: Review of 'Plan B' pill is faulted | Critics of the FDA's handling of the issue said the report confirmed their view that the agency had allowed politics to trump science. (Washington Post)
Cloning pioneer battles ethics charges | Everything seemed so bright for pioneering South Korean stem cell scientist Hwang Woo-suk just a few weeks ago after two major breakthroughs this year. Now the man who made world headlines by cloning a dog faces a swirl of allegations over the ethics of his team's work. (Reuters)
Vatican says 'no gay seminarians':
In strong terms, Rome is to ban gays as priests | A new Vatican document excludes from the priesthood most gay men, with few exceptions, banning in strong and specific language candidates "who are actively homosexual, have deep-seated homosexual tendencies, or support the so-called 'gay culture.' " (The New York Times)
Vatican closes door on gay seminarians | The Vatican is toughening its stand against gay candidates for the priesthood, specifying in a new document that even men with "transitory" homosexual tendencies must overcome their urges for at least three years before entering the clergy. (Associated Press)
Vatican says active gays not welcome in priesthood | Practising homosexuals should be barred from entering the Roman Catholic priesthood, the Vatican says, taking a strict line on the place of gays in the clergy, an issue that has divided the faithful worldwide. (Reuters)
Vatican gay document prompts criticism | A new Vatican document on homosexuality in the Catholic priesthood touched off a storm of criticism on Wednesday from those who say the Church is missing the point and using gays as scapegoats for its sex scandals. (Reuters)
Vatican document sets new rules on gays in seminaries | The Vatican is ordering seminaries to bar candidates for the priesthood who "practice homosexuality," have "deeply rooted homosexual tendencies" or support "gay culture," according to a document published Tuesday by Adista, a Catholic news agency in Rome. (Washington Post)
Vatican issues a qualified ban on gays in priesthood | Men who have "deep-rooted homosexual tendencies" or who sustain a "gay culture" may not be trained to become Roman Catholic priests, the Vatican says in a new document posted Tuesday on a Catholic news website. (Los Angeles Times)
Religion & politics:
A religiosity issue | Washington Monthly's current issue headlines "Milt Romney's Evangelical Problem." Romney, like Ernest Istook of Oklahoma City, is a Mormon. (Claremore Daily Progress, Ok.)
Mass. gay marriage foes may get on ballot | Backers of a proposed constitutional amendment to put a stop to gay marriage in Massachusetts said Tuesday they have gathered almost twice the number of signatures needed to put it on the ballot in 2008. (Associated Press)
Church & state:
Coach sues over right to pray with team | The East Brunswick High School football coach who was barred by his school district in New Jersey from praying alongside his players has filed a lawsuit alleging that the district's action infringed on his constitutional rights. (The New York Times)
Firefighters to erect monument with controversial poem | Firefighters will be allowed to erect a memorial that features a poem with a reference to God and language that some town councilors viewed as sexist. (The Boston Globe)
Moment of silence as a solution | In one of its first decisions, the newly seated Deltona City Commission showed inclusiveness and respect with a decision to substitute a moment of silence for the invocation that previously opened commission meetings. (Editorial, Daytona Beach News-Journal, Fla.)
State church:
No ban on grace | Minister of Knowledge Øystein Djupedal reassured parliament Wednesday that his concerns about grace being an undesirable type of preaching in schools did not spell an assault on Norway's Christian heritage. (Aftenposten, Norway)
Say halo to saints in Andrew's shadow | He became St Andrew, first disciple and first missionary of Christ, a saint who has been adopted by Scotland as its patron, whose death on the cross has been symbolised into our national flag and whose feast day - November 30 - gives Scots a nice excuse to have a dram. (The Scotsman)
Intelligent Design & evolution:
Univ. of Kansas takes up creation debate | Creationism and intelligent design are going to be studied at the University of Kansas, but not in the way advocated by opponents of the theory of evolution. (Associated Press)
Creationism: It's not just in Kansas anymore | Pity the poor citizens of Dover, Pa. No sooner had they rid themselves of the embarrassment of a school board that tried to write intelligent design into its biology classes than Christian Coalition founder Pat Robertson pronounced a fatwa on the whole town. (Peter Schrag, Sacramento Bee)
Catholicism:
Pope creates new diocese in Vietnam | The Vatican said Tuesday that Pope Benedict XVI has created a new diocese in Vietnam and named its first bishop in another sign of the growing clout of the Catholic population in the country. (Associated Press)
House doors closed again | On the last day of the formal legislative session for the year, the South End Democrat shepherded the Episcopal bishop of Massachusetts and representatives of other Protestant denominations into the office of House Speaker Salvatore F. DiMasi to charge that their churches were being swept up unfairly in an effort to impose accountability on the embattled Roman Catholic Archdiocese of Boston. (Eileen McNamara, Boston Globe)
Catholic school fires pregnant, unwed teacher | An unmarried teacher says she was discriminated against and fired from her job at a Roman Catholic school in New York for being pregnant and has filed a federal complaint. (Reuters)
Abuse:
Jury awards $4.2M in Mormon abuse case | The Mormon church has been ordered to pay $4.2 million to two college-age sisters who say a bishop mishandled complaints of sexual abuse by their stepfather, a Mormon priest at the time. (Associated Press)
Calif. officials probe death of pastor | A clergyman awaiting trial on charges of raping two teenage sisters plunged 400 feet to his death in Sequoia National Park, and federal authorities were investigating Tuesday whether he fell, jumped or was pushed. (Associated Press)
Human rights & religious freedom:
N. Korean man tells prison horror story | A former North Korean political prisoner Tuesday offered grim details of life in a communist regime prison camp, saying he saw many inmates die from overwork and starvation. The ex-inmate, who survived the prison camp at Yodok, about 70 miles northwest of Pyongyang, said a former defector was beaten to death for having contacted Christian representatives in China, he said. (Associated Press)
Earlier: North Korea's missionary position | Churches are opening in North Korea, a country long known for its hostility to any religion, and especially Protestantism. But it is not the handful of officially sanctioned churches that are interesting so much as reports of a revival of the North's "catacomb church". (Asia Times)
Saying no to Bush | In the old days, China's leaders would often release political prisoners ahead of a presidential summit. Why Hu felt confident enough to break the mold. (Melinda Liu, Newsweek)
Top detective tasked to probe terror in Poso | The National Police have assigned one of their top detectives to resolve the fresh terror attacks in Poso, Central Sulawesi, and help ensure stability in the conflict-prone area. (The Jakarta Post, Jakarta)
Morocco's rising Islamist challenge | The monarch's reforms are being tested by moderate and radical Islamist groups. (The Christian Science Monitor)
Panel report on SC status for Dalit Christians, Muslims by Apr 2006 | The National Commission for Religious and Linguistic Minorities will give its recommendations on conferring Scheduled Caste status on Dalit Christians and Muslims by April next year, its Member Secretary Asha Das said her4e today. (Webindia123, India)
Missions & ministry:
Disasters heighten Habitat's profile | The devastating tsunami and hurricanes of the past year have led to increased visibility for Habitat for Humanity International, resulting in more donations and volunteers. (Associated Press)
A gospel and granola bond | Two radically different sets of volunteers arrived in post-Katrina Mississippi to feed the hungry, and their lives were changed forever. (Los Angeles Times)
Thanksgiving:
Got the Puritan blues | The Puritans of Massachusetts have been dead for 300 years, but their authoritarian ghosts haunt us to this day. (Jeff Jacoby, Boston Globe)
Pilgrims' legacy lives on | Congregational churches are rooted in traditions, democracy (Milwaukee Journal Sentinel)
Church life:
New church features coffeehouse | At first glance, the exterior of Dayspring Church's new home doesn't look much like a house of worship. The 6,250-square-foot stucco building, still under construction, which will be accented with stacked stone, boasts large picture windows — and a drive-through lane. (Atlanta Journal-Constitution)
It's not all kid's play in church renovation | Brookside adds something for whole family, new members (Fort Wayne News Sentinel, Ind.)
Catholics warn C of E over women bishops | The Roman Catholic Church has issued a scathing critique of Church of England plans to admit women bishops, warning that the reform would "radically" impair their relations. (The Telegraph, UK)
Wine when you want it, but not for Communion | A 300-year-old tradition of selling Communion wine from Christian bookshops will come to an end tomorrow because of the Government's reform of licensing laws. (Times, London)
Spirituality:
There is no God | Having taken that step, it informs every moment of my life. I'm not greedy. I have love, blue skies, rainbows and Hallmark cards, and that has to be enough. (Penn Jillette, NPR)
64 percent say religion 'under attack' | Creationism should be taught in science, 56 percent say (Associated Press)
Giants stadium sets aside prayer spaces | A special area for people who want to pray will be set aside at Giants Stadium, where several Muslim fans were detained and questioned by the FBI in September, the stadium operator said Tuesday. (Associated Press)
Great and good have little truck with God | Britain's elite are half as likely to believe in God than the general population, and far less likely to believe in life after death, a survey suggests. (Times, London)
People:
Andrews hoping for divine intervention to rescue McLeish | Faith has taken Marvin Andrews on a remarkable journey, all the way from poverty in his native Trinidad to the World Cup finals. So, when the born-again Christian considers the situation facing Alex McLeish and points you in the direction of a miracle, that underlines the task facing Rangers tonight. (Times, London)
Johnny Cash was a man of great faith | I'm glad "Walk the Line" is bringing Johnny Cash back.But I hope the movie sparks more than a renewed passion for the man's music. I hope it moves us to see Cash's often tortured life as the embodiment of true faith. (Ken Garfield, Knight Ridder Newspapers)
'Miracles':
Author's memoir recounts miracles in Vietnam | Living in French-controlled Vietnam, Ahn Vu's grandfather was an opium addict. One day outside an opium den, a Christian missionary was passing out slips of paper to people. Without thinking, her grandfather pocketed the paper, entered the den and sat down, pulling out his pipe. That's when he felt the paper and pulled it out to read the message that would change his life: Jesus Christ has died for your sins. (Sebastian Sun, Fla.)
The concerns after the rains | In Gaborone and some parts of the country, it rained over the weekend. That is the bottom line. It rained and we continue to hope for more and more rain. Out in the streets, there is an interesting discussion around the weekend rains. The discussions are about whether Zion Christian Church (ZCC) Bishop Barnabas Lekganyane brought the rains or it was a coincidence that it rained when he was here to pray for rain. (Mmegi/The Reporter, Gaborone)
Money & business:
School radio stations face competition over licenses | At least 20 high school stations, and a handful of college ones, have been fending off challenges to their licenses by Christian broadcasters in the last year. (The New York Times)
Appeals court hears argument on KOCE suit | Arguments in a state appeals court Tuesday focused on whether a Christian broadcaster has the right to sue the Coast Community College District for rejecting its bid to buy Orange County's public broadcasting station. (Los Angeles Times)
Related Elsewhere:
Suggest links and stories by sending e-mail to weblog@christianitytoday.com
See our past Weblog updates:
November 22 | 21
November 18 | 17 | 16b | 16 | 15
November 11 | 10 | 8
November 4b | 4a | 3
October 31 | 27 | 24 |
October 19 | 12 | 11
October 6 | September 30 | 29 | 28
Weblog
Launched in 1999, Christianity Today's Weblog was not just one of the first religion-oriented weblogs, but one of the first published by a media organization. (Hence its rather bland title.) Mostly compiled by then-online editor Ted Olsen, Weblog rounded up religion news and opinion pieces from publications around the world. As Christianity Today's website grew, it launched other blogs. Olsen took on management responsibilities, and the Weblog feature as such was mothballed. But CT's efforts to round up important news and opinion from around the web continues, especially on our Gleanings feature.
Ted Olsen is Christianity Today's executive editor. He wrote the magazine's Weblog—a collection of news and opinion articles from mainstream news sources around the world—from 1999 to 2006. In 2004, the magazine launched Weblog in Print, which looks for unexpected connections and trends in articles appearing in the mainstream press. The column was later renamed "Tidings" and ran until 2007.
Previous Weblog Columns: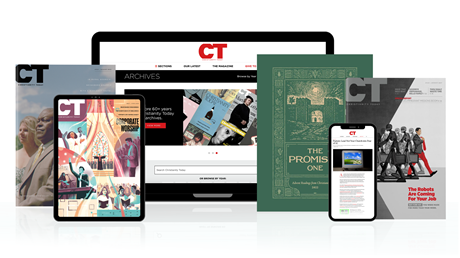 Annual & Monthly subscriptions available.
Print & Digital Issues of CT magazine
Complete access to every article on ChristianityToday.com
Unlimited access to 65+ years of CT's online archives
Member-only special issues
Subscribe
Regulators to Investigate Abortion Pill Deaths
Regulators to Investigate Abortion Pill Deaths