| | |
| --- | --- |
| | • |
In supporting President Bush's nomination of Harriet Miers to the Supreme Court, James Dobson told listeners last week, "When you know some of the things that I know that I probably shouldn't know—that would take me in this direction—you would understand why I have said, with fear and trepidation, that I believe Harriet Miers will be a good justice."
Since then, commentators and analysts have speculated on what Dobson learned in a conversation with White House advisor Karl Rove and other conservative Christian leaders. Turns out, he knew nothing that news reports didn't turn up within days following the Miers nomination.
"I did say to these pro-family leaders, which has been widely quoted, that Karl had told me something that I probably shouldn't know. And you know, it really wasn't all that tantalizing, but I still couldn't talk about it," Dobson said on his radio program today (audio | transcript). He said he had learned that Miers was on the short list of names the President was considering but wasn't free to discuss it because the nomination had not been released. Dobson also said other conservatives who were on the list asked to be removed because the nomination process "has become so vicious and so vitriolic and so bitter that they didn't want to subject themselves or the members of their families to it."
Dobson also said Rove told him and others that Miers is an evangelical, attends a conservative, pro-life church, and is a member of Texas Right to Life. "In other words, there is a characterization of her that was given to me before the President had actually made this decision. I could not talk about that on Monday. … But by Wednesday and Thursday and Friday, all this information began to come out, and it was no longer sensitive. I didn't have the right to be the one that revealed it, and that's what I was referring to."
Dobson's support of Miers is based on assurances Rove gave him regarding Miers's church attendance, personal character, and judicial philosophy. "What the Democrats have concluded in their wildest speculation is that Mr. Rove laid out for me a detailed promise that Ms. Miers would vote to overturn Roe v. Wade and revealed all the other judicial opinions that she has supposedly prejudged. It did not happen, period!" Dobson said.
Should Dobson have insider information on Miers's judicial positions, it might be relevant to the confirmation hearings. Senators have threatened to subpoena Dobson to discover what he knows. In response, Dobson dared the judiciary committee to call him to testify. "I want to speak directly to members of the judiciary committee about the possibility of my coming to testify," Dobson said. "If they want to do that, then I just suggest that they quit talking about and just go do it. I have nothing to hide, and I'll be happy to come and talk to you. But I won't have anything to say that I haven't just told millions of people."
Today's broadcast did not reveal that Dobson was privy to information he probably shouldn't know, and he was not part of any backroom deals as some have suggested. Dobson needed to set the record straight that he didn't have information "that I probably shouldn't know." He just had information a few days before others did.
Since then, most of the information Dobson received before the Miers nomination has been reported in the media, especially Miers's church attendence. But Dobson wasn't interested in grabbing attention by talking about what he had learned in private conversation with Karl Rove and other Christian conservative leaders.
"I've had a long-standing policy of not going out and revealing things that are said to me in confidence," he said. "I think it's a mistake and maybe even an ethical problem for people to do that—to go out and brag about being a player on the national scene, maybe to make themselves to look important," he told his listeners. "You know, I just wish that didn't happen like it does, and I certainly didn't want to be part of it."
More coverage of Dobson's remarks:
• Dobson: nothing to hide | Focus founder dares senators to bring him in. Dobson says Karl Rove didn't tell him how the Supreme Court pick would rule on Roe vs. Wade (The Denver Post)
• Defiant Dobson denies collusion | He says Rove never promised that Miers will oppose abortion (Rocky Mountain News, Denver)
• Dobson: No talk about Miers, abortion | Focus leader says he didn't get 'secret' information (Colorado Springs Gazette)
• Christian leader says he was told of Miers' beliefs | In remarks to be aired today, James Dobson says Karl Rove assured him in advance that the high court pick was a conservative evangelical (Los Angeles Times)
• Dobson: What Rove said about Miers | In his radio program, the Focus on the Family founder reveals what reassured him about the Supreme Court nominee (Time)
• Christian leader details Rove call | White House aide Karl Rove told James Dobson that Texas lawyer and Supreme Court nominee Harriet Miers had taken positions that "would not be supportive of abortion" (Ft. Worth Star-Telegram, Tex.)
• Dobson to offer clarification on Miers | A conservative Christian leader will use his radio show Wednesday to try to tamp down a controversy that flared after he said he had confidential assurances from the White House about Supreme Court nominee Harriet Miers' conservative credentials (USA Today)
• James Dobson speaks on Miers | Dobson says his support stems from a private chat with Rove about nominee's evangelicism (ABC News)
• Miers supporter says White House made no promises (Reuters)
• The Dobson code | What does he really know about Miers? His explanation falls short (Editorial, The Sacramento Bee, Ca.)
Related Elsewhere:
Suggest links and stories by sending e-mail to weblog@christianitytoday.com
See our past Weblog updates:
October 11
October 6 | September 30 | 29 | 28
September 22 | 21 | 20 | 19
September 16 | 15 | 14
September 8 | 2 | 1 | August 31 | 30
Hurricane blog: Sept. 6 | 2 | 1 | Aug. 31
Weblog
Launched in 1999, Christianity Today's Weblog was not just one of the first religion-oriented weblogs, but one of the first published by a media organization. (Hence its rather bland title.) Mostly compiled by then-online editor Ted Olsen, Weblog rounded up religion news and opinion pieces from publications around the world. As Christianity Today's website grew, it launched other blogs. Olsen took on management responsibilities, and the Weblog feature as such was mothballed. But CT's efforts to round up important news and opinion from around the web continues, especially on our Gleanings feature.
Ted Olsen is Christianity Today's executive editor. He wrote the magazine's Weblog—a collection of news and opinion articles from mainstream news sources around the world—from 1999 to 2006. In 2004, the magazine launched Weblog in Print, which looks for unexpected connections and trends in articles appearing in the mainstream press. The column was later renamed "Tidings" and ran until 2007.
Previous Weblog Columns: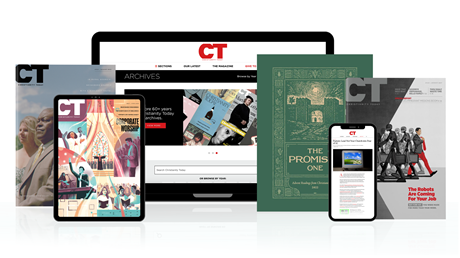 Annual & Monthly subscriptions available.
Print & Digital Issues of CT magazine
Complete access to every article on ChristianityToday.com
Unlimited access to 65+ years of CT's online archives
Member-only special issues
Subscribe
What Dobson 'Probably Shouldn't Know'
What Dobson 'Probably Shouldn't Know'