Today's Top Five
1. Rally to Save Darfur as deadline hits
Evangelical groups are among those leading Sunday's Save Darfur Rally to Stop Genocide in Washington, D.C., and other cities. Sunday is also the deadline for Darfur's warring parties to sign an African Union-mediated peace agreement—which doesn't look likely, says The Christian Science Monitor. More bad news from Darfur: The United Nations World Food Program is cutting its daily rations in half due to funding cuts. Keep your eye on the detailed blog Passion of the Present for frequent Darfur updates.
2. U.S. Christians still divided on immigration
The Family Research Council has posted video of yesterday's three-hour  immigration debate with leading Christian leaders and lawmakers. The bottom line from FRC's Connie Mackey in a San Francisco Chronicle front-page story: There's no consensus other than to be "compassionate but firm." "The Christian community is closer on a resolution than we actually think," said FRC president Tony Perkins. Still, The Dallas Morning News says there's plenty of conflict, too:
The testiest moment came after the Rev. Joan Maruskin of Church World Service's Immigration and Refugee Program compared Jesus to illegal immigrants.
"Christ came in as a stranger—the migrant refugee Christ to whom we owe our salvation," she said. If Jesus and his disciples arrived in the United States as 13 bearded men without documents, she said, "they would be put into a detention center, be victims of expedited removal or they'd be sent to Guantánamo."
Immigration-control advocate John O'Sullivan, a senior fellow at the conservative Hudson Institute, decried such "moral bullying."
Describing himself as a rank-and-file Catholic, Mr. O'Sullivan criticized attempts to translate religious doctrine into public policy without weighing all implications—the downward pressure on wages for natives and prior immigrants, for instance.
"We have to make choices—how many of them to admit, which of them to admit," he said. "We are importing poverty."
3. The Telegraph says Christians under Muslim attack in West Bank, Pakistan
Those interested in religious liberty issues or Christian-Muslim relations will certainly want to check out The Telegraph today. One story recounts how Muslim clerics in the West Bank are trying to shut down the Qalqilya YMCA because it is Christian. Another tells of much worse pressures against Christians in Pakistan to convert to Islam.
4. Ky. Human Rights Commission: Shunning ex-Amish is impermissible
The Associated Press has a fascinating story on a Kentucky Commission on Human Rights ruling against the Amish, but doesn't tease out many church-state implications. That's unfortunate, because there are several tie-ins to the looming controversies over conscience in the workplace. Erma Troyer, the Amish owner of Troyer's Rocky Top Salvage store, says it's against her religion to take money from someone who is being shunned by the Amish community. The commission ruled she must serve any customer regardless of religion—or religious status. If she complies with the ruling, Troyer herself risks being shunned. Noted scholar Donald Kraybill says Troyer is rightly interpreting Amish doctrine. Now we need to hear from some church-state experts on whether following that doctrine trumps equal-access rules.
5. Moon's soccer teams
Earlier this month, the Chicago Tribune reported that Unification Church leader Sun Myung Moon controls most of the U.S. sushi market. Today's Guardian reports that he owns a few Brazilian soccer teams, too, as part of a successful effort "to win Brazilian hearts and minds."
Quote of the day
"There's not one major electronics manufacturer who isn't trying to target this space."
—Dan Stark, head of Stark Raving Solutions, on the growing "house of worship technology" market, quoted by CNet.
More articles
Sudan | Religious freedom and interfaith relations | First Amendment | Politics | Immigration | Education | Taylor University crash | Crime and abuse | Missions & ministry | Sexual ethics | Life ethics | Church life | Catholicism | Entertainment, art,  and media | Music | Technology | Other stories of interest
Groups rally against genocide | "Save Darfur: Rally to Stop Genocide" is sponsored by a coalition of 150 religious and human rights groups, including American Jewish World Service, the U.S. Conference of Catholic Bishops, the National Association of Evangelicals, the National Council of Churches and the American Society for Muslim Advancement (Newsday)


Bush raises pressure as Darfur deadline nears | President George W. Bush announced new sanctions on Thursday against people suspected of aiding genocide in Sudan's Darfur region, as peace talks in Nigeria neared a deadline and 160 religious and human rights groups prepared for a massive Washington rally on Sunday (Reuters)


Religious freedom andinterfaith relations:
West Bank: Islamic clerics want to close YMCA | An attempt by Muslim clerics to close a YMCA branch office in the West Bank has exposed growing tensions between the Holy Land's dwindling Christian community and the new Palestinian government led by Hamas (The Telegraph, London)


First Amendment:
Politics:
A Bible-based government | What if you long for a world where not only gay marriage, abortion, and safe-sex education are against the law, but so are taxes, assisted suicide, and pornography? What could you do? Where would you go? (KPIX, San Francisco)


Living in twilight and hope | Too many activists have convinced themselves that they have a monopoly on truth. A little humility and a sense of history could move us all forward (Jon Meacham, Newsweek)


Re-defining moment | Time to reflect on what compassionate conservatism is—and isn't (Marvin Olasky. World)


Immigration:
Christians ask: Can you love thy neighbor but deport him, too? | For people of faith, the immigration debate requires a trip through a maze of seemingly contradictory teachings (The Dallas Morning News)


Immigration debate splits Christian right | Religious conservatives bared their internal struggles over immigration Thursday at an unusually frank public debate, demonstrating that the most powerful faction of the Republican Party is as divided as the party itself on the issue (San Francisco Chronicle)


Jesus called as witness in thorny immigration debate | "What would Jesus do?" asked Joan Maruskin, of Church World Service, during a panel in Washington on the role of faith, culture and law in the immigration debate (Financial Times)


Education:
Byrd proposes constitutional prayer amendment again | For the eighth time in 43 years, Sen. Robert Byrd, D-W.Va., is proposing that Congress adopt a constitutional amendment allowing voluntary prayer in public schools and extracurricular activities (Charleston Daily Mail, W.V.)


'Christmas' break makes return | A Colorado school district has voted to restore the name of its two-week December holiday to "Christmas break" (The Washington Times)


A great big bowl of beliefs | USF's weekly Bull Market is free speech on steroids. Got a view? Get a booth. Some students will stop, others avoid the chaos (St. Petersburg Times, Fla.)


Taylor University crash:
Taylor family: We'll face the future together | Inaugural events to go on today, school says, as sign of renewed commitment and in honor of those lost in crash (Marion Chronicle-Tribune, Ind.)


'We will mourn … with hope' | Deaths shake campus, but faith remains (Marion Chronicle-Tribune, Ind.)


Crime and abuse:
Missions & ministry:
Volunteer ministry brings message of love and redemption to prisons | Inside Kairos at Elmore Correctional Facility (The Birmingham News, Ala.)


Loaves and Fishes aims to meet human needs with God's help | Over the next two weeks there will be two major events to help support the Loaves and Fishes Ministry, which was founded this spring to provide financial assistance to area families who have incurred great expenses from traumatic accidents or illnesses (David Gushee, The Jackson Sun, Tenn.)


Sexual ethics:
Dockery signs letter against gay marriage | The president of Union University has signed an open interfaith letter petitioning for a constitutional amendment to block same-sex marriage (The Jackson Sun, Tenn.)


Minn. gay marriage ban could prompt exodus | The argument, advanced in some other states, is that there is a "creative class" of talented workers, straight and gay, who are a driving force in the economy and seek out vibrant communities that are tolerant of differences (Associated Press)


Life ethics:
Inquiry into abortion time limit is rejected | The Government has blocked a parliamentary inquiry into late terminations and the abortion time limit (The Telegraph, London)


Kaine allows execution despite his beliefs | Governor says he has no reason to doubt killer's guilt (The Washington Post)


Church life:
Catholicism:
Entertainment, art, and media:
Protesters defend Mormons | Members of the LDS Church did the Christian thing by turning the other cheek and refusing to let a San Diego protest turn ugly, according to Utah filmmaker Richard Dutcher (Deseret Morning News, Ut.)


Music:
Why the Church has been such a blessing | Composers who submit to the ancient structures of Church music can yield sublime results (Ivan Hewett, The Telegraph, London)


Don't be so down on beat in church | Bible Broadcasting Network drops Pastor David Jeremiah's radio program because Jeremiah's church sings contemporary songs (Tim Sinclair, The Huntsville Times, Ala.)


Technology:
Is Jesus the next killer app? | Tech companies are getting religion. Companies such as Sony, Panasonic, Avid and Hitachi are helping churches spread the gospel as part of an effort to cash in on an exploding market known as "house of worship technology." (CNet)


Religious blogs test beliefs, power structure | Clergy forced to deal with `dirty laundry' in more public forum (Chicago Tribune)


Other stories ofinterest:
The 'Sinner's Prayer' | The lone survivor of the Sago mine disaster says it was recited as the doomed men realized they were about to die. What is it? (Hartford Courant, Ct.)


By George, a saint he ain't | England's patron saint was a greedy fraudster. The time to campaign for his replacement is now (David McKie, The Guardian, London)


Related Elsewhere:
Suggest links and stories by sending e-mail to weblog@christianitytoday.com
See our past Weblog updates:
April 27b | 27a | 19
April 12 | 11 | 7
March 31 | 30 | 28
March 24 | 24 | 23 | 21
March 17 | 16 | 15
March 10b | 10a | 8
March 3 | 2 | 1
Weblog
Launched in 1999, Christianity Today's Weblog was not just one of the first religion-oriented weblogs, but one of the first published by a media organization. (Hence its rather bland title.) Mostly compiled by then-online editor Ted Olsen, Weblog rounded up religion news and opinion pieces from publications around the world. As Christianity Today's website grew, it launched other blogs. Olsen took on management responsibilities, and the Weblog feature as such was mothballed. But CT's efforts to round up important news and opinion from around the web continues, especially on our Gleanings feature.
Ted Olsen is Christianity Today's executive editor. He wrote the magazine's Weblog—a collection of news and opinion articles from mainstream news sources around the world—from 1999 to 2006. In 2004, the magazine launched Weblog in Print, which looks for unexpected connections and trends in articles appearing in the mainstream press. The column was later renamed "Tidings" and ran until 2007.
Previous Weblog Columns: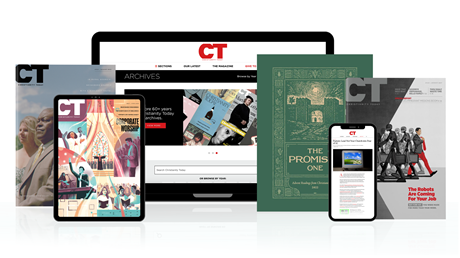 Annual & Monthly subscriptions available.
Print & Digital Issues of CT magazine
Complete access to every article on ChristianityToday.com
Unlimited access to 65+ years of CT's online archives
Member-only special issues
Subscribe
Rally Time
Rally Time