On Tuesday this week, I couldn't find out from my local paper, the Chicago Tribune, what happened in the Chicago Cubs Monday game against the Florida Marlins. It was a small thing, this irritant, and then again not so small, because it happens more days than not.
"Jones blasts HR, does same to fans," blared the headline, followed by this opening:
After hitting the game-winning, three-run home run against the Florida Marlins on Monday night at Wrigley Field, Jacque Jones unleashed some pent-up anger over the rough treatment he has received in his first month as a Cub.
Then two paragraphs on Jones's anger, followed by one paragraph on the game. Then five more paragraphs about Jones's tirade. Then finally we get back to the game for five paragraphs, before ending with two paragraphs about Jones.
And those near-miraculous five paragraphs about the game? Well, three and a half were about the antics of pitcher Carlos Zambrano, i.e., his breaking a bat over his knee after striking out.
We read that the Florida Marlins "outhustled, outpitched, and outsmarted the Cubs" for several innings. But no examples of what that actually looked like in crucial situations. No description of a moment when the Marlins hustled, pitched, or played smart. The key inning was the eighth, but the inning, on which the ball game turned apparently, is given a grand total of 12 words: "Matt Murton's two-run single tied it, and Jones's homer sealed the deal."
No description of who got on base ahead of Murton or how they got in scoring position. No idea which pitcher faced them. No comments from pitchers or catchers or batters about what pitch was hit or where the ball went. And don't even think about finding a passage in which tension is created, helping the reader get a sense of what was at stake just before the crucial hits came.
But we read a lot about the anger of Jones and the wackiness of Zambrano. The stuff of soap operas.
It's the same sort of inattention to the game I find in most sports sections across the country. It's starting to irritate me.
It seems that many sports writers assume that we've all seen the game, so there is no point in reporting it. In a Sunday Washington Post piece, veteran sportswriter Frank Deford talked about his writing career. He noted how television changed sportswriting for many: "Because [TV] showed you the game, writers became free to roam and write about the rest of the athletic cosmos." But who has time anymore to watch even part of a game, let alone a full game? And where did sportswriters get the idea that a video presentation of a game is the equivalent to a written narrative of that game, as if writing adds nothing to what we see? And who says that TV should be the medium to show the game and sportswriting should be delegated to the ghetto areas of sport, and not vice-versa?
Let me just say that week in and week out during the baseball season, I see very, very few games, and I find ESPN highlights mind-numbing, like a diet that consists only of candy. I depend on writers to tell me about the games I've missed.
I sometimes wonder if sports editors and writers really believe in sports anymore. Maybe baseball is "just a game" to them, child's play. Maybe they're anxious to be "serious writers"—all the while paradoxically attracted to games. Maybe they simply find it impossible to bask in the grace and freedom that allows one to truly enjoy a recreational moment.
And I sometime wonder if they believe in writing anymore, in its ability to do something that video and box scores and highlight clips cannot do—tell a powerful story with metaphors and allusions that take the bare facts of a game and turn it into story. Maybe they don't believe that readers yearn for storytellers still, even storytellers about games.
So maybe these serious fellows will do anything to make sports seem more relevant, more connected to "the real world." And so we read not about the stories and dramas of the games—why, that would feel escapist, sentimental, corny, old-school. Besides, there are ESPN highlights!
Instead, we have to endure pieces (I won't even deign to call them "stories") about quarrels, tantrums, gossip, salary disputes, and so on and so forth—because that's real.
But it's also boring. That's what we all live with every day. I watch sports to enter another world, one with its own sense of time and space, its own social order—and its own drama, heroes, and even mythology.
Novelist F. Scott Fitzgerald pitied baseball writer Ring Lardner because Lardner's world was limited to what occurs on the baseball diamond. Fitzgerald apparently did not understand baseball. Because for an intelligent and passionate observer—and good writers are nothing if not intelligent and passionate observers—all of human life is on display, especially when lived out between confines. Why do so many novelists place their stories on ships or islands? What goes on between the foul lines is as worthy of a writer's narrative powers as are the boorish nouveau riche Fitzgerald spent so much pondering in The Great Gatsby.
But I whine. Still, I continue to wonder if sportswriters have forgotten their vocation, their God-given calling. It may not be the most important thing to do in life—but which of us can say that our jobs constitute the most important of things? Yet sportswriters do have a calling—to believe in play and to believe in writing. And to help the rest of us enjoy Sabbath moments, as we read about the courage and grace of athletes who take the game to a different dimension.
Mark Galli is managing editor of Christianity Today.
Related Elsewhere:
Earlier Play Ball columns include:
'You Trying to Say Jesus Christ Can't Hit a Curveball?' | Fans vent their frustration on struggling slugger who professes religious devotion. By Collin Hansen (Apr., 20, 2006)
Un Problema Grande, No? | What major league baseball reveals about the dangers of immigration. By Mark Galli (Apr. 13, 2006)
WWJWD? | In the wake of UCLA's loss in Monday's NCAA championship game, I couldn't help but wonder: What would John Wooden do? By Mark Moring (April 6, 2006)
There IS Crying in Basketball | If only we all had something so precious to weep about. By Collin Hansen (March 30, 2006)
Pirates vs. Braves | Reforming sports one city at a time. By Mark Galli (March 23, 2006)
Bjorn Again? | It's been a while since tennis legend Bjorn Borg was in the news. Too bad he's back because he's selling his Wimbledon trophies. By Mark Moring (March 16, 2006)
Steroids 'R' Us | It's not just Barry Bonds's heart that is desperately wicked. By Mark Galli (Mar. 9, 2006)
Heavy Medal | At the Olympics, if you don't medal, you certainly must be a loser. By Mark Moring (Feb. 23, 2006)
Opening Ceremony Blues | The Olympics is symbolic, but not of world peace. By Mark Galli (Feb. 16, 2006)
Play Ball
From 2005 to 2007, "Play Ball" examined the relationship of sports and faith: sports is important precisely because it is a form of play, that is, a manifestation of the Sabbath. Contributors included Mark Galli, Collin Hansen, Mark Moring, and others.
Previous Play Ball Columns: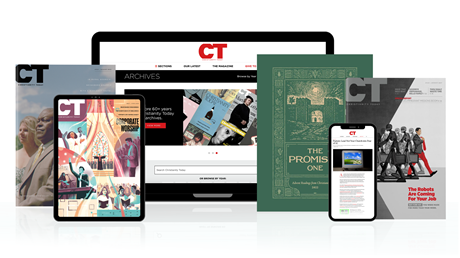 Annual & Monthly subscriptions available.
Print & Digital Issues of CT magazine
Complete access to every article on ChristianityToday.com
Unlimited access to 65+ years of CT's online archives
Member-only special issues
Subscribe
Sports as Soap Opera
Sports as Soap Opera