Today's Top Ten
Yes, ten. So many interesting stories that we can't stop at five.
1. Australia lifts ban on human cloning
Both the Prime Minister and the new Opposition Leader had wanted to keep the ban on so-called therapeutic cloning, but the House of Representatives still voted 82-62 for the bill. It had earlier passed the Senate by a two-vote margin. The U.S. also allows such cloning, as do Britain, Singapore, and a few other countries.
2. Bible attack case shocks Australia
Young teens from East Preston Islamic College were reportedly feuding with workers at a school camp when three of the boys, ages 13 to 15, got a Bible, threw it on the ground, urinated on it, tore pages out, and then set them on fire. An Islamic Council of Victoria spokesman called it a "prank" and explained, "They've probably seen things on TV where soldiers in Iraq and in Guantanamo Bay have reportedly done things to the Koran, and they've seen other things that have influenced their way of thinking." The school principal says the students didn't know it was a Bible, but has expelled two of the students and suspended another.
3. Christian Peacemaker Teams hostages call for "all possible leniency" for kidnappers
"Should those who have been charged with holding us hostage be brought to trial and convicted, we ask that they be granted all possible leniency," said a joint statement from Norman Kember, James Loney, and Harmeet Singh Sooden, who were held hostage for four months. A fourth member of their team was killed by their captors, but the survivors claimed to speak for him. "I know that he would have stood with us today (to ask for) clemency for our captors," Loney said. Kember said he won't testify against his captors, and would only testify to plead for clemency. "In our view, the catastrophic levels of violence and the lack of effective protection of human rights in Iraq is inextricably linked to the U.S.-led invasion and occupation," the joint statement says in part. "As for many others, the actions of our kidnappers were part of a cycle of violence they themselves experienced. While this is no way justifies what the men charged with our kidnapping are alleged to have done, we feel this must be considered in any potential judgment."
4. Malaysia's Muslims drop claim to body
Apparently, the general rule of thumb in Malaysia is that the only people who can leave Islam are the dead.
5. Congress session ends
The fetal pain bill didn't pass, but tithing protection for the bankrupt did.
6. Weinstein Company launches Christian label
The company has already announced plans to adapt Joyce Meyer's The Penny and Max Lucado's The Christmas Candle. "[The] goal is eventually to release six theatrical titles per year," Variety reports. The Weinstein Company will chiefly be working with Impact Entertainment, which made One Night with the King and other Christian films.
7. Pastor shot to death in Prince George's County, Md.
Police are now following leads that the shooting of "well-known" pastor of Warriors for Christ Ministries may have been premeditated. But the police "have not ruled out the possibility of random street crime," The Washington Post reported.
8. Ohio megachurch pastor again faces DUI charge
Michael Pitts, pastor of Cornerstone Church in Maumee, Ohio, pleaded no contest to driving under the influence in 2000. In the late '90s he faced more serious accusations , but most charges were dropped after witness testimony problems. Pitts pled guilty to criminal trespassing and served 14 days of house arrest. Cornerstone has 3,000 members and runs two local Christian radio stations. Pitts "serves as overseer, or bishop, of the Cornerstone Network of Harvester Churches, an organization with 12 other churches across the United States and 13 in Mexico," The Toledo Bladereported last year.
9. Latin American politics is getting Jesusy
Hugo Chávez made headlines by repeatedly invoking Jesus in his election victory speech. One example: "The kingdom of Christ is the kingdom of love, of peace; the kingdom of justice, of solidarity, brotherhood; the kingdom of socialism. This is the kingdom of the future of Venezuela." Andres Oppenheimer writing in The Miami Herald notes that Chávez is not alone: Nicaragua's Daniel Ortega, Ecuador's Alvaro Noboa, and others have made religion part of their political message, too. "Religious populism is on the rise worldwide, and may be growing in Latin America as well," he writes.
10. Who's buried in Paul's tomb?
"Vatican archaeologists have unearthed a sarcophagus believed to contain the remains of the Apostle Paul that had been buried beneath Rome's second largest basilica," says a widely circulating Associated Press report. That basilica is called St. Paul Outside the Walls. It's named that because it's the place where Paul's remains have been believed to have been buried since the first centuries of the church. And if this story sounds familiar, it should.
Quote of the day
"Without being able to utilize churches, we'll be in dire straits. There are many areas of the county where we don't have suitable polling locations, if we were not able to utilize churches, synagogues, and whatever else. They are essential to us being able to service our community adequately and being able to avoid congestion."
—Arthur Anderson, supervisor of elections in Palm Beach County, Florida, which has been sued for using Emmanuel Catholic Church as a polling site.
Bonus story:
We couldn't stop at ten. One of the odder church-state cases in recent years—a suit against the school district logo in Las Cruces, Nevada—has been dismissed. The plaintiff yesterday appealed his case against the city's logo. Both logos depict three crosses, in reference to the city's name.
More articles
Australia okays human cloning | Fetal pain bill aborted | Life ethics | Saddleback AIDS summit | Iraq | Crime | Abuse | Theft | Past major crimes | Religious freedom | Bible desecration in Australia | Malaysia | Islam | Qur'an oath | China | Fiji | Politics (non-U.S.): | Politics (U.S.) | Come on ring those bells? | Christmas wars in the U.K. | Christmas commerce | More Christmas | Voting in churches | Church and state | University of Georgia frat ban | Higher education | Missions & ministry | Homosexuality | Anglicanism | Church life | Private prayer language | Spirituality | Money and business | Entertainment and media | Left Behind: The Video Game | Music | History | Richard Dawkins | Other stories of interest
Australia okays human cloning:
Bible desecration in Australia:
University of Georgia frat ban:
Related Elsewhere:
Suggest links and stories by sending e-mail to weblog@christianitytoday.com
See our past Weblog updates:
December 6 | 1 | November 21
November 17 | 16 | 15 | 13
November 6 | 3 | 2
October 11 | 6 | 5 | 4
September 21 | 15b | 15a | 14
September 6 | 1 | August 29
August 25 | 24 | 23
Weblog
Launched in 1999, Christianity Today's Weblog was not just one of the first religion-oriented weblogs, but one of the first published by a media organization. (Hence its rather bland title.) Mostly compiled by then-online editor Ted Olsen, Weblog rounded up religion news and opinion pieces from publications around the world. As Christianity Today's website grew, it launched other blogs. Olsen took on management responsibilities, and the Weblog feature as such was mothballed. But CT's efforts to round up important news and opinion from around the web continues, especially on our Gleanings feature.
Ted Olsen is Christianity Today's executive editor. He wrote the magazine's Weblog—a collection of news and opinion articles from mainstream news sources around the world—from 1999 to 2006. In 2004, the magazine launched Weblog in Print, which looks for unexpected connections and trends in articles appearing in the mainstream press. The column was later renamed "Tidings" and ran until 2007.
Previous Weblog Columns: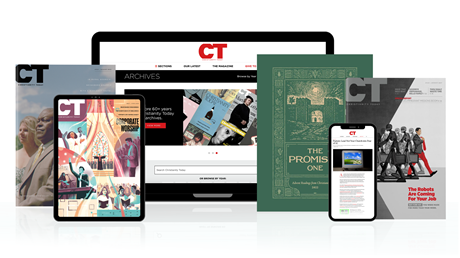 Annual & Monthly subscriptions available.
Print & Digital Issues of CT magazine
Complete access to every article on ChristianityToday.com
Unlimited access to 65+ years of CT's online archives
Member-only special issues
Subscribe
Cloning Okayed, Bible Urinated Upon in Australia
Cloning Okayed, Bible Urinated Upon in Australia