Today's Top Five
1. Sacks: Divestment vote "could not have been more inappropriate"
It's clear that Britain's chief rabbi, Jonathan Sacks, is upset about the Church of England's General Synod vote to divest "from companies profiting from the illegal occupation" of Palestinian territory. In an article for the Jewish Chronicle, Sacks calls the vote "ill-judged even on its own terms. The immediate result will be to reduce the church's ability to act as a force for peace between Israel and the Palestinians for as long as the decision remains in force. … The church has chosen to take a stand on the politics of the Middle East over which it has no influence, knowing that it will have the most adverse repercussions on a situation over which it has enormous influence, namely Jewish-Christian relations in Britain. The Church could have chosen, instead of penalizing Israel, to invest in the Palestinian economy. … The church's gesture will hurt Israelis and Jews without helping the Palestinians." Given the Iranian president's call to wipe Israel off the map and the anti-Semitic tone of recent Muslim demonstrations, Sacks says, "The timing could not have been more inappropriate." Israel, he says, "needs support, not vilification."
2. Baptists united
There's a great piece in today's Wall Street Journal that you probably can't read without a subscription. That's too bad, because summarizing it like this—church burnings have brought black and white Baptists together in Alabama—doesn't do it justice. That's because the relatively short story is inspiring and informative without softening the edges. The Alabama Baptist Convention State Board of Missions has distributed checks for "at least" $5,000 to all 10 of the burned churches—including the black churches outside its denomination—and black and white Baptist church leaders met last Monday to discuss the details of rebuilding. Those are interesting facts, but Journal reporter Sally Beatty also gets a revealing reaction from the convention's Gary Farley, who organized the meeting: "We are trying hard to stay away from paternalism," he said. "It's not our place to tell them what to do. But that is the kind of thing you always worry about—lack of sensitivity on our part."
"But old tensions die hard, and some black church leaders struck a measured tone in applauding the generosity of the Southern Baptists," Beatty writes. She quotes William Shaw, president of the National Baptist Convention USA: "It would be difficult for them to reach out to white churches and not to respond to black churches." But Southern Baptists don't have an obligation to fund churches outside their denomination, do they?
3. Happy clappy evangelicals
In the U.K. and elsewhere, evangelicals are often called "happy clappys." A new survey suggests that they're at least happy. As The Washington Post reports this week, a new study from The Pew Research Center for the People and the Press finds Americans very happy, with (self-described) evangelical Christians being the happiest people of all. "White evangelical Protestants (43%) are more likely than white mainline Protestants (33%) to report being very happy, but this difference goes away after taking frequency of church attendance into account," the survey summary says. The more detailed report (see p. 19) explains, "White evangelical and mainline Protestants who attend church at least weekly are not significantly different on happiness [49% of evangelicals, 44% of mainliners]; both groups are happier than those who attend services less often." Actually, for those attending monthly or less, mainliners are more happy: 35% vs. 31% of evangelicals.
4. Dobson on the defensive
James Dobson pre-empted scheduled Focus on the Family broadcasts yesterday and today in order to defend himself for backing a Colorado Senate bill granting some legal benefits to adults who cannot marry. It's the second time this month that he has criticized his critics on the bill: He also addressed the issue at the beginning of his February 8 broadcast. "I'm about as close to being ticked at this moment as I ever remember getting on the air," he said then. He sounded even more ticked in yesterday's broadcast. Dobson also appeared on Fox News's The O'Reilly Factor yesterday to talk about the controversy.
5. Will Ted Haggard run for Congress?
Last August, National Association of Evangelicals president and New Life Church pastor Ted Haggard said he was considering a run for Congress if Joel Hefley were to retire. In January, the Colorado Springs Gazette reported that Haggard said "he would not be running because he's happy with Hefley's representation." Today Hefley said he's out. No word yet from Haggard, but expect reporters to ask the question over the weekend.
Quote of the day:
"I'm in my mid-30s, I've got three kids, and it's about time I did something that didn't involve cheap gags. You might as well aim high, so I thought I'd try to find God."
—Scottish TV host Dominik Diamond, who says he'll undergo crucifixion in a television show to be called Crucify Me. "Diamond, once a committed Christian, will try to rediscover his faith in a journey from Scotland, via the Vatican and Italy, to the Philippines, where Christians celebrate Easter by re-enacting Christ's ordeal on the Cross," The Scotsman reports.
More articles
Divestment | Church life | Alabama church fires | Abuse | Church and state | Evolution | Education | Politics | Life ethics | Sexual ethics | Dobson defends stance | Entertainment and media | The Second Chance | Books | Spirituality | Other stories of interest
Ghana's many churches: A colonizing influence? | Why start a church when there are other churches that share your vision and believe in your ideals? A lot of people can reach out to help without necessarily starting churches (Godwin Yaw Agboka, Accra Daily Mail, Ghana)


After Alabama fires, Baptists try to bridge old divide | The recent spate of church fires in rural Alabama has prompted an unusual move toward cooperation among Baptist groups in the long-divided religious movement (The Wall Street Journal)


Church fire sleuths receive 500 leads | They've also gotten phone calls on the direct line set up for the person or people responsible for the fires, but authorities don't know if those calls actually came from whomever started the fires (The Birmingham News, Ala.)


Also: Churches to get safety tips | Leaders of rural church congregations in Autauga County are being asked to attend a series of security meetings set to begin next week (Montgomery Advertiser, Ala.)


Deltona tries to stem suit | The City Commission has called a special meeting today to discuss the lawsuit being threatened by an artist whose paintings were banned last week from a Black History Month display at City Hall because of their religious content (The Orlando Sentinel)


Katrina faith-based funding controversy | Large religion-based organizations such as Catholic Charities and the Salvation Army have long received government funds, prompting other, smaller ones to ask why they shouldn't get help, too. The president's faith-based initiative has tried to change the rules to permit that, and Kim Lawton reports that Katrina has given that initiative a new boost (Religion & Ethics Newsweekly)


Prayer issue divides council | Mayor Tom DuPree opened the Madison City Council meeting Monday with a prayer, despite the recent requests of other council members to either not begin the practice or open with a minute of silence. (Morgan County Citizen, Madison, Ga.)


Marker's wording okay, attorney general's office says | The Kentucky Historical Society received a complaint last fall about the marker's wording—which refers to an appearance by the Virgin Mary in France—contending that it violated the principle of separation of church and state (The Courier-Journal, Louisville, Ky.)


Religion in the News: Religious tours, secular locations | Biblically Correct Tours goes to National Center of Atmospheric Research, zoos and the Denver museum (Associated Press)


Bill banning intelligent design draws national notice | Restricts teaching of intelligent design (The Capital Times, Madison, Wi.)


In the beginning … | How life on Earth got going is still mysterious, but not for want of ideas (The Economist)


Teacher refutes claim that kids were told to pray | Parent says students instructed to pray to Allah (Des Moines Register, Ia.)


Educators plan new temple for learning | A charter school buys a struggling church, and the deal is good news for both sides (Los Angeles Times)


CCU president plans to retire | Colorado Christian University said President Larry Donnithorne will retire from that post when his term finishes June 30, 2007 (Denver Business Journal)


Dark horse puts faith at forefront | Wheaton College professor, ex-pastor builds candidacy on his Christian ideals (Chicago Tribune)


Bush aide denies exit tied to chaplain issue | Claude A. Allen, the top White House adviser on domestic policy, said he is not leaving the post today to protest new military guidelines urging chaplains to perform only "non-denominational, inclusive prayer or a moment of silence (The Washington Times)


US right has hijacked religious vote, says evangelical | Jim Wallis—who has been consulted by US presidents as well as Tony Blair and Gordon Brown—yesterday urged liberal Christians to move the agenda from the right's focus of sexual morality to a less partisan approach (The Guardian, London)


The church of Stephen Harper | At East Gate Alliance, they use PowerPoint, and pray for the Prime Minister (Macleans, Canada)


To admit mistakes is to know and be better | The Evangelical Climate Initiative is the first step on such a brave quest (Pranab Das, Winston-Salem Journal, N.C.)


Bishops dealt setback in pursuit of gay adoption exemption | Governor Mitt Romney and a legislative leader yesterday delivered unwelcome news to the Catholic bishops of Massachusetts, who plan to seek permission from the state to exclude gay and lesbian parents from adopting children through its social service agencies (The Boston Globe)


Protest planned at Christian conference on homosexuality | A conference aimed at helping Christians address homosexuality or change their sexual orientation will be met with protests from the gay rights community when it meets Feb. 25 in St. Louis. (Associated Press)


Dobson deflects heat on expanded rights | Focus founder explains bill support (The Denver Post)


Dobson defends stand on limited protections for same-sex couples | After being criticized by fellow Christian conservatives for his support of proposed legislation that would give same-sex couples some limited legal protections, Focus on the Family founder James Dobson used his radio broadcast Thursday to fight back (Associated Press)


Dr. Dobson calls for civility in disagreements | Focus founder tells listeners, 'My integrity means more to me than my life' (CitizenLink, Focus on the Family)


Broadcast: Clearing the air on the marriage debate | Dr. Dobson and Tom Minnery discuss the controversy surrounding Focus on the Family's stance on current Colorado legislation and whether it includes homosexual rights and benefits (Focus on the Family, audio)


Franklin gets first viewing of 'Second Chance' | About 400 actors, singers, music and film industry executives and other invited guests turned out last night for the world premiere of The Second Chance, the acting debut of Nashville contemporary Christian music star Michael W. Smith (The Tennessean, Nashville)


'Second Chance' is a first-time thrill for Michael W. Smith | Christian singer calls his big-screen acting debut a life-changing experience (The Tennessean, Nashville)


From opposite ends of the spectrum, uniting for a common good | Startlingly direct, if unavoidably preachy, The Second Chance takes aim at Christianity's racial divide and the corporatization of faith (The New York Times)


'Gospel of Judas' to be published | The first translation of an ancient, self-proclaimed "Gospel of Judas" will be published in late April, bringing to light what some scholars believe are the writings of an early Christian sect suppressed for supporting Jesus Christ's infamous betrayer (Religion News Service)


Faithful remembrance | Can you write a spiritual memoir without bitterness? (Christine Rosen, The Wall Street Journal)


Related Elsewhere:
Weblog
Launched in 1999, Christianity Today's Weblog was not just one of the first religion-oriented weblogs, but one of the first published by a media organization. (Hence its rather bland title.) Mostly compiled by then-online editor Ted Olsen, Weblog rounded up religion news and opinion pieces from publications around the world. As Christianity Today's website grew, it launched other blogs. Olsen took on management responsibilities, and the Weblog feature as such was mothballed. But CT's efforts to round up important news and opinion from around the web continues, especially on our Gleanings feature.
Ted Olsen is Christianity Today's executive editor. He wrote the magazine's Weblog—a collection of news and opinion articles from mainstream news sources around the world—from 1999 to 2006. In 2004, the magazine launched Weblog in Print, which looks for unexpected connections and trends in articles appearing in the mainstream press. The column was later renamed "Tidings" and ran until 2007.
Previous Weblog Columns: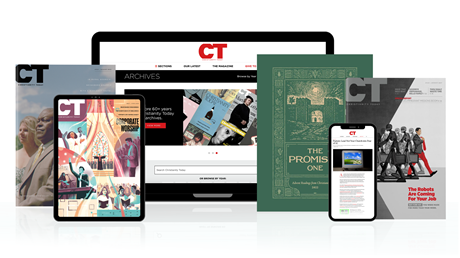 Annual & Monthly subscriptions available.
Print & Digital Issues of CT magazine
Complete access to every article on ChristianityToday.com
Unlimited access to 65+ years of CT's online archives
Member-only special issues
Subscribe
Britain's Chief Rabbi Warns of Broken 'Jewish-Christian Relations'
Britain's Chief Rabbi Warns of Broken ...