THE VICTORY OF REASON: How Christianity Led to Freedom, Capitalism, and Western Success
Rodney Stark
Random House, 304 pages, $25.95
Rodney Stark is at it again. After two recent volumes extolling the benefits of monotheism and the rise of Christianity via its caring networks of interpersonal relations, the brash sociologist now turns to Christianity's support for reason.
Stark's argument is relentless: Christian theology, culminating in the great thinkers of the Middle Ages, such as Thomas Aquinas, inculcated trust in reason as a gift of God. On that basis, Christianity sustained a faith in progress that could easily morph into scientific and social innovations. The same trust in reason fueled a politics of human freedom and an economics of capitalist creativity.
Against the claim that Western progress occurred only as religion was overcome, Stark is unequivocal: "Nonsense. The success of the West, including the rise of science, rested entirely on religious foundations, and the people who brought it about were devout Christians."
The Victory of Reason is another bold, sharply argued defense of the Christian faith's social benefits. It is also an in-your-face challenge to antireligious assumptions of the modern academy. Disconcertingly, Stark argues without qualification, nuance, and the balancing of perspectives that academics love so much. Nonetheless, he may be right.
—M.N.
EXPLORING REALITY: The Intertwining of Science and Religion
John Polkinghorne
Yale, 208 pages, $24.00
Theologian-scientist John Polkinghorne (Science and the Trinity) looks at Jesus in history, the nature of time, various world religions, and the problem of evil ("Science can offer some help to theology here in support of the necessary cost of a world allowed to make itself"). He takes an in-depth look at the Trinity, from its roots to the error of tri-theism. "Not all is exhaustively understood, but, as with quantum theory, so with Trinitarian theology, we know enough to be assured we are moving in the right direction."
Polkinghorne discusses evolution, affirming unique human status but seeing human origins rooted in animal life. He examines the pros and cons of genetic development issues (including stem-cell research), noting, "Not everything that can be done, should be done."
There's plenty of challenging material, including discussions about when life begins (he says at 14 days after conception) and about genetic engineering of food crops (he idealistically calls for multinational companies to be respectful of the rights of small farmers).
Polkinghorne's brilliant, if controversial, thoughts on faith and science make this scholarly book well worth the effort.
—C.C.
DWELLING PLACE: A Plantation Epic
Erskine Clarke
Yale, 624 pages, $35.00
In 1979, Erskine Clarke published a sympathetic study of an antebellum Southern clergyman known as "the apostle to the Negro slaves" (Wrestlin' Jacob: A Portrait of Religion in Antebellum Georgia and the Carolina Low Country). Although Charles Colcock Jones was a defender of slavery and a slave owner himself, he appeared in Clarke's narrative as a conflicted, but also sympathetic, figure. Now Clarke has returned with a much fuller account that includes not only Jones and his kin, but also the slave families who drew the water and hewed the wood at the Joneses' plantations on the Georgia coast.
The portraits of these slaves, especially from the extended family of Lizzy Jones, provide a poignant counterpoint to the chronicle of their white masters. Christian faith is central to the complicated story that Clarke has pain-stakingly pieced together. Charles Jones, his relatives, and his friends were mainstays in the socially prominent Presbyterian church. Many of the family's slaves also deeply internalized Christian faith, but in forms that whites mistrusted as corrupted by religious enthusiasm and moral antinomianism.
Clarke's last chapter describes how this thickly interwoven saga of slave and free comes to an end because of the Civil War. Dwelling Place is a deeply informative and moving book.
—M.N.
CURE FOR THE COMMON LIFE: Living in Your Sweet Spot
Max Lucado
W Publishing, 240 pages, $22.99
We're made to fill an empty spot in God's jigsaw puzzle, says bestselling author and pastor Max Lucado; we're custom-designed for a one-of-a-kind assignment.
In this slim volume, bulked up by Lucado's delightful trademark anecdotes, a comprehensive study guide, and a personal assessment questionnaire, Lucado encourages readers to look for their "sweet spot." It lies at the convergence of what we do, why we do it, and where we do it (our everyday life).
Being "sweet-spot-centered" requires that we periodically step away from our lives and reassess what we are doing. The assessment questionnaire will help readers find their "tools" or gifts. We should use these gifts, Lucado says, to serve others and glorify God.
Lucado urges readers to "spelunk these verses with me," and observes, "When you do the most what you do the best, you put a smile on God's face. What could be better than that?"
Lucado devotees should find this a satisfying read.
—C.C.
BORN AGAIN AND AGAIN: Surprising Gifts of a Fundamentalist Childhood
Jon M. Sweeney
Paraclete, 173 pages, $19.95
Wait a moment. Take a pen and cross out the word "fundamentalist" in Jon Sweeney's subtitle. In its place, write "evangelical." Now we can begin.
Born in 1967, raised in Wheaton, Illinois, and educated at Moody Bible Institute and Wheaton College, Sweeney might have been specially created to represent the changing face of American evangelicalism, evolving from the fundamentalist faith of his grandfathers—both of whom were Independent Baptist preachers—to the expansive movement whose most prominent spokesman was Billy Graham. In his growing-up years, Sweeney seems to have experienced almost every distinctive of evangelical culture, including the ritual destruction of some of his favorite cassette tapes (the Eagles) after a visiting speaker explained that they contained subliminal satanic messages. It figures that by the time he was at Wheaton College, Sweeney and some of his fellow students were checking out a church that didn't look like a church, a place called Willow Creek.
But Sweeney's evolution didn't end there, and while he still defines himself as a Christian, he has departed on many points from the teachings of his childhood. His memoir—remarkably free of bitterness—will be particularly valuable to readers who have traveled part of the way with him (in their changing attitudes toward Roman Catholicism, for instance), but who remain evangelical, as an invitation to clarify their own convictions.
—J.W.
A PROFOUND WEAKNESS: Christians and Kitsch
Betty Spackman
Piquant, 448 pages, $50
Betty Spackman is herself an artist, so, upon learning that she has turned her attention to imagery and objects that express Christian faith in the chaos called "popular culture," we might expect a diatribe against Thomas Kinkade. Alternatively, we might expect an uncritical celebration of the "popular," the kitschier the better.
What Spackman offers instead is a wonderfully fresh, honest wrestling with photos and figurines and T-shirts and all manner of stuff, in the process illuminating our apprehension of the invisible God. Of a clumsy painting, she writes, "A golden crown and what looks like a pair of shorts on the child in the stable make no literal sense. We accept them as symbols for the sake of maintaining the myth, of remembering the whole story. They are ridiculous. They are necessary." Amen.
The book is superbly produced. You could say it doesn't look like a Christian book. But it is, and what a hopeful sign.
—J.W.
Cindy Crosby is a book author and editor. Mark Noll is McManis Professor of Christian Thought at Wheaton College. John Wilson is editor of Books & Culture.
Related Elsewhere:
The Victory of Reason: How Christianity Led to Freedom, Capitalism, and Western Success is available from Amazon.com and other book retailers.
More information is available from Random House.
Stark's earlier book For the Glory of God was the subject of an Editor's Bookshelf. An excerpt and an interview with the author are available on our site.
More about Rodney Stark and his work is available from his page at Baylor University.
Exploring Reality: The Intertwining of Science and Religion is available from Amazon.com and other book retailers.
More about the book is available from Yale Press.
Christianity Today interviewed John Polkinghorne after he won the 2002 Templeton Prize for progress in religion.
Dwelling Place: A Plantation Epic is available from Amazon.com and other book retailers.
Wrestlin' Jacob : A Portrait of Religion in Antebellum Georgia and the Carolina Low Country is also available from Amazon.com and other book retailers.
More about the book is available from Yale Press.
Cure for the Common Life: Living in Your Sweet Spot is available from Christianbook.com and other book retailers.
Cindy Crosby profiled Max Lucado for Christianity Today.
More about the book, including a video clip, is available from W Publishing.
More about Max Lucado is available from his website.
Born Again and Again: Surprising Gifts of a Fundamentalist Childhood is available from Christianbook.com and other book retailers.
Books & Culture also reviewed the book.
More information is available from Paraclete Press.
A Profound Weakness: Christians and Kitsch is available from Amazon.com and other book retailers.
More information is available from Piquant Editions.
An interview with the author is available from The Verge Art Series.
For book lovers, our 2005 CT book awards are available online, along with our book awards for 2004, 2003, 2002, 2001, 2000, 1999, 1998, and 1997, as well as our Books of the Twentieth Century. For other coverage or reviews, see our Books archive and the weekly Books & Culture Corner.
Have something to add about this? See something we missed? Share your feedback here.
Our digital archives are a work in progress. Let us know if corrections need to be made.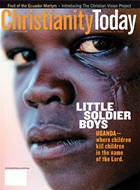 This article is from the January 2006 issue.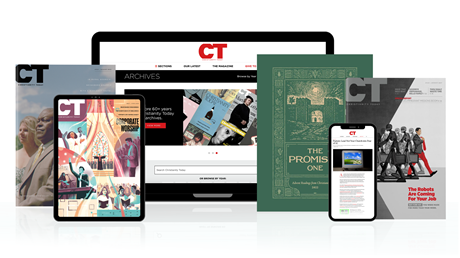 Annual & Monthly subscriptions available.
Print & Digital Issues of CT magazine
Complete access to every article on ChristianityToday.com
Unlimited access to 65+ years of CT's online archives
Member-only special issues
Subscribe
Read These Next
Trending

American Christians Should Stand with Israel under Attack

While we pray for peace, we need moral clarity about this war.

From the Magazine

I Studied Christianity with the Hope of Debunking It

A decade later, I became a Christian.

Editor's Pick

Don't Miss These African Christmas Hits

Jam out this season to highlife, Afrobeats, jazz, a cappella, R & B, rap, dance, and hip-hop artists from Nigeria, South Africa, and more.
Bookmarks
Bookmarks