Florida Supreme Court: Vouchers unconstitutionally divert public school funds
The Florida Supreme Court today ruled 5-2 that the state's Opportunity Scholarships Program (OSP) violates the Florida constitution, which requires "a uniform, efficient, safe, secure, and high quality system of free public schools that allows students to obtain a high quality education."
The program "diverts public dollars into separate private systems parallel to and in competition with the free public schools that are the sole means set out in the Constitution for the state to provide for the education of Florida's children," Chief Justice Barbara Pariente wrote for the majority . "This diversion not only reduces money available to the free schools, but also funds private schools that are not 'uniform' when compared with each other or the public system. … In sum, through the OSP the state is fostering plural, nonuniform systems of education in direct violation of the constitutional mandate for a uniform system of free public schools."
While this will have an effect on Florida's religious private schools that have participated in the statewide voucher program, the court didn't rule on whether the program violated the U.S. Constitution's ban on the establishment of religion. That claim was part of the original lawsuit against the voucher program, but the program opponents dropped it after the Supreme Court's 2002 decision supporting Cleveland's voucher system.
But opponents did continue to assert that the voucher system violated the Florida constitution's section separating church and state. "No revenue of the state or any political subdivision or agency thereof shall ever be taken from the public treasury directly or indirectly in aid of any church, sect, or religious denomination or in aid of any sectarian institution," says the state's constitution in what is known nationally as a "Blaine amendment." The Florida Supreme Court decision merely states that it "neither approve[s] nor disapprove[s]" the claim, and that it is "an issue we decline to reach."
The Institute for Justice, which argued on behalf of the voucher system, says the decision "is a serious blow to equal educational opportunity and the schoolchildren of Florida," but that the victories the group has seen nationally outweigh the blow to the movement. "Just this past year, new school choice programs were passed in Utah and Ohio, and programs in Milwaukee, Cleveland, the District of Columbia, Arizona and Pennsylvania continue to flourish," attorney Clark Neily says in a press release.
Sun-Times: Pope's first encyclical will reclaim eros love
Looks like Chicago Sun-Times religion reporter Cathleen Falsani scooped even National Catholic Reporter's John Allen on the subject of Pope Benedict XVI's first encyclical. It was widely reported that the title would be Deus, Caritas Est, ("God is Love"), but Chicago's Francis Cardinal George tells Falsani that the point will be to rescue eros love from secular connotations. Falsani reports:
Agape … is a Greek word, referring to unconditional love, the kind Catholic doctrine teaches God has for humankind. Eros was the Greek god of love, and his name has come to refer to sexual love or desire.
In the mid-1900s, Anders Nygren, a Lutheran bishop from Sweden, published a book called [Agape and Eros], in which he concluded that agape is the only truly Christian kind of love.
"In a kind of Lutheran fashion, he distinguished between agape, the love of God in us, which is good; and eros, which is our own erotic life and desire, which turns us away from God," George said. "He said that in English 'love' is ambiguous and you have to distinguish between these two. And you do.
"What the pope is going to do is to try to save eros. That is to say that our own human love, our desires, are good in themselves. … The distinction between agape and eros is not a clean one. In fact, one influences the other and therefore both should be considered good. But we are sinful creatures, so they can be misused."
George warned that he has not yet seen the encyclical, but has only "seen comments" about it, and has been asked by Pope Benedict to deliver an address about the encyclical to the pontifical council Cor Unum in a few weeks.
More articles
Prayer in the Indiana House:
Justice Sunday 3:
Minister, a Bush ally, gives church as site for Alito rally | Herbert Lusk, a maverick black minister, has offered his church to host a political rally for Supreme Court nominee Judge Samuel A. Alito Jr. (The New York Times)


Santorum to join conservative Christian rally for Alito | In a step that could shore up support from his conservative base but might carry political risks, Sen. Rick Santorum will speak Sunday at a controversial conservative Christian rally bolstering support for Supreme Court nominee Samuel Alito on the eve of the judge's confirmation hearings (Pittsburgh Post-Gazette)


ID, creationism, and Darwinism:
Education:
Life ethics:
EU challenges Vatican's draft abortion treaty | Pope proposes conscience opt-out for Slovakia (The Guardian, London)


The forgotten figures in the abortion debate | If women do have rotten experiences when having abortions, that should not be used against them, or those who come after them, especially when we do not know why (Julia Baird, The Sydney Morning Herald)


Crime:
Kirkland teens charged with church arson | Two boys have been charged with arson for allegedly tossing fireworks through a church window in Kirkland and igniting a fire that caused more than $304,000 in damage (King County Journal, Wa.)


Man charged in Mormon shootings | Investigators believe the missionaries from The Church of Jesus Christ of Latter-day Saints may have been shot because they witnessed a crime, but they released no other details (The Virginian-Pilot)


Slaying of elder not linked to hate, religion, police say | Police on Tuesday were trying to determine whether two LDS Church missionaries were shot Monday because they had witnessed another crime (Deseret Morning News, Ut.)


Prominent Baptist pastor arrested for lewdness:
Church life:
Passion 06:
Christian students 'on fire for God' at Nashville conference | These college students are not ashamed to be called sellouts. They are sold out for Christ. (Jackson Sun, Tenn.)


College Christians persevere in campus atmosphere of decadence | In Nashville, the sellout crowd of 18,000 young adults at the Passion '06 conference indicates Christians in college aren't lacking for the company of fellow believers (Associated Press)


Book of Daniel:
History:
Ancient village discovery raises questions | Discovery of an ancient village just outside Jerusalem has brought into question one of the strongest images of biblical times — the wholesale flight of Jews running for their lives after the Roman destruction of the Jewish Temple in Jerusalem in 70 A.D. (Associated Press)


A preacher's journeys over the color line | Remembering Francis Asbury (Eugene Scheel, The Washington Post)


Christmas:
Christmas comes again | For Orthodox Christians, the celebration is just beginning (Detroit Free Press)


If Christmas decorations stay, bad luck on its way! | While it may seem strange that superstitions surround a supposedly Christian festival, the customs belong to a pagan tradition that existed before Christianity (The Korea Herald)


Other stories:
Religion news in brief | Russian Orthodox Church breaks with Church of Sweden, Muslim leader urges halt in Temple Mount excavations, threats force Muslims to move youth retreat from Presbyterian camp, and other stories (Associated Press)


Top US Indian court upholds first gay marriage | The top court of the Cherokee Nation has declined to strike down a gay marriage in what is seen as a pioneering case in American Indian country, the couple and officials said on Wednesday (Reuters)


Related Elsewhere:
Suggest links and stories by sending e-mail to weblog@christianitytoday.com
See our past Weblog updates:
January 4
December 28 | 21 | 16 | 14 | 12
December 9 | 7 | 6
December 2b | 2a | November 30
November 23 | 22 | 21
November 18 | 17 | 16b | 16 | 15
Weblog
Launched in 1999, Christianity Today's Weblog was not just one of the first religion-oriented weblogs, but one of the first published by a media organization. (Hence its rather bland title.) Mostly compiled by then-online editor Ted Olsen, Weblog rounded up religion news and opinion pieces from publications around the world. As Christianity Today's website grew, it launched other blogs. Olsen took on management responsibilities, and the Weblog feature as such was mothballed. But CT's efforts to round up important news and opinion from around the web continues, especially on our Gleanings feature.
Ted Olsen is Christianity Today's executive editor. He wrote the magazine's Weblog—a collection of news and opinion articles from mainstream news sources around the world—from 1999 to 2006. In 2004, the magazine launched Weblog in Print, which looks for unexpected connections and trends in articles appearing in the mainstream press. The column was later renamed "Tidings" and ran until 2007.
Previous Weblog Columns: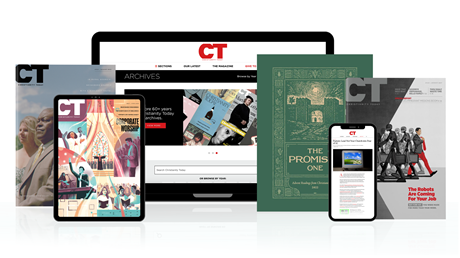 Annual & Monthly subscriptions available.
Print & Digital Issues of CT magazine
Complete access to every article on ChristianityToday.com
Unlimited access to 65+ years of CT's online archives
Member-only special issues
Subscribe
Florida Supreme Court Tosses Vouchers
Florida Supreme Court Tosses Vouchers