Times of London: Vatican to "rehabilitate" Judas's reputation
When it comes to official Vatican pronouncements, it's usually good policy to be skeptical when reading summaries in the mainstream press. When the press reports what the Vatican is going to do in the future, it's best to crank the skepticism up to maximum.
That said, The Times of London might actually be right in its report today that Judas Iscariot "is to be given a makeover by Vatican scholars … on the ground that he was not deliberately evil, but was just 'fulfilling his part in God's plan.'"
The paper suggests that the Vatican's move is related to the planned publication of the so-called Gospel of Judas—which has been caught up in some Da Vinci Code-style silliness.
"Though not written by Judas, it is said to reflect the belief among early Christians — now gaining ground in the Vatican — that in betraying Christ Judas was fulfilling a divine mission, which led to the arrest and Crucifixion of Jesus and hence to man's salvation," the Times says. Brandmüller tells the paper that the manuscript could "serve to reconstruct the events and context of Christ's teachings as they were seen by the early Christians, [including the teaching that Jesus always preached] forgiveness for one's enemies."
"In scholarly circles, it has long been unfashionable to demonize Judas and Catholics in Britain are likely to welcome Judas's rehabilitation," Richard Owen wrote.
In fact, Judas is almost always a hero in most modern depictions, or at least he's a conflicted protagonist whose betrayal was all Jesus' idea.
What the Times story really needs is a heavy dose of theology. It seems to miss the point that one can sin egregiously and still "fulfill [one's] part in God's plan." God's desire was not that Judas should betray him, but he used the betrayal to bring about the salvation of the world. It doesn't make Judas any less responsible for his action. This notion of Felix Culpa is Christian Theology 101 and as old as the New Testament.
"The Vatican may decide to be very kindly towards him," The Times says in a related editorial. "Yet, Judas is surely a 'bad chap.'" Might the Devil, too, "try to use the 'a necessary evil' clause to his advantage?" the paper asks. Might we all?
Catholic-evangelical tensions aside, Weblog is confident that the Vatican isn't going to start parading Judas around as a hero who followed Jesus better than all of those chicken disciples who wanted to see Jesus live.
Pat's out, but the Galilee project seems on
You can read the news links below about Israel breaking ties with Pat Robertson, but let us interject that some articles suggest that the whole plan to build an evangelical tourism site in Galilee has been cancelled. That doesn't seem to be the case.
Tourism Minister Abraham Hirchson (whose predecessor gushed over Robertson in 2004) has given orders for his office to "stop all contact" with every group associated with the broadcaster. Could this affect some Israeli businesses? Many Israeli businesses? The International Christian Embassy in Jerusalem? It'll be interesting to see.
Hirchson told Haaretz that the order did not apply to "all the evangelical community, God forbid."
But Ministry spokesman Ido Hartuv suggests to The Times of London that evangelicals who want to do tourism business in Israel may have to prove that they can't stand Pat. Maybe sign a disloyalty oath or something.
"The contract is still open—just not with Mr. Robertson," Hartuv said. "If there are other Christian leaders, they are most welcome to sign a contract to bring Christian tourists to the State of Israel. We want to see who in the group supports his (Robertson's) statements. Those who support the statements cannot do business with us. Those that publicly support Ariel Sharon's recovery are welcome to do business with us. We have to check this very, very carefully."
Israel should never have included Robertson in plans for the Galilee project to begin with. He has manipulated too many similar projects to his own personal financial ends. Israel tourism's breaking ties with him is healthy for Israeli politics and for the future of evangelical relations with Israel. And, by the way, no evangelical leader opposes Sharon's recovery. But is there something more behind that "very, very carefully" line? If Israel's next step will be to force the other evangelical partners into undying, unwavering support of the Israeli prime minister and all of his policies, there's going to be a problem. Evangelical groups are being asked to put up $50 million for the project.
In the meantime, Robertson has sent a fence-mending letter to Sharon's son, Omri (p.1, p. 2).
More articles
Pat Robertson:
Israel rejects Pat Robertson funding | While Hirchson pulled the plug on Robertson, the project is going ahead as planned and looking for alternative avenues of finance (The Jerusalem Post)


Israel won't do business with Robertson | Israel will not do business with Pat Robertson after the evangelical leader suggested Prime Minister Ariel Sharon's massive stroke was divine punishment for the Gaza withdrawal, a tourism official said Wednesday (Associated Press)


Big mouth Pat | Pat Robertson isn't nearly as influential as the mainstream press wishes him to be (Paul Chesser, The American Spectator)


Interfaith relations:
L.A. Cathedral disinvites Christian unity event | Pastor decides not to allow conference after realizing the role of a self-proclaimed mystic (Los Angeles Times)


Cardinal in ethnic row over 'Christian Scotland' remarks | Keith O'Brien's call to "re-Christianise" Scotland has angered Hindu and Muslim leaders (The Scotsman)


Wheaton College and Catholics:
Wheaton College prof fired for converting | Huh. Didn't we just read this pretty old story in the Wall Street Journal? Déjà vu. (Chicago Sun-Times)


Wall Street Journal response | Wheaton College does not comment publicly on specific personnel issues. But here's the College's hiring policies in general on theological identity (Wheaton College)


Tests of faith | Wheaton of Illinois faces scrutiny for firing professor who became Catholic; Oklahoma Christian U. may fire those who divorce (Inside Higher Ed)


Oklahoma Christian University divorce policy:
University backs off divorce policy | Oklahoma Christian University is backing off a policy that would have allowed the private campus to fire workers who get divorced (The Oklahoman, video)


Wednesday: Divorce can mean loss of job at university | Staff and faculty members at Oklahoma Christian University could get fired if they get divorced, according to a policy the private school plans to implement next month (The Oklahoman, video)


At Oklahoma Christian U., new policy could mean dismissal for employees who divorce | Faculty and staff members at Oklahoma Christian University who get divorced may lose their jobs after a new policy goes into effect this semester (The Chronicle of Higher Education, sub. req'd)


Higher education:
Incoming Mercer president highlights plans | Mercer University's incoming president, William D. Underwood, is dividing his time these days between Macon and Baylor University in Waco, Texas (The Macon Telegraph, Ga.)


Churches work to attract young adults | Churches are turning to pop culture, hip-hop and Hollywood to draw in teens and one of the most difficult-to-reach population segments—college students (Rocky Mountain News, Denver)


California ID class suit:
Evolution and ID:
11th Circuit: Lawyer did not mislead during evolution case argument | The 11th U.S. Circuit Court of Appeals on Wednesday cleared an Atlanta attorney of accusations that he misled the court during oral arguments over stickers in Cobb County, Ga., science books that question the validity of the theory of evolution (Fulton County Daily Report)


Survival of the evolution debate | Why Darwin is still a lightning rod (Adam Wolfson, The Weekly Standard)


Education:
Sexual ethics:
Town may make carrying condoms mandatory | A western Colombian city councilman wants to require everyone in town 14 or older to carry a condom to prevent pregnancy and disease, outraging local priests (Associated Press)


Also: Carry a condom or else, Colombian town tells men | A western Colombian town has angered the influential Catholic Church with a novel scheme to cut AIDS infections, threatening males over age 14 with fines if they fail to carry a condom (Reuters)


Bishop blames parents for rampant immorality | The rampant immorality and prostitution, especially among girls, can be blamed on mothers, the Lugazi Diocese Bishop has said (New Vision, Kampala, Uganda)


Homosexuality:
Sony Music launches gay label | Sony Music on Tuesday said it was launching the first major music label dedicated to nurturing lesbian, gay, bisexual and trans-gendered artists (Reuters)


Arrest of gay men in India fuels AIDS epidemic: UN | The arrest of four people on charges of homosexuality and running an online gay club in northern India has triggered criticism by NGOs and the United Nations' AIDS body, UNAIDS (Reuters)


Bill to provide benefits to same-sex couples, others announced | Opponents of same-sex marriage announced legislation Wednesday to provide hospital visitation and other rights to gay couples, intending to counter claims that banning same-sex marriage in Massachusetts would deny certain benefits to gays and lesbians (Associated Press)


Lawsuits:
Criminal justice:
Crime:
Man who shot Pope freed from jail | Mehmet Ali Agca served nearly 20 years in Italian jails for the attempted murder, and was then jailed in Turkey for bank robbery and another killing (BBC)


Hope for victims of church bond fraud | An Indianapolis attorney appointed to investigate a church financier accused of bilking investors of millions says some assets remain, but it will be a while before investors know how much, if anything, they will recover (Associated Press)


Old scores | Sure, there's scandal in an archaeologist's purchase of stolen fragments of the Dead Sea Scrolls. The scandal is that he was arrested (Hershel Shanks, The Chronicle of Higher Education)


Police arrest 'witchcraft' pastor | The Metropolitan police today arrested an African pastor following allegations that he had diagnosed children in London as witches and encouraged their parents to beat them. (The Guardian, London)


Abuse:
Former church youth director charged with sex crimes | A former church youth director was formally charged with eight sex-related crimes Wednesday (KXLY, Spokane, Wa.)


Church life:
Churches vs. cities:
New cell-phone tower might not have a prayer | Plan to hide it in church steeple founders (Pioneer Press, St. Paul, Minn.)


Court's ruling gives church tax break on vital parking lot | A Middletown church's victory in a tax-related court battle with Dauphin County is creating a financial boon that could enable churches and other religious facilities statewide to save millions of dollars (The Patriot-News, Harrisburg, Pa.)


State funds for Pilgrim Baptist:
State's plan to aid church is questioned | ACLU asks details on governor's pledge to help rebuild Pilgrim Baptist Church after Friday's fire (Chicago Tribune)


City to check church to see if it is sound | Mayor Richard Daley pledged his help Wednesday in rebuilding the fire-ravaged Pilgrim Baptist Church but said it will be up to city engineers to determine whether the remains of the building can be saved (Chicago Tribune)


Governor's vow an unholy mix of church, state | Our government isn't supposed to build or rebuild churches. Not even gorgeous, historically significant and culturally important churches like Pilgrim Baptist, which burned down to its walls Friday (Eric Zorn, Chicago Tribune)


Daley steers clear of church rebuilding fray | When it came time to talk turkey, the mayor made no promises (Chicago Sun-Times)


Politics:
Prayer:
Prayer lawsuit hits city | Fredericksburg City Councilman Hashmel Turner has filed suit against his fellow council members, saying that the city's new prayer policy violates his constitutional rights (The Free Lance-Star, Fredericksburg, Va.)


Also: Fredericksburg council sued by councilman | A minister member says prayer policy violates his rights (Richmond Times-Dispatch)


Protesting chaplain prays in front of White House | Navy officials said nothing had changed since the beginning of Klingenschmitt's fast (Navy Times)


Politics (non-U.S.):
Alito:
Abortion:
India abortions:
Stem cells:
Vote delayed as stem cell bill is tweaked | Efforts to pass a bill regulating embryonic stem cell research in Delaware are on hold for this week, but Rep. Deborah Hudson says she hopes to vote on a bill doing just that before the month is out (The News Journal, Wilmington, Del.)


Life ethics:
Anti-conversion efforts:
Pak Lah: There must be no confusion in religious matters | Datuk Seri Abdullah Ahmad Badawi has made it clear that matters concerning religious conversion needed to be spelt out plainly in the Federal Constitution and other laws to prevent confusion among Malaysians (The Star, Malaysia)


Groups laud Pak Lah's stand on conversion | Various quarters have welcomed the prime minister's assurance that matters related to religious conversion would be spelt out clearly to avoid confusion and dissatisfaction (The Star, Malaysia)


Christians demand precautions ahead of RSS meet | A Christian delegation Wednesday appealed to Gujarat Governor Naval Kishore Sharma to appoint a central administrator in the tribal district of the Dangs, where the Rashtriya Swayamsevak Sangh (RSS) will organise a major conclave in February (NewKerala, India)


Missions & ministry:
Heart cry of a generation as young Christians jump for Jesus | It's the opening session of the four-day Planetshakers conference and Sydney is third stop on a five-state tour billed as Australia's largest annual gathering of Christian youth (The Sydney Morning Herald)


Christian donors aid needy Russian Jews | With a $2 million donation last month, the International Fellowship of Christians and Jews ended up supplying half as much to feed elderly Russian Jews as the entire network of local Jewish charitable federations in North America (Forward, Jewish newspaper)


Faiths target crime's roots | Leaders blame rising violence on family breakdown (The Toronto Star)


Of forgiveness and friendship | Families of missionaries killed 50 years ago in Ecuador turn tragedy into tale of love, redemption (Milwaukee Journal-Sentinel)


Tsunami aid:
Business:
In a time of change, Tyson turns to faith | Food processor just one company that has hired chaplains to counsel workers (The Charlotte Observer, N.C.)


Salem adds 8th Web site, for religious job searches | Salem Communications Corp., the Camarillo company that owns more than 100 religious and conservative talk radio stations, has added an eighth Web site to its growing presence on the Internet (Ventura County Star, Ca.)


Antigay groups renew threat to Ford | They demand an end to ads, policies (Detroit Free Press)


TV:
Choice in cable channels? Debate heats up | Minorities and Christians raise concerns that individual channel pricing will end their programs (The Christian Science Monitor)


'South Park' defends 'bloody' cut | Comedy Central says religious groups are prematurely claiming victory in a battle over a recent episode of "South Park." (New York Post)


Book of Daniel:
Deaths:
Baptist ethicist, civil-rights advocate Foy Valentine dies | Valentine's leadership on social issues, including race relations, women's equality, and abortion, kept him in hot water with many Southern Baptists (Ft. Worth Star-Telegram, Tex.)


Also: Foy Valentine dies at 82 | He stirred the pot not just on race, but on church-state separation, abortion and other controversial issues (The Dallas Morning News)


Other stories of interest:
Related Elsewhere:
Weblog
Launched in 1999, Christianity Today's Weblog was not just one of the first religion-oriented weblogs, but one of the first published by a media organization. (Hence its rather bland title.) Mostly compiled by then-online editor Ted Olsen, Weblog rounded up religion news and opinion pieces from publications around the world. As Christianity Today's website grew, it launched other blogs. Olsen took on management responsibilities, and the Weblog feature as such was mothballed. But CT's efforts to round up important news and opinion from around the web continues, especially on our Gleanings feature.
Ted Olsen is Christianity Today's executive editor. He wrote the magazine's Weblog—a collection of news and opinion articles from mainstream news sources around the world—from 1999 to 2006. In 2004, the magazine launched Weblog in Print, which looks for unexpected connections and trends in articles appearing in the mainstream press. The column was later renamed "Tidings" and ran until 2007.
Previous Weblog Columns: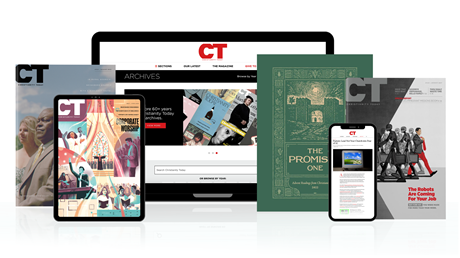 Subscribe to Christianity Today and get access to this article plus 65+ years of archives.
Home delivery of CT magazine
Complete access to articles on ChristianityToday.com
Over 120 years of magazine archives plus full access to all of CT's online archives
Subscribe Now
Good News for Judas
Good News for Judas