Ray Nagin: 'God is mad at America'
It will be interesting to see whether the statements of New Orleans Mayor Ray Nagin get the same degree of media play that Pat Robertson's statements about Ariel Sharon received. One might think that a government official's declarations on the mind of God would be more newsworthy than those of a broadcaster.
But maybe not. The Baton Rouge Advocate plays Nagin's Martin Luther King Day speech with this headline: "Nagin urges rebuilding with unity of residents: Mayor vows to bring black community back." The New Orleans Times-Picayune says, "Evoking King, Nagin calls N.O. 'chocolate' city: Speech addresses fear of losing black culture."
Both are probably reflective of local concerns. Louisianans may care more about what a rebuilt New Orleans will look like than they do whether Ray Nagin invokes God for his political purposes.
But nationally, the headlines focus on Nagin's theodicy. "Hurricanes May Be God's Punishment, Mayor Says," says the Los Angeles Times. The Associated Press goes with "New Orleans Mayor Says God Mad at U.S."
Here are the relevant parts of Nagin's speech:
Surely God is mad at America. He sent us hurricane after hurricane after hurricane, and it's destroyed and put stress on this country. … Surely he doesn't approve of us being in Iraq under false pretenses. But surely he is upset at black America also. We're not taking care of ourselves.
Equating the hurricanes with God's wrath is theologically problematic. But it's even more theologically problematic to invoke God directly in your plans to rebuild the city: "This city will be a majority African American city. It's the way God wants it to be. You can't have New Orleans no other way. It wouldn't be New Orleans."
Of course, saying God wants a place to be majority one race isn't just unChristian. It also runs directly against Martin Luther King's dream. We'll see if any op-ed pages talk about it this week.
Theology:
Preaching a gospel of wealth in a glittery market, New York | A theology called "prosperity gospel," which connects faithfulness to material riches, is establishing a foothold in New York City, where capitalism has long been religion (The New York Times)


The days of our Lord | There's no end in sight to modernity's shameful exploitations of the Son of God (Patrick Hynes, The American Spectator)


Pat Robertson:
Israel's envoy to U.S. says accepts Pat Robertson's apology | Despite the apology, an Israeli official said Israel has no plans to rescind its ban on Robertson's participation a multi-million-dollar Sea of Galilee tourism project (Haaretz, Tel Aviv)


Israel:
Christian evangelicals waving the Israeli flag | A fundraiser in Altamonte Springs is 1 of the offshoots of an unexpected alliance joined by ancient prophecy and current political realities (The Orlando Sentinel, Fla.)


Also: Hagee's coach, time in Israel were prime influences (The Orlando Sentinel)


Anti-Semitism:
Pope meets Rome rabbi, expresses worry over fresh anti-Semitism | Pope Benedict XVI, meeting with Rome's chief rabbi Monday, expressed pain and worry over fresh outbreaks of anti-Semitism, and called on Jews and Christians to wage a united battle against hate (Associated Press)


Why God chose the Jews | All bigotry is wrong, of course, but there's something about anti-Semitism that is weirdly reliable as a sign of deeper wickedness (Andrew Klavan, Los Angeles Times)


Catholicism:
Mystery of Pope's night-time visits to his old haunts | The Vatican, citadel of secrets and intrigue, has thrown up another little mystery: what has the Pope been doing on a spate of night-time missions to his old cardinal lodgings? (The Telegraph, London)


Pope's first encyclical, on love, charity, due soon | Pope Benedict's first encyclical, touching on charity and the relationship between spiritual love and erotic love, is due to be issued soon after weeks of delays because of revisions and changes. (Reuters)


Anglicanism:
Women as church leaders:
Anglicans could have woman spiritual head: report | A Church of England report paved the way on Monday for a female Archbishop of Canterbury but said that having a woman as spiritual leader of the world's Anglicans was still a long way off (Reuters)


Scant hope for women bishops | Muriel Porter, an Anglican from Melbourne who is a leading proponent of women bishops, said the Church of England's move offered no legal precedent for Australia, where the constitutional bar to women is set much higher and the matter is now tied up in church court (The Sydney Morning Herald)


Not Anglican: Church slams door on women leaders | The Gereformeerde Kerk (Reformed Church), which has 414 congregations and about 250 000 members countrywide, slightly opened the door to women in 2003 when it allowed them to serve as church deacons. But this week it was shut again (Sunday Times, Johannesburg, South Africa)


Church life:
Also: Brilliantly restored N.Y. landmark | Burned in 1998, synagogue shows what is possible (Chicago Tribune)


Kelly's dithering just makes it worse for teachers and parents | Pedophiles shouldn't be banned from attending church services (Alice Thomson, The Telegraph, London)


Government investigations into churches:
Church and state:
Cadets for Christ | Evangelization at the Air Force Academy (Amy Johnson Frykholm, Christian Century)


Secular Scotland?
Right to fly flag for Christian Scotland | We live in strange times when to be "spiritual" is good, cool, enlightened and fashionable but to be "religious" is suspicious, old-fashioned and partisan (Helen Martin, The Scotsman)


Say a prayer of thanks for secular society | It is remarkable that a Scottish cardinal can be considered controversial these days for doing nothing more scandalous than reasserting his beliefs and what — he hopes — are the beliefs of the majority (Jenny Hjul, The Times, London)


Why Scotland must find a middle way between faith and rationality | We need to fight common enemies (Lesley Riddoch, Sunday Herald, Glasgow)


Politics:
Also: Leaders, experts denounce immoral practice | Religious leaders and experts from around the country came to Princeton this weekend for a three-day conference on torture, determined to use their "moral authority" to speak out on a practice they say is always wrong (Trentonian, N.J.)


Stop cowering before politicians, says bishop | The Rt Rev Joseph Devine warned Christians against the "creeping political correctness" that was stifling religious expression (The Herald, Glasgow)


Christian right's cries of persecution baffling | It's not really about being persecuted. It's about not being in control (James Evans, The Atlanta Journal-Constitution)


Alito:
Abortion:
Life ethics:
Martin Luther King Jr.:
Martin Luther King Jr. as pastor | The role of pastor may be one of the most overlooked sides of Martin Luther King Jr. But it was one of the most important aspects of who he was (Religion & Ethics Newsweekly)


The dawn of the dream | Now on 8-disc set, King's early speeches focus more on religion than politics (San Jose Mercury News, Ca.)


The soul of a nation | Religion and politics remain a combustible mix four decades after the civil rights movement (The Tampa Tribune)


Sex and marriage:
Mohler: Bible opposes intentional childlessness | The Rev. R. Albert Mohler Jr., ever-controversial president of Kentucky's Southern Baptist Theological Seminary, has stirred debate by asserting that it's "an absolute revolt against God's design" if husbands and wives purposely avoid bearing children (Associated Press)


Pastor protests gay rights | Ken Hutcherson on Monday called for a national boycott of Microsoft, Hewlett-Packard and other companies that support a gay civil rights bill, saying the corporations have underestimated the power of religious consumers (Associated Press)


Pennsylvania lawmakers ready marriage amendment | Pennsylvania lawmakers are planning to introduce a state constitutional marriage amendment next week, while traditional-values groups in at least three other states are pushing for similar measures this year (The Washington Times)


Polygamy proposal for Chechen men | Chechnya has lost so many men to war that survivors should be legally allowed to take several wives, acting Prime Minister Ramzan Kadyrov has said (BBC)


Pastor, 100, gets married for third time | Rev. James Rual Chalk quoted from his favorite book of the Bible, Genesis 2:18 which states: "It is not good for man to be alone." (Associated Press)


Catholic church rebels over gay adoption rights | The Catholic church in Scotland is seeking exemption from controversial adoption laws that will allow children to be placed with gay couples (The Times, London)


Stephen Baldwin protests Nyack adult entertainment store | Actor stood outside 28 Route 59 last night and photographed workers and their vehicles as they readied the adult entertainment store for business (The Journal News, Nyack, N.Y.)


Let us be the church of justice and love | My Christian faith tells me to remember anyone who is disenfranchised -- and in this state, that unfortunately is lesbian, gay, bisexual and transgender people (Monica Corsaro, Seattle Post-Intelligencer)


Abuse:
Also: Archdiocese, bishop fight over abuse cases | The Roman Catholic Archdiocese of Detroit has criticized as hypocritical an auxiliary bishop's support of giving clergy abuse victims more time to sue (Associated Press)


Crime:
Christian Peacemaker Teams:
Retired Ontario dairy farmer heading to Iraq with Christian Peacemaker Teams | A 70-year-old retired dairy farmer who is preparing to leave his comfortable rural home for a humanitarian mission in Iraq even as the fate of two Canadian hostages there remains uncertain says there's a greater need now for volunteers like him than ever before (Canadian Press)


Undeterred, retired Ontario farmer heads to Iraq on peace mission | Allen Slater is heading to Iraq at age 70 as a volunteer with Christian Peacemaker Team against the advice of the Canadian government, but with the cautious support of his family in Ontario (CBC)


Waging peace | Like Dr. King, we are marching, praying and working for an end to war (Charlie Jackson, The Dallas Morning News)


Religious freedom:
Missions & ministry:
Paved (and drywalled) with good intentions | A Habitat for Humanity chapter disbands, leaving an unfinished house (The New York Times)


For homeless, a biblical refuge | Stewpot's meetings to study Scripture give street people connections, moments of peace (The Dallas Morning News)


Christian youth celebrate faith | 20th annual meeting attracts over 2,000 students, chaperones (Albany Times Union, N.Y.)


Education:
Religious ties give colleges something to think about | Today's religiously affiliated schools, looking for ways to increase enrollment and lower costs, debate how to embrace their religious heritage without alienating potential students of another or no faith (News-Record, Greensboro, N.C.)


After setback, what's next for vouchers? | A Florida court ruling that a statewide voucher system must be dismantled dealt a blow to advocates nationwide (The Christian Science Monitor)


Islamic group urges Catholic school to move to Muslim faith | The Campaign for Muslim Schools said 90 per cent of pupils at St Albert's Primary, in the Pollokshields area of Glasgow, are Muslim, yet children are having to take part in Catholic rituals like saying the Lord's Prayer and attending mass (The Scotsman)


Catholic schools wage fight for their survival | Hoping to slow a relentless decline in enrollment, school leaders are training staff, parents - even students - in door-to-door, glad-hand guerrilla marketing (St. Louis Post-Dispatch)


Evolution:
Other religions:
In no god they trust | Atheists, agnostics and secular humanists build a community of like-minded people (The Indianapolis Star)


Witnesses protection programme | Stephen Bates reports on the religious leaders who objected to a website that spread their church's teachings (The Guardian, London)


Spirituality:
Faithful questions | Some orthodoxies to the contrary, independent-mindedness is next to godliness (Daniel C. Dennett, The Chronicle of Higher Education, sub. req'd.)


Internet vastly expands black market for relics | Online auctions have included a feather from the Holy Spirit and a vial brimming with the breath of Jesus Christ (The Times-Tribune, Scranton, Pa.)


Also: Ranks of relics | A part of Christianity since the church's early days, relics are divided into three categories (The Times-Tribune, Scranton, Pa.)


Book of Daniel:
Channel 4 pulls 'Book of Daniel' | WSMV cites viewers' many complaints (The Tennessean, Nashville)


Daniel drops in week two | It its second chapter, NBC's controversial drama Book of Daniel averaged a 2.2rating/6 share in the Nielsen Fast Affiliate overnight ratings in the 18-49 demo Friday night (Broadcasting & Cable)


D.C. church's 'Daniel' blog seizes preachable moment | "The Book of Daniel," an NBC show about a pill-popping Episcopal priest who works for an adulterous bishop and must contend with a drug-dealing daughter, a boozing wife, a homosexual son and a bisexual sister-in-law, has an unexpected fan -- the Episcopal Diocese of Washington (The Washington Times)


Media:
Books:
A very good book | The University of Manitoba has learned that it owns a rare first-print copy of the King James Bible (The Chronicle of Higher Education, sub. req'd.)


When things were certain | Fond memories of fundamentalism. Roger K. Miller reviews My Fundamentalist Education by Christine Rosen (The Denver Post)


What we can learn from Mary Magdalene | Bruce Chilton takes a fresh look at a figure both revered and reviled (The Christian Science Monitor)


Other stories of interest:
Memorial celebrates faith of fallen miners | If there was a tie that connected the 12 men who died after a Jan. 2 explosion it was their faith — the same thing celebrated Sunday by nearly 2,000 people during a memorial service (Associated Press)


Norwegian priest resigns from Miss Universe panel | The Church of Norway forced a priest to resign on Friday from a panel set to judge bikini-clad women competing to be the country's Miss Universe contestant (Associated Press)


Related Elsewhere:
Suggest links and stories by sending e-mail to weblog@christianitytoday.com
See our past Weblog updates:
January 13b | 13a | 10
January 6 | 5 | 4
December 28 | 21 | 16 | 14 | 12
December 9 | 7 | 6
December 2b | 2a | November 30
November 23 | 22 | 21
Weblog
Launched in 1999, Christianity Today's Weblog was not just one of the first religion-oriented weblogs, but one of the first published by a media organization. (Hence its rather bland title.) Mostly compiled by then-online editor Ted Olsen, Weblog rounded up religion news and opinion pieces from publications around the world. As Christianity Today's website grew, it launched other blogs. Olsen took on management responsibilities, and the Weblog feature as such was mothballed. But CT's efforts to round up important news and opinion from around the web continues, especially on our Gleanings feature.
Ted Olsen is Christianity Today's executive editor. He wrote the magazine's Weblog—a collection of news and opinion articles from mainstream news sources around the world—from 1999 to 2006. In 2004, the magazine launched Weblog in Print, which looks for unexpected connections and trends in articles appearing in the mainstream press. The column was later renamed "Tidings" and ran until 2007.
Previous Weblog Columns: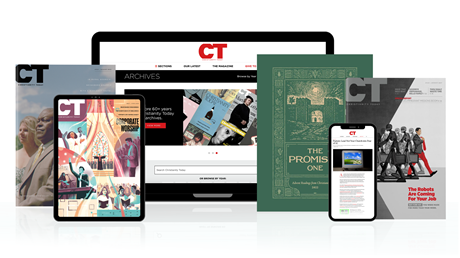 Annual & Monthly subscriptions available.
Print & Digital Issues of CT magazine
Complete access to every article on ChristianityToday.com
Unlimited access to 65+ years of CT's online archives
Member-only special issues
Subscribe
New Orleans Mayor: God Sent Hurricanes, Wants City Black
New Orleans Mayor: God Sent Hurricanes, Wants City Black