Supreme Court: Court shouldn't have thrown baby out with bathwater (pardon the metaphor)
Just because New Hampshire's parental notification law "may be applied in a manner that harms women's health" doesn't mean it's all bad and should be thrown out entirely, the U.S. Supreme Court ruled today.
The decision, written by Justice Sandra Day O'Connor, was short and unanimous. That in itself is shocking, given the justices' significant differences on abortion issues.
But the Court's ruling is significant in other ways, too. The justices unanimously agreed that "states unquestionably have the right to require parental involvement when a minor considers terminating her pregnancy, because of their 'strong and legitimate interest in the welfare of [their] young citizens, whose immaturity, inexperience, and lack of judgment may sometimes impair their ability to exercise their rights wisely.'"
They also unanimously agreed that a state may not restrict access to abortions that are "necessary, in appropriate medical judgment, for preservation of the life or health of the mother," and that "in some very small percentage of cases, pregnant minors, like adult women, need immediate abortions to avert serious and often irreversible damage to their health."
New Hampshire officials argued that the state law and other state regulations allowed for those immediate abortions. Lower courts disagreed and threw out the state's 2003 Parental Notification Prior to Abortion Act.
That's where the courts went wrong, the Supreme Court said. "Generally speaking, when confronting a constitutional flaw in a statute, we try to limit the solution to the problem," O'Connor wrote. "We prefer, for example, to enjoin only the unconstitutional applications of a statute while leaving other applications in force or to sever its problematic portions while leaving the remainder intact."
It's not surprising that the courts "chose the most blunt remedy" and tossed out the whole act, O'Connor said. After all, "we, too, have previously invalidated an abortion statute in its entirety because of the same constitutional flaw." That would be the 2000 Stenberg v. Carhart ruling against Nebraska's partial-birth abortion ban. "But the parties in Stenberg did not ask for, and we did not contemplate, relief more finely drawn," O'Connor wrote. New Hampshire did make such a request, so "the lower courts need not have invalidated the law wholesale. … Only a few applications of New Hampshire's parental notification statute would present a constitutional problem. So long as they are faithful to legislative intent, then, in this case, the lower courts can issue a declaratory judgment and an injunction prohibiting the statute's unconstitutional application." The justices sent the case back to lower courts to do so.
Pro-life reaction so far has been positive.
Family Research Council's Cathy Cleaver Ruse called the ruling "a win for the pro-life movement. New Hampshire's law will remain in effect and New Hampshire's teens will be better protected from exploitation inherent in secret abortions."
Not only that, said FRC president Tony Perkins, but the ruling "gives great momentum to other states looking to protect parental rights and safeguard the health of underage girls. It should also impart fresh momentum to passage of the Child Interstate Abortion Notification Act."
"The Court's ruling appears to be subtle," said Liberty Counsel Mathew Staver, but "the implications of the case mean that it will be far more difficult for courts to strike down abortion legislation in its entirety when a narrow ruling is permissible. Courts have frustrated legislators by striking down abortion laws when only a narrow portion of the law could have been stricken. Although the time will come when the high court will revisit its abortion precedents, the Court's decision is a major victory for future abortion legislation. Untold numbers of babies have lost their lives as a result of courts broadly striking down laws based upon rare applications to unusual circumstances. In the future, most of these laws will be allowed to operate to protect life in 99 percent of the cases, while the 1 percent of questionable applications will be stricken. I believe this case lays the foundation to chip away at Roe v. Wade."
American Center for Law and Justice chief counsel Jay Sekulow doesn't go quite that far, but says the Court "got it right" and the decision "underscores the fact that parents have a critical role to play in the health and well being of their children—especially when considering an abortion. While the ruling is very narrow in scope, the fact is that the New Hampshire parental notification law—and others like it—can survive a constitutional challenge."
A Christian Medical Association press release focused less on the decision than on the merits of the parental notification law.
The only negative note in the pro-life community so far comes from Americans United for Life. "The Court delivered a pretty package in a unanimous decision, but the mess inside is left for the future," says senior attorney Clarke Forsythe. "There is no substantive change in the law. Federal courts and state legislatures will only remain confused over what laws are allowed and what are disallowed."
Planned Parenthood welcomed the decision, too—and called for lower courts to strike down the law in its entirety.
SCOTUSBlog, a law weblog focused on the Supreme Court, is also worth reading today (as are the comments over at Volokh). "Read most broadly … the opinion could be understood as laying down a new limit on lower court judges' authority to issue sweeping decisions that nullify new abortion laws, end to end," writes SCOTUSBlog's Lyle Denniston. He continues:
It quite clearly calls for a much more discrete, refined review of the ways in which a law might be enforced validly. If, in fact, that is the way the decision is applied by lower courts in this and other cases, it could amount to a narrowing of abortion rights. That is because it would amount as a legal matter to less reliance upon an individual doctor's professional judgment in individual cases, especially when the abortion option is not considered in a truly emergency situation, but is only deemed medically advisable for a given patient.
Among the immediate follow-up questions raised by the ruling is whether the opinion will have an immediate effect on the Court's consideration of a far more controversial abortion law—the federal ban on the procedure that abortion foes refer to as "partial-birth" abortion.
More articles
More Supreme Court:
Oregon v. Gonzales (news):
Why Oregon's right-to-die victory doesn't end the debate | The court decision boosts legislation in other states, but conservatives call for a national ban (Time)


Oregon v. Gonzales (editorials):
A state's right to assisted suicide | By allowing Oregon's assisted-suicide law to stand, the U.S. Supreme Court says a person with a terminal illness may make a deeply personal decision about his or her life. We support such a law. The ruling would have been better, however, had it also helped define the constitutional limit of federal power (Editorial, The Seattle Times)


A state right to die | The U.S. Supreme Court has finally, and appropriately, repudiated former U.S. Attorney General John Ashcroft's attempt to use a federal crime-busting drug law to trample states' rights and the will of Oregon's voters (Editorial, The Seattle Post-Intelligencer)


Oregon v. Gonzales (opinion):
Ruling begins a battle | By stripping the federal government of its authority to ensure that federally controlled narcotics could not be used by licensed physicians to take the life of a patient who wants to commit suicide, the high court has made it much more difficult and complex to protect human life (Jay Sekulow, USA Today)


Nothing to die over | A narrow assisted-suicide ruling (Wesley J. Smith, National Review Online)


U.K. euthanasia:
Euthanasia: Doctors aid 3,000 deaths | First UK study provokes furore (The Guardian, London)


Doctors 'hasten one third of deaths by using pain relief' | An estimated one third — almost 192,000 — of all those who died in 2004 had their deaths hastened by doctors using pain relief (The Times, London)


Doctors 'involved in eight euthanasia deaths a day' | A report by Clive Seale, professor of sociology at Brunel University, said 1,930 deaths were as a result of a doctor ending a patient's life without the patient's consent, a practice known as "non-voluntary euthanasia" or "mercy killing" (The Telegraph, London)


Life ethics:
Cloning race is on again | Now that a South Korean scientist's work has been exposed as a fraud, U.S. institutions say they have new momentum for efforts to clone human embryos to produce stem cells, an achievement that could cure debilitating diseases (USA Today)


SJC says life support can end for alleged beating victim, 11 | The Supreme Judicial Court ruled yesterday that life-support systems for an 11-year-old Westfield girl can be removed, saying that the child, who has been in a vegetative state since an alleged beating by her adoptive mother and stepfather, should be able to ''pass away with dignity" (The Boston Globe)


Two cases put spotlight on end-of-life decisions | Haleigh Poutre's end-of-life case has been compared to the well-publicized saga involving Terri Schiavo (The Boston Globe)


Politics:
Ohio politics dispute:
Minister at center of politics debate calls clergy group 'unholy alliance' | Prominent Ohio evangelical minister Russell Johnson fired back Tuesday at critics who charge him and others with mixing religion and politics, saying they are guilty of the same sin - if sin it is (The Plain Dealer, Cleveland)


Pastors bring Blackwell to Hartville | 10-city Ohio tour stops in Stark to spread faith message with help from GOP gubernatorial hopeful (Akron Beacon Journal, Oh.)


Blackwell tells pastors to ignore complaint | Group doesn't invite other gubernatorial candidates to meeting (The Columbus Dispatch, Oh.)


Religious freedom:
Temple in upheaval over Sri Lankan First Lady's faith | Less than three weeks after Sri Lankan President Mahinda Rajapakse prayed at the Sri Krishna Temple at Guruvayoor, Kerala, the temple authorities have posed a question to the state government: Is the president's wife, Shiranthi Rajapakse, a Christian? (Rediff, India)


Christian body demands CBI inquiry into forceful conversion | The Global Council of Indian Christians (GCIC) today demanded a CBI inquiry into the forceful conversion of tribal Christians into Hinduism by the VIPs and Bajrang Dal activists here (UNI, India)


Christians are leaving the Middle East | The region where Christianity was born is rapidly losing its Christian population due to low birth rates and emigration. Some analysts warn about the negative consequences for the region (Voice of America)


Church and state:
When Big Brother sits in the pew | Passing the collection plate on a Sunday morning is standard practice in Christian churches. But if two proposed Massachusetts Senate bills currently under House scrutiny are accepted into law, passing the plate may no longer be a simple exercise (Barbara R. Pettis, The Boston Globe)


Church is a curious choice for IRS inquiry | Of the multiple efforts to intimidate free speech in America, none is more ominous than the Internal Revenue Service's demand that a Pasadena, Calif., church do penance over a 2004 election-eve sermon by its former pastor (Joel Connelly, Seattle Post-Intelligencer)


Intelligent Design:
New Orleans Mayor Ray Nagin:
Theology:
Prayer gets 'em nowhere - or does it | Does God pick sides in football? (Beaver County Times, Pa.)


A devotion to divine intervention | Trying to explain the unexplainable, Americans often look to God (The Baltimore Sun)


Catholicism:
Love should not be confused with lust, says Pope | Pope Benedict XVI's first encyclical, expected in the next few days, warns believers not to confuse love with lust or degrade it "to mere sex" (The Telegraph, London)


Also: Pope hopes encyclical will explain true love | He told pilgrims at his weekly general audience that the encyclical, called "Deus Caritas Est" (God is Love), will be published on January 25 to coincide with a week in which the Catholic Church prays for Christian unity (Reuters)


Revolt simmers at church | Race and Catholic hierarchy inflame dispute in D.C. Parish (The Washington Post)


Church life:
Dennis Newman resigns from Christ UMC after immorality charge | The senior pastor of the city's largest United Methodist Church resigned Sunday rather than face a church trial on a complaint of sexual misconduct with his current wife before they were married (The Chattanoogan, Tenn)


Letter: Bring Dennis Newman back to Christ United Methodist Church | I cannot believe the absurdity of anyone who would begin to question the faith of a man like Dennis Newman (Pam McNabb, The Chattanoogan, Tenn.)


Sex and marriage:
School: Girl asked to leave for more than same-sex kiss | "The issue here is that it was sexual immorality, not that it was a same-sex relationship," the school's attorney says. "This is a private school making a decision on how they want to run their institution. There are no grounds for a lawsuit." (The Atlanta Journal-Constitution)


A gay Easter? | Gay-rights groups make covert plans to crash the annual White House Easter egg roll (Mark D. Tooley, The Weekly Standard)


Gay marriage:
Media:
Chad Allen: Missionary man | This is a film about natives, missionaries and a friendship that develops between two men from different cultures. What do you think is the best way to market this movie to the LGBT community? (Windy City Media Group)


Golden Globe winners spark righteous anger | Christian groups led a furious campaign against Hollywood yesterday, accusing the Golden Globe Awards of promoting films with gay or "leftist" themes to serve a political agenda (The Times, London)


Bible and books:
Exhibition opens eyes to pages of Bible history | The St. Petersburg exhibit outlines the bloody political history that accompanied the Scriptures (St. Petersburg Times, Fla.)


The reason for everything | Crediting Jesus for all of western civilization. Alan Wolfe reviews The Victory of Reason by Rodney Stark (The New Republic)


Lincoln's religious quest | Why his faith won't suit either side in the culture wars (Richard Wightman Fox, Slate)


More articles of interest:
Related Elsewhere:
Suggest links and stories by sending e-mail to weblog@christianitytoday.com
See our past Weblog updates:
January 17 | 13b | 13a | 10
January 6 | 5 | 4
December 28 | 21 | 16 | 14 | 12
December 9 | 7 | 6
December 2b | 2a | November 30
November 23 | 22 | 21
Weblog
Launched in 1999, Christianity Today's Weblog was not just one of the first religion-oriented weblogs, but one of the first published by a media organization. (Hence its rather bland title.) Mostly compiled by then-online editor Ted Olsen, Weblog rounded up religion news and opinion pieces from publications around the world. As Christianity Today's website grew, it launched other blogs. Olsen took on management responsibilities, and the Weblog feature as such was mothballed. But CT's efforts to round up important news and opinion from around the web continues, especially on our Gleanings feature.
Ted Olsen is Christianity Today's executive editor. He wrote the magazine's Weblog—a collection of news and opinion articles from mainstream news sources around the world—from 1999 to 2006. In 2004, the magazine launched Weblog in Print, which looks for unexpected connections and trends in articles appearing in the mainstream press. The column was later renamed "Tidings" and ran until 2007.
Previous Weblog Columns: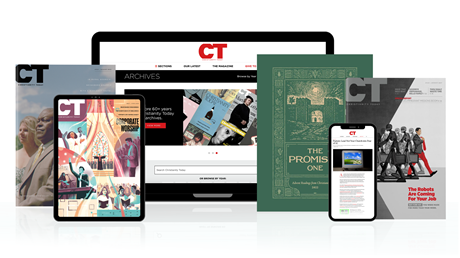 Subscribe to Christianity Today and get access to this article plus 65+ years of archives.
Home delivery of CT magazine
Complete access to articles on ChristianityToday.com
Over 120 years of magazine archives plus full access to all of CT's online archives
Subscribe Now
A Unanimous Supreme Court Decision on Abortion!?
A Unanimous Supreme Court Decision on Abortion!?