Today's Top Five
1. Multnomah Publishers is selling
PW Daily, the online newsletter from Publishers Weekly, reports from the International Christian Retail Show in Denver: "Multnomah had a huge hit five years ago with The Prayer of Jabez, which sold over 8 million copies in 2001, more than any other book that year. Multnomah made ambitious expansion plans based on those sales, but eventually took heavy returns and was forced to reduce staff and title output. Still, the company remains well positioned in the Christian market."
Now the Christian publisher is selling. Rumors reported by PW Daily say it's going to Random House (which owns WaterBrook Press) and that "the acquiring publisher will absorb Multnomah's backlist, but close down its operations." An announcement, due Friday, will clarify the rumors.
2. Sen. Grassley wants nonprofit crackdown
In what will certainly send shivers down the backs of many nonprofit leaders, Sen. Chuck Grassley says in an op-ed in today's edition of The Hill, "Nonprofit organizations must earn the privilege to keep their tax-exempt status." Complaining about excessive compensation, political activity, lack of financial transparency, and "nonprofit groups that act more like for-profit businesses than charities," he says, "Just as Congress has acted in the public interest to protect shareholders and workers from corporate mismanagement, so too must Congress demand transparency, accountability and good governance from the nonprofit sector." Well, it's not like nonprofits were untouched by The Sarbanes-Oxley Act, to which Grassley is apparently referring. But it's not like there are no problems in the nonprofit world, either. But surely Grassley must agree that some organizations—churches, for example—should be tax-exempt simply by their very nature and shouldn't have to "earn the privilege."
In Ohio, for example, a fact sheet explaining a new effort to more tightly regulate nonprofits has this language: "Faith-based organizations that are not closely controlled by churches, including many hospitals and a few nursing homes, would be required to file an annual report under the new rules. However, the rules would clarify that churches and strictly religious organizations remain exempt from registration."
3. Speaking of churches, charities, and government intervention
Word comes from Australia that the megachurch (and international praise music juggernaut) Hillsong has a charity called Hillsong Emerge that is now "the biggest non-government provider of services to unemployed people in New South Wales under a new Federal Government welfare-to-work program." Other charities have boycotted the government's welfare-to-work program, The Sydney Morning Herald reports.
4. Motto crossed
In Ohio, according to a new law signed Tuesday by the governor, if you give a school a copy of either the national motto (In God We Trust) or the state motto (With God, All Things Are Possible), the school has to post it. Apparently, the law counts even if the motto display is very, very tacky. Or very, very large. Or, one imagines, if it has offensive symbols on it. The aftermath of this law could be very, very interesting. Anyone want to sponsor a "craziest motto display" contest?
5. Texas tribe sues Abramoff, Reed
Don't miss the religious overtones of the suit filed by the Alabama-Coushatta tribe of Livingston, Texas. The tribe emphasizes its "strong Christian values," and there's clearly a feeling of betrayal that Reed allegedly portrayed the fight against expanded gambling as a Christian duty.
Reed and Abramoff "made it appear as if they were operating on behalf of religious groups, but in fact they were operating on behalf of the Louisiana-Coushatta," attorney Fred Petti tells the Associated Press. "They pitted Christian against Christian, tribe against tribe and cousin against cousin."
Quote of the day:
Graham's message wasn't just for Sunday or weddings or funerals. What he was offering was the promise of grace at any moment, including in left field under an Esskay hot-dog sign. Too frail to walk, the old man left the stage as he arrived, driven across the field on a golf cart. It's the same way they bring relief pitchers from the bullpen. He was departing after one more save.
—John Dickerson, writing in Slate about Billy Graham's Baltimore sermon.
More articles
Books | Bible | Media and entertainment | Missions & ministry | Ministry and state | Education | Church and state (U.S.) | Church and state (non-U.S.) | Politics | Crime and lawsuits | Abuse | Catholicism | Church life | Anglicanism | Homosexuality | History | Other stories of interest
Multnomah to be sold; is Random the buyer? | Multnomah Publishers, the Oregon-based evangelical Christian house, is being sold, according to president and publisher Don Jacobson. But the buzz at the International Christian Retail Show in Denver this week is all about Random House (PW Daily)


Simon & Schuster to launch new Christian imprint | "Mini-imprint," Touchstone Faith, which will publish some of the books they acquire jointly with Howard (Religion BookLine)


Change and continuity at Christy Awards | Win for This Heavy Silence was not surprising based on merit but because of its honest depiction of the character's life and some themes and language not usually associated with Christian fiction (Religion BookLine)


Seven football fields of religious retail | What's billed as the largest gathering of Christian retailers in the world started Monday at the Colorado Convention Center (KUSA, Denver)


And God said: let's have some light, mate | The first installment of Kel Richards's Aussie Bible was a runaway bestseller, selling 100,000 copies since its August 2003 release. The second installment gives the "Aussie" treatment to the Book of Genesis, Proverbs, the Gospel of John and John's first letter, translating the stories of Adam and Eve and the beginning of time using well-worn, laconic Australian vernacular (The Sydney Morning Herald)


Blogging the Bible | He's made it to Leviticus (David Plotz, Slate)


'Decoding' the Bible | The Exodus Decoded claims to present proof of the biblical account of Jacob's descent into Egypt, his son's rise to power there, his people's enslavement, and their eventual liberation under the leadership of Moses after a series of miracles (Gershom Gale, The Jerusalem Post)


Homegrown gospel | A ceremony for Willa Ward, last of the Ward Singers, was a chance to sing the praises of the pioneering Philadelphia group (The Philadelphia Inquirer)


Praise the Lord and pass the ball | The Christian origins of football are charted in the latest book of a Wirral author who is also helping to keep God in the beautiful game (The Daily Post, Liverpool, England)


Rabid rabbi | KSFO's latest right-wing shock jock is an unlikely apologist for endgame evangelicals and a player in still-unfolding political corruption scandals (San Francisco Bay Guardian)


I won't fall pray to Jews for Jesus | Jews can't accept Christ. That was decided 2,000 years ago. The Jews for Jesus effort is an invitation to betrayal dressed up as a celebration of my roots. (Lenore Skenazy, New York Daily News)


Ohio mandates displaying donated mottoes in schools | National 'In God We Trust,' state's 'With God, All Things Are Possible' must be displayed in any public school to which someone donates them (Associated Press)


Do school workers leave rights at the door? | The controversy over the ACLU lawsuit to force the principal at Bridgeport High School in Harrison County to take down a portrait of Jesus is getting national media attention (Michael Queen, Charleston Daily Mail, W.V.)


Court upholds school fees for Good News Club | Even though other groups offering after-school programs , such as the scouts and the YMCA, came within the school's fee waiver policy, the court held that the District had valid reasons for treating CEF differently, and that administrators had not applied school policy in a discriminatory manner (Religion Clause)


Court has no place in dispute between rabbis, ruling says | The civil judicial system cannot interfere with religious organizations' administrative matters, New York State appellate court rules (The New York Times)


Respecting a soldier's faith | There's no excuse for being so slow to do something basic to the American way: respect each person's right to make religious choices (Editorial, Chicago Tribune)


Barring faith | A federal judge strikes down prison ministries (Robert P. George & Gerald V. Bradley, The Weekly Standard)


Kerala Christians assured protection of minority rights | Prime Minister Manmohan Singh Wednesday is understood to have assured Kerala Christian leaders that the controversial law on professional colleges would not be included in constitution's ninth schedule as demanded by the state government (India eNews)


Evangelicals reject Dominican-Vatican pact | Representatives of the more than 1,600 evangelical churches today rallied in front of the Dominican Supreme Court (SCJ), to file an appeal as unconstitutional against the agreement between the Dominican State and the Catholic Church -known as the Concordat- and to protest against gay marriages (Dominican Today, Dominican Republic)


Mormons and Christians | Mitt Romney's success with evangelicals is the X factor in 2008 (Frank Cagle, Metro Voice, Knoxville, Tenn.)


Barack Obama's profession of faith | (Joseph Knippenberg, The American Enterprise)


Democrats need old-time religion | After years of polarized politics, the public is hungering for voices that can bring the nation together, even in matters as divisive as faith and politics. Democrats can do it, if they can bring themselves together first (Clarence Page, Chicago Tribune)


No charges said likely in Mo. drownings | But the family of one victim retained attorneys and questioned whether there was proper supervision (Associated Press)


Texas tribe names Abramoff, Reed in civil suit | A Texas Indian tribe filed a federal lawsuit Wednesday alleging ex-lobbyist Jack Abramoff, former Christian Coalition leader Ralph Reed and their associates engaged in fraud and racketeering to shut down the tribe's casino (Associated Press)


Abortion case 'not a referendum', court told | The trial of a doctor accused of killing a baby through an illegal termination is not a "referendum" on the legality or morality of abortion, a Sydney court has been told (The Sydney Morning Herald)


Pope's death cost Holy See $9m | The funeral of Pope John Paul II and election of his successor Pope Benedict XVI cost the Vatican 7m euros ($9m) last year, according to new figures. But the Vatican still made a profit of 9.7m euros ($12.4m) in 2005 - its best budgetary performance for eight years (BBC)


Vatican announces $12.4M budget surplus | The Vatican has been struggling to contain spending for years, with much of its money going for labor costs and diplomatic missions worldwide (Associated Press)


What's going on in the Anglican Communion? | Despite the headlines, the Episcopal Church crisis has nothing to do with sex and everything to do with power (Robert Bruce Mullin, Beliefnet)


After toil and trouble, 'witch' is cleared | Va. resident's quest leads to pardon for woman convicted in 1706 (The Washington Post)


Lay of the land | The cave-dwelling, hunchbacked English dwarf is one of Philly's finest (Steven Wells, Philadelphia Weekly)


Feeding the Christian craving | Pecos Monastery's School for Spiritual Directors aims to help spiritual directors and to bring together Christians from different traditions (The New Mexican)


Hidden secrets and spiritual treasures | Dateline: Medieval Macedonia (Richard Bangs Adventures, Yahoo)


Related Elsewhere:
Suggest links and stories by sending e-mail to weblog@christianitytoday.com
See our past Weblog updates:
July 12a | 10
July 7 | 6 | 5 | 3
June 29b | 29a | 28
June 23 | 22 | 21
June 16 | 15 | 14 | 13b | 13
June 9 | 8 | 7 | 6
June 2b | 2a | May 31
Weblog
Launched in 1999, Christianity Today's Weblog was not just one of the first religion-oriented weblogs, but one of the first published by a media organization. (Hence its rather bland title.) Mostly compiled by then-online editor Ted Olsen, Weblog rounded up religion news and opinion pieces from publications around the world. As Christianity Today's website grew, it launched other blogs. Olsen took on management responsibilities, and the Weblog feature as such was mothballed. But CT's efforts to round up important news and opinion from around the web continues, especially on our Gleanings feature.
Ted Olsen is Christianity Today's executive editor. He wrote the magazine's Weblog—a collection of news and opinion articles from mainstream news sources around the world—from 1999 to 2006. In 2004, the magazine launched Weblog in Print, which looks for unexpected connections and trends in articles appearing in the mainstream press. The column was later renamed "Tidings" and ran until 2007.
Previous Weblog Columns: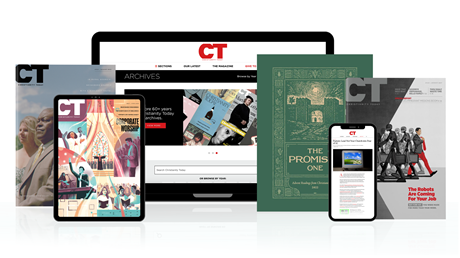 Annual & Monthly subscriptions available.
Print & Digital Issues of CT magazine
Complete access to every article on ChristianityToday.com
Unlimited access to 65+ years of CT's online archives
Member-only special issues
Subscribe
Will Random House Expand its Territory By Buying Multnomah Publishers?
Will Random House Expand its Territory By Buying ...