The crusty old codgers who run the Wimbledon tennis tournament have been criticized in recent weeks because they don't pay the women players as much as the men.
It's the only Grand Slam event that doesn't have equal pay for both genders. It's always been that way, and as far as the tradition-rich All England Club is concerned, the critics can take a hike.
Those stubborn Brits. It's outrageous what they're doing. And I think they're absolutely right.
The men and women should not be paid equally at Wimbledon. Matter of fact, I could argue that they're paying the women too much.
Don't get me wrong. I'm a big fan of women's sports (as is my "Play Ball" colleague Collin Hansen), and I even have a friend on the women's pro tennis tour.
And I'm all for equal pay for both genders—that is, as long as it's for equal work.
But it's not "equal work" at Wimbledon. The men play best 3-out-of-5 sets, and it's not unusual for their matches to last more than four hours. (One men's doubles match this year lasted six hours!) The women, meanwhile, play best 2-out-of-3 sets, and their matches rarely last more than two hours.
To me, it's that simple. Less time on the job, less pay.
Think of it this way: Suppose your place of work adopted a new policy, with a 9-to-5 workday for men and a 9-to-2 workday for women. Men work an eight-hour day, women five. But equal pay all around.
You think the guys might be a bit miffed? Me, too.
John McEnroe is also miffed—but not for the same reasons I am. Perhaps he just wants another excuse to argue with Wimbledon officials, but this summer, Mac has loudly called for equal pay for women. (Why didn't he say that back in his playing days, when the salary gap between the genders was much larger?)
Years ago at a tennis tournament, I had the "privilege" of being called an idiot by McEnroe at a post-match press conference, because he apparently didn't like a question I'd asked. Now I don't like what he's saying (though I won't go so far as to call him an idiot), because it just doesn't add up—literally.
Let me explain. Look at the specifics of this year's Wimbledon tournament, which concluded on Sunday. Men's champ Roger Federer won $1.2 million. He won seven matches and was on the court for a total of 12 hours, an average of $100,000 per hour. Women's champ Amelie Mauresmo earned $1.15 million; her seven matches lasted a total of 9.4 hours, an average of $122,240 per hour.
So Mauresmo spent 22 percent less time on the court than Federer, but her hourly wage was 22 percent higher.
Look at it another way. Federer played 202 games en route to the title, for an average of $5,941 per game. Mauresmo played 140 games for $8,214 per game. So, the women's champ played 31 percent fewer games, but earned 38 percent more per game.
Jesus once said that "the worker deserves his wages," and that's basically all I'm saying. Pay the workers for the work they've done—more pay for more time, less pay for less time. That's good business sense.
Just before this year's tournament started, American star Venus Williams said that the demand for equal pay was "not about earning more money or becoming any more well-off. It's really an equality issue. We're the premier sport for women. We would like to empower women around the world by showing that we are willing to fight for equality."
To which I say, amen. Fight for equality … by urging Wimbledon to require women to play best-3-out-of-5 sets, just like the men. And when that happens—when the women are on court as long as the men, putting as much time into the game as the guys—I'll be the first in line demanding equal pay.
But until then, the discrepancy seems fair me.
Related Elsewhere:
Earlier Play Ball columns include:
What's to Love About Women's Sports | There's no denying the pure joy and determination of female athletes. (June 29, 2006)
The NBA? Or the UN? | It's called the National Basketball Association, but it's looking quite international—thanks in great part to a Christian GM for the Dallas Mavs. (June 22, 2006)
Onward Christian Shortstops | The Colorado Rockies make a noble—if problematic—plan for winning. (June 1, 2006)
Incomplete Sentences | Many pro athletes convicted of a crime are sentenced to a lame excuse for "community service." It's time for the legal system to show a little backbone. (May 11, 2006)
Bowling Alone No More | A stealth revolution in attitude may be brewing. (May 4, 2006)
Sports as Soap Opera | Sportswriters seem to have forgotten their godly calling. By Mark Galli (April 27,2006)
'You Trying to Say Jesus Christ Can't Hit a Curveball?' | Fans vent their frustration on struggling slugger who professes religious devotion. By Collin Hansen (Apr., 20, 2006)
Un Problema Grande, No? | What major league baseball reveals about the dangers of immigration. By Mark Galli (Apr. 13, 2006)
WWJWD? | In the wake of UCLA's loss in Monday's NCAA championship game, I couldn't help but wonder: What would John Wooden do? By Mark Moring (April 6, 2006)
There IS Crying in Basketball | If only we all had something so precious to weep about. By Collin Hansen (March 30, 2006)
Play Ball
From 2005 to 2007, "Play Ball" examined the relationship of sports and faith: sports is important precisely because it is a form of play, that is, a manifestation of the Sabbath. Contributors included Mark Galli, Collin Hansen, Mark Moring, and others.
Previous Play Ball Columns: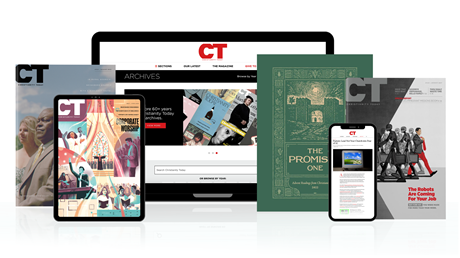 Annual & Monthly subscriptions available.
Print & Digital Issues of CT magazine
Complete access to every article on ChristianityToday.com
Unlimited access to 65+ years of CT's online archives
Member-only special issues
Subscribe
Equal Pay for Women?
Equal Pay for Women?