Who turned on the religion news fire hose? It's not Easter or Christmas—in fact, it's summer vacation season—but we're seeing religion news coverage on an almost unmanageable scale. We'd like to blame war in the Middle East or "social policy" votes in Congress, but the reality is that coverage is remarkably broad: hence our 59 categories below. The breadth makes it hard, but we'll still try to narrow it down to …
Today's Top Five
1. Beyond the headlines in the Lebanon-Israel War
Woe to the religion reporter—or just the bewildered churchgoer—looking for "Christian reaction" to the Israel-Lebanon conflict. Since Lebanon has the Middle East's largest population of Christians, you might think there'd be a trove of possibilities. But mainstream news coverage so far has been minimal, and the items from outside the mainstream media aren't terribly helpful. Respectable organizations on both the Left and the Right are offering little analysis or answers, instead just begging and hoping for "all sides" to cool off. Among the statements: Middle East Council of Churches, World Council of Churches, Pope Benedict XVI.
No statement yet from groups like the World Evangelical Alliance, the National Association of Evangelicals, the U.K. Evangelical Alliance, Evangelicals for Middle East Understanding, or other such umbrella bodies.
Evangelical umbrella bodies might be silent, but specific groups and personalities are quite sure they know the cause and solution of the Middle East's problems. One theme: Israel's only fault is that it didn't strike harder and earlier. A (thankfully) less common theme: Blame the gays (The news said Lebanese, dude, not lesbian).
There's an interesting statement circulating from Orthodox, Roman Catholic, and Protestant church leaders in Jerusalem, but there seems to be some important variations. One version begins, "The Israeli violence and aggression of this present moment is without proportion or justification." Another version drops the word "Israeli."
Mainstream media coverage of the Christian angle in the conflict focuses (with good cause) on the Maronite church. Yesterday, U.S. Secretary of State Condoleezza Rice met with Nasrallah Sfeir, the Maronite Patriarch of Lebanon, telling him "the international community has to help you."
What does the patriarch want help with? Enforcing UN Security Council Resolution 1559 which called for Syria to withdraw its forces and involvement in Lebanon, and for "the disbanding and disarmament of all Lebanese and non-Lebanese militias" (i.e. Hezbollah). At his meeting with Rice, Patriarch Sfeir seemed—as many of us do—at a loss for a solution.
The world says the Resolution 1559 will it be applied. But it is not up to the Lebanese Government to apply it. It is so weak to do so. There is another way to apply this, but I do not know how. But our interest is that all the citizens will be equal (inaudible). When some are having arms and the others have not there is no equality and I've said this a long time that -- how to apply this I don't know. [Through a dialogue] perhaps, some other -- some pressure to …
Sfeir, coincidentally, has been on a long-planned, month-long tour of the U.S. since July 2. As for Christians still in Lebanon, there have been a few meager scraps of information. The Swiss media reports that foreigners are flocking to Christian churches to await evacuation. The hawkish Israeli site Debka.com—sometimes way ahead of mainstream news reports, sometimes way off in its facts—reports that rockets are being launched from Christian villages due to "Israel's reluctance to attack Christian targets. … [Hezbollah] is using Lebanese Christians as human shields for its attacks and their towns and villages as supply centers to pump ordnance to the launch teams in forward positions."
One of the few news articles to quote Lebanese Christians was Monday's front-page Washington Post story, which ended with a discussion among three young Lebanese Christians:
"If I'm supposed to respect [Hezbollah leader Hasan] Nasrallah, he should respect me. If he respects us, I respect him," said Fadi Geagea, a 21-year-old student, smoking a cigarette. "To be honest, he's not respecting us." …
Geagea and his friends say they know what [Lebanon] is now becoming: a Shiite fiefdom of Hezbollah. And to stop Hezbollah, to take away its weapons, to diminish its influence, they were willing to see Israel attack their country.
"If we don't have weapons, then no one should have weapons. If Hezbollah keeps its weapons, then why shouldn't we have them?" asked 21-year-old Joseph Muhanna. His friends nodded.
"They need to either surrender their weapons or have their heads cracked," said 18-year-old George Khouri.
They argued about various Christian leaders. One slapped the other, more in play than anger. They differed on whether Nasrallah should be killed. But they agreed about Lebanon's identity and what the future would hold.
"Islam is controlling us, and we've known that for a long time," said Khouri, wearing a cross crafted as an emblem of a Christian party. "Lebanon is a Christian country. We're steadfast, and one day we'll be in charge of Lebanon again."
"God will be good to us ahead," Muhanna said.
God will surely be good. Whether he will be good in precisely the way that Muhanna and Khouri expect him to—or in the way that many premillennial dispensationalist Christians expect him to, etc. God will work good in his own way. In the meantime, Venture International head Len Rodgers suggests a few action steps for concerned Christians:
1. We need to pray and encourage the followers of Jesus in Lebanon, Syria, Israel, and Palestine; the lands where the church had its start.
2. We need to pray for humility and wisdom for the leaders—may they make peace their priority.
3. We must respond in practical ways to help the injured, the refugees, and those struggling with anger, discouragement, and depression. This is what Jesus would do.
2. Malawi church attacked
Malawi is no hotbed of persecution. Between 70 and 80 percent of the country is Christian, and about one of every four Malawians are Roman Catholics. There has been a touch of Christian-Muslim tension in recent years, but not as much as in nearby countries. So the nation  is mystified about what happened Sunday, when someone set off a gas bomb at a Catholic Mass in the capital, Lilongwe. About 800 people were at the service—about two dozen were injured. The suspect—whom some reports say was dressed as a choir member—escaped during the exit stampede and is still at large.
3. IRS "stepping up efforts" on enforcement of church politics ban
The Los Angeles Times reports that 15,000 tax-exempt organizations, churches, and tax preparers are getting a memo from the IRS reminding them of the Political Activity Compliance Initiative, which was announced earlier this year. It's the same rules (too vague, say critics) for churches, but new rules for the IRS. For example, it will no longer wait until it gets a tax return or until the end of the tax year to investigate allegations of wrongful campaigning. "The rule against political campaign intervention by charities and churches is long established,"Â  IRS Commissioner Mark W. Everson said. "We are stepping up our efforts to enforce it."
4. Religio-political smear of the year
Scott MacLean won a Republican convention delegate vote to be the candidate for Connecticut's first Congressional district. But Miriam Masullo is seeking a primary election, and she has a unique cornerstone campaign issue: MacLean is an ordained (though retired) minister in the United Church of Christ. (He's also a newscast director at Hartford's CBS affiliate). It's not a church-state separation complaint. In an open letter, she complained, "The political arm of the UCC is actively waging a fight against Republican values and principles through a well-organized quest to undermine the support that Republican candidates get from what we think of as the Christian Right." She also says the UCC promotes "economic sanctions against an ally of the United States in the war on terror," and supports "immoral justification of suicide bombings."
MacLean defended his church (which he says Masullo mischaracterizes) and his affiliation. "While I don't agree with everything that comes out of the national setting of the UCC, I don't agree with everything my wife says either and I have no intention of divorcing either one," he said.
No media reports seen by Weblog name Masullo's religious affiliation.
5. Are conservative Christian schools worst?
An Education Department report says public school students "performed as well or better in reading and mathematics than comparable children in private schools," The New York Times reports. "Additionally, it found that students in conservative Christian schools lagged significantly behind their counterparts in public schools on eighth-grade math. … The report separated private schools by type and found that among private school students, those in Lutheran schools performed best, while those in conservative Christian schools did worst."
What conservative Christians schools? asks Ken Smitherman, president of the Association of Christian Schools International (ASCI). The complex hierarchical linear modeling strategy, he notes, "created a computerized model student in a conservative Christian school that in reality does not exist. It is purely hypothetical."
Were these "conservative Christian schools" the kind of schools that join ASCI, or the kind of insular church-run school that doesn't play well with others? And if you're a conservative Lutheran school, then where do you fit? The study won't say. "For several years ACSI has been working to persuade NCES to give the Association of Christian Schools International its own category, as it does the Lutheran and Catholic schools," Smitherman complains. "With the current categorization we are unable to find out even how many schools tested are ACSI, members or even which ACSI member schools participated in the testing. NAEP [National Assessment of Educational Progress] does not report individual school test results back to the schools, so it is an extremely difficult position to speak to."
The methodology is problematic too, notes Times columnist John Tierney. "The best way to compare schools is not to simply look at test scores one year, because it's impossible to account for the students' intrinsic advantages and disadvantages, and their varying motivations for choosing one type of school over another. Researchers can try to control for factors like family income and ethnicity or race, but these are crude measures."
Joe McTighe, Executive Director for the Council for American Private Education, puts it this way: "Sacramento is one of the sunniest cities in America; Seattle is one of the cloudiest. But let's overlook that fact for now and instead compare the weather in both cities by neutralizing any advantages Sacramento might have. We'll discount all those extra sunny days, disregard above-average temperatures, and ignore the below-average rainfall. Not surprisingly, our filtered comparison yields a suspicious finding: that Sacramento's weather is just as bad as Seattle's."
NAEP's studies consistently show that "All categories of Christian schools reported reflect higher average scores than the public schools," Smitherman notes. But there's ample room for improvement, he says. "The results reported for conservative Christian schools are the lowest of the private school sector. This has been stressed to our membership for the past several years." Whether that membership is actually dragging down  the numbers is impossible to tell. Sometimes when someone complains that they can't do the math, it's because the numbers aren't there.
Quote of the day
"If I were forced to choose between a pro-life Jew who would protect babies and a Southern Baptist who pledged to lower taxes but who was pro-abortion, I would vote for the Jew."
—Richard Land, president of the SBC's Ethics and Religious Liberty Commission.
The next top five
It's a pretty full list below, so here are another five highlights:
6. Pregnancy centers lie, says Democrat's report
7. The College that arsonists attended gives burned churches $368,000
8. Creationist Kent "Dr. Dino" Hovind says tax fraud charges don't count because "everything he owns belongs to God" and the U.S. has no jurisdiction in the matter.
9. "Thank you, Jesus" exclamation gets man contempt of court citation and short jail stint
10. Report criticizes overgenerous, self-aggrandizing tsunami aid
Oh, and one more thing: We haven't grabbed Wednesday's stories yet. The articles below ran in media outlets sometime between Friday night and Tuesday evening. We know Ralph Reed lost, the stem cell vote succeeded, the marriage amendment vote failed, and that we're back to debating "under God" in the Pledge. But you knew that too, right? So you'll be okay sifting through these articles for another few hours before we get to the rest of Wednesday's news.
War in Lebanon | War & terrorism | North Korea | Sudan | India | China | Malawi church bombed | Philippines
Politics | Democrats and the Religious Left | Candidates | Ralph Reed | Environmentalism | Stem cell fight (news) | Stem cell fight (opinion) | Pregnancy centers | Abortion | Mississippi abortion fight | South Dakota's abortion ban | Life ethics | Conscience and healthcare | New IRS program on church politicking | Church & state | Church building fights | War on Christmas in July? | Education | Evolution
Sexual ethics | Homosexuality and politics | Focus on the Family | Homosexuality and religion | Anglican woes | Anglican woes not about sex
Church life | Church meetings | Church vehicles | Catholics and ecumenism | Priest shortage and church closings | Vandalism | Crime | Abuse | Jamaica sex abuse scandal | Pastor axed for kissing student | Archbishop Emmanuel Milingo | People | Deaths
Spirituality | Missions & ministry | Youth rally in Ottawa | Gas ministry | Money & business | Gambling | Film, theater, and TV | Sports | Music | Books | History | Travel | Islam | Other stories of interest
Pastor Warren's visit to N. Korea delayed | Statement says O.C. pastor may reschedule the meeting with government, church (The Orange County Register, Ca.)


Franklin Graham on North Korea | "I'm not breaking the ranks with the president. I'm encouraging the president to change his strategy just a little bit." (Religion & Ethics Newsweekly, PBS)


Ex-Sudanese rebel left a legacy of what-ifs | A year after a new southern government won autonomy for the region, little has changed, residents say (Los Angeles Times)


Fresh warnings of Darfur disaster | Aid agencies and the EU have warned Darfur is teetering on the brink of catastrophe and have called for urgent efforts to bolster the peace process (BBC)


The fugitive's tale | Hashim Adam Mersal, who has witnessed the genocide in Darfur, has come to America to tell his story (Nicholas D. Kristof, The New York Times)


Three held for propagating foreign religion | Three persons distributing books on Christianity were prevented from doing so at Mc Gann Hospital on Monday by Hindu Sene activists (NewIndPress.com, India)


Memorable mission | The tercentenary of Tranquebar Lutheran Mission is celebrated in Chennai (Frontline,  India)


China: Strength from their faith | More civic activists are becoming Christian and finding support for their causes in the Bible (Newsweek International)


Jesus in China | A California priest is helping replace stained-glass windows at a Shanghai cathedral smashed during the Cultural Revolution. They abound with Chinese imagery (Adam Minter, Los Angeles Times)


Freed in Beijing | It is perhaps encouraging that Beijing's authoritarian rulers apparently were embarrassed enough by the Journal exposé to release Mr. Wu. But his detention is also an important reminder of the repression that remains the norm -- for the millions of Christians who worship secretly outside government-sanctioned churches and for those, like Mr. Wu, who attempt to tell the truth about life in modern China (Editorial, The Wall Street Journal)


Malawi church petrol-bomb attack | Police in Malawi are investigating a petrol-bomb attack at a church service in the capital, Lilongwe, which injured some 20 people, two of them seriously (BBC)


Church in Malawi petrol-bombed during mass | More than 800 people were in the church at the time of the incident (SAPA)


Informant affirms CEO racket vs. SDA Church | Information regarding the illegal money-making activities of unscrupulous employees at the City Engineer's Office continue to pour in although the ad hoc committee headed by City Councilor Perla Zulueta already ended its investigation (The News Today, Iloilo City, Philippines)


'Bribe for bishops despicable'—rebels | Communist rebels weighed in with their own opinion on reports that Malacañang allegedly offered gifts of money and other goodies to Catholic bishops for them to back away from supporting current impeachment efforts against President Gloria Macapagal-Arroyo (The Philippine Inquirer)


Post-CBCP plenary dinner was private—Palace | Several members of the Catholic Bishops Conference of the Philippines (CBCP) were indeed treated to dinner the evening of July 9, after their plenary assembly, but not by Palace officials as news reports alleged, Presidential Chief of Staff Michael Defensor said on Monday (The Philippine Inquirer)


Howling wilderness | It is time, again, to update Euripides. Those whom the gods wish to destroy, they first smear with rumors. In the case of the Catholic Bishops' Conference of the Philippines (CBCP), the gods' method of choice was simple and familiar enough: the old envelope trick (Editorial, The Philippine Inquirer)


Church movements | The Church has figured in the news lately for two reasons; one, its supposed stance against the impeachment complaint in light of reports that the Palace supposedly wined and dined some of its bishops and second, the condemnation of a ranking Church official of the continued unsolved killings of peasant leaders and media practitioners (Editorial, Sun Star, Philippines)


Democrats and the Religious Left:
Link to disgraced lobbyist taints race | Ralph Reed, who galvanized evangelical Christians into a political force, is struggling in a low-profile Georgia race (The New York Times)


Reed hopes voters keep faith, forget Abramoff | His foe in Georgia's GOP primary criticizes the PR work he did for his lobbyist friend (Los Angeles Times)


Ralph Reed runs for president, er, lt. governor | With all the flack he's taking, the politically-savvy Reed would have backed out of this race if he was just running for the not-particularly-exciting office of lieutenant governor. He would not have risked the defeat that polls suggest could be handed him by Cagle (John Nichols, The Nation)


Climate change and the church | Evangelicals among those who see stewardship of Earth as God's mandate (Des Moines Register, Ia.)


Having faith in Earth is the real deal | More environmentalists with a religious bent are taking up roles in organisations that lobby on subjects such as climate change and fuel economy -- issues they see as critical to being good stewards of the Earth (Herald Sun, Australia)


Standing up for stem cell research | The Senate should pass a bill that would greatly expand the number of embryonic stem cell lines that can be used in federally financed medical research (Editorial, The New York Times)


Science, not politics, for stem cells | Senate has a chance to right the right's wrong (Editorial, Los Angeles Times)


Democrats say pregnancy centers lie about abortion:
Pregnancy centers found to give false information on abortion | Federally funded "pregnancy resource centers" are incorrectly telling women that abortion results in an increased risk of breast cancer, infertility and deep psychological trauma, a minority congressional report charged yesterday. (The Washington Post)


Report: Women misled on abortion risks | Women who consult with pregnancy resource centers often get misleading information about the health risks associated with having an abortion, according to a report issued Monday by Democrats on the House Government Reform Committee (Associated Press)


Pregnancy centers mislead girls: congressman | Advisers working at some federally funded pregnancy resource centers mislead pregnant teens about the risks of abortion, falsely telling callers it raises the risk of breast cancer, infertility and mental illness, a U.S. congressman said on Monday (Reuters)


Divided on abortion | Day 3 sees more arrests, vandalism, false report (The Clarion-Ledger, Jackson, Miss.)


Closed doors greet abortion protestors | Closed doors at Jackson Women's Health Organization met Operation Save America protestors this morning as their campaign to shut down Mississippi's last abortion clinic entered its fourth of eight planned days (The Clarion-Ledger, Jackson, Miss.)


Pastors plot courses on HB1215 | South Dakotans will take their religious beliefs about abortion into the voting booth with them in November, but area pastors are divided about how they will approach the upcoming referendum on HB1215 in their pulpits (Rapid City Journal, S.D.)


Official promotes pro-life position from pulpit | The Republican leader in the South Dakota House of Representatives will be among the singers and speakers at a Proclaiming Life and Liberty rally sponsored by several churches July 23 in Newell (Rapid City Journal, S.D.)


HB1215 proponents rally supporters in five-city tour | Abortion opponents came to Rapid City Friday for their last stop in a five-city tour to honor their supporters in the state Legislature, find campaign recruits and raise money to uphold HB1215 in a statewide vote in November (Rapid City Journal, S.D.)


Judge rules Irish man didn't okay embryo use | A judge ruled Tuesday that a Dublin man has never given his consent for his estranged wife to use the couple's frozen embryos, a verdict that opens up a wider legal battle over whether fertilized human eggs should enjoy a constitutionally protected right to life (Associated Press)


Infant mortality | Churches and doctors at faith-based health centers are involved in trying to reverse the rising death rate among babies born in the U.S. (Religion & Ethics Newsweekly, PBS)


The hoodie needs a daddy, not a hug | It's official: families don't need fathers. Last week the government declared that fertility clinics should no longer be obliged to consider the child's need for a father when providing women with sperm for IVF (Jill Kirby, The Times, London)


A medical crisis of conscience | Faith drives some to refuse patients medication or care (The Washington Post)


Seeking care, and refused | Sometimes religious health care providers proselytize gay or unmarried patients but do provide care. Sometimes they refuse to fill prescriptions for birth control or morning-after pills but refer patients elsewhere. Other times they refuse to treat them at all (The Washington Post)


For some, there is no choice | Many religious health workers find no conflict between their beliefs and their jobs. But others describe what amounts to a sense of siege, with the secular world increasingly demanding they capitulate to doing procedures, prescribing pills or performing tasks that they find morally reprehensible (The Washington Post)


New IRS program on church politicking:
IRS warns churches to stay neutral on politics | Opponents of the policy say that by threatening groups' tax-exempt status, the government is interfering with their 1st Amendment rights (Los Angeles Times)


IRS warns churches to avoid campaigning | In notices to more than 15,000 tax-exempt organizations, numerous church denominations and tax preparers, the agency has detailed its new enforcement program, called the Political Activity Compliance Initiative (Associated Press)


City likely to stay the course on decorations | The city's holiday display probably won't include religious symbols - or a menorah. At a study session Tuesday night, most City Council members seemed to back a policy to maintain current city practice, which means Christmas trees, wreaths and white lights on city property from Thanksgiving to January (Coloradoan, Ft. Collins)


Holiday display decision really no decision | City Council should revisit issue to allow for public conversation (Editorial, Coloradoan, Ft. Collins)


City holiday display is a symbol of exclusion | "My only concern is that we don't get ourselves into a lawsuit." That statement was made by Fort Collins City Council member Diggs Brown after City Council decided not to change its practice of displaying only Christmas trees during the holidays. (Karen Schwartz, Coloradoan, Ft. Collins)


Long-delayed education study casts doubt on value of vouchers | The report separated private schools by type and found that among private school students, those in Lutheran schools performed best, while those in conservative Christian schools did worst (The New York Times)


Teaching of evolution target of petition | Former professor wants teachings on the ballot (The Northwestern, Oshkosh, Wi., link via Religion Clause)


Magazine promotes, explores creationism | Answers, a magazine launched this summer by the Answers in Genesis, looks at camels, the star of Bethlehem, whether leaves die and global warming (The Cincinnati Enquirer)


Religion is not a primary need | How can such behavior be viewed as an evolved, qualified "tool" for the long-term survival of any species, and in this particular case, ours? (John F. McBride, The Seattle Post-Intelligencer)


When man mated monkey | Icky as it sounds, we mingled across species in the past, which could help us win evolution wars in the future (David P. Barash, Los Angeles Times)


Bishops rebel as cardinal defends aide over 'affairs' | Some of Britain's leading Roman Catholic bishops have mounted a protest against their cardinal over his refusal to sack an aide accused of having a series of affairs, one of which led to his girlfriend having an abortion in direct contravention of the church's teaching (The Times, London)


Dutch court okays 'pedophile' political party | A Dutch court refused Monday to ban a political party whose main goal is to lower the age of sexual consent from 16 to 12. The judge said it was the voters' right to judge the appeal of political parties (Associated Press)


Playing the sex card | Ads for new apartments are getting racier, but opinions differ on whether they are welcome diversions or expose a lack of creativity (The New York Times)


Focus on the Family to counter ads on gay rights | Focus on the Family also defended itself against charges that it distorts research on homosexuality and fosters discrimination against gays (Rocky Mountain News, Denver)


Gay rights group: Dobson manipulated data | Members of Soulforce accused Focus on the Family founder James Dobson of manipulating research data to say gays and lesbians are not good parents, and began a 65-mile march Monday to confront him at his Colorado Springs headquarters (Associated Press)


Marching and praying for Dobson's soul | I plan to be there, to witness a courageous act: Hundreds of gays and lesbians praying for a man whose powerful organization lobbies for anti-gay legislation and spews damaging mistruths about gay people (Cindy Rodríguez, The Denver Post)


Church: gay law 'is threat to freedom' | Leaders of the Catholic church in Scotland have branded new legislation banning denominational schools from teaching that homosexuality is a sin "totalitarian", claiming it amounts to "thought control" (The Times, London)


Married, but certainly not to tradition | Put "Catholic" and "gay wedding" together, and you get an extravaganza of rituals (The New York Times)


Uniting Church schism widens | Rebel conservative ministers refuse to attend a meeting this week with the church's hierarchy (AAP, Australia)


New doctrine may lead to empty pews | The leadership of the Episcopal Church in America may have trouble deciding what they believe, but here in Bakersfield the local diocese isn't afraid to call sin a sin (Marylee Shrider, The Bakersfield Californian)


Church fury over historic mistakes on 'English kirk' | The leader of Scotland's 43,000 Episcopalians has claimed that his church has been "written out" of Scottish history and hit out at the caricature of his church as the "English Kirk" (The Scotsman)


Anglican Church under fire over 'harshness' | The Anglican Church in Melbourne has a harsh corporate culture that is wearing people out, one of the city's four bishops has said (The Age, Melbourne, Australia)


Baptist Convention to begin today | Hurricanes and family will be some of the pressing issues the Louisiana Baptist State Convention will consider during their annual meeting this week in Shreveport (The Shreveport Times, La.)


Meeting of Greek Orthodox starts | Members to worship, talk about key issues (The Tennessean, Nashville)


What's in a name? | The PCUSA's document is sound, and the committee that drafted it is to be commended—especially if it serves to generate new discussion and contemplation of the triune God of Christian confession (Editorial, The Christian Century)


12 injured, 10 released in church van accident on I-29 | A blow out caused the van to travel off the roadway. The van then struck a sign and overturned, coming to rest on its wheels (KQTV. St. Joseph, Mo.)


Church's bus fleet overdue for inspection | Kids fell ill on vehicle that may have never been okayed (The Courier-Journal, Louisville, Ky.)


Methodists to join Declaration on Justification | Expected to agree to 1999 consensus reached with Lutherans (Zenit)


Cardinal Kasper heads seminar on Pentecostal challenge | Cardinal Walter Kasper, the president of the Pontifical Council for Christian Unity, is presiding this week at a seminar in Seoul, South Korea, on the challenges posed by the rise of Pentecostalism (Catholic World News)


Card. Kasper in Seoul for ecumenism meeting with Asian bishops | The cardinal will be present at a celebration during which the World Methodist Conference will adhere to the Joint Declaration on Justification, agreed between the Catholic Church and the Lutheran World Federation in 1999 (AsiaNews.it, Catholic news service)


Priest shortage and church closings:
Downsizing and the Catholic Church | Decisions should not be left to the government (Richard W. Garnett, USA Today)


Vandals strike Logan museum's crosses | Only four of the 19 crosses that overlook a hill on U.S. Highway 30 near Logan were left standing after vandals paid an unsolicited visit to the Museum of Religious Artifacts this week (The Daily Nonpareil, Council Bluffs, Ia.)


Two local churches hurt by vicious vandal attacks | Church members put their own signs over the vandalism (The Vindicator, Youngstown, Oh.)


Study shows savvy seniors more likely to be conned | One con artist, knowing his victims were often religious, would spend the first 15 minutes of a call praying with his victim (USA Today)


Anti-Christian violence erupts in Mississippi | The Unitarian Universalist Church and St. James Episcopal Church were both scenes of terror for church attendees yesterday. As folk filed into the church, a group of masked anarchists sprang up from nowhere like threatening storm clouds out of the blue. Group members threatened to murder the Christians--all for trying to make their way inside to attend services (Judi McLeod, Canada Free Press)


Christian school worker charged with sex crime | The athletic coordinator at Mission Viejo Christian School was charged Monday with molesting a 14-year-old girl and sexually annoying two others, authorities said (Los Angeles Times)


Justice is put on hold | The one-year anniversary of a shocking grand jury report on sexual abuse of children in the Roman Catholic Archdiocese of Philadelphia will soon come and go - without any legislative remedies from Harrisburg (Editorial, Centre Daily Times, State College, Pa.)


Pastor axed for kissing student:
You must remember this, a kiss is just a kiss | Arguably, the complexity of kissing strangers has never been greater (The Telegraph, London)


Zambian archbishop breaks with Rome | Wants to help reconcile married priests with the Catholic church, he says (National Catholic Reporter)


Could the real Bishop Milingo rise up? | He has never ceased to cause ripples and occasional waves since his ordination as a priest in 1958 in the parish of Chipata, in Zambia (Chris Oyuga, Kenya Times)


Preacher Paula | Paula White has gone from a self-proclaimed "messed up Mississippi girl" to the immaculately dressed and French-manicured host of a Christian television show aired throughout the world (Northeast Mississippi Daily Journal)


Pastor lives his lesson on priorities | You might think that a pastor who tells his congregation -- in writing -- that his responsibility to the church is No. 3 on his priority list might get called into an emergency meeting with the deacons. Well, then, you haven't met the Rev. Bobby Morrow, who has turned a family challenge into a living, breathing sermon (Ken Garfield, The Charlotte Observer, N.C.)


Is this woman the living 'Code'? | Meet Kathleen McGowan, novelist and self-proclaimed descendant of a union between Jesus and Mary Magdalene. McGowan, who says she is from the "sacred bloodline" Brown made famous in his mega-selling novel, says she's ready to cope with people who think she's crazy or a heretic (USA Today)


Ted W. Engstrom, ex-president of World Vision International, dies at 90 (Los Angeles Times)


Did Everest climber Sharp have to die? | A Good Samaritan story, but without the happy ending (Associated Press)


St Ken of Enron leads Bush's new Christianity | Few expected that Lay would be described not just as a flawed but loved family man, but as the emblem of Christian sacrifice — an icon of fundamentalist victimology, almost a saint. In fact, the minister who gave the sermon compared Lay to Martin Luther King and, yes, Jesus Christ (Andrew Sullivan, The Times, London)


Teens love JC's Café | Ankeny First UMC members donate time, money for youth center that has video games, a pool table and smoothies (Des Moines Register)


Faith-based prison draws praise, criticism | Minnesota officials plan to expand the InnerChange prison program next month, making it available to female convicts at the Shakopee women's prison (Associated Press)


Fairy-tale failure | How Africa's one AIDS success story, Uganda, became a disaster when Christianity trumped science (Esther Kaplan, The American Prospect)


Praising God and country | Young Christians gather on Hill to celebrate Canada's diversity, conservative values (The Ottawa Sun)


Prayers and protest on Parliament Hill | Christian group shares space with Falun Gong (The Ottawa Citizen)


Faith in ideas | The passion for public affairs on display at a Christian youth rally Saturday ought to inspire those adults who were beginning to fear that young people are disengaged from politics (Editorial, Ottawa Citizen)


Get free gas for going to church | A west side church is putting people in the pews with the promise of free five dollar gas cards. (WKYC, Cleveland)


Finding salvation at the filling station | $10 gas giveaway was presented by Covina Vineyard Community Church, whose members donated around $5,000 to sponsor the event (San Gabriel Valley Tribune, Ca.)


A bid to get religion? Wal-Mart hires ex-nun | Firm seeks to address critical areas (The Washington Post)


Creative media firm sees growth from ministry-related clients | Devotion Media is not exclusively for Christian companies, but it's now more focused (Orlando Business Journal)


High stakes as gambling chiefs bet on TV adverts | Casinos, betting shops and other forms of gambling could be advertised on television under proposed new rules published yesterday (The Herald, Glasgow)


Gambling ads to be allowed on TV | Salvation Army and Evangelical Alliance express dismay (ITN)


Churches push for new controls on pokies | A church leaders' group is urging the South Australian Government to speed up the introduction of new measures to combat problem gambling (ABC, Australia)


An uprising on the Right in a world that leans Left | Something besides liberal bias is responsible for a striking shortage of conservative nonfiction cinema (The New York Times)


Rated "R" for religion? | How the MPAA might view overly-religious classics (Anne Morse, The Weekly Standard)


Take that as a warning | Theatres and films now routinely caution their audiences against hazards such as nudity, smoke, gunfire and even 'mild peril'. Have they gone too far? (The Guardian, London)


A riveting tale of the end of days, believe it or not | "Secrets of Revelation," oxymoronic title and all, is a thing of beauty: a real aesthetic and moral achievement by Jonathan Halperin, a San Franciso-based filmmaker (The New York Times)


BBC gets a Muslim to ask: were Jesus' miracles for real? | The BBC is placing Christianity at the heart of primetime entertainment for the first time, with programmes examining faith and spirituality set to replace copycat "lifestyle" shows (The Times, London)


Solid performances sag in drawn-out 'Last Days' | "The Last Days of Judas Iscariot" is set in purgatory. With nearly three hours of overinflated rhetoric, flabby structure, and sketchy characterization, it feels just like the real thing (The Boston Globe)


Collapse of cinema industry, boost for churches | Pen Cinema is arguably the most popular bus-stop in Agege, a sprawling slum in Lagos metropolis. Its popularity grew to the point that it became a landmark and rallying point for residents of the densely populated neighbourhood. Today, Pen Cinema just exists as a bus-stop but the cinema house that bears that name has since died. The property has been bought by one of the most popular Pentecostal churches in the country which is now redeveloping the building as a worship centre (Vanguard, Nigeria)


Pope Benedict writing book on Jesus | The book, expected to be completed by the end of the summer, focuses on Jesus, the human race and Christianity's relationship with other faiths (Reuters)


The gospel of love | The Rev. Henry Ward Beecher, an eloquent champion of abolition and woman suffrage, became a celebrity of a far less exalted kind as a result of a sex scandal. Michael Kazin reviews The Most Famous Man in America by Debby Applegate (The New York Times Book Review)


'God is on our side': When faith is used to justify conquest | Two books look to the past to examine the intersection of religion and imperialism (The Christian Science Monitor)


Back to the big questions | Now comes C. John Sommerville, a historian at the University of Florida, with a provocative explanation for the malaise described by Mr. Wolfe, Mr. Douthat, and others (Colleen Carroll Campbell, The Washington Times)


Ethiopia's rich culture, steeped in history | Christian and Muslim traditions are kept alive in this diverse country, a crossroads of East Africa (Los Angeles Times)


San Juan Capistrano families to honor elders | Descendants will gather at the old mission cemetery to celebrate the return of Mass. The priest will wear Father Junipero Serra's vestments (Los Angeles Times)


The darkness between stars | The poet and Anglican priest R.S. Thomas, in his 1,500 finished poems, caught the images of sea and stone, raptor and wren. But, in church, he glimpsed at best his own shadow wrestling with the unseen God, like Jacob (Christopher Howse, The Telegraph, London)


Not a secret anymore | Rich with Christian history, Jordan has become a prime destination for tourists (Religion News Service)


Pilgrimage progress | Forget its kitsch reputation—the true significance of Lourdes is that it is a place of spiritual restoration (Terry Philpot, The Guardian, London)


Methodist church can't giveaway "free" house | The house had been empty for some time before the church bought it and initially the church hoped it could find someone who would be willing to move the house to another location, instead of razing it (Clay Center Dispatch, Kan.)


Report: Vatican Museums to buy modern art | "I would like very much to have a Picasso," the director, Francesco Buranelli told the La Stampa newspaper. He said the Vatican Museums intend to obtain new works "above all in sectors like contemporary art" (Associated Press)


Weblog
Launched in 1999, Christianity Today's Weblog was not just one of the first religion-oriented weblogs, but one of the first published by a media organization. (Hence its rather bland title.) Mostly compiled by then-online editor Ted Olsen, Weblog rounded up religion news and opinion pieces from publications around the world. As Christianity Today's website grew, it launched other blogs. Olsen took on management responsibilities, and the Weblog feature as such was mothballed. But CT's efforts to round up important news and opinion from around the web continues, especially on our Gleanings feature.
Ted Olsen is Christianity Today's executive editor. He wrote the magazine's Weblog—a collection of news and opinion articles from mainstream news sources around the world—from 1999 to 2006. In 2004, the magazine launched Weblog in Print, which looks for unexpected connections and trends in articles appearing in the mainstream press. The column was later renamed "Tidings" and ran until 2007.
Previous Weblog Columns: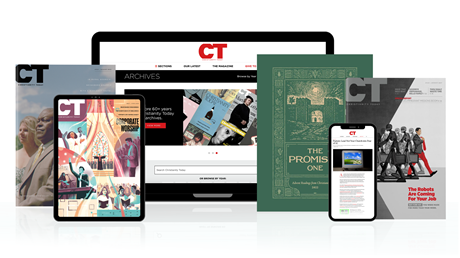 Annual & Monthly subscriptions available.
Print & Digital Issues of CT magazine
Complete access to every article on ChristianityToday.com
Unlimited access to 65+ years of CT's online archives
Member-only special issues
Subscribe
Secrets of the Lebanon-Israel War
Secrets of the Lebanon-Israel War