Top five? We barely got time to post these links. Sorry. We'll try to narrow everything down for you next week.
Stem cells:
Bush veto:
Life ethics:
Politics:
Ralph Reed:
Corruption issue comes to fore | Ralph Reed's primary loss may be the first of several elections won or lost because of connections to the Jack Abramoff scandal. (The Washington Post)


Reed and the end of a road | Redefining 'values' (E.J. Dionne, The Washington Post)


Theocracy:
Theocracy, theocracy, theocracy | The term theocrat has become a commonplace, employed by bomb-throwing columnists, otherwise-sensible reporters, and "centrist" Republicans (Ross Douthat, First Things)


Stemming the incivility | Chill a little on the theocracy talk (Joe Loconte, National Review Online)


$160,000! | I look forward to reading "Theocons" to see what the author has to say about ideas and people I, a theocon, care about. But how many people are there like me? (Rod Dreher, Beliefnet)


Mormon filmmaker to support Romney:
Filmmaker seeks to shed light on Mormonism | A prominent Mormon filmmaker has launched a nationwide political organization to demystify the religion he shares with Governor Mitt Romney, in an effort to pave the way for a Romney presidential run. (Boston Globe)


LDS filmmaker to back Mitt and stand up for members | An LDS filmmaker is starting a campaign to get Mitt Romney elected president that will include advertising aimed at countering the "religious bigotry" a significant number of voters hold toward Mormons. (Deseret Morning News, Salt Lake City)


Politics (non-U.S.):
Church calls for calm as in Mexico vote crisis | "We need to strengthen the climate of peace in our country, because when this is destroyed it causes enormous suffering to everyone," four of the predominantly Catholic country's top bishops said in full-page insert placed in newspapers (Reuters)


Congo Catholic Church warns over elections | Congo's influential Catholic Church warned the country's electoral authorities on Friday that all of the necessary conditions did not yet exist to hold free and fair elections later this month (Reuters)


Abortion:
For the children | Strengthening parental-involvement laws (Michael J. New, National Review Online)


Ruling confirms abortion rights for Missouri prisoners | A federal judge on Tuesday ordered that the state of Missouri provide transportation for any woman prisoner seeking an abortion, saying that even an inmate had the constitutional right to the legal procedure (St. Louis Post-Dispatch)


Denial by abortion accused | The doctor accused of performing an illegal abortion and killing a premature baby told a NSW Medical Board inquiry she did not do abortions beyond 20 weeks' gestation because it was not covered by her insurance (The Sydney Morning Herald)


Church and state:
Celebrating pluralism | Manvel and his council colleagues should stop fretting about a "parade of religious symbols" and exercise reasonable judgment (Vincent Carroll, Rocky Mountain News, second item)


Charles Colson's faith-based prison program shut down | Leadership of InnerChange Freedom Initiative vows to fight District Court ruling (Bill Berkowitz, WorkingForChange)


Education:
Education (non-U.S.):
Money down the drain in Africa | Billions have been given in aid, but little has made it to the classroom. (Becky Tinsley, The Telegraph, London)


Homosexuality:
Israeli Lebanon conflict:
Nazareth residents blame Israel for attack | Many in this town did not blame Hezbollah for the deaths, holding Israel responsible instead. Some expressed support for the Lebanese guerrillas — underscoring the divided allegiances of Israel's Arabs (Associated Press)


In an unlikely target for rockets, mourning and pleas for peace | Residents of Nazareth mourned two young brothers killed by Hezbollah, while directing a host of grievances at Israel (The New York Times)


War and terrorism:
Support for Israel:
Congress is giving Israel vote of confidence | Rising U.S. support for Israel may be an effort to court Jewish and evangelical voters. (The Washington Post)


Speakers, backers portray conflict in Mideast as part of terror war | American Jews and Christians call for the destruction of Hezbollah in a Washington rally. (The Washington Post)


Religious freedom:
Saudis to relax religious rules | Saudi Arabia has agreed to protect the rights of non-Muslims, revise textbooks that teach religious intolerance and add teeth to a recently created Human Rights Commission after months of private negotiations with the United States over religious freedom. (Chicago Tribune)


New rule in temple town against Christian evangelization | In response to Christian missionaries, temple authorities have made it mandatory for all employees to sport a 'tilak'—a mark of Hindu auspiciousness—on their foreheads. (The Indian Catholic, New Delhi, India)


Advocate for China's weak runs afoul of the powerful | A blind advocate for the disabled is now a symbol of the tendency of Communist Party officials to use legal pretexts to crush dissent (The New York Times)


Media and entertainment:
Film:
Multiplexes at 30,000 feet | Improved entertainment technology, longer flights and rising competition has forced carriers to rethink their penchant for buying only bland, light-hearted movies with mass appeal (USA Today)


Rating shock and awe at the movies | Objections to PG rating for Christian-themed film prompt call for universal rating system — but that could cause problems as entertainment changes (Paul K. McMasters, First Amendment Center)


Georgia church scores distributor for film | A movie made by Baptist pastors using their congregation as cast and crew is a long shot for the Hollywood treatment. But "Facing the Giants," an inspirational film about a chronically losing high school football team, is heading to 400 theaters nationwide after becoming embroiled in a ratings dispute that reached the halls of Congress (Associated Press)


Books:
Baptized in shallow water | A memoir about a spiritual journey to Catholicism fails to enrapture. Donna Freitas reviews The Shadow of God: A Journey Through Memory, Art, and Faith by Charles Scribner III (The Washington Post)


Book opens eyes to Mary Magdalene | `The Da Vinci Code' has angered many, but her devotees find it to be a blessing in disguise (Chicago Tribune)


On Catholics and Pentecostals | "Catholics and Pentecostals: A Historical Overview," by Father Juan Usma Gómez, official of the Pontifical Council for Promoting Christian Unity (via Indian Catholic)


Music:
Christian musician challenges mainstream | Derek Webb has cultivated a fan base that appreciates his underlying message of a simplified Christianity without politics or patriotic themes. (Orlando Sentinel)


'Jesus Count' no longer a factor with Christian rock's new (and older) faces | Christian rockers, circa 2006, can hold their own and often surpass secular bands of the same genre (Biloxi Sun Herald, Miss.)


Home, sweet home | When Catatonia topped the charts, singer Cerys Matthews was one of Britpop's great hellraisers. But then she quit the band, cleaned up her act and went to have kids in Tennessee. What lured her back to Wales and the messy world of pop? (The Guardian, London)


If that is your real name | Pedro the Lion no longer, David Bazan has opted to shed the indie-tastic guise and continue on as a singer/songwriter, plain and simple (OC Weekly)


Church life:
Missions and ministry:
Bathing, washing clothes not allowed at shelter, officials say | Fairfax City officials have told the Lamb Center, one of Northern Virginia's only daytime homeless shelters, that it is operating illegally because it offers showers and laundry facilities to its clients (The Washington Post)


Koreans take 'love thy neighbor' global | Over the last one or two years, the number of people sponsoring children abroad through the evangelical aid organization World Vision has exploded (Chosun Ilbo, South Korea)


Evangelism:
Catholicism:
Archbishop Emmanuel Milingo:
Catholic bishops cannot bar me, says priest | A rebel Catholic priest, who recently got married, has dismissed the move by Kenyan Catholic Bishops to excommunicate him (The East African Standard, Kenya)


Kent "Dr. Dino" Hovind:
Lift restrictions, evangelist asks | South Africa missionary group makes plea for man charged with tax evasion (Pensacola News Journal, Fla.)


Creationist's fight with Uncle Sam may evolve into painful defeat | (Mark O'Brien, Pensacola News Journal, Fla.)


Crime:
Money and business:
Spanking:
Manual suggest smacking kids for 15 minutes | A New Zealand Christian group urging parents to smack their children, using discipline sessions lasting up to 15 minutes, has been accused of promoting what amounts to child abuse. (The Sydney Morning Herald)


Warning on literal reading of Bible | More church groups have condemned a Christian brochure advocating smacking, with one warning of the dangers of literal interpretation of the Bible (The Dominion Post, New Zealand)


Other stories of interest:
Related Elsewhere:
Suggest links and stories by sending e-mail to weblog@christianitytoday.com
See our past Weblog updates:
July 19
July 14 | 13 | 12b | 12a | 10
July 7 | 6 | 5 | 3
June 29b | 29a | 28
June 23 | 22 | 21
June 16 | 15 | 14 | 13b | 13
June 9 | 8 | 7 | 6
Weblog
Launched in 1999, Christianity Today's Weblog was not just one of the first religion-oriented weblogs, but one of the first published by a media organization. (Hence its rather bland title.) Mostly compiled by then-online editor Ted Olsen, Weblog rounded up religion news and opinion pieces from publications around the world. As Christianity Today's website grew, it launched other blogs. Olsen took on management responsibilities, and the Weblog feature as such was mothballed. But CT's efforts to round up important news and opinion from around the web continues, especially on our Gleanings feature.
Ted Olsen is Christianity Today's executive editor. He wrote the magazine's Weblog—a collection of news and opinion articles from mainstream news sources around the world—from 1999 to 2006. In 2004, the magazine launched Weblog in Print, which looks for unexpected connections and trends in articles appearing in the mainstream press. The column was later renamed "Tidings" and ran until 2007.
Previous Weblog Columns: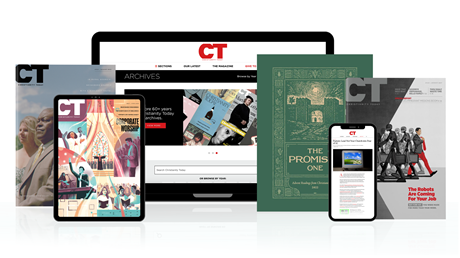 Subscribe to Christianity Today and get access to this article plus 65+ years of archives.
Home delivery of CT magazine
Complete access to articles on ChristianityToday.com
Over 120 years of magazine archives plus full access to all of CT's online archives
Subscribe Now
Science and Law Haven't Changed on Stem Cells. Has Politics?
Science and Law Haven't Changed on Stem Cells. Has Politics?