Today's Top Five
Yesterday's Washington Post profiles a handful of Hispanic immigrant women who converted from Catholicism to Islam. "Across the nation, thousands of Latino immigrants are redefining themselves through Islam. … Precise numbers are not available, but estimates range from 40,000 to 70,000."
Some of their reasons for converting are typical of any immigrant convert: Encounters with new religious ideas and a search for belonging in a new culture. But those aren't the only reasons. "In Islam, some say they see a devoutness and simplicity they find lacking in Catholicism. … Latino women find what most Westerners rarely see—a respect for women, unlike, some converts say, the machismo culture in which they were raised." These women are happy to trade their halter tops for the hijab.
Before evangelicals think that nominal Catholics might simply be prone to convert, a Dallas Morning News story is ready to rebut those notions. Eric Meek was a Southern Baptist Texan who was featured in a short documentary on white Christians who converted to Islam. "Islam is everything I wanted Christianity to be," Meek says in the documentary. "It's got such a magical attraction to it. It's a way of life that chooses to worship an unseen God through a process of daily living."
The Dallas Morning News admits it hasn't discovered any sort of trend. There are few white, Texan, Christian converts to Islam. Only time will tell if Islam will turn out to be everything Meeks wanted Christianity to be. Hopefully, the Morning News will keep us informed.
2. Gay marriage ban short of votes in Senate
The Senate's same-sex marriage amendment stands little chance of passing. "The amendment would prohibit states from recognizing same-sex marriages," writes the Associated Press. "To become law, the proposal would need two-thirds support in the Senate and House, and then would have to be ratified by at least 38 state legislatures." Fewer than 50 Senators support it, and the amendment needs two-thirds support to pass. So, with pundits suggesting the Republicans will lose seats in Congress and could lose the majority in one or both houses, Weblog wonders: Is this the end of the Federal Marriage Amendment, the beginning of the end, or the end of the beginning?
3. Iowa prison ordered to close Bible program
Prison Fellowship's InnerChange Freedom Initiative was ordered to stop its program at Iowa's Newton Correctional Facility and to repay the state $1.53 million. The suit was brought by Americans United for the Separation of Church and State. The judge issued a stay on his order while Prison Fellowship appeals the ruling. Prison Fellowship responded saying, "This decision, if allowed to stand, will enshrine religious discrimination. It has attacked the right of people of faith to operate on a level playing field in the public arena and to provide services to those who volunteered to receive them."
4. La. Senate sends abortion ban to governor
Louisiana governor Kathleen Blanco is expected to sign a bill that would ban all abortions except those necessary to save the life of the mother or to prevent permanent harm to the mother's health. Doctors found guilty of performing abortions could be sentenced to 10 years in prison and $100,000 in fines. One caveat: The bill would take effect only if the U.S. Constitution is amended to allow abortion bans or if the Supreme Court overturns Roe v. Wade.
5. Going to church by staying at home
"A growing number of Christians across Washington and around the country are moving to home churches—both as a way to create personal connections in the age of the megachurch and as a return to the blueprint of the Christian church spelled out in the New Testament, which describes Jesus and the apostles teaching small groups in people's homes," writes The Washington Post.
George Barna says that since 2000 more than 20 million Americans have flirted with alternative forms of church. House church groups put the number far lower—in the tens of thousands, according to Dawn Ministries.
Same-sex marriage | Homosexuality | Politics | Abortion | Church and state | AIDS | First Amendment | Education | Religious freedom | China | 6-6-06 | Taylor crash | Global Day of Prayer | Islam | Catholicism | Church life | Church growth | Relief work | Church discipline | Church scandal & crime | Books | Da Vinci Code | Film and TV | Sports | People | Spirituality | More articles of interest
Same-sex marriage:
Gay marriage ban short of votes in Senate | President Bush and congressional Republicans are aiming the political spotlight this week on efforts to ban gay marriage, with events at both ends of Pennsylvania Avenue — all for a constitutional amendment with scant chance of passage but wide appeal among social conservatives. (Associated Press)


Bush backs amendment to ban gay marriage | President Bush On Saturday Backed A Resolution To Amend The Constitution To Define Marriage As A Union Between A Man And A Woman Even Though The Idea Has Little Chance Of Being Passed In The Senate. (Associated Press)


Williams reinstates cleric in gay dispute | An evangelical cleric who was stripped of his licence by his bishop last year following a dispute over homosexuality was reinstated yesterday by the Archbishop of Canterbury, Dr Rowan Williams. (The Telegraph, UK)


Gay man loses church music job | Last month, Mr. Nadeau ended his final Sunday Mass at St. Agnes Catholic Church with a wrenching solo on "God Help the Outcasts." His other life, as the artistic director of one of the nation's largest homosexual male choirs, had cost him his job. (Associated Press)


Church groups preach tolerance; Eyman doesn't turn in signatures | The religious right aren't the only ones who know how to get organized, said a group of Christian leaders who gathered Monday to remind the public that their beliefs are founded on tolerance and human rights for all. (Seattle Post Intelligencer)


Politics:
Health sharing has its critics | With healthcare costs spiraling and about 46 million Americans without medical insurance, a number of evangelical Christian organizations have been created to promote the voluntary sharing of medical costs. (RNS)


O.C. bishop adds to call for charitable immigration policies | Parishioners are divided in response to Brown's sermon. Some object to its political timing. (The Los Angeles Times)


Abortion:
La. Senate sends abortion ban to gov. | Gov. Kathleen Blanco was expected to sign a strict abortion ban into law after the Senate gave the measure final legislative approval Monday. (AP)


What happens when there is no plan B? | The conservative politics of the Bush administration forced me to have an abortion I didn't want. Well, not literally, but let me explain. (Dana L., Washington Post)


Church and state:
Education:
The gilded age of home schooling | In what is an elite tweak on home schooling — and a throwback to the gilded days of education by governess or tutor — growing numbers of families are choosing the ultimate in private school: hiring teachers to educate their children in their own homes. (The New York Times)


Everything you always wanted to know . . . | From "Captain Condom" to abstinence-only, how much should children be taught about sex? (Washington Post)


Christian school reins in academic freedom, professors say | Rebellion at Patrick Henry College reflects tension between liberal arts classes and biblical worldview. (Washington Post)


AIDS:
AIDS toll may reach 100 million in Africa | It began quietly, when a statistical anomaly pointed to a mysterious syndrome that attacked the immune systems of gay men in California. No one imagined 25 years ago that AIDS would become the deadliest epidemic in history. Since June 5, 1981, HIV, the virus that causes AIDS, has killed more than 25 million people, infected 40 million others and left a legacy of unspeakable loss, hardship, fear and despair. (Associated Press)


After 25 years of AIDS, the news only gets worse | After a quarter century, the devastating outbreak of the human immunodeficiency virus that causes acquired immunodeficiency syndrome is still surging, a savage wonderment of microbiology. (The Boston Globe)


Zambia: Aids will orphan 20% of children by 2015 | Current official estimates indicate that over 1,1-million Zambian children are orphans, mostly as a result of Aids. (Mail & Guardian, South Africa)


First Amendment:
Religious freedom:
China:
China's top cardinal criticizes government | The highest ranking Roman Catholic Church official in China Sunday criticized the Chinese government for the Tiananmen Square massacre of 1989. (UPI)


Cardinal faults Chinese rulers at anniversary of Tiananmen | The highest official of the Roman Catholic Church in China used the 17th anniversary of the Tiananmen Square massacre on Sunday to strongly criticize the Chinese government and call on it to hold a full and open review of the killings. (The New York Times)


6-6-06:
Taylor crash:
Global Day of Prayer:
Christians unite | Thousands of Calgarians take part in Global Day of Prayer (Calgary Sun)


Christians around the world unite in prayer Sunday | Global Day of Prayer event to be held at the Phenix City Amphitheater (Columbus Ledger-Enquirer, Ga.)


Islam:
Catholicism:
The roots of the Holocaust | Is the new pope prepared to carry forward his predecessors' revolutionary moral reckoning with Christianity's co-responsibility for the Holocaust, or does he intend to initiate a new era of denial? (James Carroll, The Boston Globe)


Church life:
Presbyterians install moderator | More than 1,000 delegates are set to meet to install the new moderator of the Presbyterian Church in Ireland. (BBC)


Going to church by staying at home | Clergy-less living room services seen as a growing trend (Washington Post)


Latham had the right idea: Archbishop | In a Sydney speech marking the 150th anniversary of Anglicare, the church's welfare agency, Dr Jensen said Mr Latham made laudable efforts to create community and remind people to love their neighbours. What was missing from his attempts was the Christian gospel, the Archbishop said. (The Age, Australia)


'Christecology' takes root | At Madison Christian Community, 10 percent of the building's energy comes from solar panels, and the garden tractor is being converted to run on vegetable oil from nearby Pasqual's restaurant. (Wisconsin State Journal)


Spirit stirs Durham church | Intensity, multiculturalism define Pentecostal congregation (News & Observer, N.C.)


Faithful, churches connect online | Webcasts are perhaps the biggest thing since televangelism for churches to reach people around the world. And they're cheaper. (St. Petersburg Times)


Pastor: Tattoos are not a mark against faith | Steve Bensinger is a man who loves his Christian faith — and loves his tattoos. Tattoos cover more than half of his body and include an angel killing a demon and Jesus on the cross. (Knight Ridder)


Church growth:
Relief work:
Quake survivors throng churches in Indonesia's Java | Christian survivors of the earthquake that devastated areas of Java island prayed outside damaged churches on Sunday, just over a week after the disaster killed more than 6,000 people. (Reuters)


Relief group logs 500,000 hours | The parking lot and the property surrounding St. Paul United Methodist Church resembled the staging area for an invasion Sunday afternoon as a new batch of volunteers began arriving to begin their efforts at helping to rebuild Jackson County. (The Mississippi Press)


Church discipline:
Public shaming was at its prime in early America | The idea that Christians should be morally accountable to one another is as old as Christianity itself. (The Dallas Morning News)


Taking tough love to task | Church, ex-member battle over whether discipline went too far (The Dallas Morning News)


Church scandal & crime:
Books:
One nation, under God -- or not | For most of the 20th century, the main debate over religion was whether it was merely dying or already dead. (San Francisco Chronicle)


Booked for the summer | Clergy and scholars share their leisure reading lists (The Dallas Morning News)


'Abraham' returns readers to shores of Tigris, Euphrates | Abraham — a person who is found in three of the world's major religions: Judaism, Christianity and Islam — is the subject of a good biography: "Abraham: The First Historical Biography" by David Rosenberg (Green Bay Press Gazette)


Coulter says book examines 'mental disorder' of liberalism | Ann Coulter explains what motivated her to write her just-released book Godless: The Church of Liberalism (Crown Forum, 2006), how faith played a role, what "virtues" the Church of Liberalism promotes and much more. (Human Events)


Da Vinci Code:
Film and TV:
Driving out the devil is a ratings winner in Congo | Although the Democratic Republic of Congo will next month hold its first democratic elections since its independence from Belgium in 1960, televised exorcisms rather than political debates are dominating the airwaves in a country where the majority of the population still believes in black magic, the broadcast networks are saturated with a dozen religious channels competing for converts, most of them owned by Christian cults led by charismatic preachers. (The Telegraph, UK)


Church fears return of Omen curse | At Guildford cathedral, used in the first Damien film, the dean worries that the remake will again drive people from its doors (The Observer, UK)


Sports:
The Rockies pitch religion | In Colorado, there stands a holy shrine called Coors Field. On this site, named for the holiest of beers, a team plays that has been chosen by Jesus Christ himself to play .500 baseball in the National League West. And if you don't believe me, just ask the manager, the general manager and the team's owner. (The Nation)


People:
The next Billy Graham? | Rob Bell, the 35-year-old pastor of Mars Hill, a nondenominational Bible church (though the signs on its doors call it a "Jesus community") in Grandville, Mich., is waiting for the two dozen film crew members to complete their preparations so he can shoot his first scene. (Chicago Sun-Times)


Finding my religion | The Rev. Nancy Taylor talks about her former life and what it's like being a new minister (San Francisco Chronicle)


Spirituality:
Ex-Mormons say breaking up was hard to do | A group of former believers offers support for what it contends is a step made difficult by the church. Officials say that's not true. (The Los Angeles Times)


Century-old synagogue keeps the faith | With American Jews experiencing a 50 percent intermarriage rate and synagogues struggling to stay open as memberships decline, Beachmont's Temple B'nai Israel has beaten the odds. It turns 100 years old this month. (The Boston Globe)


Walking on water? How liberal Christians interpret the Bible | As a liberal Christian, I have been inclined to interpret the Bible for my own purposes, to uncover what resonates for me today. Where the fundamentalist finds unerring truth, I have looked for poetry. (Baltimore Sun)


Related Elsewhere:
Suggest links and stories by sending e-mail to weblog@christianitytoday.com
See our past Weblog updates:
June 2b | 2a | May 31
May 26 | 24
May 19 | 18 | 17
May 11 | 10 | 9 | 8
May 5 | 4 | 3
April 28 | 27b | 27a | 19
April 12 | 11 | 7
March 31 | 30 | 28
Weblog
Launched in 1999, Christianity Today's Weblog was not just one of the first religion-oriented weblogs, but one of the first published by a media organization. (Hence its rather bland title.) Mostly compiled by then-online editor Ted Olsen, Weblog rounded up religion news and opinion pieces from publications around the world. As Christianity Today's website grew, it launched other blogs. Olsen took on management responsibilities, and the Weblog feature as such was mothballed. But CT's efforts to round up important news and opinion from around the web continues, especially on our Gleanings feature.
Ted Olsen is Christianity Today's executive editor. He wrote the magazine's Weblog—a collection of news and opinion articles from mainstream news sources around the world—from 1999 to 2006. In 2004, the magazine launched Weblog in Print, which looks for unexpected connections and trends in articles appearing in the mainstream press. The column was later renamed "Tidings" and ran until 2007.
Previous Weblog Columns: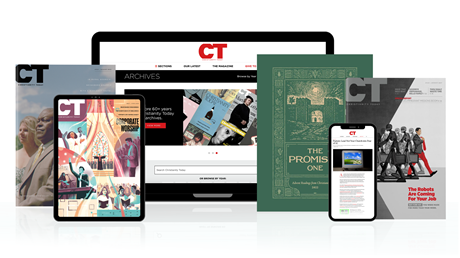 Annual & Monthly subscriptions available.
Print & Digital Issues of CT magazine
Complete access to every article on ChristianityToday.com
Unlimited access to 65+ years of CT's online archives
Member-only special issues
Subscribe
American Christians Embrace Islam
American Christians Embrace Islam