Today's Top Five
1. Md. father told police of alleged bomb plot
"We became aware of what he was doing, and we felt obligated to contact the police," Robert F. Weiler Sr. told The Washington Post.
Early Thursday, Robert Weiler Jr. was taken into custody at a rest stop in Western Maryland. By dawn, the pipe bomb he allegedly built and stored at a friend's house in the Riverdale Heights area had been partially detonated by bomb squad technicians working to disarm it. …
According to an affidavit signed by two ATF agents, Weiler admitted planning the attack and also told investigators that he intended "to shoot doctors who provided abortions." A loaded gun was found in the glove box of his car at the time of his arrest, the affidavit says.
2. Evangelicals vs. Christian cable
The debate over cable TV indecency is back. RNS reports on the battle between Christian groups that want cable companies to allow subscribers to purchase only the channels they want and Christian broadcasters who worry cable subscribers won't pay for their stations.
The Christian networks' main concern is that the only ones willing to subscribe would be Christians. If a la carte were in existence, May argues, conversion experiences for alcoholics and people contemplating suicide or suffering from a crumbling marriage never would have happened. …
But Concerned Women for America and other groups don't care. "Unfortunately, the number of inappropriate programs far outweighs the number of good," said Lanier Swann, the group's director of government relations. "Our issue is to protect families."
3. Exodus receives sympathetic attention
It's not often that ex-gay ministries get sympathetic treatment in the press. But The Boston Globe takes a look at a California ministry called New Hope, "a haven for men banned from conservative churches, estranged from family members, and alienated from gay organizations or social networks."
Their love for Jesus is real, and so are their desires. Author Tanya Erzen writes,
Often lost in the acrimonious exchanges between ex-gay leaders and their critics are men like Kyle, who are neither at home in their churches or in the gay community. For these men, places like New Hope can offer the first experience they have ever had of belonging to a community and being open about their struggles.
4. Will same-sex marriage collide with religious liberty?
There's nothing new in this New York Times piece of the impending collision between same-sex marriage and religious freedom. It's essentially a summary of the Weekly Standard cover story on a conference held by the Becket Fund for Religious Liberty. Maggie Gallagher reported that the legalization of same-sex marriage would severely limit the religious freedom of religious organizations. When the state of Massachusetts declined to give Catholic Charities an exception to non-discrimination requirements that would force the adoption agency to place children with same-sex parents, Catholic Charities dropped out of the adoption business. Gallagher warns that is just the tip of the iceberg. Colleges, ministries, and all sorts of religious organizations will be forced to make similar decisions: Recognize same-sex marriage or lose your tax exemption.
In Saturday's New York Times, Peter Steinfels says Gallagher is probably right. But Steinfel's only regret seems to be the negative effect this coming "train wreck" has on the political climate. If same-sex marriage represents the beginning of the end of many services provided by faith-based organizations, it shouldn't be a surprise when those groups fight tooth and nail to stay in business.
5. Passion most controversial film ever
Entertainment Weekly named The Passion of the Christ as the most controversial film ever. The movie started "a culture-war firestorm unrivaled in Hollywood history." The Da Vinci Code ranked 13.
More Articles
Abortion-clinic bombing plot | Politics | Same-sex marriage | Religion & homosexuality | ECUSA meeting | SBC convention | Church life | Catholicism | Missions & ministry | Marriage & family | Education | People | War & terrorism | Books | Film | Media | Music | More articles of interest
Abortion-clinicbombing plot:
Father turns in son accused in attack plot | The father of a man accused of plotting to bomb an abortion clinic said he felt he had no choice but to contact police about his son's activities. (Associated Press)


Md. father told police of alleged bomb plot | The father of a Prince George's County man accused of planning to bomb an abortion clinic said last night that, despite his own opposition to abortion, he felt he had no choice but to turn his son in. (Washington Post)


Court gives legal victory to abortion foes | A U.S. appeals court handed a legal victory on Friday to medical groups working on behalf of health-care providers who refuse to offer abortion services. (Reuters)


A tighter rein on faith-based initiatives | A court ruling last week against an Iowa prison program insists upon church-state separation. (The Christian Science Monitor)


Pastor says placing curse on city manager | A suburban City Council wants to limit public comment during its meetings after a pastor said he was placing a curse on the city manager and his family. (Associated Press)


African ministers approve draft democracy charter | Ministers from across Africa approved a draft democracy charter on Saturday, laying down guidelines on elections and good governance in the world's poorest continent. (Reuters)


Mixing politics and faith to woo Md. voters | The candidates for Maryland's open U.S. Senate seat, in particular, have turned the state's predominately black churches into a key battleground for both the primary and general elections. (Washington Post)


Milwaukee mayor declares Ceasefire Sabbath, speaks at churches | Mayor Tom Barrett declared Sunday as Ceasefire Sabbath in Milwaukee, speaking at three churches and telling those attending services there that politicians and police cannot stop crime alone. (Associated Press)


Barrett preaches anti-crime sermons | 'Ceasefire Sabbath' calls for churches to help end violence (Milwaukee Journal Sentinel)


Where gay marriage cases stand in state courts | Gay and lesbian couples have lawsuits in several states asserting they should be allowed to marry. Where the cases stand: (Associated Press)


Allowing gay marriage in states might help opponents' cause | After being rebuffed in the U.S. Senate, some opponents of gay marriage think losing a court case might help their argument to ban same-sex unions across the country.(Associated Press)


Gay marriage on horizon after gay rights referendum attempt fails | Could gay marriage be next? (David Ammons, The Olympian, Wa.)


Partners in prayer | Ex-gay ministries seek to convert their flocks from `the gay lifestyle.' But as much as change, what many who hear the call want is a community to accept them. A year inside a ministry called New Hope. (The Boston Globe)


Will same-sex marriage collide with religious liberty? | Is same-sex marriage on a collision course with religious liberty? It wasn't surprising that before the constitutional amendment banning same-sex marriage died in the Senate this week, several senators supporting it raised that danger. But when highly respected legal experts on civil liberties, including ones favoring same-sex marriage, raise the same possibility, their concerns cannot be dismissed as partisan debating points. (Peter Steinfels, The New York Times)


Ousted Newton priest cheered at gay pride service | A Catholic priest preached yesterday at the main worship service associated with Boston's gay pride week, setting up a potential conflict with a church hierarchy that has been increasingly vocal in its criticism of the growing acceptance of gay relationships in Western societies. (The Boston Globe)


Homosexuality a choice, group contends | An evangelical Christian pro-family group held a conference on homosexuality yesterday in Silver Spring, emphasizing that homosexuals can choose to change their sexual preference and live as heterosexuals. (The Washington Times)


Methodists OK petitions endorsing gay clergy, same-sex marriage | With the Episcopal Church and Presbyterian Church (U.S.A.) meetings facing major gay policy decisions in coming weeks, the United Methodist Church is guaranteed a similar showdown in 2008. (Associated Press)


Vicar's gay kiss set to spark Sunday backlash | An openly gay priest-to-be has broken new barriers by becoming the first reverend pictured kissing his boyfriend in full ceremonial dress. (Wales on Sunday, UK)


Rejecting gay feelings, some strive to change | As a four-year member of New Pathways Ohio, one of the 200 or so evangelical ministries affiliated with the ex-gay organization Exodus International, Roger finds others who, like him, are unwilling to accept their same-sex attractions. (The Columbus Dispatch)


Gays in church: Division deepening as denominations draw lines | At a time when some religious denominations are tightening their policies toward homosexuals, others are looking at liberalizing their stance. (Asheville Citizen-Times, N.C.)


Scripture misread by those who oppose gay-rights legislation | Last Sunday was "Referendum Sunday." That morning, in response to a request from Tim Eyman's "Let the Voters Decide" initiative, many of our state's conservative churches encouraged their members to sign petitions that would subject recently passed gay-rights legislation to a statewide vote in November. (Mark S. Glickman, The Seattle Times)


US Episcopal Church nears divisive meeting | The U.S. Episcopal Church faces a fractious debate next week over the controversy caused by the consecration of the church's first openly gay bishop, which has rubbed raw relations with fellow Anglicans worldwide. (Reuters)


Episcopalians pondering leaving fold | According to canon law, a church leaving a diocese must forfeit its property to the diocese, meaning the congregation would lose its $17 million in property and assets -- including its treasured landmarks. The Virginia Senate last year tabled a bill that would have allowed churches to split and retain their property. (The Washington Times)


Faith & values | As tension builds in the national Episcopal Church, St. Andrew's Mount Pleasant is leading a new style of worship ? and drawing big crowds. (The Post and Courier, S.C.)


Church tackles dividing debate | About 800 clergy and lay representatives, or deputies, and up to 300 active and retired bishops will be present for Tuesday's opening ceremony at the Convention Center in Columbus, Ohio. (Ledger, Fla.)


Decision time nears for nation's Episcopal leaders | Bishops from Alabama, Georgia among candidates for church's Presiding Bishop (Columbus Ledger-Enquirer, Ga.)


Southern Baptist meeting may cause sparks | It's been years since moderate Baptists went their own way following the conservative takeover of the Southern Baptist Convention. But that hasn't put an end to political infighting, and disputes about the future of America's largest Protestant denomination are expected to dominate the SBC's two-day annual meeting that begins Tuesday in Greensboro. (Associated Press)


Efforts changing the faces of SBC | The 16 million-member convention has gone from being virtually all-white as recently as 1970 to having nearly 1 million African American members and more than 500,000 of both Hispanic American and Asian American members. These groups also account for the greatest growth in membership. (Greensboro News Record, N.C.)


A new pope begins to shift the church | A recent Vatican announcement that Pope Benedict XVI is reconsidering the ban on condoms as a means to prevent the spread of AIDS in Africa has surprised people. (The Plain Dealer, Cleveland)


Bishop Wuerl gives final Pittsburgh mass | Bishop Donald Wuerl thanked Roman Catholics throughout southwestern Pennsylvania for their support during a special farewell Mass before he departs to become archbishop of Washington, D.C. (Associated Press)


Wuerl a 'teaching bishop' | Roman Catholic Bishop Donald W. Wuerl of Pittsburgh will enter the Basilica of the National Shrine of the Immaculate Conception in 10 days to accept his most prestigious role in nearly 40 years as a priest. (The Washington Times)


Desperate times, stubborn dreams | A Ugandan minister travels to Southwest Florida for the knowledge and the skills he hopes will empower his people (Naples Daily News, Fla.)


Archbishop criticises govt for marriage erosion | The Archbishop of Canterbury, spiritual leader of the world's Anglicans, criticised the government on Sunday for failing to halt the "long process of erosion" which he said was destroying marriage. (Reuters)


Rights for live-in couples will wreck marriage, says Williams | The Archbishop of Canterbury, Dr Rowan Williams, has attacked the Government for undermining marriage and warned that new plans to give similar rights to cohabiting couples could hasten its decline. (Telegraph, UK)


School offers new twist on classical education | Academy melds private, home-school aspects with a traditional focus (Dallas Morning News)


Davidson leader is leaving | College will form panel to find successor to Bobby Vagt (Associated Press)


The war for young minds | Author Stephen Law tells Iain Macwhirter why he believes the rise of faith schools poses a risk to Enlightenment values (Sunday Herald, UK)


A woman of conviction | Her husband may go to prison, but Linda Lay is keeping the faith (Washington Post)


Episcopal leader retiring amid divisive debate on sexuality of bishops | Of the fates that might await Presiding Bishop Frank T. Griswold after he retires as the top official of the Episcopal Church in the United States, obscurity will not be one of them. (The New York Times)


Blind missionary seeks home, job | Kathy Essex Au has put her faith in God for 23 years and trusts the path he's set for her. (The Republic, Ind.)


I've found God, says man who cracked the genome | The scientist who led the team that cracked the human genome is to publish a book explaining why he now believes in the existence of God and is convinced that miracles are real. (Times, London)


3 faiths find common ground against war in Iraq | Religious leaders form Interfaith Peacemaking Project in an effort to affect U.S. policy. (Los Angeles Times)


U.S. ministers saw no distress in Haditha | A minister embedded with some of the Marines who are alleged to have killed up to two dozen civilians in Haditha, Iraq, after one of their own died in a roadside explosion says he heard about the dead civilians but saw no distress among Iraqis or Marines in Haditha several weeks after the killings. (Los Angeles Times)


Harare bishop's unholy alliance | As Zimbabwe descends into economic and social chaos, autocratic President Robert Mugabe has been accused of co-opting the Anglican Church. (The Australian)


While prayer is peaceful, violence is often in name of God | Is religious violence a problem of people, or a problem of scripture? (Milford Daily News, Ma.)


British vicar takes the Alpha course to Iraq | Canon Andrew White has converted a number of Muslims using the Alpha course despite the threat of a religious backlash in one of the world's most dangerous cities. (Times, London)


Film:
EW ranks 'Passion' most controversial film | Mel Gibson's "The Passion of the Christ" ranks as the most controversial film of all time, according to Entertainment Weekly. (Associated Press)


China bans 'Code' after warning from Catholics | Chinese authorities ordered theaters nationwide to stop showing "The Da Vinci Code" today after Chinese Catholics warned that the film could threaten social stability. (The New York Times)


Navigate apocalyptic New York | As a bored teenager, I endured hours on the train each weekend so I could hang out with godless New Yorkers in Washington Square Park. Now a PC game based on the ``Left Behind" novels has those nonbelievers getting their comeuppance at the hands of righteous Christians. (The Boston Globe)


Evangelicals vs. Christian cable | Under 'a la carte' plan, viewers could bar certain channels (RNS)


Local cable stirs decency debate | Councilor objects to racy content of hip-hop show (The Boston Globe)


Backstreet Boy releases Christian album | Backstreet Boy Brian Littrell is demonstrating his faith with a new contemporary Christian album, "Welcome Home," and plans a New York performance. (The Washington Times)


Rock and 'Redemption' | Jars of Clay returns to rock after scoring a hit with hymns (Herald-Leader, Lexington, Ky.)


Playing for Jesus | Athletes spreading the Gospel on the field (American-Statesman, Austin, Texas)


Fernbank hopes to uncover lost Spanish mission | A Fernbank Museum of Natural History archaeology team may be closing in on the site of a lost mission in Middle Georgia built four centuries ago when Georgia was still part of the Spanish Empire. (Atlanta Journal-Constitution)


Girls set history straight | Russian teens uncover tragic case of priest (Knight Ridder)


Cafe serves diners in ambiance of Eastern Orthodox Christianity | One of Nashville's best kept gastro-spiritual secrets is a little cafe/bookshop near Vanderbilt. It offers the ambiance of Eastern Orthodox Christianity — calming ancient Russian hymns, walls of wooden icons — with a menu of sandwiches, hummus plates and espresso. (The Tennessean)


Muslims, Christians converse | Worshippers of various religions gathered at the London Muslim Mosque yesterday where the Islamic community hosted a dinner to celebrate the efforts of Christian Peacemaker Teams. (Free Press, London, Canada)


Cousins charged with felonies in religious-shrine desecration | Two cousins have been charged with felony vandalism for desecrating one of Wisconsin's most popular religious shrines earlier this week, when the date was 6-6-06. (Associated Press)


Religious pettiness tries my patience | I'm the pastor of a church -- but I can't stand religion. (Paul Prather, Herald-Leader, Lexington, Ky.)


Related Elsewhere:
Suggest links and stories by sending e-mail to weblog@christianitytoday.com
See our past Weblog updates:
June 9 | 8 | 7 | 6
June 2b | 2a | May 31
May 26 | 24
May 19 | 18 | 17
May 11 | 10 | 9 | 8
May 5 | 4 | 3
April 28 | 27b | 27a | 19
April 12 | 11 | 7
Weblog
Launched in 1999, Christianity Today's Weblog was not just one of the first religion-oriented weblogs, but one of the first published by a media organization. (Hence its rather bland title.) Mostly compiled by then-online editor Ted Olsen, Weblog rounded up religion news and opinion pieces from publications around the world. As Christianity Today's website grew, it launched other blogs. Olsen took on management responsibilities, and the Weblog feature as such was mothballed. But CT's efforts to round up important news and opinion from around the web continues, especially on our Gleanings feature.
Ted Olsen is Christianity Today's executive editor. He wrote the magazine's Weblog—a collection of news and opinion articles from mainstream news sources around the world—from 1999 to 2006. In 2004, the magazine launched Weblog in Print, which looks for unexpected connections and trends in articles appearing in the mainstream press. The column was later renamed "Tidings" and ran until 2007.
Previous Weblog Columns: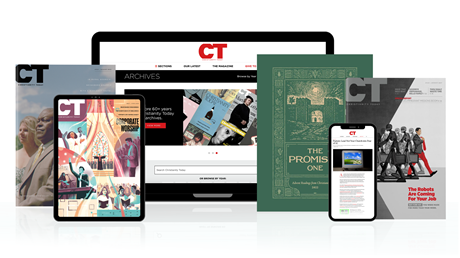 Subscribe to Christianity Today and get access to this article plus 65+ years of archives.
Home delivery of CT magazine
Complete access to articles on ChristianityToday.com
Over 120 years of magazine archives plus full access to all of CT's online archives
Subscribe Now
Pro-life Dad Turns in Attempted Abortion Bomber Son
Pro-life Dad Turns in Attempted Abortion Bomber Son