I'm a bit scatterbrained this week, trying to catch up with too many things after some days away from the office. Thus a somewhat random "Play Ball" this time around—various thoughts on a few sporting things:
Czeched Out
The World Cup is under way, and the U.S. was supposedly taking its strongest team ever to the quadrennial soccer extravaganza. The Americans were allegedly ranked fifth in the world, a legitimate threat not necessarily to win it all, but at least make some noise.
Umm, what happened?
In Monday's opener against the Czech Republic, the U.S. looked like the 50th ranked team in a 3-0 loss. The Czechs beat the Yanks in every phase of the game. Had they not lost one of their top players, Jan Koller, to an early injury, I wouldn't have been surprised if the final score had been 5-0.
Sometimes I wondered if the Americans were even trying to score. To me, their lack of offensive-mindedness was clear in this stat alone: The Czechs were offsides nine times, the Americans none. Yes, offsides is a penalty, generally not a good thing. But it's a result of aggressive play, of hustle, of pushing the ball up the field—similar to a fast break in basketball. Play like that, and you'll get a few offsides calls. But the U.S. didn't need to worry about that, because they were a step slower than the Czechs all day long.
American coach Bruce Arena promises lineup changes in time for Saturday's game against Italy.
In the meantime, here's hoping the American players behave themselves and avoid any …
Sexual Spectator Sports
No, we don't have to worry about the American soccer players on that front. Arena will keep them in line.
But what about the 3 million soccer fans who are visiting host Germany for the Cup? How many of them will further fuel Germany's growing sex trade—let's call it what it really is—by doing "business" with any of the estimated 400,000 to 500,000 prostitutes in the country for the event?
Germany, which legalized prostitution in 2002—perhaps in anticipation of the upcoming Cup's business potential—issued extra prostitution licenses for the event. They've set up "sex huts"—complete with condoms and snacks—around the soccer stadiums, making it just as easy to buy a trick as it is to buy a beer.
There's much more I could say on the topic, but it's been said well enough in this CT editorial. Shame on Germany for not only condoning this kind of traffic, but for actually promoting it.
In the meantime, here's hoping the "participants" wear condoms and try to prevent even further damage. Speaking of wearing protection . . .
Whither Big Ben's Helmet?
Pittsburgh quarterback Ben Roethlisberger, who led the Steelers to the Super Bowl title, doesn't have to be convinced to wear a helmet during a football game. Sure, it's a rule. But Big Ben knows it's a dangerous sport, and he knows what could happen if he didn't wear a helmet.
So why doesn't he apply that thinking to the road when he goes out for a spin on his motorcycle?
Roethlisberger sustained multiple injuries in a motorcycle crash on Sunday, but—fortunately—nothing serious enough to keep him away from the game this fall. Still, he's got a hard road to recovery ahead.
The Steelers have not commented publicly on the accident, but coach Bill Cowher certainly warned his players to use some common sense. Former Steelers teammate Chris Hope recently said Cowher told the team, "I don't want you on motorcycles, but if you decide to ride one, please put on a helmet." (Hmm, with a couple semantic twists, that sounds like good advice for sex-hungry World Cup fans. But I digress …)
Roethlisberger's accident has triggered talk about whether NFL contracts should include additional safeguards forbidding players to engage in potentially dangerous activities—and motorcycle riding could top the list. I suppose one could include a "no-motorcycles" contract clause, but at some point, common sense should trump a contract. And when you're the $45 million franchise player, as Big Ben is, you owe it to your team to not do anything stupid.
Roethlisberger, a Christian, may do well to read some words from Isaiah, who addressed the same kind of stubbornness—and even man's insatiable quest for speed—when he wrote a chapter that begins, "Woe to the obstinate children …". The prophet wrote: "This is what the Sovereign LORD, the Holy One of Israel, says: 'In repentance and rest is your salvation, in quietness and trust is your strength, but you would have none of it. You said, "No, we will flee on horses … We will ride off on swift horses"'" (Isaiah 30:15-16).
Big Ben's bullheadedness wasn't likely of the spiritual variety—though there may have been some pride involved ("I'm invincible!"). But the view from here seems simple enough: Next time you saddle up, Ben, wear a helmet. Set an example. Be a role model. Or don't ride at all.
Mark Moring, editor of ChristianityTodayMovies.com and ChristianMusicToday.com, is terrified of motorcycles, and admits a bit of a bias here. He's also never played a real soccer game in his life, but it doesn't take an expert to see how poorly the U.S. played the other day.
Related Elsewhere:
Earlier Play Ball columns include:
Onward Christian Shortstops | The Colorado Rockies make a noble—if problematic—plan for winning. (June 1, 2006)
Incomplete Sentences | Many pro athletes convicted of a crime are sentenced to a lame excuse for "community service." It's time for the legal system to show a little backbone. (May 11, 2006)
Bowling Alone No More | A stealth revolution in attitude may be brewing. (May 4, 2006)
Sports as Soap Opera | Sportswriters seem to have forgotten their godly calling. By Mark Galli (April 27,2006)
'You Trying to Say Jesus Christ Can't Hit a Curveball?' | Fans vent their frustration on struggling slugger who professes religious devotion. By Collin Hansen (Apr., 20, 2006)
Un Problema Grande, No? | What major league baseball reveals about the dangers of immigration. By Mark Galli (Apr. 13, 2006)
WWJWD? | In the wake of UCLA's loss in Monday's NCAA championship game, I couldn't help but wonder: What would John Wooden do? By Mark Moring (April 6, 2006)
There IS Crying in Basketball | If only we all had something so precious to weep about. By Collin Hansen (March 30, 2006)
Pirates vs. Braves | Reforming sports one city at a time. By Mark Galli (March 23, 2006)
Bjorn Again? | It's been a while since tennis legend Bjorn Borg was in the news. Too bad he's back because he's selling his Wimbledon trophies. By Mark Moring (March 16, 2006)
Play Ball
From 2005 to 2007, "Play Ball" examined the relationship of sports and faith: sports is important precisely because it is a form of play, that is, a manifestation of the Sabbath. Contributors included Mark Galli, Collin Hansen, Mark Moring, and others.
Previous Play Ball Columns: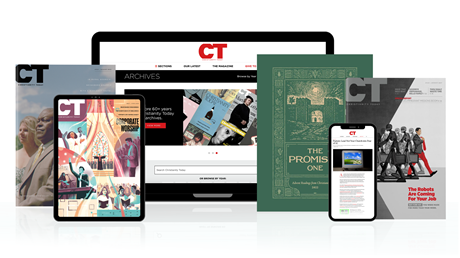 Annual & Monthly subscriptions available.
Print & Digital Issues of CT magazine
Complete access to every article on ChristianityToday.com
Unlimited access to 65+ years of CT's online archives
Member-only special issues
Subscribe
Of Czechs, Sex, and Wrecks
Of Czechs, Sex, and Wrecks