The Supreme Court is consensus happy. In January, it didn't just issue one unified decision on abortion-related cases—it issued two.
In the second opinion, the Court dealt with a lower court's decision that barred Wisconsin Right to Life from broadcasting ads that mentioned the name of a senator during his reelection campaign. The justices sent the case back to the lower court to determine whether the pro-life organization is exempt from the McCain-Feingold campaign law—which the Court supported in a 2003 decision.
But that was an easy one for the Court: Even NARAL Pro-Choice America filed a brief on behalf of Wisconsin Right to Life. Still, the decision is important.
"This could be an important first step toward undermining [the 2003 ruling] without overruling it," Richard Hasen, an election-law expert at Loyola Law School, told Legal Times.
"Undermining without overruling" has become the key tactic regarding Roe v. Wade. Sen. Arlen Specter and others consider it a "super-duper precedent," but that doesn't mean it has to retain its full force. As Time recently noted, states have passed 52 new laws restricting abortion in 2005—more than twice as many as were passed in 2004.
The other January Supreme Court abortion ruling may be a resounding call to pass many more such laws in 2006 and beyond.
Lower courts had thrown out New Hampshire's 2003 parental-notification law entirely. But in Ayotte v. Planned Parenthood of Northern New England, the Supreme Court ruled that the courts were wrong to choose "the most blunt remedy."
The justices agreed that that "states unquestionably have the right to require parental involvement when a minor considers terminating her pregnancy," but such parental involvement laws must not restrict abortions that are "necessary, in appropriate medical judgment, for preservation of the life or health of the mother." Still, Justice Sandra Day O' Connor wrote for the Court, "The lower courts need not have invalidated the law wholesale." The lower courts needed only to issue an injunction against the applications that would be a constitutional problem. The rest of the law can stay in place.
This is a significant turn for the Court. In 2000, it completely voided Nebraska's partial-birth abortion ban, based on concerns for the "health of the mother." So why throw out that law, but keep the New Hampshire one? Well, Nebraska "did not ask for, and we did not contemplate, relief more finely drawn," O'Connor wrote, while New Hampshire did.
In other words, if legislatures offer the judicial equivalent of a line-item veto, they get to keep the substance of their laws intact.
Beyond Symbols
The Court attempted to limit the scope of its ruling; the first sentence announces it is not a decision to "revisit our abortion precedents."
But as law blogger Simon Dodd suggested on Volokh.com, the 10-page decision could "rather substantially change the environment in which states may enact regulations of abortion, from one in which such actions are mere lip service which will never be enforced, to one in which a state may make and apply reasonable regulations on abortion, even while court proceedings are ongoing." Undermining without overruling.
Recent legislative debates on abortion, especially on the national level, have been largely symbolic, because, in the end, they have been easily thwarted by courts' "blunt remedies." Many pro-life activists have fought these battles knowing they were more about symbol than substance. That's a habit of thought they now need to break. But it won't be easy.
Christian political and cultural groups easily fall prey to putting symbol and rhetoric above actual change: witness recent fights over Ten Commandments displays, government-sponsored invocations, the Pledge of Allegiance, and wishes of "Happy Holidays." Such debates rally donors, but they don't make much lasting societal difference.
Ayotte reminds us that we don't have to play that game. We don't have to assume that meaningful legislation will be entirely shot down by "liberal activist judges." If Bismarck was right in calling politics "the art of the possible," then the canvas just got bigger.
Related Elsewhere:
Weblog also commented on the decision after its release.
This column appeared in the magazine's March 2006 print issue as the eleventh entry of "Weblog in Print," CT's effort to duplicate on paper our popular online Weblog feature. Earlier entries include:
Time to Get Judicially Serious | Evangelicals and the possible Supreme Court Catholic majority. (Dec. 28, 2005)
The Katrina Quandary | America questions the role of Christian charity. (Oct. 20, 2005)
Abolishing Abstinence | Telling underage kids not to have sex is surprisingly controversial (Aug. 24, 2005)
Dirty Qur'ans, Dusty Bibles | If Leviticus or Jude suddenly disappeared from Scripture, would we notice? (June 20, 2005)
Who's Driving This Thing? | Everyone is asking who leads the evangelical movement. (Feb. 21, 2005)
Bad Believers, Non-Believers | Do religious labels really mean anything? (Oct. 19, 2004)
Pro-Abortion Madness | The abortion lobby has abandoned its rationales amid pro-life gains. (Aug. 17, 2004)
Grave Images | The photos from Abu Ghraib have reopened debate on the power of pictures.
Misfires in the Tolerance Wars | Separating church and state now means separating belief and action (Feb. 24, 2004)
A Theoblogical Revolution | Billy Graham's vision goes from print to online, then back again. (Jan. 16, 2004; Weblog update: "New Kids on the Blog," Feb. 13, 2004)
Have something to add about this? See something we missed? Share your feedback here.
Tidings
Ted Olsen is Christianity Today's executive editor. He wrote the magazine's Weblog—a collection of news and opinion articles from mainstream news sources around the world—from 1999 to 2006. In 2004, the magazine launched Weblog in Print, which looks for unexpected connections and trends in articles appearing in the mainstream press. The column was later renamed "Tidings" and ran until 2007.
Previous Tidings Columns:
Our digital archives are a work in progress. Let us know if corrections need to be made.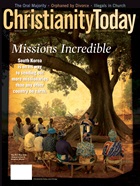 This article is from the March 2006 issue.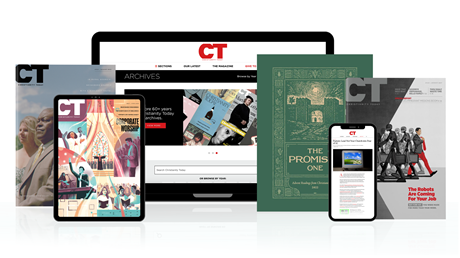 Annual & Monthly subscriptions available.
Print & Digital Issues of CT magazine
Complete access to every article on ChristianityToday.com
Unlimited access to 65+ years of CT's online archives
Member-only special issues
Subscribe
The Art of Abortion Politics
The Art of Abortion Politics