At a time when Pentecostals are stereotyped as insular and anti-intellectual, Amos Yong may seem like a fresh wind.
He's not the only Pentecostal with a Ph.D. (from Boston University) or two master's degrees. Other Pentecostals, too, publish and speak at a high level of scholarship to a wide spectrum of academics. Yet few Pentecostals have established themselves as such prolific and productive scholars by age 40, and fewer yet have explored such a range of subjects. Yong's work tackles science, ethics, world religions, language, nature, and a host of other contemporary issues. He also endeavors to work beyond the academy, making a point to engage in formal dialogues with Buddhists and other non-Christian groups.
What ties most of Yong's scholarship together is the common thread of pneumatology (the doctrine of the Holy Spirit), which he believes Christian theology has too long neglected. Even Pentecostalism has not produced a sufficiently developed vision of the person and work of the Holy Spirit. Yong's passion is to expand interest in and understanding of the wider activity of the Spirit in the world beyond its traditional scope.
Beyond Common Grace
Yong, who last year left Bethel College in Minnesota to help establish the Ph.D. program in renewal studies at Regent University School of Divinity in Virginia, distinguishes classical, primarily Western "Pentecostalism" from the "pentecostalism" that is the largest and fastest-growing branch of Christianity in the world. He is a product of both.
Yong's Chinese parents, Assemblies of God pastors in Malaysia, moved to California when he was 10 to pastor a Chinese church. Yong dutifully attended Bethany, the ag college in Santa Cruz, where courses in theology inspired him. During his graduate studies, however, the young pastor (he has maintained his AG credentials) and budding theologian began to realize that there are genuine followers of Jesus outside his own "full gospel" movement.
"My studies at a Wesleyan Holiness seminary [Western Evangelical Seminary] raised the intra-Christian ecumenical question for me with great force, challenging me to confront the very sectarian and exclusive form of Christian self-understanding which characterized the Chinese American Pentecostal churches of my upbringing, " he later wrote. "Further graduate studies expanded the ecumenical question: If it was possible that those whom I considered before as outside the pale of Christianity (e.g., Catholics, Orthodox, even Lutherans) did indeed have a saving relationship with God, what about others also categorized as pagan, heathen, or non-Christian?"
This has remained Yong's pressing question: Is it possible that the Holy Spirit is active not only among Christians of all denominations but also among believers of non-Christian world religions?
The question arises in each of Yong's most important publications: Spirit-Word-Community (Ashgate, 2002), Beyond the Impasse (Baker Academic, 2003), and The Spirit Poured Out on All Flesh (Baker Academic, 2005). His central thesis is that, because the Spirit of God is universally active in creation and new creation, "the religions of the world, like everything else that exists, are providentially sustained by the Spirit of God for divine purposes." Where most Pentecostals see the devil's work, Yong sees the Spirit's. Concretely, that means Christians should be open to learning from and being enriched by the Spirit's work in world religions. Dialogue must take place alongside evangelism, he argues, so that all the religions—including Christianity—can learn from each other what the Spirit is doing.
Many evangelicals will worry that Yong's view conflicts with the missionary impulse. Yong disagrees.
"Dialogue and proclamation are not mutually exclusive but intrinsically connected," he writes. "A pneumatological approach to the non-Christian faiths … opens up the Christian to whatever is true, good, beautiful, and holy in the other traditions, even while nurturing an environment in which the non-Christian can come to appreciate the same in Christian faith. What else is this besides grassroots 'evangelism'?"
Evangelical Christians have long believed with the Protestant Reformers that pagan virtues exist because of God's universal sustaining and creative grace. But Yong seems to be saying more. In his theology, the world religions are instruments of God, play a role in God's providence, and have much to contribute to Christianity. "[C]hristians should be open to learning from other religious traditions because of the unfinished character of Christian identity," he writes. "While we are being formed into the eschatological image of Jesus, we continue to look through the glass dimly. If others have something to say about God, should we not at least listen both sympathetically and critically?"
Many evangelicals will rightly question whether Yong is laying the foundation for a Christian acceptance of syncretism. Yong neither endorses nor condemns it, preferring to explore the possibilities inherent in the universal work of the Spirit—especially in spiritual and cultural movements usually perceived as lying outside Christianity's borders. He is intensely interested in helping Christians at least understand these movements rightly. And he thinks that once that occurs, it's possible that they will begin to see—as he thinks he sees—that the Spirit of God cannot be imprisoned within Christian walls.
Such explorations will no doubt heighten many conservatives' concerns about Yong's theological project, but he is not out to please them. He is not playing the role of provocateur, either. He is determined simply to follow the Spirit wherever the Spirit leads and let the theological chips fall where they may. And one place where Yong sees the Spirit as especially active is along the perimeters of world pentecostalism, where younger churches absorb elements of their cultures and traditional religions into their theologies and practices. He cites as an example an African movement that combines Islam and Christianity. His conclusion is typically ambiguous (and perhaps ambivalent): "My point is not to embrace … these developments but to be spurred on to discernment and theological reflection by what is happening in the Christian-Muslim encounter."
It is too early in Yong's career to pass judgment on his project. Most of his writing falls into the category of theologoumena—theological explorations of new ways of looking at old questions. He does not intend his proposals to be viewed as final pronouncements. Ultimately, he is concerned to raise question marks over what he perceives as traditional Christianity's tendencies to limit the Spirit.
What Role for Christ?
Yong has yet to answer where his investigations are leading him. Does the Holy Spirit reveal something of God truthfully in non-Christian religions? Does the Spirit work salvation through them? Does this salvation look anything like what Jesus describes to Nicodemus in John 3 or what Paul depicts in Romans 8? On the one hand, he underscores the dynamic and unpredictable work of the Spirit in world religions; on the other hand, he always links Word (Christ) and Spirit together. Is he leaning toward religious pluralism or promoting inclusivism? One thing is certain: He regards these traditional categories as too static and is looking for an alternative.
This raises a second question: What criteria should we use for discerning the Spirit's work in non-Christian movements? Yong hesitates to elevate Jesus Christ to exclusive status for such discernment. For him, "signs of the kingdom," such as personal and social transformation in love, might serve as such tools. The Spirit might be active, then, wherever the kingdom of God is being advanced, whether or not Jesus Christ is central to the religious messages and practices. But can Christians ever separate the person of Jesus Christ from the kingdom of God? That seems problematic and will raise doubts in many Christians' minds about Yong's project.
Meanwhile, Yong's fellow Pentecostals might wonder about his apparent discomfort with the traditional distinctions between the natural and the supernatural. He suggests, for example, that the gifts of the Spirit might be enhanced natural abilities, or at least connected to the natural world. For Yong, the Spirit should not be limited to the supernatural, so even the process of discerning the Spirit's work can be enhanced by sociological and anthropological research. In contrast, traditional Pentecostals (and most non-Western pentecostals) believe that discernment, like the other spiritual gifts mentioned by Paul in 1 Corinthians 12, is supernatural and not an exercise of scientific investigation.
Yong will need to draw together some of these threads and nail down exactly where he stands, especially on whether world religions reveal God truly and mediate salvation. His openness to non-Western cultures, including religions, is laudable, but the doors he opens—however inadvertently—to syncretism and pluralism will haunt the credibility of his work.
In the meantime, Yong is proving to be a cutting-edge Pentecostal scholar, whose non-Western perspective is offering fresh ways of looking at old theological problems.
Roger E. Olson is professor of theology at Baylor University's Truett Seminary.
Related Elsewhere:
Amos Yong's books, Spirit-Word-Community, Beyond the Impasse, and The Spirit Poured Out on All Flesh, are available from Christianbook.com, Amazon.com, and other book retailers.
Our full coverage of Pentecostalism on the 100th anniversary of the Azusa Street revival includes:
Africa's Azusa Street | East Africa has experienced Pentecost continually for nearly 80 years.
Stepping to Success | One reason Without Walls is one of the country's fastest-growing Pentecostal congregations.
Pentecostals: The Sequel | What will it take for this world phenomenon to stay vibrant for another 100 years?
Have something to add about this? See something we missed? Share your feedback here.
Our digital archives are a work in progress. Let us know if corrections need to be made.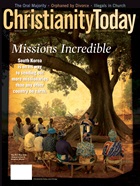 This article is from the March 2006 issue.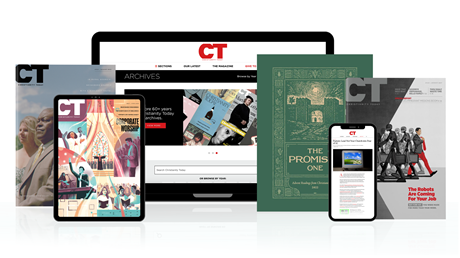 Subscribe to Christianity Today and get access to this article plus 65+ years of archives.
Home delivery of CT magazine
Complete access to articles on ChristianityToday.com
Over 120 years of magazine archives plus full access to all of CT's online archives
Subscribe Now
A Wind that Swirls Everywhere
A Wind that Swirls Everywhere