This is the second Weblog we've posted today. The earlier one has bigger stories.
1. Melissa Berels: An American martyr
From The Detroit Press:
Melissa Berels was a devout Christian who spent her work breaks on a phone chat line, likely spreading the word of her faith, police said.
Patrick Selepak has confessed he was one of the people in spiritual peril on the other end of one of those calls, New Baltimore Detective Ken Stevens said Thursday.
"We knew that she talked to people all the time and was very involved in the church and trying to get the message out," Stevens said.
It was those brief conversations from inside V.G.'s Food Center in New Baltimore that probably led to Selepak's visits there, police said. Now Selepak is accused of killing Berels, who was 10 weeks pregnant, and her husband, Scott Berels, on Feb. 15. Police discovered their bodies wrapped and bound in plastic and stashed under a tarp in a bedroom of the couple's home in New Baltimore.
Expect to hear more about Berels and her faith as Selepak and Bachynski's trial continues.
2. Christian college applications spike
"Applications have jumped between 8 percent and 10 percent at the 238 colleges that belong to the North American Association of Christian Admissions Professionals," Religion News Service reports. "More applications mean more students on campuses next fall … and that's good news since 25 percent of those schools are barely breaking even financially. … Enrollment has increased 70 percent since 1990, from 135,000 to 230,000, at the 102 evangelical schools belonging to the Council of Christian Colleges and Universities."
3. Catholic Charities of Boston quits adoption business
If providing adoption services requires placing children in sexually disordered homes, the Boston Archdiocese said, then we're not interested. The Roman Catholic Archdiocese of San Francisco told The Boston Globe that it's reconsidering its practice of allowing gays to adopt children through its Catholic Charities arm, especially now that San Francisco's former archbishop William Levada, now head of the Vatican's prefect of the Congregation for the Doctrine of the Faith, is reiterating Vatican policy on the matter.
4. Handicapping the Santorum-Casey race
"Sen. Rick Santorum of Pennsylvania, the Republican Party's most vulnerable incumbent, trails state Treasurer Robert P. Casey Jr. by 10 to 15 percentage points, but the race will tighten when Democrats learn more about Mr. Casey's pro-life views, pollsters and campaign advisers said yesterday." That ludicrous lead is in today's Washington Times. Does anyone who knows enough to have an opinion in that race know anything about Casey other than that he's pro-life? What the Times really means is that if a third-party candidate who supports abortion enters the race, Casey could face trouble. No kidding. And if a Republican were to enter the race either as a pro-life or a pro-choice candidate, Santorum would probably face additional problems. But so far party leaders have done everything they can to keep others out of the race.
Quote of the day:
"Anti-abortion advocates? Bring 'em on, Texan says"
—Headline in today's New York Times, over a story about the new president of Planned Parenthood of America, wherein Cecile Richards never says "Bring 'em on" or compares pro-lifers to Iraqi militants, as the headline suggests.
More articles
Ala. church bombings | Crime | Abuse | Abortion | Life ethics | Politics | Climate change initiative | Faith-based initiative | Religion & homosexuality | Church & state | Boy Scouts | Education | Charity | Catholicism | Inmate priest to be paroled | St. Patrick's Day | Church life | Uganda church collapse | Missions & ministry | Grahams in New Orleans | Sudan | Books | More articles of interest
At college, moral obligations are felt on church burnings | Birmingham-Southern College's students and administrators struggled to come to terms with the arrests of two sophomores in the burning of nine rural churches last month (The New York Times)


Neighbors are at a loss over students' arson arrest | 'This is so out of the bounds of what we deal with here,' says one Alabama professor (Los Angeles Times)


Victim was trying to convert suspect | New Baltimore slaying began on chat line, cops say (Detroit Free Press)


Judge lets stand larceny charges against Manhattan priest | A judge on Thursday refused to drop grand larceny and other charges filed against a Roman Catholic priest who is accused of stealing more than a $1 million from his parish (Associated Press)


Church vandal attack 'was racist' | A Catholic church in east Belfast has been targeted by vandals who daubed racist slogans (BBC)


Arbitrator to decide awards in Boston church abuse cases | A second group of plaintiffs who say they were abused by priests in Boston has reached a settlement with the archdiocese (The New York Times)


Md. urged to widen window for sex abuse suits | Under the state's current law, a victim of child sexual abuse has seven years after reaching 18 to file a civil suit against his or her abuser (The Washington Post)


88 victims accept offer from church | Arbitrator will decide awards in abuse cases (The Boston Globe)


Anti-abortion advocates? Bring 'em on, Texan says | Cecile Richards is the new and instantly embattled president of the Planned Parenthood Federation of America (The New York Times)


In South Dakota, at least the pretense is finally over | There's no such thing as common ground on abortion (Ellen Goodman, The Boston Globe)


'Morning after' pill bill defeated | No immunity for druggists who refuse (The Concord Monitor, N.H.)


Nurse of the Year is the target of anti-abortion hate campaign | Militants accuse her of being a cold-hearted baby murderer (The Times, London)


Senate approves stem-cell legislation | The Maryland Senate passed a stem-cell research bill yesterday that would allow for the use of embryos and adult stem cells, leaving House lawmakers to accept it or push for embryonic research only, which could kill the legislation (The Washington Times)


Stem cell proposal divides Mo. Republicans | A ballot proposal promoting embryonic stem cell research is turning conservatives against each other and threatening to tear apart Missouri's Republican Party at the very height of its modern-day influence (Associated Press)


Senate passes stem cell bill | Lawmakers must reconcile differences with House proposal (The Baltimore Sun)


Black clergy's silence hurts gays | The Republican Party continues to use the issue of gay marriage as an inroad to garner the support of black ministers — and black voters (Yolanda Young, USA Today)


God's green earth: Evangelicals set ecological goals | The ecological initiative creates an odd alliance between the goals of evangelical Christians, who are often conservative in their political views, and traditional environmentalists, who tend to bend toward the left (The Dallas Morning News)


A warm welcome | Scientists should embrace a move by evangelicals to join the debate on climate change (Editorial, Nature)


Bush urges more money for religious charities | President Bush said corporate foundations should give more to social programs run by churches, synagogues and mosques (The New York Times)


Bush touts grants to religious charities | President Bush said yesterday that the federal government gave more than $2.1 billion in grants to religious charities last year -- a 7 percent increase from the prior year and proof, he said, that his administration has made it easier for faith-based groups to obtain taxpayer funds (The Washington Post)


Federal faith-based funding rose sharply in fiscal 2005 | Two days after creating a faith-based office in the Department of Homeland Security, the White House released a report showing that more than 10 percent of grants from federal agencies with faith-based offices went to religious charities (The Washington Times)


Faith-based programs flourishing, Bush says | Five years after Bush introduced the idea, the grants are routine and have quietly increased to the point where groups affiliated with churches, synagogues, mosques or other faith communities now receive more than $2.1 billion a year from the federal government, or about 11% of the $19.7 billion awarded last year to community groups (USA Today)


Boston Catholic Charities halts adoptions | The Boston Archdiocese's Catholic Charities said Friday it would stop providing adoption services because of a state law allowing gays and lesbians to adopt children (Associated Press)


Also: Calif. archdiocese to reconsider its adoption policy | Its ex-leader calls for gay parent ban (The Boston Globe)


Md. lawmakers reject impeachment of judge | The Maryland House has rejected a call to impeach a Baltimore judge who recently ruled in favor of gay marriage (Associated Press)


Exporting homophobia | The Bush administration's anti-gay rights policies are maddening in the United States, but their implications abroad are much more devastating (Nicole Makris, AlterNet)


Gay activists arrested at Va. university | More than 20 gay rights activists were arrested on trespassing charges Friday as they tried to step onto the campus of Liberty University, the school founded by the Rev. Jerry Falwell (Associated Press)


Refusal to subsidize scouting is upheld | Nonprofit groups such as the Boy Scouts that refuse to comply with an anti-bias policy can be denied government support, justices rule (Los Angeles Times)


Berkeley wins Boy Scouts-marina case | The city of Berkeley can charge marina fees to youth sailors connected with the Boy Scouts of America in response to the Scouts' discriminatory policies, the state Supreme Court ruled Thursday (Associated Press)


O.C. foundation giving its all | The Harry and Grace Steele fund, supporter of the Performing Arts Center, Hoag hospital and much more, is down to its last dollars. It has given to both abortion groups and Christian ones (Los Angeles Times)


Many nonprofit leaders ready to quit | Three-quarters of charity CEO's are so fed up with their jobs that they plan to quit within the next five years, according to a new survey (The Chronicle of Philanthropy)


Catholic leader objects to new cardinal | A leader of China's state-controlled Catholic church said Friday he suspected the Vatican appointed an anti-communist Hong Kong bishop to be cardinal because the pope wanted to play a role in the Communist Party's demise (Associated Press)


Mahony vs. Olivares | The cardinal finally matched the priest's compassionate example. But survival, not grace, is the reason why (Gustavo Arellano, Los Angeles Times)


Bravo, Cardinal. And about that pope of Hollywood tag … | I may have to revise my somewhat irreverent description of Cardinal Roger M. Mahony as the pope of Hollywood in light of his sudden, and powerful, realization that immigrants are people too (Al Martinez, Los Angeles Times)


Calif. Gov. to parole killer turned priest | Schwarzenegger rejected parole for James Tramel a year ago (Associated Press)


Inmate who became a priest is paroled by Gov. | The freeing of convicted murderer James Tramel is a turnabout for Schwarzenegger (Los Angeles Times)


Pastor ignored KCC directives | The church was an illegal structure without an approved architectural plan, reports revealed yesterday (New Vision, Kampala, Uganda)


Rival pastor blamed for evil spell on church | Residents said there was rivalry between the Pastor of the ill-fated church, Godfrey Luwagga and another pastor (New Vision, Kampala, Uganda)


SMU senior focused on helping women in India | Q&A with Ludia Butts: 'See the things you can change' (The Dallas Morning News)


Repent America calling | The group was in the Dover area to publicize a seminar on creationism (York Daily Record, Pa.)


'I just want people to know that they're loved and they're prayed for' | The Rev. Billy Graham, who is in New Orleans this week with his son Franklin to conduct a two-day crusade, sat down Thursday morning for a brief interview in First Baptist Church, New Orleans (Citizen-Times, Asheville, N.C.)


Billy Graham urges hope in New Orleans | Though frail in movement, the 87-year-old evangelist spoke with the familiar, clear deep voice with which he has preached to millions around the world the basic gospel message of repenting of sins and turning to Jesus. His message for New Orleans: hope (The Advocate, Baton Rouge, La.)


Graham shows he hasn't lost his magic | Evangelist shares hope with pastors (Asheville Citizen-Times, N.C.)


Rescue Darfur—now | Sanctions alone won't stop slaughter (Editorial, The Sacramento Bee, Ca.)


Darfur's horrors | Can an individual do anything to stop a genocide? Let's hope so, because governments certainly aren't doing much (Trudy Rubin, The Sacramento Bee, Ca.)


Finding the heart of Jesus amid the many apparent contradictions | Gentle and fierce, kind and rude, human and divine, Jesus of Nazareth is at once the most confounding and consequential figure in Western history. (International Herald Tribune)


Blessing of Da Vinci date error | Dan Brown's mistake over the Crusades could prove a weapon in his defence against plagiarism (The Times, London)


Related Elsewhere:
Suggest links and stories by sending e-mail to weblog@christianitytoday.com
See our past Weblog updates:
March 10a | 8
March 3 | 2 | 1
February 24 | 23 | 22 | 21
February 17 | 16 | 15 | 14 | 13
February 10 | 9 | 7
February 3 | 2 | 1
January 25 | 20 | 19 | 18 | 17
January 13b | 13a | 10
Weblog
Launched in 1999, Christianity Today's Weblog was not just one of the first religion-oriented weblogs, but one of the first published by a media organization. (Hence its rather bland title.) Mostly compiled by then-online editor Ted Olsen, Weblog rounded up religion news and opinion pieces from publications around the world. As Christianity Today's website grew, it launched other blogs. Olsen took on management responsibilities, and the Weblog feature as such was mothballed. But CT's efforts to round up important news and opinion from around the web continues, especially on our Gleanings feature.
Ted Olsen is Christianity Today's executive editor. He wrote the magazine's Weblog—a collection of news and opinion articles from mainstream news sources around the world—from 1999 to 2006. In 2004, the magazine launched Weblog in Print, which looks for unexpected connections and trends in articles appearing in the mainstream press. The column was later renamed "Tidings" and ran until 2007.
Previous Weblog Columns: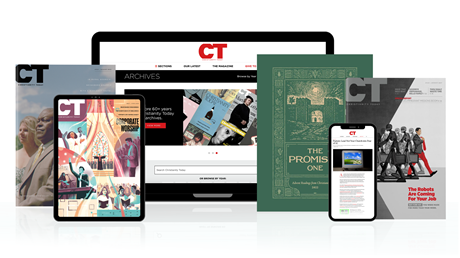 Annual & Monthly subscriptions available.
Print & Digital Issues of CT magazine
Complete access to every article on ChristianityToday.com
Unlimited access to 65+ years of CT's online archives
Member-only special issues
Subscribe
Weblog Bonus: Murder of a Phone Line Evangelist
Weblog Bonus: Murder of a Phone Line Evangelist