Today's Top Five
1. U.S. and British troops free three Christian Peacemaker Teams hostages
Canadians James Loney and Harmeet Singh Sooden and Briton Norman Kember, three of the four members of Christian Peacemaker Teams (CPT) taken hostage in Iraq November 26 were found today by American and British troops. American Tom Fox, the fourth CPT worker taken hostage by the Swords of Righteousness Brigades, was found dead March 10. "Our gladness today is made bittersweet by the fact that Tom is not alive to join in the celebration," CPT said in a written statement.
The statement's consistent description of the CPT workers as "released" rather than "freed" is causing some critics to call the group ungrateful and theologically problematic. But there is some wiggle room in what to call the moment of freedom. After all, as Canadian Prime Minister Stephen Harper told the press, "There were no kidnappers in the areas" when the troops launched their operation. But Maj. Gen. Rick Lynch says that's probably because the kidnappers knew they were coming: a member of the "kidnapping cell" had been captured and interrogated Wednesday night.
In the next few days, expect a lot of questions and opinions about how CPT members—especially the former hostages—feel about being freed by a western military operation.
2. U.S. appeals court says belief, not knowledge of doctrine, key to religious asylum cases
When Indonesian Yose Rizal applied for religious asylum in the U.S., explaining that he had been beaten, fired, and threatened with death because of his Christian faith, and that his church had been burned by local Muslims, U.S. immigration lawyers asked him where Jesus had been crucified. "Bethlehem," Rizal answered.
What disciples wrote the New Testament, they asked. He did not remember.
"Do you know who denied knowing Jesus after the crucifixion?" the lawyer pressed.
"Like whenever it comes to the details of the Bible stories, I cannot really recall everything in detail because basically what I learned was what's good and what's evil," Rizal answered.
"Sir, are you trying to tell me you don't know the answer to the question I asked you?" the lawyer said.
"I swear, I just learned about this story from the Bible but I don't really remember everything in detail because what I really remember was the teaching of what's good and what's evil, like you may not kill, you may not hurt people, and I just enjoy going to church to listen to the preachers."
"Give him something a little easier," the immigration judge told the government lawyer.
The lawyer went to the Old Testament: "Who was Moses?"
"Moses was born by Miriam," Rizal said, incorrectly identifying Moses' older sister.
"And who prepared the Ten Commandments?"
"Jesus."
"You got that backwards," the lawyer said.
Rizal protested, describing his baptism. "[T]hey have some kind of wording, some kind of words before then, whether we really have the intention of being a Christian, whether we were ready or not and then after that, the preacher spread some holy water and then prayed, we prayed together."
"Do you have any other questions?" the judge finally said. "Because I think I've heard enough."
The government lawyer said that, yes, he had more questions, because Rizal "hasn't testified at all today regarding any of the [events] of persecution."
"Well, if I don't find he's a Christian, I don't even think it's necessary," the judge replied. Indeed in his decision denying Rizal asylum, the immigration judge ruled that the Indonesian "provided no evidence to corroborate his purported identity as a Christian. … [He] also failed to persuade the Court of the genuineness of his professed Christian faith based on his inability to demonstrate basic knowledge of Christianity. For example, he identified Jesus as the preparer of the Ten Commandments and he identified Moses as the son of Mary."
Actually, he identified him as the son of Miriam, the 2nd U.S. Circuit Court of Appeals noted in a Tuesday decision. And that's not the only point the appeals court corrected the immigration judge on. The immigration judge "appears to have erroneously viewed Rizal's lack of detailed doctrinal knowledge about Christianity as automatically rendering incredible his claim of religious persecution, without assessing the genuineness of Rizal's asserted Christian self-identification and his claim that others perceived him as a Christian and had persecuted him on that basis," Judge Robert Katzmann wrote for the court. Doctrinal knowledge isn't a prerequisite for persecution, the court said, so it shouldn't be a prerequisite for asylum. "Both history and common sense make amply clear that people can identify with a certain religion, notwithstanding their lack of detailed knowledge about that religion's doctrinal tenets, and that those same people can be persecuted for their religious affiliation. Such individuals are just as eligible for asylum on religious persecution grounds as are those with more detailed doctrinal knowledge." The appeals court ordered the lower immigration courts to reconsider the asylum case. Rizal's lawyer notes that the Indonesian may be able to stay in the country a lot longer than earlier thought: Over the course of the appeals process, he married an American. An Associated Press story ends with a nice touch: "The pair … met at church."
3. Abdul Rahman "crazy" for converting?
Almost every western nation is calling for the freedom of Abdul Rahman, the Afghan convert to Christianity who faces the death penalty for doing so. At the same time, Afghan clerics are threatening revolt and murder if the Afghan court does not execute him. Is there any way out? Prosecutor Sarinwal Zamari thinks there might be: Rahman, he said, seems crazy. "We think he could be mad," he told the Associated Press. "He is not a normal person. He doesn't talk like a normal person." Freeing Rahman on grounds of insanity would probably mean he would be killed by local Muslims. The Associated Press reports that local imams aren't buying the craziness excuse. Abdull Raoulf, who is a member of the country's main Islamic organization, the Afghan Ulama Council, agreed. "The government is playing games," said Abdul Raoulf. "The people will not be fooled. Cut off his head! We will call on the people to pull him into pieces so there's nothing left." The Associated Press identified Raoulf as a "moderate."
4. St. Paul City Hall evicts Easter Bunny
Tyrone Terrill, human rights director for the city of St. Paul, Minnesota, told the city council to remove its bunny, Easter eggs, and "Happy Easter" sign because they were too Christian and a violation of church-state separation. The worst part of the story isn't the government's confusion between pagan symbols and Christianity. It's that Weblog's e-mail inbox is now going to be crammed with press releases from activist groups decrying the "War on Easter." I'm still cleaning out the "War on Christmas" stuff.
5. Speaking of the war …
Oh, it's not just a war on Christian holidays, you know. It's a war on Christians. That's the title of a conference next week from the group Vision America. It's attracting a surprising array of both conservative activists and congressional leaders, including John Cornyn, Tom DeLay, Todd Akin, and Sam Brownback. Each day brings a new interesting e-mail from Vision America promoting the conference. Today's equates the trial of Abdul Rahman with Hollywood's "war on Christians" as evidenced by the universally panned movie V for Vendetta, which Vision America says has "a strong anti-Christian message." Maybe so, but, um, does Vision America know that the Rahman trial isn't just a movie? It's interesting that what the church has for nearly two millennia considered persecution and martyrdom is now being considered "war." An awful lot of implications there, don't you think?
Quote of the day:
"It is hard to believe that a Republican leadership that is constantly talking about values and about faith would put forth such a mean-spirited piece of legislation. It is certainly not in keeping with my understanding of the Scripture because this bill would literally criminalize the Good Samaritan and probably even Jesus himself."
—Sen. Hillary Rodham Clinton, on an immigration bill passed by House Republicans. An editorial in National Review says critics of the bill are "bearing false witness" by claiming the bill would ban charitable organizations from providing help to illegal immigrants.
More articles
Christian Peacemaker Teams workers rescued | Religious freedom | Christians and Islam | Abdul Rahman (news) | Abdul Rahman (opinion) | Sudan | India | Church and state | Faith-based crimefighting | Immigration | Missions and ministry | Politics | Life ethics | Evolution | Education | Books | Entertainment and media | History | Monasticism | Catholicism | Abuse | Church life | Gay marriage | Other stories of interest
Christian Peacemaker Teams workers rescued:
Indonesian Christian gets asylum chance | A court has given an Indonesian citizen a new chance at asylum after his claim of religious persecution was rejected because his grasp of Christianity seemed shaky (Associated Press)


Editor of Welsh church magazine quits over cartoon of Muhammad | Archbishop recalls all copies of publication (The Guardian, London)


Americans view Muslims favorably | Most Americans hold favorable views of American Muslims, and almost half say Islam doesn't encourage violence more than other religions, according to a study released yesterday at an international interfaith conference (The Washington Times)


For Afghans, allies, a clash of values | Case against Christian convert puts pressure on Karzai -- and on Bush (The Washington Post)


Afghan trial of Christian 'troubles' Bush | President Bush yesterday said he was "deeply" troubled by the trial in Afghanistan of a Christian who could face execution for converting from Islam and vowed to pressure the Afghan government on the matter (The Washington Times)


Darfur attacks overwhelm peace force, U.N. reports | A U.N. envoy said that lack of progress in the south jeopardized a peace agreement that ended a separate conflict there (The New York Times)


Fears over renewed Sudan violence | Violence in Sudan is on the rise as frustration grows in the south about the lack of reconstruction taking place, the UN's Sudan envoy has said (BBC)


Christians revert to Hinduism | More than two hundred Christians, in village Tharachitara near here, reverted back to Hindu religion Tuesday (Chronicle, India).


Nuns win battle to practice law | The high court in the southern Indian state of Kerala has upheld the right of nuns and priests in the state to practice law (BBC)


Silent march against anti-Christian violence in Rajasthan | Thousands of people—Christians, Muslims and leftwing leaders—march in state capital to protest violence against Christians. We are Christians and we love our land, but we won't give up our right to defend the life God gave us, says bishop of Jaipur (AsiaNews, Catholic News Service)


Faith-based groups urged to help N.Va. youths avoid gangs | Drive-by shootings. Machete attacks. Drug deals gone bad. Big-city gang problems for big-city law enforcement? Not if you ask some in Loudoun County (The Washington Post)


Pastor joins police on the beat | Police are to team up with religious leaders to go on the beat in Liverpool to try to build confidence in the force and to encourage people to report more crimes (Daily Post, Liverpool, England)


Spiritual sums | Hampton sheriff needs to tighten up on payments to Christian group (Editorial, Daily Press, Hampton Roads, Va.)


Mrs. Clinton says G.O.P.'s immigration plan is at odds with the Bible | Offering aid to illegal immigrants would be a crime under the bill, which Senator Hillary Rodham Clinton called mean-spirited (The New York Times)


Religious leaders outraged by plan to punish those who help immigrants | Church leaders say the measure exploits anti-immigrant fears that flared after the Sept. 11, 2001, terrorist attacks (South Florida Sun-Sentinel)


Called by God to help | The Roman Catholic Church couldn't obey a law barring aid to immigrants (Roger Mahony, The New York Times)


Cardinal errors | If the House Republicans had proposed such a bill, they would deserve to be opposed. But they have not, and Cardinal Mahony is at least uncharitable in claiming that they have (Editorial, National Review)


Anglican leader says the schools shouldn't teach creationism | The Archbishop of Canterbury opposes teaching creationism in school and believes that portraying the Bible as just another theory devalues it (The New York Times)


Clarke opposes creation teaching | Charles Clarke, the Home Secretary, stepped into the controversy over creationism yesterday by declaring that he was "totally opposed" to the concept (The Telegraph, London)


Scots church leader joins row over teaching of creationism in schools | The leader of the Scottish Episcopal Church said yesterday that creationism should not be taught in schools and that a "false battleground" was pitting science against faith (The Scotsman)


Biblical exhibit encore to Tut | The collection of artifacts, which date from the time of Jesus to the Seventh Century, includes one of the Dead Sea Scrolls; a burial ossuary of Caiaphas the High Priest, who according to the New Testament delivered Jesus to the Romans for trial and crucifixion; and a commemorative plaque inscribed with the name Pontius Pilate (The Miami Herald)


Was Judas not a Judas? | Even if Iscariot's betrayal was God's will, his name will always be invoked as the ultimate traitor (David McKie, The Guardian, London)


Monkish | What the increase of monastic vocations in Italy could mean for European secularism (Christopher Levenick, The Weekly Standard)


Converting the spirit | At monastery, monks chant the liturgy, focus on worship (South Bend Tribune, Ind.)


Cardinals convene to give Pope advice | Pope Benedict XVI convened the College of Cardinals on Thursday for the first time since his election, asking for advice on relations with Islam and reconciling with an ultraconservative group whose bishops were excommunicated nearly 20 years ago (Associated Press)


Vatican explains omission of papal title | The Vatican took the unusual step Wednesday of explaining its decision to renounce a title popes have used for nearly 1,500 years, saying the omission of "patriarch of the West" should benefit relations with the Orthodox Church, not hinder them (Associated Press)


Aid workers rally to side of a New Orleans parish | A nonviolent sit-in at historic St. Augustine Church entered its third day Wednesday, with relief workers from across the country occupying the church rectory and demanding that the Archdiocese of New Orleans reopen the parish and reinstate the church's longtime priest (Los Angeles Times)


Did a miracle happen at a Dallas church? | Parishioners at St. James Church say a piece of bread used in a communion service there turned to blood (KTVT, Dallas)


Catholics worry as major closings loom | The largest religious group in southeast Michigan, the 1.5-million-member Catholic Church, is downsizing its 306 parishes in a massive plan that leaders will start unveiling today (Detroit Free Press)


Related Elsewhere:
Suggest links and stories by sending e-mail to weblog@christianitytoday.com
See our past Weblog updates:
March 21
March 17 | 16 | 15
March 10b | 10a | 8
March 3 | 2 | 1
February 24 | 23 | 22 | 21
February 17 | 16 | 15 | 14 | 13
February 10 | 9 | 7
February 3 | 2 | 1
January 25 | 20 | 19 | 18 | 17
Weblog
Launched in 1999, Christianity Today's Weblog was not just one of the first religion-oriented weblogs, but one of the first published by a media organization. (Hence its rather bland title.) Mostly compiled by then-online editor Ted Olsen, Weblog rounded up religion news and opinion pieces from publications around the world. As Christianity Today's website grew, it launched other blogs. Olsen took on management responsibilities, and the Weblog feature as such was mothballed. But CT's efforts to round up important news and opinion from around the web continues, especially on our Gleanings feature.
Ted Olsen is Christianity Today's executive editor. He wrote the magazine's Weblog—a collection of news and opinion articles from mainstream news sources around the world—from 1999 to 2006. In 2004, the magazine launched Weblog in Print, which looks for unexpected connections and trends in articles appearing in the mainstream press. The column was later renamed "Tidings" and ran until 2007.
Previous Weblog Columns: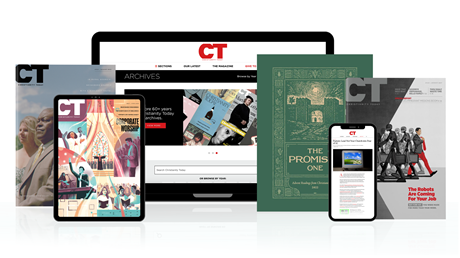 Annual & Monthly subscriptions available.
Print & Digital Issues of CT magazine
Complete access to every article on ChristianityToday.com
Unlimited access to 65+ years of CT's online archives
Member-only special issues
Subscribe
Remaining Christian Peacemaker Hostages Rescued
Remaining Christian Peacemaker Hostages Rescued