Today's Top Five
1. West calls for Rahman's freedom as Afghan clerics call for death
There are some signs of hope for Afghan Christian convert Abdul Rahman. German chancellor Angela Merkel says Afghanistan president Hamid Karzai personally assured her that Rahman would not be executed. And unnamed "senior Afghan government officials" are saying he could be released soon. It looks like the trial will take place on Saturday. (We won't be able to update until Monday.) If he's freed but kept in Afghanistan, he's as good as dead. The New York Times reports that Friday prayers at mosques around the country focused on why Rahman should be killed—if not by the government, then by the faithful. It's heartening to see so many newspaper editorials supporting Rahman's case, and so many news outlets keeping a close eye. Perhaps this case could mark the beginning of increased media attention to religious freedom cases worldwide.
2. Former First Things editor Damon Linker attacks Neuhaus
Richard John Neuhaus's new book, Catholic Matters, is a mere 260 pages. The New Republic's review of the book, written by the former editor of Neuhaus's First Things journal, seems almost as long. Damon Linker's 8,952-word "review"—mostly about Neuhaus and very little about Catholic Matters—seems more a promotion of Linker's forthcoming book, The Theocons: Secular America Under Siege than a book review. But Neuhaus fans and foes won't care. They'll just be amazed that the article goes with the byline. The article is long and detailed—CT readers might be interested in Linker's suggestions that Neuhaus is ultimately no friend of evangelical Protestants—but the final paragraph captures the gist:
That is the America toward which Richard John Neuhaus wishes to lead us—an America in which eschatological panic is deliberately channeled into public life, in which moral and theological absolutists demonize the country's political institutions and make nonnegotiable public demands under the threat of sacralized revolutionary violence, in which citizens flee from the inner obligations of freedom and long to subordinate themselves to ecclesiastical authority, and in which traditionalist Christianity thoroughly dominates the nation's public life. All of which should serve as a potent reminder—as if, in an age marked by the bloody rise of theologically inspired politics in the Islamic world, we needed a reminder—that the strict separation of politics and religion is a rare, precious, and fragile achievement, one of America's most sublime achievements, and we should do everything in our power to preserve it. It is a large part of what makes America worth living in.
As of this posting, there's no response over at the First Things blog, which one expects to receive a fair bit of traffic this weekend.
3. Police say pastor's wife confessed to murder
Mary Winkler reportedly said she shot her husband, Matthew, the 31-year-old pastor of the Fourth Street Church of Christ in Selmer, Tennessee. "Our concern at this point is why the crime took place," police investigator Roger Rickman told the press. "There have been no specific accusations made by Mrs. Winkler." The Tennessean will probably have the best coverage over the weekend if you're into this kind of story.
4. America's most famous conscientious objector dies at 87
Desmond Doss, the Seventh-Day Adventist who received the Medal of Honor despite his refusal to carry a gun in World War 2, died yesterday. The stories about how he saved the lives of more than 75 wounded soldiers in the Pacific are pretty amazing. The site for the 2004 documentary about his life, "The Conscientious Objector," has more information about him. It would be interesting to see an op-ed piece comparing his brand of peacemaking to that of the Christian Peacemaker Teams, which were also in the news this week. Two very different approaches.
5. Tennessee requires DNA sample in pre-teen abortions
Pro-life groups have long pointed out that abortion groups have made it difficult for law enforcement to take action in cases where it's clear a crime has taken place: Those cases where a girl getting an abortion is under the legal age for sexual activity. A new Tennessee bill dares abortion groups to oppose it: The bill, passed by the state Senate yesterday, requires doctors to preserve tissue from the aborted fetuses of mothers 12 or younger. The tissue can be used to identify and prosecute the rapists. Planned Parenthood of East and Middle Tennessee didn't bite: It supports the bill.
Quote of the day:
"What is next? Do we drop the St. Patrick's Day Parade because it is based on religious traditions?"
John Krenik, on St. Paul's decision to remove a picture of the Easter Bunny from City Hall because it was branded too religious. He was quoted in the Minneapolis Star-Tribune.
More articles
Abdul Rahman (news) | Abdul Rahman (opinion) | Christian Peacemaker Teams | War, terrorism, and peace | Crime | Religious freedom | Church and state | Easter bunny ban | Education | Politics | Life ethics | Sexual ethics | Church life | New cardinals | Books | Other stories of interest
Authorities say minister's wife confesses | The wife of a slain minister confessed to shooting him at their church parsonage, then fleeing to Alabama, where she was found the following night with their three young daughters, authorities said Friday (Associated Press)


Also: Wife confessed to killing minister husband, police say (The Tennessean, Nashville)


Earlier: Wife held as suspect in minister's slaying | Police find her, daughters safe in Alabama beach town (The Tennessean, Nashville)


Cardinals scramble to defeat abuse bills | Child victims would get more time to sue in Md. (The Washington Post)


Doubts dog revised decree on places of worship | The government is ready to publicize the revised ministerial decree on places of worship but Christian leaders still have reservations about the controversial law (The Jakarta Post, Indonesia)


Charity leader jailed in India | Allegedly offered a banned book for sale; case under investigation (Ledger-Enquirer, Columbus, Oh.)


Govt. to repeal or substitute conversion law: Apang | Arunachal Pradesh Chief Minister Gegong Apang today told the Assembly that the State Cabinet would consider if the anti-conversion law enforced in the tribal State in 1978, is to be repealed or substituted by any other law for preservation of culture and tradition of indigenous people (PTI, India)


Religious affiliation scuttles grant to restore Mission San Miguel | A $1 million grant that would have helped repair the earthquake-damaged Mission San Miguel was rejected by the California Culture and Historical Endowment recently because the structure is owned by the Roman Catholic Church (The San Luis Obispo Tribune, Ca.)


Also: State denies grant to preserve mission | Advocates: Building is historical landmark and not just a church (Modesto Bee, Ca.)


Approval of textbooks goes forward despite Hindu suits | Members of the California Board of Education began meetings with publishers Thursday for final editing sessions of sixth-grade history textbooks (The Oakland Tribune, Ca.)


Gospel by pasta sticks it to religion's funny bone | Organized religion's been having a rough month. Again (Cathleen Falsani, Chicago Sun-Times)


The pope's new cardinals | You can tell a lot about Benedict XVI from the people he has elevated. A guide to the new men in red hats (Time)


Two Americans among 15 new cardinals | Pope Benedict XVI installed his first group of cardinals on Friday, placing crimson hats on their heads in a ceremony Friday on the steps of St. Peter's Basilica that added 15 more prelates to the elite club that will choose his successor (Associated Press)


Pope installs first group of new cardinals | Pope Benedict installed his first group of new cardinals on Friday, elevating 15 men from Hong Kong to Boston to join the exclusive Roman Catholic group that advises him and will one day elect his successor (Reuters)


Pope appoints 15 new cardinals | Among those promoted are Hong Kong's archbishop, who is an active campaigner for religious freedom in China, and several men from the developing world (BBC)


Many hope O'Malley will grant demands | Closings, scandal remain concerns (The Boston Globe)


The Christianizing of America | Father Richard John Neuhaus insists America is essentially a Christian country. A critical examination of a religious radical (Damon Linker, The New Republic)


The Left Hand of God | Mark LeVine reviews Michael Lerner's latest (Mother Jones)


Ex-Christian scholar explores New Testament views of Jews | Julie Galambush brings a rare background to the often delicate topic of Jewish-Christian relations and her special interest in the first-century split between the two faiths (Associated Press)


Related Elsewhere:
Suggest links and stories by sending e-mail to weblog@christianitytoday.com
See our past Weblog updates:
March 23 | 21
March 17 | 16 | 15
March 10b | 10a | 8
March 3 | 2 | 1
February 24 | 23 | 22 | 21
February 17 | 16 | 15 | 14 | 13
February 10 | 9 | 7
February 3 | 2 | 1
January 25 | 20 | 19 | 18 | 17
Weblog
Launched in 1999, Christianity Today's Weblog was not just one of the first religion-oriented weblogs, but one of the first published by a media organization. (Hence its rather bland title.) Mostly compiled by then-online editor Ted Olsen, Weblog rounded up religion news and opinion pieces from publications around the world. As Christianity Today's website grew, it launched other blogs. Olsen took on management responsibilities, and the Weblog feature as such was mothballed. But CT's efforts to round up important news and opinion from around the web continues, especially on our Gleanings feature.
Ted Olsen is Christianity Today's executive editor. He wrote the magazine's Weblog—a collection of news and opinion articles from mainstream news sources around the world—from 1999 to 2006. In 2004, the magazine launched Weblog in Print, which looks for unexpected connections and trends in articles appearing in the mainstream press. The column was later renamed "Tidings" and ran until 2007.
Previous Weblog Columns: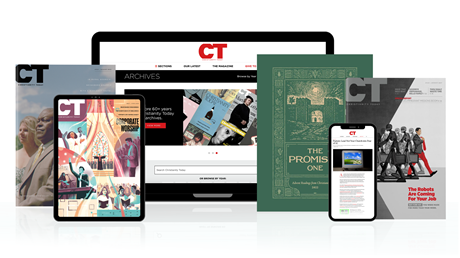 Annual & Monthly subscriptions available.
Print & Digital Issues of CT magazine
Complete access to every article on ChristianityToday.com
Unlimited access to 65+ years of CT's online archives
Member-only special issues
Subscribe
World's Eyes on Rahman Case
World's Eyes on Rahman Case