true
Classic rock fans probably remember Kansas for singles like "Carry On Wayward Son," "Point of Know Return," and "Dust In the Wind." But long before those days, the band's rotating lineup was steeped in progressive and classical experimentation, a la Yes and Genesis. Composer and guitarist Kerry Livgren was a main component from Kansas's very beginning, helping shape its sound and commercial breakthroughs. Right at fame's peak, Livgren turned over a new personal leaf, turning to Christianity after knocking on a bunch of dead end doors. He left Kansas a few years later to work on numerous projects including the group AD, solo CDs and even a one-off reunion record. His latest band Proto-Kaw actually links Livgren back with some alums from the pre-radio days of Kansas. Proto-Kaw's sophomore CD The Wait of Glory mixes progressive rock, jazz, and jam elements with spiritual songwriting. We recently caught up with Livgren for a telephone conversation from the studio.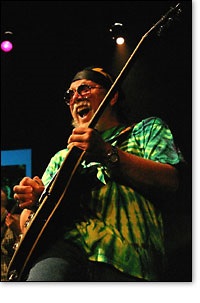 You apparently explored various religions before coming to Christianity, right?
Kerry Livgren I was a classic religious seeker. When I was nine years old, my grandmother and my families' best friend died in the same week. When you see death on TV and in movies, it's not real, but then suddenly you're immersed in it and it leaves you reeling. It caused a change in nature where I knew I was going to live forever, and if I wasn't going to, I had to find out why I was here. With that awareness of my own finality, I began a quest.
In high school I was with a group of friends who were into music and the meaning of life. When I graduated, I was involved in every one of major world religions and minor ones, scraping the bottom of barrel to find one. I ended up a devotee of the Urantia Book, where the central figure was Jesus—but a different Jesus and gospel than the Bible. I met another musician who was into spiritual pursuits; I tried to lead him to Urantia, and he tried to lead me to Christ.
At what point did you actually come to the faith?
Livgren I've been a Christian since July 25, 1979 at 3 a.m. It was the classic story of a prodigal. When success hit for Kansas, it was a different test as a Christian because I got everything this world says you should go after—in abundance. I was a successful songwriter and musician with fame and fortune, but at the same time I was now a follower of Jesus Christ and was not to be of the world. It was an unusual kind of struggle, but with the grace of the Lord able to maintain the right perspective.
What did the others in Kansas think of this change?
Livgren As long as the other guys had known me, I'd always been a charter member in the religion of the month club, and there were always implications of that in my songwriting. When I was a Buddhist they didn't care, and with Hinduism there was really no friction. But the minute there was the faintest aroma of Jesus, I began to see fireworks. At first they thought it was another phase I would go through, but it wasn't. I came on hard and fast right out of the box. I might have handled differently, but in any case it was a point of division. A lot of people think I left because of my faith, which is not really true. By the time I left, Steve [Walsh], our singer, had left because he could no longer handle the lyrics. Shortly thereafter the violinist was gone, and it was time for me to move on with AD. Kansas is still very much functioning and working very hard. God bless them.
What is your take on how Steve Walsh's replacement John Elefante fit in throughout the '80s, especially considering he's also a Christian?
Livgren John came in at an awkward time for him and the band. He was a very young kid who'd been in nothing but a garage band before and was propelled into arenas and major deals. He was a young Christian kid replacing Steve Walsh, whose shoes were very hard to fill. So there was that dilemma, plus dealing with fame and fortune, so it was a very difficult time for him. But at the same time we were trying to keep the ship afloat and he did great work with the band. Even though it was short-lived, it was a good thing to launch him as solo artist.
I find it strange that Walsh rejoined the group and is now singing a lot of those hit songs that came after your Christian conversion.
Livgren I find it strange as well. If you go to a Kansas concert [nowadays] it's inevitable you'll hear a group of songs that chronicle my personal journey to finding Christ. They're out there every day, and I'm glad they are. Those songs defined who that band is.
Would you say "Dust In the Wind" was perhaps the pinnacle of you putting spiritual subjects into the mainstream?
Livgren "Dust In the Wind" was certainly the most well-known song, and the message was out of Ecclesiastes. I never ceased to be amazed at how the message resonates with people, from the time it came out through now. The message is true and we have to deal with it, plus the melody is memorable and very powerful. It disturbs me that there's only part of the [Christian] story told in that song. It's about someone yearning for some solution, but if you look at the entire body of my work, there's a solution to the dilemma.
Have you remained in touch with your old Kansas bandmates since participating in the 2000 reunion album?
Livgren I haven't completely cut ties because they're my lifelong friends. I think the time has passed for me to have an active part, but I still contribute, like on the most recent album Somewhere to Elsewhere. I wrote the entire album and performed on it, but I drew the line at that because I spent so many years living out of a suitcase. I came home from tour once when my daughter was three years old and she didn't look real sure who I was when I walked in the door. That was it for me, because if I missed out on that, there was no second chance. I temporarily retired from music, but am back again maintaining the balance with family and church.
Let's talk about some of your other projects.
Livgren I'm a bit of a musical chameleon. When I went out of Kansas into AD, it was a different kind of band. It was the first time the bond of fellowship existed in a band for me because it was a band of Christians. I hesitate to call it a Christian band because that term has certain implications. The CCM industry didn't quite exist [like it does today] at the time, and we were basically playing secular venues. Proto-Kaw is a different group with different goals and motives, but is quite musically productive and I'm very proud of what we've accomplished.
How did the roots of Proto-Kaw form?
Livgren It's a fascinating episode. Proto-Kaw as we know it today was the original Kansas band, which started in the very early '70s as a bizarre psychedelic meets symphonic rock sort of thing. It was an incredibly strange, most intense déjà vu [when we got back together], because the other members had not been active in music for almost three decades. The music I write is very challenging, and they were not only able to pull it off, but did it incredibly well. We basically picked up where we left off, and after an album and a year and a half of playing concerts, we went into recording [our second album] as a confident, fully functioning band.
What is the stylistic direction on the new disc?
Livgren It's anybody's guess! Proto-Kaw is so interesting for me as a musician; it's the most fun I've had in many years. Kansas was very structured, which has no one to blame but me. Even though Proto-Kaw has the symphonic aspect, there's more jazz and more free improv. We take off and have no idea where we'll land, which makes for an exciting concert experience.
Would you consider Proto-Kaw a Christian band?
Livgren The songs are very much in the Christian message, yet I'm quick to point out this is not a Christian band. Some of the guys are believers, and some of the others are interested or open to Christianity. I give the analogy of a football team, where everyone has to be coordinated and working under a common goal—even if all the individual members aren't coming from the same place. It's really the ideal place to be for a Christian rather than in a band immersed in the current CCM music genre.
What is your take on that industry in general?
Livgren I'm so far removed from that, I'm not even sure I could comment. It's not something I keep on.
How about the boom of progressive rock, with mainstream acts like The Mars Volta and System of a Down, or Christian artists like Neal Morse?
Livgren We played a concert with The Mars Volta at a jam festival. I think it's very interesting and I think it's healthy groups like that actually exist. I'm all for it. My son goes to sleep every night to System of a Down, and I like it very much. It has an eastern motif while it's still very heavy. As for Neal, when he became a believer we weren't acquainted, but he contacted me out of the blue one day and wanted some advice. I told him some of my experiences, which may not be the answer, but I made him aware of what he might face. He's on fire for the Lord and is very talented and prolific.
What can fans expect from Proto-Kaw on the concert circuit, and will any Kansas material be included?
Livgren We're scheduled to play some Christian festivals, which is a little bit of a different fare than what we're used to. Proto-Kaw is consumed with who we are now, and it's not a vehicle to regurgitate Kansas' hits. These are different musicians and personalities, and we've only played Kansas songs we all did originally. As for those that carried into the later years, it may come to that point, but right now we're sticking with the current stuff.
You can keep up with the latest happenings of Kerry Livgren at www.numavox.com. To read our review of Proto-Kaw's The Wait of Glory, click here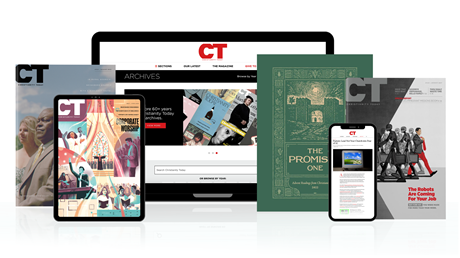 Subscribe to Christianity Today and get access to this article plus 65+ years of archives.
Home delivery of CT magazine
Complete access to articles on ChristianityToday.com
Over 120 years of magazine archives plus full access to all of CT's online archives
Subscribe Now
A Once Wayward Son Carries On
A Once Wayward Son Carries On